Briefing / Asia
Asia
Briefing
Work on a new motorway to drastically improve the Phillipines' infrastructure gets underway, tree planting takes off in China to combat desertification and Kabul to educate the population on conservation, while India's monorail enters a trial phase.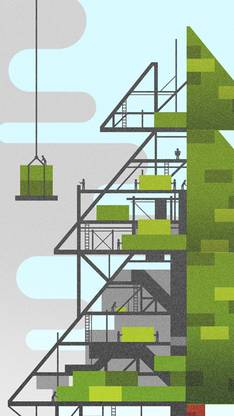 After a long delay, work has begun on a new €190m motorway south of Manila. The Philippino Daang Hari-South Luzon Expressway is the centrepiece of the Aquino government's latest drive to improve the country's creaking infrastructure.
---
Green wall of China
China — 
CONSERVATION
When Kwon Byong-hyon arrived in Beijing in 1998 as the South Korean ambassador to China, he was greeted by a thick duststorm whipped up from deserts to the west. The next day, his daughter called to say the storm had reached Seoul, coating the city in yellow dust. "This message awakened me to the fact desertification is everybody's problem," Kwon says. "I have visited almost every corner of the Chinese dustbowl and the reality is very serious. Much more serious than is known."
About a quarter of China is desert and this is growing by 3,300 sq km each year, due to overgrazing, drought and poor land management. Desertification is thought to affect 400 million people in China and cost the Chinese economy €6.6bn annually.
In 2006, Kwon's organisation, Future Forest, sent volunteers to China's Inner Mongolia region to plant trees at the edge of the Kubuqi Desert to prevent the sand from spreading. "Everybody thought it was doomed to failure," he says. Six years later, the group's forest – dubbed the "Great Green Wall" – stretches for 16km and includes six million trees. Kwon now wants to expand the Green Wall with another billion trees. His group is working to restore ecosystems and reintroduce sustainable farming so local populations can resettle the land.
---
Three more environmental projects in China:
South Korea's Ecopeace Asia is planting grass in Inner Mongolia and restoring mangrove forests in Fujian province.

Japan's Green Earth Network has afforested 5,500 hectares in barren Shanxi province with pine and apricot trees.

Japan's OISCA International is reforesting hill tribe areas in Guizhou province and experimenting with rearing emu in Inner Mongolia.
---
Greener Kabul
Afghanistan — 
RENEWAL
After decades of war, Kabul is turning its attention to its much-neglected environment. Under a three-year, $120m (€96m) programme called the Kabul City Initiative, the Afghan capital has been working with USAID to plant thousands of trees in the city and educate women on composting and recycling. In April, the city also launched a "Cleaning and Greening" campaign, aimed at teaching students how to properly dispose of garbage and help their parents plant trees.
An eight-acre women-only park planted with thousands of rose bushes has also recently reopened after being shut down by the Taliban and turned into a rubbish dump.
---
On the map
India — 
TRANSPORT
A much-needed boost to Mumbai's transport infrastructure is months away from opening to the public. The first phase of the city's monorail is currently in its trial phase. Once open, it will help with the task of moving the 22 million residents of one of the world's most congested cities. "It will really make a difference, particularly to those who live in the outer areas, as it will cut travel times," says Viren Kapadia of urban renewal NGO Remaking of Mumbai Federation. The first section is due to open next spring and the line will eventually be 20km long, with stops at each kilometre – the second-longest monorail in the world after Osaka.
---
Hello hallyu
South Korea — 
CULTURE
South Korea's soft power quotient is surging, with TV shows, K-pop bands and other Korean hallyu cultural exports expected to rake in 12tn won (€8bn) this year. But analysts are divided over whether this trend will continue.
Worried officials have come up with plans to set up a 730bn won (€490m) fund to pay for a new 15,000-seat venue in Seoul, movie studios in Busan and programmes to showcase homegrown talent. In October the government will sponsor a music festival featuring K-pop acts and local indie bands. They hope to attract tourists, recording labels and Hollywood filmmakers, solidifying South Korea's position as Asia's pop culture capital.