Business / Global
Business
Briefing
A new Saturday market of small-scale farmers in Puerto Rico adds to the country's organic agricultural movement, a new pie shop in Lisbon taps into the growing trend for inexpensive fare over a traditional sit-down affair, and Mexican architect-turned parfumeur Carlos Huber discusses the scent industry.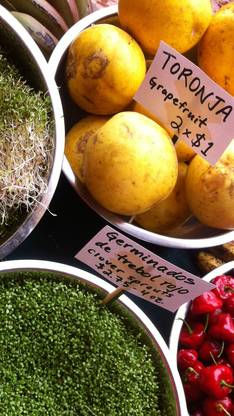 The riverside suburb of Greenwich has integrated services including energy management, transport and health services under the Living PlanIT initiative, testing top tech from Hitachi and Philips.
---
In the larder
Puerto Rico —
 ORGANIC FOOD
Puerto Rico's nascent organic agricultural movement is gaining momentum thanks to Old San Juan's Mercado Agricola Natural. Founded in 2010 by food activist Laura Daen, the Saturday market now gathers some 20 small-scale farmers from across the island's rugged mountains and Caribbean-front coastal plains.
The market grew out of Daen's desire to source local and seasonal produce on an island that imports nearly 80 per cent of its food. "I realised that if I wanted access to these kinds of goods, I would have to start a market that would sell them," says Daen.
Situated in the 19th-century Museo del San Juan, a neo-classical landmark set on the site of the city's original colonial-era mercado, it also represents a step towards urban renewal. Taking up a prime but underused location near the city centre, just beyond Old San Juan's 473-year-old El Morro Castle, locals and top chefs alike are being drawn in droves, feeding a movement that embraces Puerto Rico's agricultural past and more health conscious future. "Not only do we have the will and capacity to feed all of our own people," says Daen, "but the bounty to export our goods and diversify the yield – all through sustainable growing."
mercadoagricolanatural.com
---
Traditional staples such as yucca and plantains.
Artisanal chocolates sit alongside hand-grown coffee, teas and spices. 3.Local cheeses and pastries are replacing imported alternatives.
---
Let them eat pies
Lisbon — 
TAKEAWAY
While Portugal attempts to shake off the recession, its residents are becoming more resourceful at saving their euros and cents. In Lisbon, many now make their lunch and take it to work or opt for inexpensive takeaways instead of a traditional sit-down affair. Restaurateurs are adjusting in turn.
Last autumn, José Avillez, a local Michelin-starred chef with experience at Alain Ducasse and Ferran Adrià who oversees two popular restaurants, opened his first Empadaria do Chef, a store dressed up in 1950s décor selling traditional Portuguese pot pies – there are eight varieties made with quality ingredients, including chouriço sausage and requeijão cheese. Hungry patrons can pick up their hot pastries in eye-catching baby blue rectangular boxes for lunch on the go.
Avillez has since added a second and third shop and the plan is to expand nationwide.
empadariadochef.com
---
Q&A
Carlos Huber
Perfumier, Arquiste Parfumeur
New York
Trained as an architect in Mexico City, Huber moved to New York to work with acclaimed perfumers Yann Vasnier and Rodrigo Flores-Roux to found Arquiste Parfumeur. The brand sells a range of scents built around historical events, which is a breath of fresh air in the industry.
How can new players break into the market?
The mass market is increasingly looking at niches for different models and real stories. The US perfume industry is really the New World; it can be big and bold but also very diverse. With fewer hierarchies there is more freedom.
What were the main challenges?
It's a very fragmented industry, from packaging to scent development. I also think the beauty press feeds a craving for newness that is detrimental to high-quality products. Choosing the right distribution partners and staff training is also incredibly important to us because story telling is at the core of the brand.
Future ambitions?
We're currently working on a new scent, our seventh, and collaborating with French brand Cire Trudon for a candle, as well as unique art projects.
arquiste.com
---
Back to the country
South Korea
Families in Seoul are increasingly returning to the countryside to take up farming. Encouraged by government programmes, 10,503 families happily made the switch last year alone.
---
Plastic fantastic
Tokyo — 
RECYCLING
It might be the only time you will ever see Muji, Starbucks and toymaker Takara Tomy headlining the same event. The trio are expected to be among several big brands joining forces in Japan later this year for a good cause: recycling plastic. Japan already recycles 2.17 million tonnes of plastic annually but its focus has been mainly on plastic bottles, containers and packaging. The Pla-Plus Project, organised by Tokyo tech venture Japan Environment PLANning, will turn shops, sales offices and delivery services into a network of drop-off points for toys, pens and other plastic household items.
In a two-week trial run earlier this year, six firms, including office supplies retailer Askul and eyewear retail chain Jins, collected hundreds of kilograms of plastic, reflecting a renewed public interest in the environment. Japan's Environment Ministry has high ambitions for the scheme. "We buy so many things that are made from plastic and so the idea was to make it as simple as possible for consumers to bring in items they wanted to get rid of," says Yusuke Takahashi, an Environment Ministry official. "The question now is, what's the best way to recycle the different types of plastic."
In answer to that, Japan Environment Planning says it has technology to turn plastics into biofuel for powering factories in the not-so-distant future. "We are close to commercialising the technology," says spokeswoman Chie Yoshimura.
---
Rubbish idea
New Zealand — 
WASTE
The New Zealand coastal town Raglan is renowned for its surf but thanks to social enterprise Xtreme Waste it's now a blueprint recycling community too. The company was viewed as an eccentric outsider when it was founded in 2000 but today it diverts over 75 per cent of the community's waste from landfill (more than 20 per cent higher than the national average) and generates NZ$1m (€600,000 from 1,000 households.
As well as residential and commercial waste collection, it has an education arm, retail offer and consultancy. "Our turnover circulates three times around the community," says co-founder Paul Peterson, who invests profits in local infrastructure. "Hand sorting creates jobs and is more effective than machines. If all waste in New Zealand was sorted this way it would create 40,000 jobs overnight, generate millions in wealth and massively reduce landfill."
xtremewaste.org.nz
---
Convenient cabs
Global — 
TAXIS
Getting a cab is inherently inefficient: you either have to flag one down or call and wait for a dispatch. Silicon Valley firm Uber is making it easier. A smartphone app allows GPS location ordering complete with car tracking. After the ride, Uber automatically charges the card you have on file. The company is testing partnerships with existing cab firms to bring prices down. It's available in a number of US and Canadian cities as well as Paris, and expansion is on the cards.
---
Africa has cemented its status as the world's fastest-growing mobile market, with mobile technology overcoming infrastructure challenges and providing millions with business opportunities. The four biggest mobile phone markets in Africa are Nigeria, South Africa, Kenya, and Ghana.
---
Number of mobile subscriptions in Africa
2002: 49 million
2005:87 million
2008:246 million
2012:500 million
2015 (forecast):800 million
---
Get my goat
San Francisco — 
GARDENING
Goats are the new lawnmowers for environmentally savvy San Franciscans. A company called City Grazing has a herd of 50 that usually live on a pasture in the Bayview neighbourhood but can be rented out to clear an acre per day, kept at bay by portable fences. Undaunted by terrain, they also eat plants that are hard to remove by hand, such as poison oak and thistles.