Issue 55 / Global
Observation
As the wall fills up with pages for the new issue and plans are made for the impending Country Fayre and the next Monocle Café, Midori House goes holiday happy at the approach of summer. Or it will if we can stop arguing about city rankings.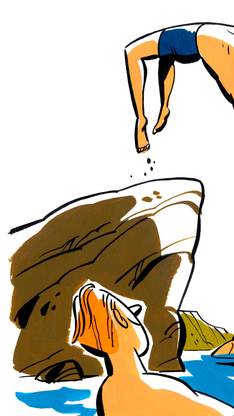 Allow me to paint you a little picture. It's the last day of May, the windows on our editorial floor are open and there's a somewhat annoying chill in the air. Robert Bound has just dashed off to work on his new abode, Andrew Tuck has mounted his trusty two-wheeler both for entertainment and transport purposes and Liv, our Hong Kong bureau chief, is paying a visit to Alicia (our section E editor) who's off on maternity leave.
Despite the turn in the weather (after a week of balmy sunshine), spirits are high as the last pages get pinned to the wall (the beauty of doing a magazine is that it still demands a massive amount of vertical real estate to keep an eye on both pace and placement). This is the thickest issue we've ever produced in terms of spine width – a whopping 16mm according to our production chief.
Andrew's already given his blessing to most of the pages, we've had some last minute lobbying from both The Hague and Luxembourg for inclusion in the ranking (sorry folks, maybe next year). Our design editor Hugo Macdonald is unconvinced by Portland, Maine and has tried to squeeze as many plugs as possible in for San Francisco. Little does he know that I've removed many of them and restored our various lists and rankings to a more balanced representation of urban liveability.
Nevertheless, there's still a murmur of debate about the city rankings as metrics are re-examined yet again, but a deadline is a deadline and no one who's messed with Jax, our production chief, has lived to recount what came next.
Normally it feels a little bit like end of term as we send the final pages out the door – partly because it marks the official halfway point for the year and partly because everyone's ready to make a mad dash for holiday trains and planes. This year it's a bit different, however, as Monocle 24 doesn't exactly go on holiday (by the time you read this it will have slowed down a little bit) and there's the small matter of the Country Fayre to organise. The latter will also have passed by the time you read this – unless of course you're one of the super-keen readers who races to our London shop to get a copy the moment it comes off the truck from Dorset. Hopefully the goats will not have bitten too many children, Mono-chan will not have been mugged by some thuggish youth and we'll have raised a tidy sum for our chosen charity. That said there's a bit of an exodus for the door as I type, as some head off for work and play in Bangkok, others to the Cotswolds and Scotland and many make for the Med – more on that in a moment.
I'm mixing it up a bit this year with a week at the Chiva-Som and then another little vacation on the Amalfi Coast. Later in the summer I'm planning on a bit of mountain time up in St Moritz and perhaps a swing down to Lake Garda.
With a good month to go before we swing into production for Monocle Mediterraneo (on sale 26 July), you might spot our editors and correspondents on the cobbled streets of cities in southern Italy, on beaches in Spain, on the decks of lithe yachts off Turkey or on the harbour in Tripoli. A bit later on we'll be taking Monocle 24 on the road to Zürich to capture the best in lakeside living and then returning to London for our own special take on the Olympics. For the entire Olympic period we'll be hosting the Japanese sport brand Descente at Midori House and throwing the odd impromptu rosé party on our terrace or in the garden. If we open our doors in a more public fashion we'll be sure to let you know, but we always welcome visitors with a bit of advance warning and the promise of tasty treats.
Post Olympics we'll be heading up to Helsinki to broadcast from the World Design Capital and hopefully enjoy a dip or two off the city's smooth rocks. By the time we're back we'll be well into production for October and just about ready for that last summer blast of sun. There'll be much to update you on regarding our autumn plans in the September issue (on sale 16 August), but before that we hope we'll be able to host you in person when we launch our next Monocle Café – London's set to be next, despite some fast work in a couple of Asian cities. If you're familiar with our branch in Tokyo, our next venue will be a slight evolution on the theme, with a tweaked offer in terms of food and ambiance. If you're particularly good at operating a Synesso, look fetching in a starched apron and are keen on offering good conversation and service then do drop us a note at info@monocle.com. If you're just keen on a good coffee, smart tunes and fancy cakes then keep tuned to Monocle 24, sign up for our newsletter or check in at monocle.com. As ever, thank you for your support, tips and comments.
For more from our editor in chief, read his column in the FT Weekend.