Shipbuilding / Gorinchem
Overseas export
Netherlands shipbuilder Damen manufactures the boats that keep navies and coast guards up-to-speed worldwide. A near-century old success story, theirs is a contribution to a local tradition stretching back even further.
In the past decade Dutch design has been synonymous with furniture, with Eindhoven serving as its capital. But an hour's drive north from the Design Academy brings visitors in contact with an industry that Holland has excelled in shaping since the 17th century: shipbuilding. The latest innovator in this field, family-run boatyard Damen, is based on the shores of the Merwede at Gorinchem, where naval architects sit quietly in exposed brick offices staring at 3d ship superstructures on the computer.
Started by two brothers in 1927, Damen first focused on dredging equipment for Holland's flat, watery topography and tugboats, too. It underwent a revolution in the late 1960s when one of the founders' sons decided to modernise assembly, offering a standard range of vessels that could be delivered at short notice by building hulls and components in advance to ensure a constant supply. Business boomed and Damen expanded to include vessels for the military. Today, 40 per cent of the firm's shipbuilding business, worth €1bn, is linked to manufacturing patrol boats and frigates for dozens of navies, coast guards and customs police from Barbados to Vietnam.
Damen's client list is enviable. The US Coast Guard has twice bought off-the-shelf designs – procurement laws in the US prohibit foreign shipyards from participation – from the company when it needed to update its fleet of cutters. In 2001 British officials shunned local manufacturers by purchasing four Damen vessels for its border patrol agency.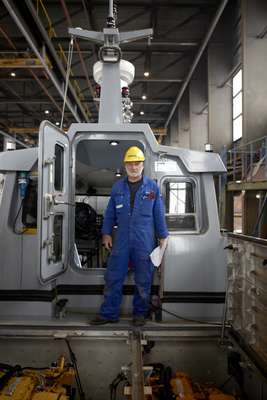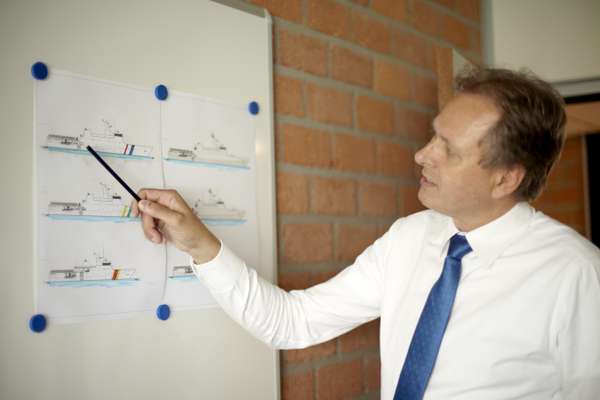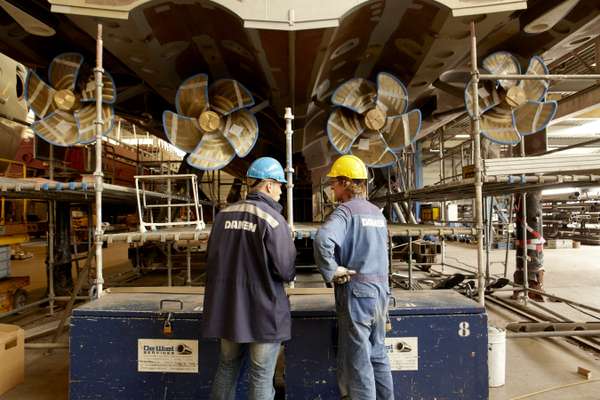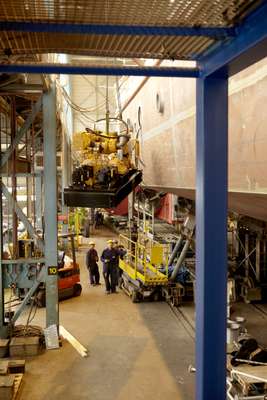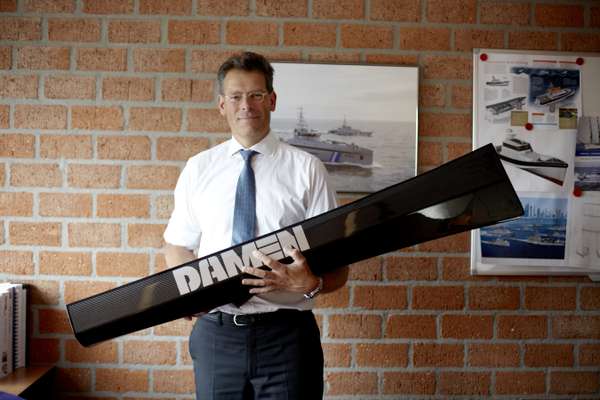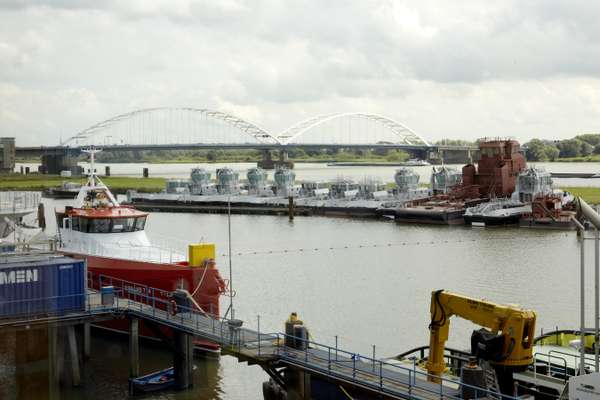 Design-wise, the philosophy at Damen is simple: form follows function. "Navies don't want something flashy," explains Jaap Gelling, product director of Damen's high speed and naval craft division. "They want a four-by-four, not a Ferrari." Still, Damen has invested in r&d to push the naval architecture envelope. Working with the Delft University of Technology in recent years, the company has patented its axe bow design, a hull that resembles a hatchet blade and slices through waves instead of bouncing over them. "It's about engineering more than design," adds Gelling as he holds an oversized model in his arms. "It gives you better handling in heavy seas and cuts down on fuel."
From Gelling's office, there's a view of the river and a row of unfinished boats lined up along the bank. Many hulls are shipped to Gorinchem for outfitting from some of the firm's global network of 35 shipyards, which includes a joint venture in Cuba and a nearby plant in southern Holland that constructs frigates and corvettes. Each year the company delivers up to 150 vessels.
Inside the factory, carpenters work on building cabin interiors and a foreman inspects wiring on a new patrol boat. Workers in blue overalls and hard hats move about the construction space on bicycles, steering clear of their colleagues busily hoisting a three-tonne Caterpillar engine into the innards of a supply ship.
Once painted, models move outside. There, moored next to a tug, sits a svelte, bullet-shaped speedboat. Damen hopes the new model will attract armed forces looking to update. "We can no longer design with a Cold War mentality," says project manager Olaf Roeleveld, pointing to the interceptor launch. "Today, the fight is against pirates, eight guys in a skiff armed with AK-47s."
Five fast floats
Stan Patrol 4207
Length: 42 metres
Displacement: 238 tonnes
Speed: 25-30 knots
Popular with naval defence forces, the cutter can launch a pursuit craft while on the move. Customers include the UK Border Agency and the US and Canadian Coast Guards.
Sigma Frigate
Length: 98/105 metres
Displacement: 2,075/2,335 tonnes
Speed: 27 knots
This multi-purpose frigate, armed with missiles and torpedoes, is available in two versions. Purchased by the Moroccan and Indonesian navies.
Stan Patrol 5009
Length: 50 metres
Displacement: 425 tonnes
Speed: 23-35 knots
Based on Damen's fast crew supply ship, the 5009 has an axe-shaped bow in steel that cuts through waves to reduce fuel consumption. Clients include Italy's Guardia di Finanza.
Interceptor 1102
Length: 11 metres
Displacement: 4.5 tonnes
Speed: 55 knots
Made with a composite hull in carbon fibre and fibreglass, the nimble speedboat seats six and turns on a dime. Designed to catch drug smugglers and Somali pirates.
Offshore Patrol 3750
Length: 108 metres
Displacement: 3,750 tonnes
Speed: 21 knots
Purchased by the Royal Netherlands Navy for use in the North Sea and Dutch municipalities, the ship is equipped for long-range patrols, search and rescue and humanitarian relief missions.