Steiner / Bayreuth
Seeing is believing
That a camera company can become a binocular company by accident is an impressive feat; that it can go on to become a world leader in its unexpected field is outstanding. German firm Steiner isn't looking back.
After selling more than half a million pairs of binoculars to armies, navies and air forces in 72 different countries, the team at Steiner is used to all sorts of requests. So when the Italian Army needed binoculars that could withstand a parachute drop without risking performance, the German company knew exactly what to do. They bought a simulator that would allow them to test whether their glass prisms and lenses could withstand the rapid fall in air pressure and eventual impact – there wasn't even a fracture.
Founded by former Zeiss engineer Karl Steiner in 1947, the German business initially made cameras. Steiner's foray into binoculars was by an accident of circumstance, when US soldiers from the nearby Grafenwoehr army base brought in their binoculars for repairs and left satisfied. The company's first pivotal contract to produce its own line came in 1965, this time from the German Army. Seeing its success with their products, Steiner later branched out into civilian binoculars and remained a family business until 2008, when it was bought by Beretta's (the Italian gun manufacturer) holding group. In 2011, the optics company did €30m in sales, one quarter of which was from its military range.
At Steiner's headquarters in the small Bavarian town of Bayreuth, most of the 130 employees hail from the surrounding area. This includes managing director Robert Eckert, who has been with the firm for 25 years. "We rely on local people and have not had such good experiences hiring staff from the big German cities," he says. "Every company's key to success is good people, and you need to make sure they stay with your company for a very long time."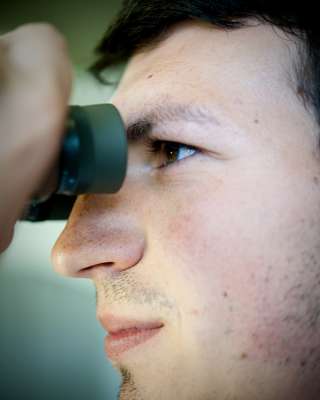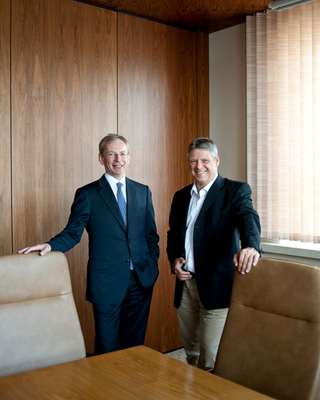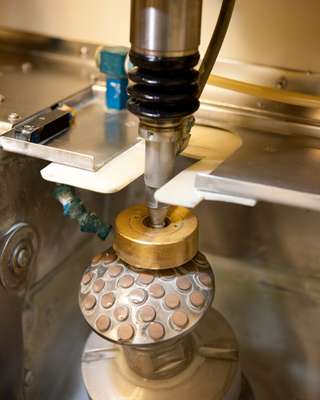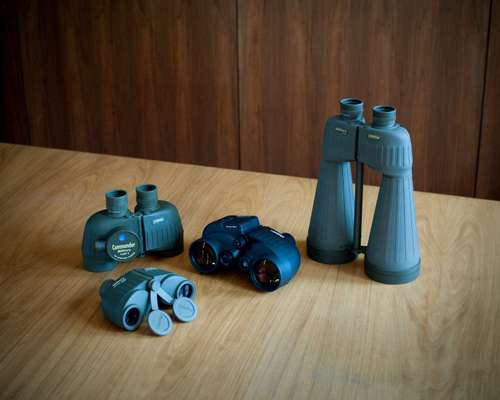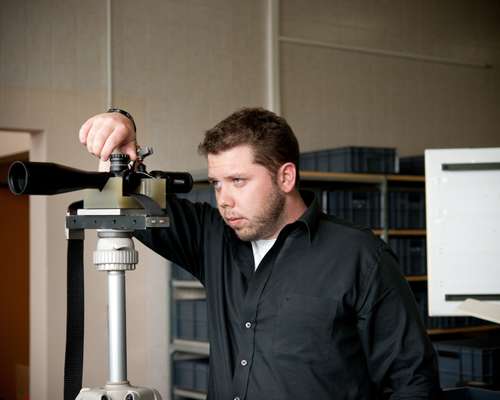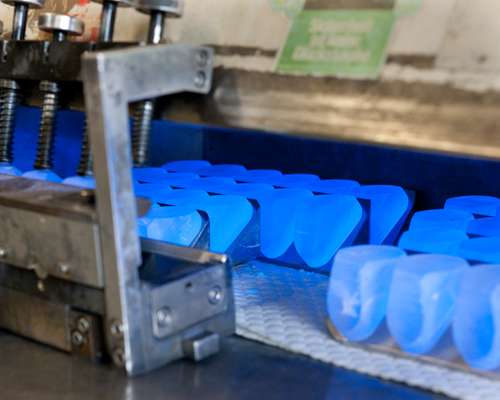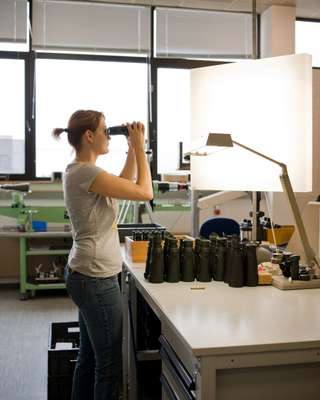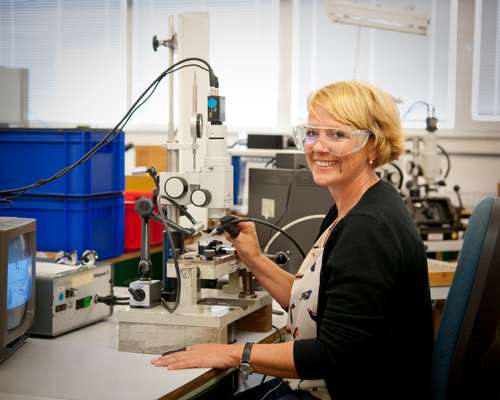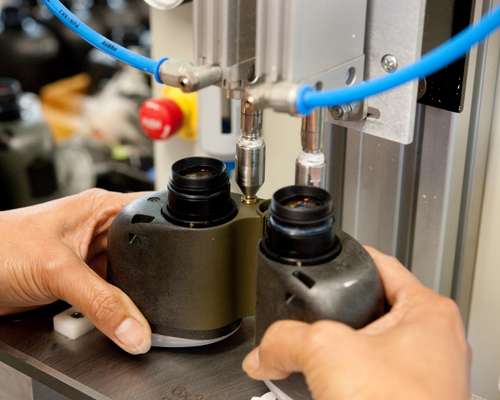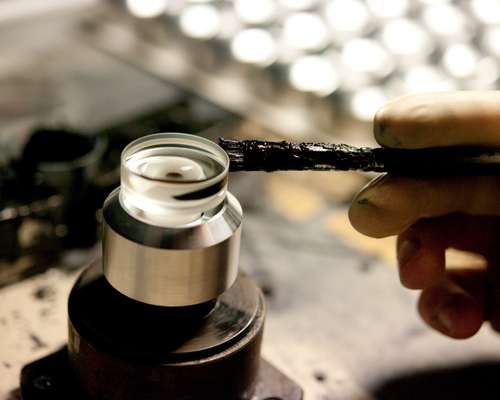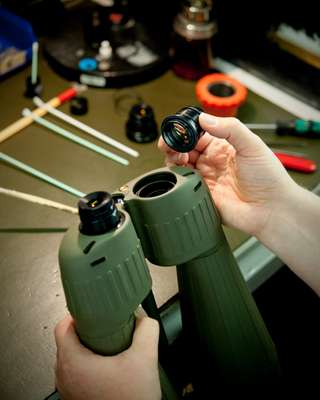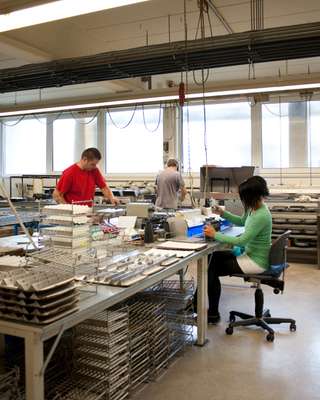 Technical manager Christian Steffel, whose first job was making lenses, says that the organisation is committed to retaining talent. "You see a lot of older people on our production line but they give this company a priceless amount of experience and knowledge," he says.
In the factory, hockey puck-sized glass discs are ground with diamond dust by cnc machines, then smoothed and polished to become slender lenses. Next they enter a 300c oven that bakes on fine metal particles (the exact formula is a secret), which increase the amount of light the lenses channel and thus increase focus precision. The process takes up to four hours as the heat evaporates the metal pellets that coat the lenses.
Opticians meticulously check for imperfections before the lenses and light-refracting prisms are glued into frames and placed inside the binocular casings. Liquid rubber and a system of O-rings keep the components in place, cushion the lenses against impact and ensure the final product is waterproof. Steiner made its own shells from Makrolon, an extremely rugged and lightweight type of fibreglass, until it outsourced production to a nearby manufacturer in the 1980s.
The finished binoculars are put through the wringer, tested to ensure they can function after being frozen, baked, submerged in water and repeatedly jarred by a rifle's recoil. Steffel demonstrates their hardiness by tossing a €300 pair – the lightweight 8x30, the most popular model – to the ground. It bounces.
The most sophisticated binoculars are the €2,000 models equipped with laser range-finders that Steiner currently supplies to UN peacekeepers. On average, the company produces 25,000 military binoculars each year.
When monocle challenges Eckert on the threat posed by the digitisation of military gadgets, he prefers to class it as an opportunity, arguing that the company's future lies in merging binoculars with electronics such as gps. Steffel agrees: "A lot of new ideas are in our minds. As long as eyes are on the field our binoculars will be there."
steiner-military.com
One vision
More top binocular firms
Swarovski Optik
Austrian firm Swarovski Optik has been producing binoculars for hunting, nature-watching and travel since it was founded in 1949. Its founder was Wilhelm Swarovski, whose father was responsible for the crystal company by the same name. These days it sells binoculars to border-patrol organisations, forest inspectors, air-traffic authorities and the Austrian Mountain Rescue Service.
swarovskioptik.com
---
Established in Germany in 1846, Zeiss originally produced microscopes before expanding into lenses and sensors for a variety of purposes. The division of the company that manufactures binoculars, spotting scopes, camera lenses and planetariums generated €316m in revenue during 2010/11.
zeiss.com
American entrepreneur David P Bushnell started his business in 1948 with two crates of binoculars he bought while honeymooning in Japan. He won customers by undercutting the price of US and German-manufactured products. Bushnell binoculars, which are still made in Asia, are used by parts of the US and UK militaries.
bushnell.com
The process
Life through a lens
Opaque glass blanks are smoothed and polished into transparent lenses and prisms, before being cleaned.
Up to 20 layers of evaporated metals are baked onto the lenses to enhance their ability to channel light.
Lenses and prisms are glued in, eyepieces are fitted and the binoculars are filled with dried nitrogen to remove moisture.
Ten per cent of each batch is subjected to extremes of heat, cold, humidity and motion – and water and air pressure – before being packaged.