Brazilian defence / Global
Show of force
The largest city to be created in the past 100 years is Brazil's capital. That bold, modernist ideal extends to its military departments, shaped in swathes of creative concrete by architectural icon, Oscar Niemeyer.
Oscar Niemeyer's buildings are like sculptures. The Carioca architect, who, even at 104 years old still works every day, has a dedication to aesthetics over practical function, and this is his legacy. Concrete is his material, manipulated into acrobatic curves suspended in space, giant, boomerang-shaped arches, solid, flat planes, sandwiching the air and wind that whistles in between. These are his signatures and to appreciate the dexterity and scale of his extraordinary sculptural style, nothing compares to the complex of government buildings Niemeyer designed in 1957 for the new capital of Brasília.
The Palácio do Itamaraty (the Ministry of Foreign Affairs – see Monocle's report in issue 33) and Palácio da Alvorada (the residence of the Brazilian President) are two of his more renowned, perfectly preserved buildings in Brasília. They were commissioned by President Juscelino Kubitschek and today are still decorated with copious artworks and furniture by Sergio Rodrigues and Jorge Zalszupin. The equally magnificent 130,000 sqm of the megalithic Quartel-General do Exército, the Army General Headquarters of Brasília built between 1969 and 1973, has a different story. After the dramatic spectacle of the complex's facades, once inside you find only a few artistic flourishes, like the tiles and murals of the Carioca mosaicist Athos Bulcão.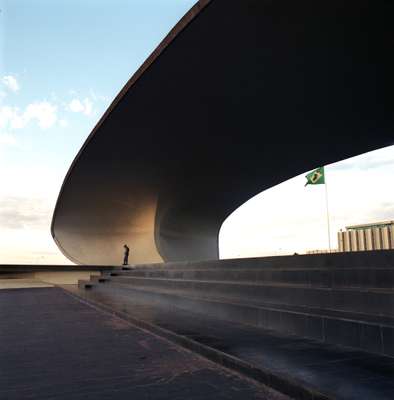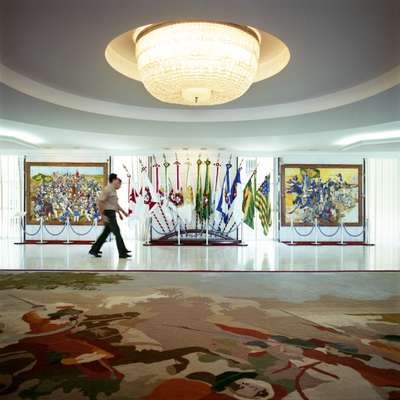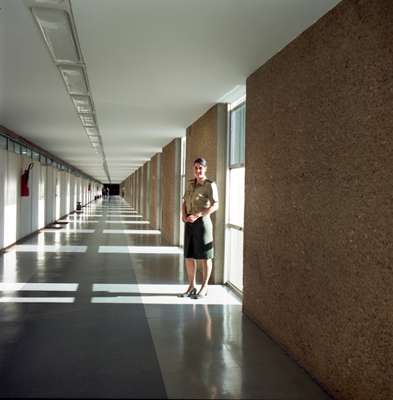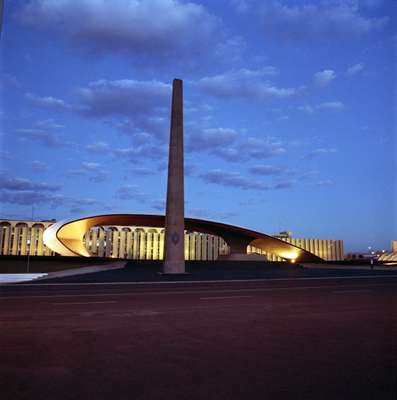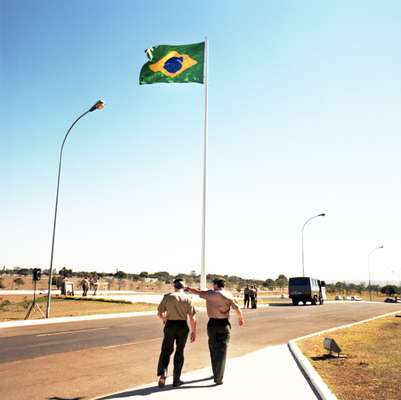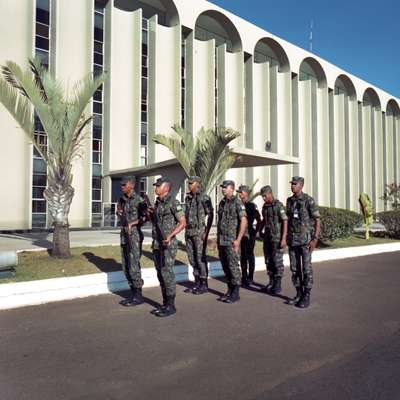 The Army General Headquarters rarely crops up when talk turns to Niemeyer's finest or best-known works but for a handful of architects it is one the most inspiring in Brasília. "It is undoubtedly one of the most important," says Sylvia Ficher, an architect and doctor of history and a professor at the University of Brasília. "And if it is not a milestone in the curriculum of the architect, it has at least a great technological accomplishment over his other works: the use of large volumes of precast concrete in its construction for a start."
Today the interior is a cold, sterile scene – far from cosy, it feels austere and devoid of any sensitivity. Perhaps the lack of more refined interior detailing is unsurprising – it is after all a building inhabited by generals, colonels, lieutenants and military personnel of various rank. Even in Niemeyer's Brasília there's little room for artistic design and detailing in an army headquarters. But there's also another reason; Niemeyer's plans were for the interior spaces to be as flexible as possible, so they could adapt with ease over time. Though symbolic in stature from the outside, inside it is a bureaucratic building.
In endless, beige corridors with hard granite floors around 5,000 employees, civilian and military, march around on their daily duties. The centre of the action is a conference room overseen by Colonel Francisco Eduardo Medved. He is among those responsible for guiding all the commands for ground operations in Brazil. Currently there are 82 ongoing operations in the country – from guarding the international borders to distributing milk to poor regions.
It's from outside that the Army General Headquarters is properly magnificent. This is the monumental effect Niemeyer wished to achieve – symbolic might in concrete. The complex consists of 10 buildings, which include the theatre and the main entrance, on which stands an obelisk and the giant shell known as the Cúpula da Espada de Caxias, or Dome of the Sword of Caxias. Across the street the Praça Cívica (civic square) landscaping was done by Roberto Burle Marx, Niemeyer's collaborator for the Brasilia masterplan.
Almost more striking than the building itself was that Niemeyer, a vocal communist sympathiser, was able to build the Army General Headquarters during Brazil's military dictatorship. A year before the dictatorship assumed power in Brazil in 1963, Niemeyer was awarded the International Lenin Peace Prize by the former Soviet Union. It's testament to the respect and esteem in which Niemeyer is held that his work was so sought after, despite his opposing political stance.
When you take in the panorama of the complex it's like looking at a symbolic structure of Brazil's years of military dictatorship: large, heavy, hard, uncompromising and dense. But, unlike that period, poetic and enduring too.
Sergeant Marlon Ribas is in charge of the music programming and presentation of Rádio Verde Oliva (98.7 FM, Brasília). On the dial 24-hours-a-day are Brazilian songs and smooth jazz. There's also interviews with professionals from in and outside the headquarters and a programme on weekends entirely dedicated to military songs.
Lieutenant Gabriela Rocha Bernardes
Professional journalist, Lieutenant Gabriela Bernardes, 33, joined the army when she was 25 years old. She has already visited Haiti and is currently working in the media centre's headquarters in Brasília. Despite the austere atmosphere of the building she's a beacon of happiness, always smiling, with flawless makeup and hair in a perfect bun.
Colonel Francisco Eduardo Medved
With his slender frame, clear eyes, dishevelled hair and sharp humour Colonel Medved has devoted 33 of his 50 years to the Brazilian Army. He's lived in Brasília since 2001. Son of a Slovenian father and Brazilian mother, nowadays Medved works in the command of ground operations.
Major Alexandre Yuri José de Abreu
With his impeccable camouflage uniform and badge of honour for mountain climbing, motorcycling and professional shooting, 44-year-old Major Yuri is like a real-life GI Joe. He is in charge of the security of the headquarters in Brasília. He's served in the army for 25 years and has chosen to have a single life because of the constant moving that a career like this demands. "So no one suffers when I need to depart," he says.
One of the original rooms is the 1,200 capacity auditorium, complete with leather-upholstered chairs and individual ashtrays that speak of bygone days of smoke-filled presentations. Here is the closest you'll get to decoration too. The walls are adorned with two panels by Athos Bulcão and artistic wood panelling covers the whole ceiling.