Defence / Global
Defence
Briefing
The downfall of Libya's Colonel Gaddafi in late 2011 had unforeseen consequences: thousands of Tuareg fighters employed by Gaddafi returned to their native Mali, adding considerable steel to a separatist movement in the country's north.
IN THE FIELD
Reclaiming the north
Mali
[AZAWAD]
The downfall of Libya's Colonel Gaddafi in late 2011 had unforeseen consequences: thousands of Tuareg fighters employed by Gaddafi returned to their native Mali, adding considerable steel to a separatist movement in the country's north. A military coup in the Malian capital, Bamako, in April then created the opportunity the separatists had been waiting for. They swiftly overran key northern towns, including Timbuktu, and declared a new independent state – Azawad.
Islamist groups linked to al-Qaeda assumed control. By August, international forces were mobilising to prevent this once-stable democratic nation turning into the next Somalia. ecowas, the Economic Community of West African States, was preparing to send 3,300 troops to Mali to help recover Azawad, while France, the former colonial power, promised to help.
Mali, though, will be tough to fix. "The re-conquest of the north could not easily be achieved by military means alone, even with a far larger force than the 3,300 troops that ecowas can offer," suggests Paul Melly, an associate fellow at think-tank Chatham House. "If the state is to re-establish its authority over the north this will have to be achieved largely through negotiation, with targeted force used only as a back-up threat or final resort."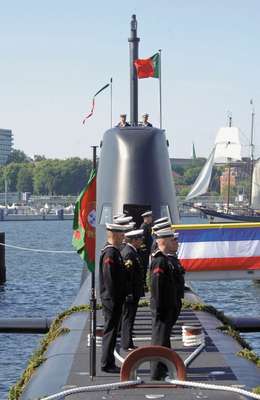 Three options for rescuing Azawad:
Negotiation:
The formation of a unity government in Bamako provides a platform for negotiation with Azawad leaders. The added pressure of targeted military strikes against extremists helps bring about reunification.

By force:
The Malian military attempts to subdue the Azawad rebels, potentially leading to a protracted civil war, with grave implications for West Africa.

Worst-case scenario:
ECOWAS intervention fails to stabilise Mali, and the turmoil makes it impossible to address the Azawad situation. As a result, Azawad begins to consolidate.
---
WEAPONS AND SYSTEMS
Out of the dark
Portugal
[SUBMARINES]
Until recently, Portugal's navy had the oldest submarines in continuous service in Western Europe. Its rickety Albacora-class boats entered service in the 1960s but the design's roots were even older, not far removed from a starring role in Das Boot. New German Type 209PN boats were ordered in 2004 but the first wasn't commissioned into service until 2010, meaning the brave sailors had to work out torpedo-firing solutions with calculators and slide rules well into the digital age. The shiny new submarines will be a revelation, catapulting the Marinha Portuguesa into the 21st century with some of the newest conventional boats in Nato.
---
DEALS
New gear
Brazil
[WEAPONS]
Brazil is to invest €56bn over the next three years in its arms industry. The country, which recently flexed its military muscles by sending 9,000 soldiers to reinforce its southern border, wants to meet local demand and also set itself up as a major exporter – the global defence market is worth an estimated €1.2trn a year.
President Dilma Rousseff's government hopes to create partnerships between domestic defence manufacturers and foreign multinationals, with the Brazilians maintaining control of the consortiums. It's hoped the move will help prop up the slowing economy.
Local firms will also receive tax breaks and advantageous bidding conditions when competing for government contracts. One of the biggest projects in the pipeline is the building of a nuclear submarine, a €3.6bn joint venture between construction firm Odebrecht and state-owned Nuclep. Brazilian companies will also team up with Italian and UK military manufacturers. According to the Brazilian Association of Manufacturers of Materials for Defense and Security (ABIMDE), Brazil has the potential to export €5.5bn-worth of defence goods and services by 2030.
---
FLASHPOINT
Part the waves
India
[TREATY]
India and Bangladesh are keen to formalise a landmark water-sharing treaty but a meddlesome state leader is in the way. The deal is believed to split the waters of the Teesta River. But Mamata Banerjee (pictured right), leader of West Bengal, which borders Bangladesh, doesn't think it is fair. Her party is a key member of the fragile national ruling coalition.
The deal could help mend this frayed relationship – India fears that cross-border militants shelter in Bangladesh. "This sends a signal that India is committed to resolving their disputes, as well as others in the larger South Asian neighbourhood," says Amit Baruah of Mumbai think-tank Gateway House.
---
Brazil is the leading Lusophone contributor to UN peacekeeping missions, supplying 2,220 personnel. Timor-Leste, meanwhile, is the recipient of UN assistance. Some 1,300 UN peacekeepers are based there.