Diplomacy / Global
Diplomacy
Briefing
We meet Timor-Leste's man in Australia and bring you more dispatches from the diplomatic world.
AMBASSADOR NO.12
Knowing the score
Timor-Leste
[ABEL GUTERRES]
On a balmy September day in 1975, an Australian military-transport plane landed in the mountain village of Baguia in Timor-Leste.
Although 19-year-old Abel Guterres had never seen a military aeroplane before, the future diplomat soon charmed his way onto the Darwin-bound flight, heading off for a beach holiday.
"I was there by pure coincidence just to see what this plane looked like. I never thought I'd go to Australia," he says over coffee at an upscale Sydney café. "That two weeks turned into 24 years."
Weeks later, Indonesia would invade Timor-Leste, killing Guterres's father and 12 of his 15 siblings. The country, which had only just achieved independence from Portugal after more than 400 years of colonial rule, went on to spend more than two decades under Indonesian dictator Suharto's brutal reign.
Australian exile reshaped Guterres into an activist, then into a spokesman for the rebels who eventually formed Timor-Leste's first post-independence government and then, in 2010, into his country's top diplomat in Australasia. It is a fitting role, he says, for a man who often feels as Aussie as he does Timorese.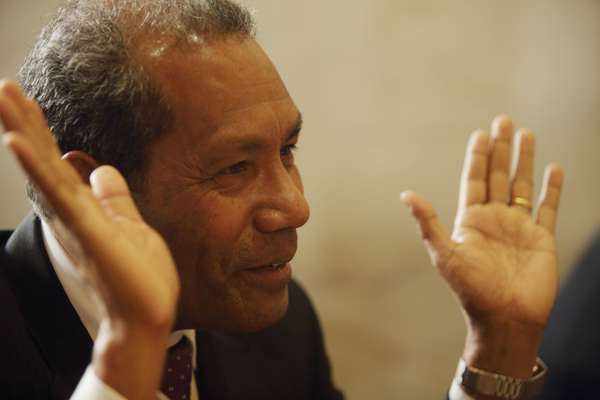 "Having the knowledge of both sides is a plus," he says with characteristic good cheer. These days, with insurrection a fading memory among the young population of Timor-Leste, economic growth driven by investment from Australia and Indonesia – the country's top trading partners – is key. Despite a sovereign fund to manage the country's petroleum wealth that is valued at €8.2bn, the country remains saddled by corruption and high unemployment, the biggest threats to stability. "Consolidating peace needs to be underpinned with economic development," he says.
Guterres bears no anger towards Australia, whose government did little to blunt the Indonesian occupation of the former Portuguese colony. The role of Australia's military in quelling political crises in 1999 and 2006 have helped to heal those old wounds. He prefers to focus on his Australian friends – including top government officials – and the annual aid from Canberra that makes up 10 per cent of Timor-Leste's budget. Still, the diminutive diplomat admits to harbouring one revenge fantasy. "We love soccer and hope one day to be world champions. Probably not in my lifetime – in my kids' lives," he says. "And I hope we'll beat Australia and Indonesia along the way!".
The embassy: The Timorese embassy to Australia is located in the upscale Deakin neighbourhood of Canberra and is accredited to New Zealand and Fiji in addition to Australia. The angular embassy building, opened in 2010 by former president José Manuel Ramos-Horta, was designed as an homage to traditional Timorese homes.
The staff: In addition to Guterres, the embassy employs two other diplomats and an office manager. They keep busy trying to drum up investment to put a dent in the country's high unemployment rate.
The challenge: For Guterres, who has high-placed contacts inside and outside the Australian government, access is not an issue. The toughest task is convincing people to invest in conflict-prone Timor-Leste "because the country is new with no record of trust and credit".
---
Agents' secrets
Cape Verde
[FBI TRAINING]
This summer, security services across Africa and the Middle East met in Cape Verde for a course on FBI law enforcement. Five of the Fed's police officers flew in to teach agents from 22 countries how to strengthen cooperation and bolster security.
In 2010, the US provided 20 Harley-Davidsons for Lebanese police.
As part of a UN mission, US correctional officers train Sudanese prison staff.
California police have agreed to train Jamaican police in non-lethal response tactics.
---
A lick of paint
London
[DUTCH EMBASSY]
In these times of austerity, the Dutch have found a more affordable alternative to the costly embassy-building drive that saw award-winning structures built by Dick van Gameren and Bjarne Mastenbroek in Addis Ababa, Claus en Kaan in Maputo and Rem Koolhaas in Berlin.
Instead, the government is drawing on the country's design talent. In London, the Dutch Embassy has employed designer and installation artist Jan van der Ploeg to refurbish its interior with a riotous grey, black and orange paint job. The result: a radical cultural statement that is leased from the artist. The embassy can choose to whitewash or invest as it sees fit.
---
Language barrier
Equatorial Guinea
As the name suggests, the Community of Portuguese Speaking Countries (CPLP) is made up of countries that speak… Portuguese. Yet that hasn't stopped Spanish-speaking Equatorial Guinea seeking membership. The CPLP isn't convinced – mainly due to human-rights concerns.