De Kas / Amsterdam
Green machine
Most restaurants boast of using only fresh ingredients but they don't come much fresher than at De Kas.
"It's all about the freshest ingredients, their taste and aroma," says chef Ronald Kunis (above) as he shows monocle around the extensive kitchen gardens of De Kas restaurant in Amsterdam's Frankendael park. When owner Gert-Jan Hageman opened it in 2001, De Kas was the only restaurant in the city using sustainably sourced produce. "Today even the smallest eatery is into sustainable and organic food," says Kunis. "Back then we were considered revolutionary – if not 'hippie'."
Kunis joined De Kas as sous-chef after stints at London's River Café and Moosewood in New York, working his way up to head chef. He and his seven kitchen staff create Mediterranean-influenced food using locally grown produce, about 50 per cent of which comes from De Kas' own nursery and a stretch of land in the Beemster municipality (see box, right). Whatever they can't produce themselves comes from environmentally conscious suppliers in Amsterdam and beyond – organic meat and dairy produce is guaranteed by the local farms De Lindenhoff and Pieter van Meel and the fish is freshly caught from the Wadden Sea and North Sea.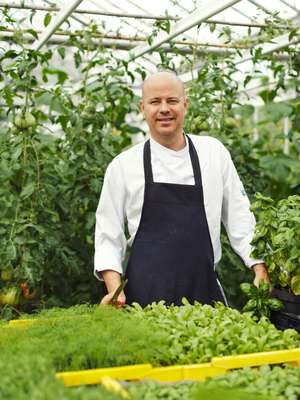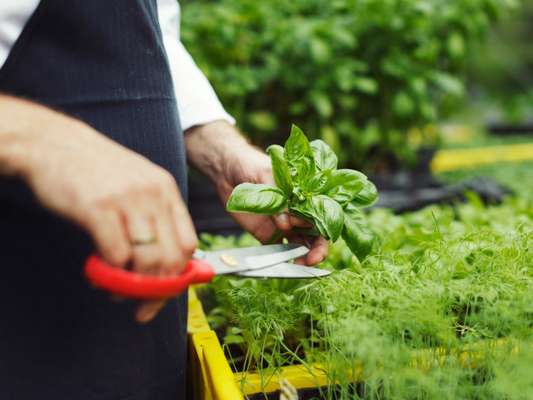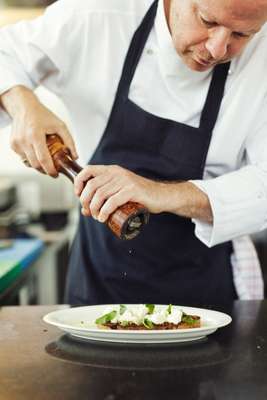 De Kas occupies a striking eight-metre high greenhouse that dates back to 1926 and was once part of the city's municipal nursery. Refurbished by the Dutch interior designer Piet Boon, it now houses the glass-roofed main dining room accommodating up to 120 guests.
The adjoining private Garden Room is set among the plump vegetables and herbs of the nursery. De Kas serves about 45,000 diners a year, offering a set lunch and dinner menu that changes every week, based on what's just been harvested. Rich in vegetables and served with meat or fish (you can opt for vegetarian), all the dishes are prepared in an unfussy way to retain the full flavour of the ingredients. "I want people to taste each of the ingredients.
I keep the presentation as simple as possible, and the flavours light and exciting," Kunis explains. "This is the secret, it's not about cooking complicated meals." Some of his culinary hits include fresh strawberries marinated in balsamic vinegar, Bloody Mary sorbet, fig ice cream and tomato crostini.
"Simplicity and flavour," the chef insists, while chopping the four different types of tomatoes, ostentatiously named Crimson Carmello, Gold Rush, Green Zebra and Chocolate Cherry, that are needed for his roasted tomato soup.
"It's just as delicious if done with one type of tomato as long as they are juicy and fresh," Kunis assures us. "Respect your ingredients and their provenance." As we sit back and enjoy a steamy bowl of tomato soup seasoned with basil freshly cut from the well-stocked herb garden in the back, we're left with no choice but to agree.
Goats' cheese bruschetta
Serves 2
2 slices of white bread
100g goats' cheese
2-3 garlic cloves
4 teaspoons of extra virgin olive oil
Pinch of salt and pepper
8-10 leaves fresh basil
1 small bunch of thyme
The method
Slice bread and drizzle olive oil on top. Toast until crispy.
Lightly scrape garlic on top and crumble on the goats' cheese generously. Sprinkle again with olive oil.
Season to taste and garnish with thyme and basil.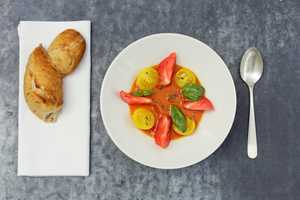 Roasted tomato soup
Serves 2-4

700g tomatoes
2 garlic cloves
1 small bunch of thyme, rosemary, basil
Half a lemon
Salt and pepper
4 teaspoons of extra virgin olive oil
5-6 teaspoons of Tabasco
The method
Roast the tomatoes and garlic in preheated oven [200C] for 30 minutes. Place in a blender, add olive oil, thyme, rosemary and blend for 30 seconds.
Season with salt, pepper, Tabasco and lemon juice and serve warm or chilled, garnished with basil and tomato slices.
Growth industry
The nursery
With the freshest ingredients at heart, De Kas prides itself on using the best produce, most of it harvested from its own soil. Apart from the beautiful greenhouse and garden with Mediterranean herbs and edible flowers that's attached to the restaurant, De Kas also owns a large field in the Beemster region, a 20-minute drive from the capital. While you can find owner Gert-Jan Hageman and chef Ronald Kunis taking care of the restaurant's nursery on a daily basis, from May to October there are also guided tours to the fields in Beemster and hands-on workshops on everything to do with fruit and veg. With 16 types of tomatoes available and 1,200 sq m of land, there is indeed a lot to learn (and taste).