Issue 57 / London
Observation
As Monocle warms up for a health and better living issue, our editor in chief Tyler Brûlé reflects on which Lusophone nations are running ahead of the pack.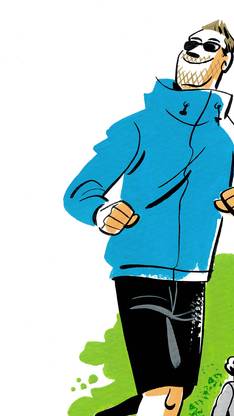 We've been covering a little more ground than usual over the past few weeks as this 57th issue ranks among our biggest to date (both editorially and commercially) and we've been busy preparing new ventures in corners near (just down the street from our HQ) and far (Zürich, Bangkok and Toronto).
On the editorial front our culture editor Robert Bound jumped on his golf buggy for a tour around the studios and back-lots of Brazil's biggest TV production centres and our senior editor Sophie Grove made her way to Maputo to report on the city's growth and the perils of letting Chinese developers play a role in the capital's architecture. Foreign editor Steve Bloomfield jumped down to Lisbon to talk to the people in charge of binding together the Portuguese-speaking world politically, culturally and economically while Monocle 24 regular Andrew Mueller traded in the cosy surrounds of studio one at Midori House for a couple of days in the Azores.
Though it may be unfashionable to talk of empires and colonies, the Portuguese-speaking world has both the critical mass and reach to become everything from a serious trading bloc to a pop-culture powerhouse. While we mostly focused on the more formal association of Lusophone nations, the broader Portuguese-speaking diaspora offers even more opportunity if you pull in the Brazilian community in London (one of the biggest in the world), the Portuguese (largely Azorean) communities in Toronto and Boston and the under-developed opportunities between the Brazilians in Japan and Portuguese-speaking Japanese in São Paulo and Santos. Indeed the latter could prove to be the most solid economic and cultural link between Asia and Latin America but it needs some mending as Brazilian workers haven't been particularly well treated in Japan and the Japanese in Brazil don't feel that warm and fuzzy about Tokyo. Nevertheless, the links are there – so too are the results. An easy win for Brazil and Japan would be greater collaboration in the fields of aviation and space technology. It only takes a few minutes on the factory floor at Embraer's massive facility outside São Paulo to see how many local Japanese are involved in the engineering of the company's aircraft. There are already plenty of informal links between Japan and Brazil but a bit more work from diplomats and executives in Brasília and São Paulo could easily pull Japan into the Lusophone sphere offering lucrative opportunities and exchanges from Nagoya to Luanda to Lisbon. At a time when the Commonwealth has become a bit unwieldy (54 members and counting), the Lusophone nations' have the geographical spread and scale to potentially be more agile and effective.
Speaking of agility, our publisher Pamela Mullinger and our head of distribution Helen Leech have been dashing around signing up new retail deals, strengthening our presence in both established and emerging markets and generally doing the things traditional magazine stores used to do as part of their day-to-day business. As it becomes increasingly difficult for anyone in the business of putting ink to paper on a weekly or monthly basis to get their titles to market, our team on the third floor is constantly looking for ways to make it easier to find the magazine in traditional locations while also opening up new distribution channels. For readers in Switzerland (one of our biggest markets), this means a new Monocle corner at men's shop Pelikamo just off the Banhofstrasse in Zürich. While Switzerland's Kiosk brand offers one of the finer examples of magazine retailing in Europe, we nevertheless thought there was scope to show a more complete view of the monocle brand in the form of our second retail corner (the first being in Hankyu Osaka). In the coming weeks we'll also be trialing a new concept in Thailand that will focus on Monocle's full line-up of paper-based products (current issues, back-issues, postcards, notebooks and other stationery) in Bangkok, Phuket and Chiang Mai – not too dissimilar to the format we launched with Loblaws in their flagship Toronto store. The biggest retail development for monocle this autumn is a streetcar ride west from Loblaws and a stop at 776 College Street. Mid-October will mark the debut of a full shop/bureau set-up along with offices for our sister company Winkreative. While considerably larger than our Hong Kong operation, the spirit of the space will be the same with the complete range of monocle products, attentive staff and all the supporting functions for our editorial operations and the agency. If you're a subscriber in the Toronto (and Buffalo) area expect an invitation soon to preview our new digs and also meet Monochan – who's making a special trip over for the opening.
As this issue prepares to ship off to the printers down in Poole, UK, we're donning our trainers again to prepare for our first ever health and better living issue. Building on the success of our quality of life issue, our November edition will focus on the cities that are getting emergency medical response right, governments that have come to grips with the real meaning of public health, the best places to stay limber and stimulated in your silver years and also the top gear and regimes for staying trim while you're at your most frisky. If you have any running or residential tips, please drop a note to my assistant Tommy Seres (tse@monocle.com) or me at (tb@monocle.com). As ever, thank you for your feedback and generous support.
For more from our editor in chief, read his column in the FT Weekend.