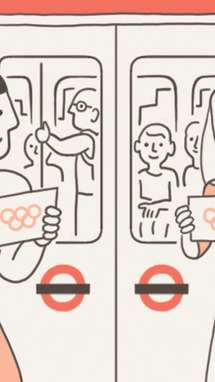 In an open-plan government office – jackets over the backs of blue swivel chairs, coffee cups and drinks cans liberally scattered on desks – eight civil servants are trying to change the way governments work. Deep in the heart of the UK's Treasury building in Whitehall the Behavioural Insights Team – or the "Nudge Unit" as some prefer to call it – is coming up with new ways to subtly change people's behaviour. From persuading drivers to renew their car tax on time to reminding those who have been fined to pay up before the bailiffs are sent around, the Nudge Unit is already having a dramatic impact. And in this time of austerity it has also managed to bring in far more money than it actually spends, which isn't bad for an untested theory.
"It's the coolest, most interesting part of policy," says David Halpern, the unit's head. "Normally policy takes years and years to have an effect; we see results very fast. It's very, very unusual."
Politicians tend to use two main tools to make a difference: legislation and, well, talking. Both can work. For instance, Barack Obama's affordable healthcare act will lead to some 30 million Americans receiving health insurance that they otherwise would not have.
The nudge theory, first promoted by US academics Richard Thaler and Cass Sunstein, argues that people's behaviour can be changed if they are given a little push. The theory had become popular in certain academic circles but it wasn't until two leading British politicians discovered it that the opportunity to move the theory from academia into reality could take place.
In 2007, David Cameron (then leader of the opposition, now prime minister) and chancellor George Osborne (then shadow chancellor) were beginning to think about the sort of government they would want to lead if they came to power in the UK. One of their senior advisors, Rohan Silva, had read Thaler and Sunstein's work and decided to give the professors a call.
Thaler was excited at the idea of persuading politicians to put his ideas into practice and soon realised that Cameron and Osborne saw the nudge theory as the perfect example of the "small government" philosophy with which they were comfortable. Governments tend to be wary of experiments for one very simple reason: lots of experiments don't work. Voters and the media tend to be less sanguine about failure than academics in a research environment. But the confident pair of Cameron and Osborne "were enthusiastic from the start", says Silva over a cup of tea at 10 Downing Street. "It fits in perfectly with our governing philosophy."
Cameron and Osborne's backing – Halpern reports directly to the prime minister – doesn't necessarily make the Nudge Unit ideological. Halpern spent six years working for Tony Blair when the latter was prime minister and the unit has the support of several senior Labour figures. Yet Halpern admits it helps that he is working with a government that has no money to spend and is generally distrustful of legislation as a tool for change.
Yet the unit's success may lead to its demise. Already several government departments have embraced the theory and are working on changes without the direct assistance of Halpern's unit. A sunset clause was written into the unit's terms of reference that is due to come to a close before the end of the year. However, by then it may well have been taken up by various governments around the world, several of whom have been watching events in London with a keen interest. The Australian state of New South Wales has already signed a contract to set up its own unit and Canada, Singapore and France are all considering similar experiments.