Diplomacy / Global
Diplomacy
Briefing
We meet Georgia's ambassador to Germany and take a dip at the UN swimming club in Geneva.
The Republic of Georgia's ambassador to Germany, Gabriela von Habsburg, wasn't born in Georgia but her pan-European heritage is certainly a major factor in why she's such a fitting representative of Europe's easternmost country. "Diplomacy might be in my genes," says a modest Von Habsburg, who is, yes, of that Habsburg family: her grandfather was Austria's last emperor.
Von Habsburg was born in Luxembourg and grew up near Munich. Her background is not in politics but the arts; her first time in Georgia was in the 1990s, when she curated an exhibition: "I fell in love with the country and the culture." She later became a professor at Tbilisi's Academy of the Arts and took Georgian citizenship in 2007. In 2009, president Mikheil Saakashvili asked her to become Georgia's ambassador to Germany, a position that was ratified by the Georgian parliament and that she began in November of that year.
Georgia is mostly an easy sell: construction is booming with new airports, roads and other infrastructure displaying intriguing design. Tourism is blossoming, with places such as Batumi – a subtropical beach town on the Black Sea – upgrading its services and Georgian ski resorts luring hardcore skiers from the Alps. Even its drinks industry is making headway: the embassy recently hosted a wine-tasting evening (Georgia was the world's first wine region) at Berlin's Hotel Adlon, where nearly 50 sommeliers showed up.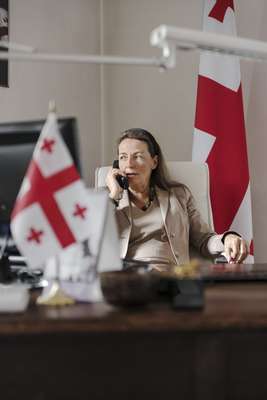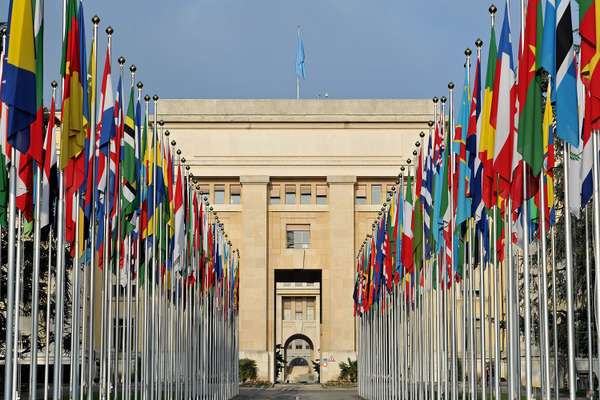 Things weren't so optimistic when Von Habsburg first arrived in Georgia. "It was so corrupt. At the Academy of Arts, the power was cut off every day. Traffic police demanded bribes. Daily life was miserable." 2003's Rose Revolution went so smoothly because Georgians saw how the lack of corruption made their lives easier. However, a key remaining issue is the dispute over South Ossetia and Abkhazia, both of which have claimed independence. "This situation is unacceptable. 
We need the help of Germany to spread information [about it] to other countries," says the ambassador.
Von Habsburg's energy for her adopted homeland is infectious. "I love maps because they give you so many answers. If you draw a line from western Europe to China you cross Georgia, which will gain importance politically and economically," says the ambassador, who keeps an apartment in Berlin, works on her stainless-steel sculptures in her Bavarian art studio and owns wine-producing land in Georgia. Her dream is for Georgia to join the EU; until then, she'll keep exhibiting the country's numerous merits.
The embassy: Located in a villa at the edge of Tiergarten Park that was originally the Norwegian embassy; in 1945 it was occupied by the Norwegian military mission.
The staff: Five diplomats and eight local employees support the ambassador. The diplomats divide their duties between economic relations and investments, consular issues, culture, education and bilateral political relations.
The challenge: Gaining recognition in Germany and from the EU. A young generation of leaders has carried out unique reforms, of which Germany needs to be made more aware.
---
No winners
China
[PEACE PRIZE]
UN secretary general Ban Ki-Moon and his predecessor Kofi Annan are locked in battle over a peace prize that neither of them will want to win. Both men are among the nominees for the Confucius peace prize – China's quixotic alternative to the Nobel peace prize.
The award was created in 2010 in protest at the Norwegian committee's decision to present its prize to Chinese dissident writer Liu Xiabao, who is currently serving an 11-year prison sentence for writing an appeal for political reform.
Russian president Vladimir Putin won the prize last year for his crackdown in Chechnya – a feat that the Nobel committee would be unlikely to recognise.Victory for Ban may prove a little awkward. He would be keen not to annoy a permanent member of the UN Security Council, yet accepting such an award would raise eyebrows elsewhere.
---
Sunny outlook
Geneva
[UN BUILDING]
The UN has spent 10 years reducing the ecological impact of the sprawling Palais des Nations (above) in Geneva. A two-year plan costing CHF50m (€41.6m) launched in 2012; the roof is gaining solar panels and 1,680 windows are being replaced. "The goal is to modernise… while preserving the original architectural features," says chief of buildings Francesco Savarese.
Few countries practise medical diplomacy as effectively as Cuba, sending doctors and nurses to allies from Latin America to Africa. Some wonder though whether Cuba's much-admired healthcare system will survive Raul Castro's economic reforms.