Cancer centre / Copenhagen
Home visit
The origami roof of the new Center for Cancer and Health suggests that this is no ordinary hospital. Nord Architects Copenhagen has achieved a design leap by creating a leafy courtyard and comfortable interiors.
Going to any medical institution is an uncomfortable experience regardless of whether you're the patient. For buildings designed to heal, it's remarkable that so little priority is given to the emotional impact of the interiors beyond the odd superficial wall mural. Picture a hospital and you imagine flickering fluorescent strip lighting, sterile corridors that smell of formaldehyde and stuffy waiting rooms with muted television sets. But it's not the case at Copenhagen's new Center for Cancer and Health.
Just across from the brutalist Faculty of Medicine of the University of Copenhagen and not far from Denmark's national hospital, the Rigshospitalet, the centre's gleaming aluminium façade is a new beacon of architecture in Nørrebro and sets a new global standard for medical architecture.
For a start the day centre, which is open to all cancer patients for therapy and counselling, funded by the municipality of Copenhagen, is a beautiful, intriguing building to look at. It consists of 16 different pitched-roof houses inspired by the surrounding architecture, knitted together to create a network of irregular, interlocking spaces.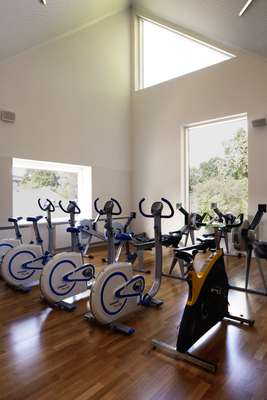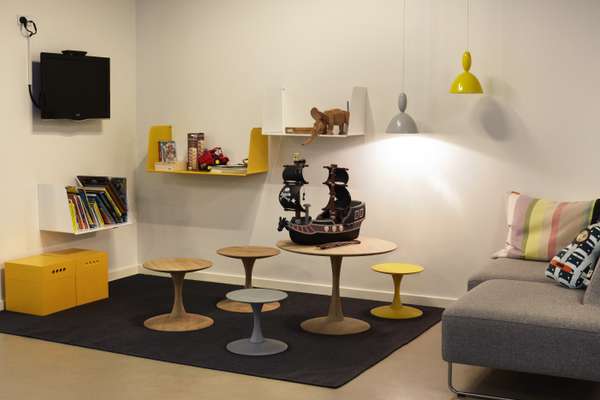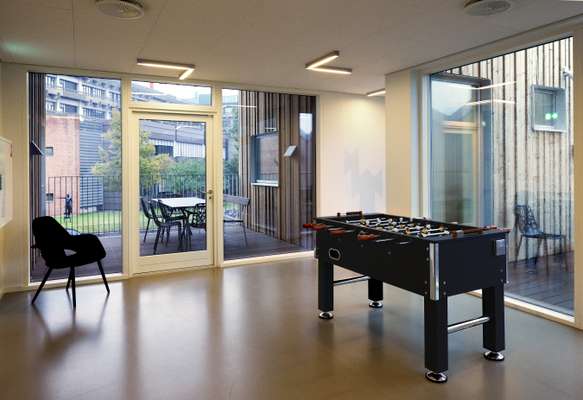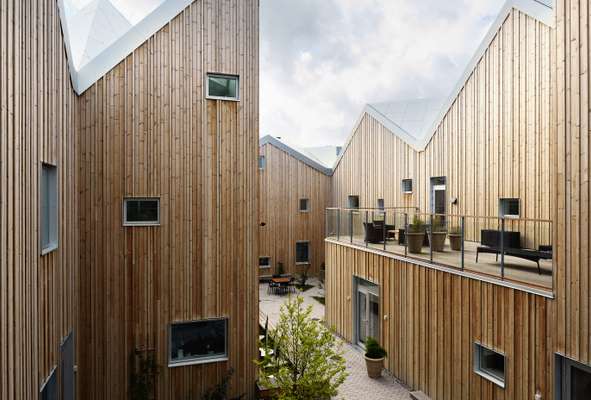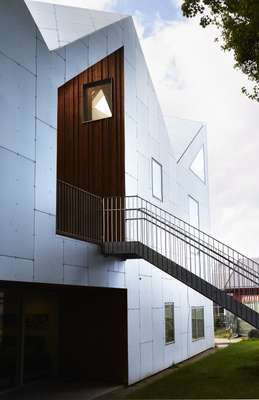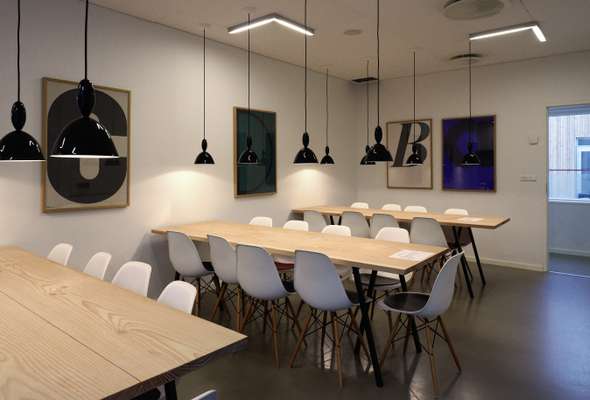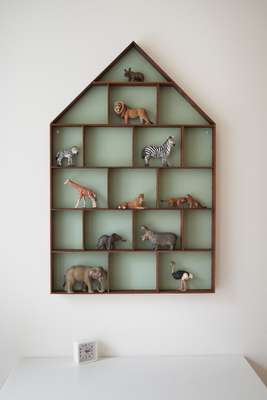 On entering, visitors are greeted warmly by volunteers and ushered to a dining table where coffee and tea is offered. It's a far cry from front desks manned by grumpy receptionists behind ageing computer screens. In place of the usual rows of plastic chairs the lounge here is decorated with notable Scandinavian furniture. It feels much more like a homely café than a staid medical institution.
From here patients look out onto a courtyard filled with greenery. "It's the building's main axis. We were inspired by Asian and Middle Eastern monasteries; healthcare and religion share a lot of principles," says Morten Gregersen from Nord Architects Copenhagen, the 12-strong Danish practice that designed the centre. "It's a space of tranquillity and it creates a sense of community too."
"The project was done with the patients in mind," he says. "Although aesthetics played a major role in its construction, what was key for us was that people felt at home when coming for their therapy – that's why they helped design it."
In 2009, after winning a competition hosted by the municipality of Copenhagen, Gregersen and his partner Johannes Pedersen talked to staff and future visitors to choose the design details, from the type of flowers to plant in the garden to the furniture that would fill the interior. "We ordered 10 different types of chairs and asked the patients to try them out," says Johannes. "In the end they felt more comfortable in the Eames and Wegner models."
Despite its size (2,209 sq m) and the fact that it's two storeys high, the centre has just one staircase. "There's an elevator too," Johannes points out. "New patients use it but as their health and confidence improves they walk upstairs. Using the stairs is a goal for them." The first floor has a gym with Technogym equipment, physiotherapy rooms and a lecture hall.
The ceilings rise up to create the soaring peaks that give the exterior its recognisable character, like an origami model. Yet despite its straight lines and sharp edges, there's nothing austere about this treatment centre. It feels like a home. Beyond the clever spatial design and careful choice of high-spec domestic furniture this is also thanks to the materials Nord Architects Copenhagen used – concrete, wood, aluminium – which together create a rich, tactile effect. It's a place where you want to spend time and that you feel will improve with age, not somewhere you associate with the cold, clinical misery of most medical centres. "We chose materials that weren't normally present in hospitals – ones that age attractively and don't have an artificial feeling. Ones that encourage interaction," says Morten. "When you hand over a building it's like a new instrument," adds Johannes. "Users have to tune it and learn to play with it."
The centre is a place that provides for the rehabilitation needs of cancer patients without falling into the formula of an institutional environment. For patients the building is a familiar, comfortable place. The hope is that this is a model to be rolled out, not just in Denmark but beyond, too.
Windows  
The windows in the training area and lecture hall face north to harness as much natural light as possible, taking into account Denmark's short daylight hours in winter.
Materials  
The materials are easy to clean, durable and tactile – the kind associated more with domestic architecture than hospitals.
Interiors  
Domestic rather than contract furniture makes the centre feel more like a home than an institution.
Spatial arrangement  
Rooms are laid out in a way that promotes social engagement between patients but also provide secluded spaces for privacy.
Kitchen
Cooking courses are offered – food is very important because during chemotherapy patients lose their appetite.
2003 Nord Architects Copenhagen founded
2009 Complete the Natural Science Center, Bjerringbro
2011 Natural Science Center nominated for the biennial Mies van der Rohe architecture prize
2012 Win the competition to develop a masterplan for the Bispebjerg hospital
2012 Co-curate the Danish pavilion show "A Possible Greenland" at the Venice Architecture Biennale