Santos community / Santos
Sand castle
Brazil's beachside resort Santos used to be the retreat that São Paulo residents escaped to. Its flamboyant apartment complex from mid-century master Artacho Jurado, is now a haven for elderly architectural fans.
In the 1950s the Paulistano bourgeoisie craved a seaside retreat. Heaven forbid they'd travel to rival Rio de Janeiro. Santos, the coastal city just 80km away was a far better option. The Edifício Parque Verde Mar (green sea park building), the seaside twin of São Paulo's splendid Bretagne building, was where they flocked. Facing the beach, the 14 floors house 168 apartments. It was designed by the Brazilian businessman Artacho Jurado, son of Spanish immigrants who, impressively given his legacy, never trained as an architect. It's perhaps for this reason that he was such a renegade – his playful creations clashed with the rationalism and functionalism of the more renowned modernist architects of the time, notably Oscar Niemeyer and Lúcio Costa.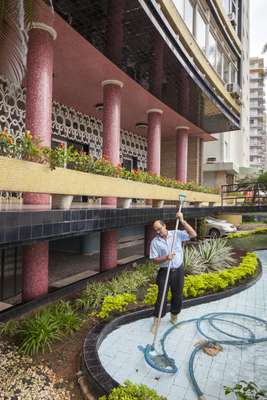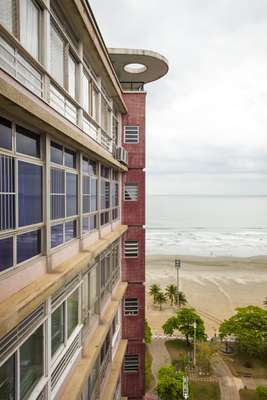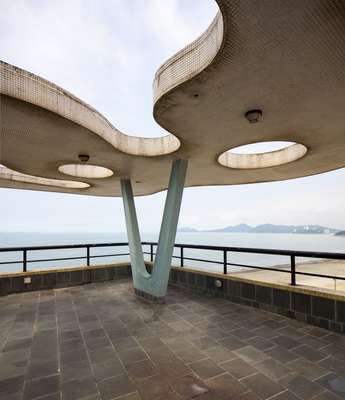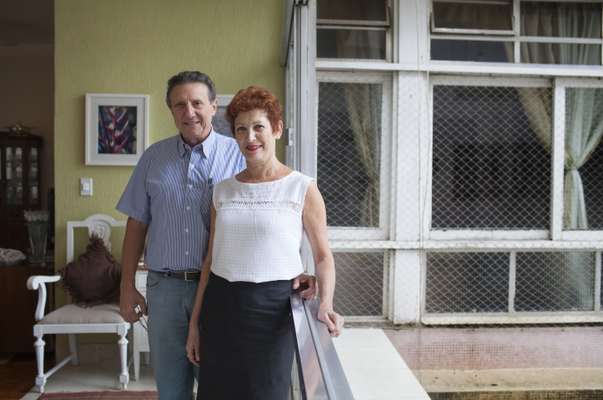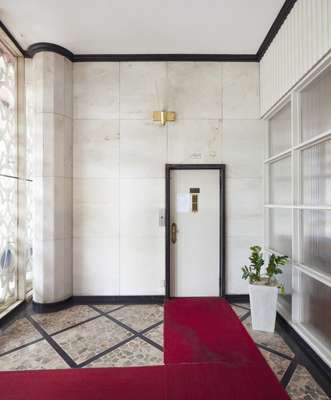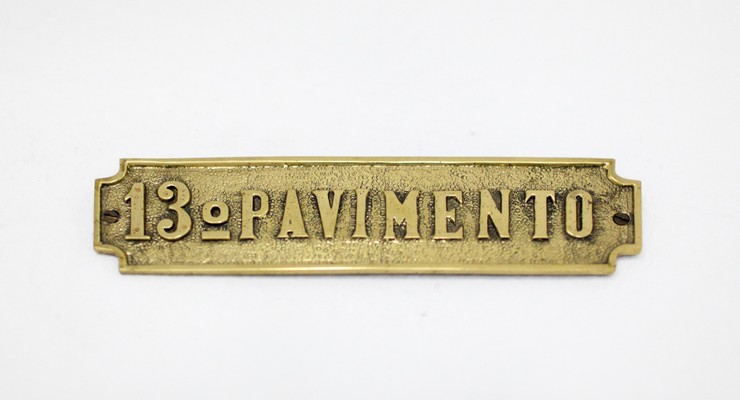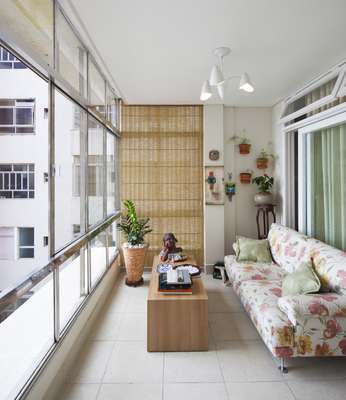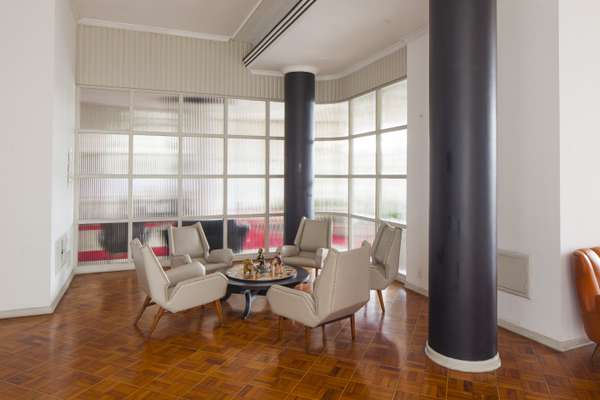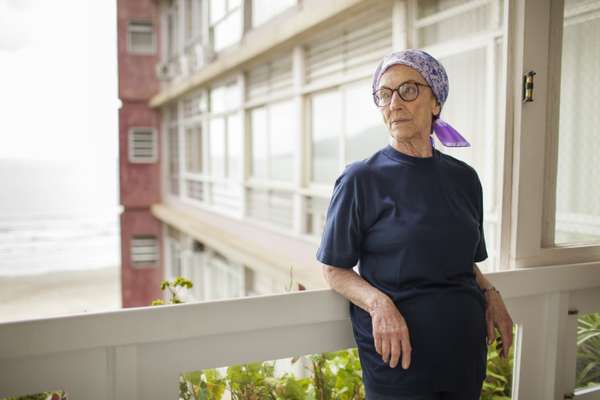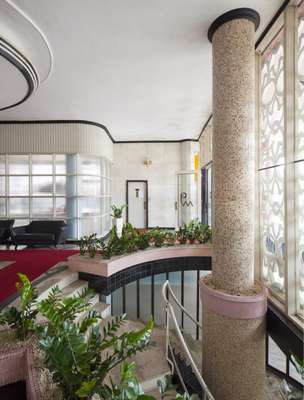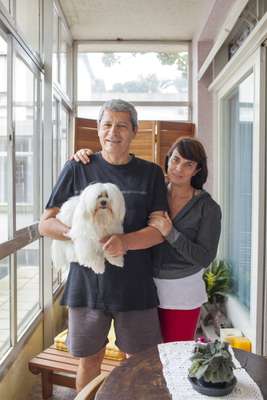 Jurado's buildings have a certain kitsch appeal. The Parque Verde Mar has an almost gaudy façade, plastered with small, coloured tiles. Rooms were exclusively designed for playing cards in, and there are eight lifts as well as large salons for decadent parties and even an indoor playground. All of Jurado's creations are in São Paulo and seaside Santos. In the Paulistano neighbourhood of Higienópolis you find Parque das Hortênsias and Cinderela, together with his crowning glory – the Bretagne. In Santos, in addition to Parque Verde Mar he also built the Enseada building at the eastern end of the bay.
The Parque Verde Mar sold in record time when it was completed in 1957 and has become synonymous with the midcentury luxury of São Paulo. Buyers were successful businessmen with good taste, seduced by the idea of having a beach house at a time when Santos was considered the height of sophistication, with its packed hotel-casinos and the best party scene in Brazil. Jurado led by example, taking an apartment here too. As time went on, Santos was overtaken by more exclusive seaside resorts and the original, glamorous owners were soon replaced by local Santistas and elderly couples looking to retire to the seaside.
The floor plan of the building is T-shaped and consists of three different apartment shapes. The front is divided into four 85 sq m apartments overlooking the sea. On the sides are six 38 sq m one-bedroom apartments. The rear consists of two 85 sq m apartments, each with a terrace facing the beach. Very little remains of the original layout because the apartments were designed to allow buyers to finish the floor plan as they wished. Some people bought two, sometimes three, units on the same floor, knocking down the walls and combining them. There is no pool – Jurado believed there was no need given the residents were just a few steps from the sea.
On the roof, a large concrete slab sits atop like a giant amoeba, jutting out over the walls. It has no function beyond being an intriguing oddity. But it's this that gives the building its charm, which is arguably Jurado's signature legacy.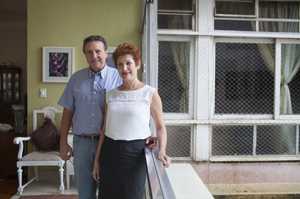 01
Marcos Prandi and Sonia Kapulski
Apartment 1001
"Here you buy a seaside view and as a gift you get an apartment by Artacho Jurado, or vice versa. It is a great deal," laughs the shopping centre administrator Marcos Prandi, 60. Together with his second wife, Sonia Kapulski, 59, they moved to an 85 sq m apartment five years ago. Once there, they split a bathroom in two, creating a toilet for visitors. They built over the terrace turning it into an extension of the bedroom. Now they go to sleep and wake up with a seaside view. "At night, the queueing ships coming in and out of the port of Santos transform the skyline. It's like a brilliant floating city at sea," says Sonia.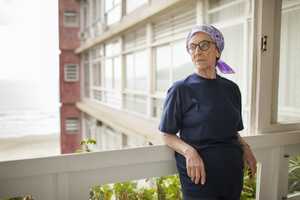 02
Valkiria Ortega Donoso
Apartment 1312
Valkiria Ortega Donoso, 80, still has some details of the original floor plan. She moved with her husband 18 years ago and together they planned to transform their apartment but she has reconsidered the idea since he died only a year later. She kept the original bell, as well as the plaster cornices on the ceiling. Valkiria also still has the original brochure of the building. "I inherited it from the former resident who was passionate about the work of Artacho Jurado. She was the granddaughter of Paulistano architect Ramos de Azevedo, who designed many astonishing projects such as the Municipal Theatre and Pinacoteca do Estado."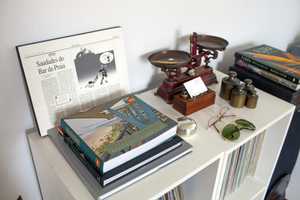 03
Eduardo Caldeira and Monica Mathias
Apartment 1401
Eduardo Caldeira, 68, is obsessed with the Brazilian singer and composer Johnny Alf, one of the precursors to bossa nova. On a shelf packed with CDs and vinyl, Eduardo displays records, books and photos of his recently deceased idol. He has good reason to be an ardent fan too:
"In the 1980s, Johnny recorded the song 'Bar da Praia' as a tribute to one of the bars I owned," he says. After a few earlier attempts to move into the Parque Verde Mar, Eduardo managed to buy an apartment here three and half years ago and today he lives with his wife, graphic designer Monica Mathias, 48. "It was an old dream. We tried several times to buy another unit until, finally, we got this," he says.