Africa/Middle East / Global
Africa/Middle East
Briefing
Zimbabwe will see a violent election, Africa will begin to reject the IMF's prescriptions and all eyes will be on the new leader of the African Union.
2013 issues to keep an eye on
Short walk to upheaval
AME — 
FORECAST
The ongoing Francophone versus Anglophone battles within the African Union, plus the continent's continued growth will provide a backdrop to a host of big issues. South Africa may witness a level of upheaval not seen for many years. The bloody suppression of striking workers at the Marikana mine this year may only be the beginning: the violence could spread as young Africans, more numerous and better connected than ever before, demand a better life.
Brutal ballots
In Zimbabwe, a bloody election may result in President Mugabe seizing another term as president. Then there's Kenya, which will hopefully avoid a repeat of the 2008 election that saw two months of violence.

Ongoing hostilities
The wars in Sudan and Congo will continue, creating periodic humanitarian disasters that probably won't be considered big enough to warrant military intervention. Aside from these struggles, new wars are unlikely – unless Ethiopians end up falling out following the death of Prime Minister Meles Zenawi in August.

New resources
A lot of African countries, especially new oil and gas producers such as Tanzania, Mozambique and Ghana, will get richer. As a result, watch for these countries rejecting the economic prescriptions of the IMF, World Bank and aid donors and taking their own economic courses, perhaps supported by China. The surprise will be that Western investors won't mind – as long as they profit.
By Richard Dowden, director of the Royal African Society
---
Elections to watch
Deadly serious
AME — 
KEY DATES
Kenya
Type: Presidential and parliamentary
Date: 4 March
Issues: Last time around, President Mwai Kibaki's brazen attempts to steal the election resulted in the deaths of 1,300 Kenyans and two senior politicians facing charges at the International Criminal Court. Unfortunately, little has changed to suggest that there won't be violence again in March.

Madagascar
Type: Presidential
Date: 8 May
Issues: The hope on the Indian Ocean island is that this election will end three years of political chaos that was sparked by then opposition leader (and one-time DJ) Andry Rajoelina ousting – with the help of the Army – President Marc Ravalomanana.

Iran
Type: Presidential
Date: 14 June
Issues: Mahmoud Ahmadinejad is stepping down but it's unclear so far who might decide to stand. Whoever steps forward, the failing economy is likely to matter more to voters than the country's nuclear programme.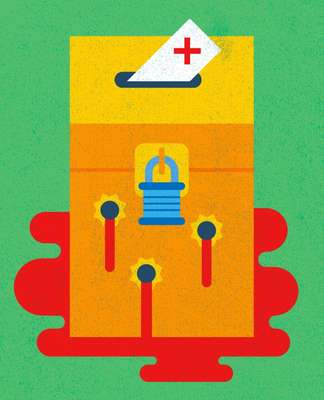 ---
Politician to watch
Onerous task
Africa — 
DLAMINI-ZUMA
Nkosazana Dlamini-Zuma promises commitment drawn from "the very depths of my being" as the new chairwoman of the African Union Commission tries to give the body credibility. The 63-year-old politician – who in 18 years in the South African government was health, foreign and home affairs ministers – will need all the dedication she can muster.
Best known for not condemning African coups and for vainly holding out in 2011 for talks with Muammar Gaddafi, the 10-year-old AU has never actually spoken out meaningfully on behalf of the continent.
West Africa's resistance to Dlamini-Zuma's election may hamper her efforts in regards to the Islamist insurgency in Mali. However, she is likely to find it easier to rally continental support for UN reform and pushing through the idea of giving Africa a permanent seat on the Security Council.
---
What's the big idea?
Flying visit
Dubai — 
AIRPORT
Long queues are common at airports across the Middle East but as Dubai International Airport prepares to handle 75 million passengers a year by 2014, its new Smart eGate system aims to reduce processing times from a 49 minute average to 22 seconds. Travellers just need a passport with a barcode to use one of the 40 gates due by February. Retinal-scan technology will also be used to identify passengers.
Similar card-based services aimed at residents have been rolled out in Oman, Jordan and Qatar but the Gulf's ever-busier airports will want to follow Dubai's lead with a service that is swift and open to all.
---
New faces will be present when the Arab League meets in March; rare in a part of the world where elections are uncommon. Tunisia, Libya, Egypt and Yemen all have new leaders, Somalia, too.