Business / London
Makers
&

Shakers
For the second in this month's special round-table series we talked with four businessmen about craftsmanship, manufacturing and the importance of where things are made.
Monocle has always stayed abreast of the "Made In" debate. Our contention is that provenance matters. In 2012 we've seen a discussion ignite around the issue of re-shoring – that is, the repatriation of manufacturing to Europe and the US from cheaper labour markets. But will re-shoring really catch on? Does it have real value?
To discuss this and other issues about the state of craft and manufacturing in Europe we invited four industry specialists to the venerable Oak Room at Durrants Hotel in Marylebone, London, for a business lunch. Over pan-fried sea bass we discussed whether there is still a role for philanthropy in business and how inviting customers onto the factory floor can pay dividends.
---
Till Reiter
CEO of Ludwig Reiter, the family-owned 100-year-old shoe firm still producing its Goodyear welted product in its historic headquarters in Vienna.
Gary Bott
Creative director of Globe-Trotter, which was founded in 1897 by Englishman David Nelken in Saxony, Germany. Nelken brought production back to the UK in 1901 and the firm now produces its vulcanised fireboard suitcases in Broxbourne, Hertfordshire.
David Hieatt
Founder of Hiut Denim. Hieatt set up Hiut in Cardigan, Wales – a town that once had a thriving jeans industry. He's hell-bent on seeing it restored to its manufacturing heyday.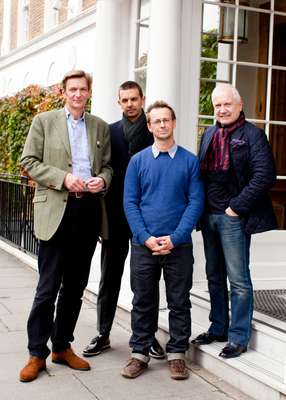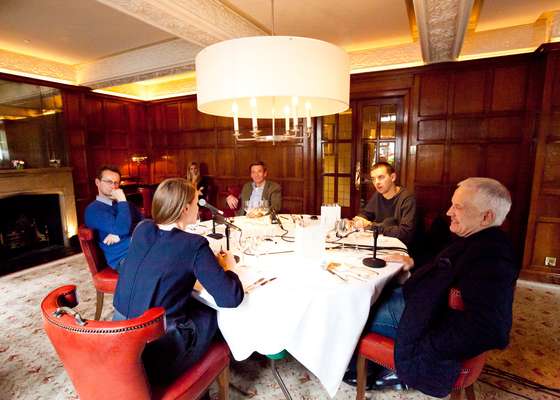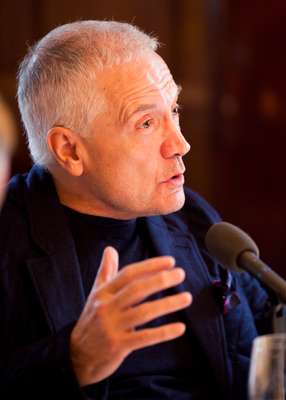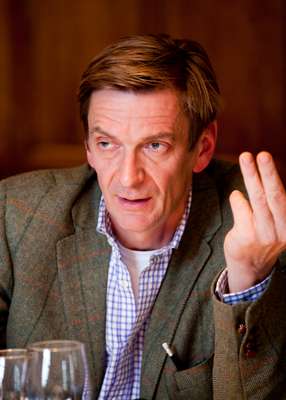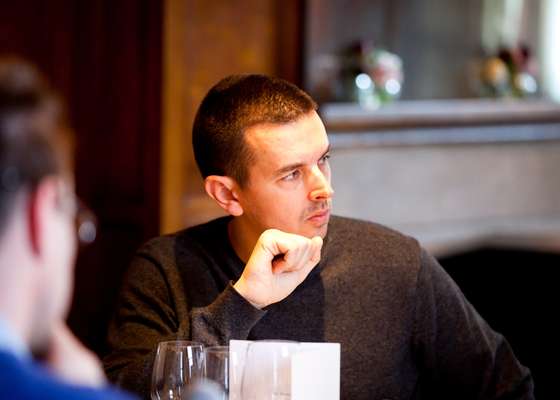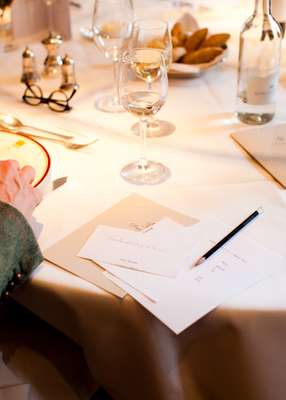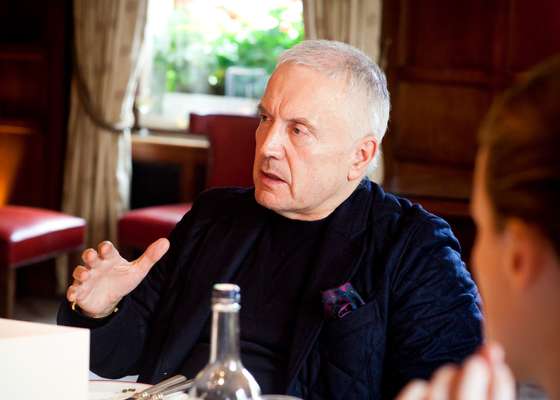 Alan Lewis
Chairman of the 200-year-old men's and womenswear label Crombie. The brand has just announced it will bring the majority of its production back to the UK.
Monocle: Till Reiter, do Ludwig Reiter's customers care where their shoes are made?
Reiter: In general, I don't think so. I think that most customers just care for prices, for brands, for fashion, for technology. But it is our conviction that it does matter. It matters how and where [our shoes] are made. And, it also has quite important logistic advantages to have production in the market and not somewhere abroad.
Monocle: David Hieatt, I'll bring you in here as Hiut Jeans has such a compelling story. Do you think your customers care where your jeans are made?
Hieatt: I think they do care to a point. I live in a town [Cardigan in Wales] that used to make 35,000 pairs of jeans a week, every week for 40 years, and then one day they closed the doors. So all that skill remained and they didn't have anywhere to show off their talent. I want to get my town making jeans again. I think we've got to be careful though. I don't think you build a great business by sentiment alone.
Lewis: I agree. For instance, the Crombie coat is an icon – we've been selling it for 200-odd years. Our customers like British because British is very good. But we can't just say, 'Oh it's made in Britain' and that's it. As you say, it's not all about where it's made, it's about the actual quality. The key is achieving levels of excellence from our craftsmen. And the only way you can do that is give the craftsmen the kudos that they enjoyed before.
Monocle: Let's discuss this idea of kudos. How important is the notion of a craftsman's status here? Is this something that needs to change in Europe if we're going to truly regenerate manufacturing?
Reiter: From my point of view, if we want craftsmen's jobs to become more interesting for young people, then this has to come from the market – which means that if consumers appreciate such products and are willing to pay an appropriate price, then you can simply pay and employ younger people and offer them an attractive job. Then they will be interested in getting that job.
Hieatt: Actually the kudos is coming back. From my point of view, I am seeing it changing. I think there's a real kudos to making things now.
Lewis: I think David is so right. You mustn't underestimate the spirit of UK entrepreneurs. We are investing heavily. A lot of these factories are now regenerated into innovation centres – centres of excellence – and we're working with the universities now to make sure they offer curricula for master craftsmen. So the move is happening but we've got to move very quickly.
Monocle: Let's talk about the role of your factories in all this. Gary, how key is your manufacturing space to Globe-Trotter's identity?
Bott: I think that's something that we are really coming around to the idea of. We are starting to show that side of the business now. And this is interesting because the production process is something that our customers want to see. It helps them to understand the value of the products. It comes back to this earlier point of cachet. For a young person perhaps not finding the glamour in working in a factory, we need to re-educate young people and we need to show them that they are part of something quite special.
Monocle: Till, your factory in Vienna is nothing short of lovely. I wondered whether the factory itself is part of the brand?
Reiter: The funny thing is, since we opened our manufacturing to the public, the effect is that consumers understand the product better and appreciate the value more. The other effect is that the workers in the factory feel their work is appreciated. Economically we even had a noticeable increase in productivity since we opened the factory to visitors.
Monocle: I want to touch on the subject of ethics. We've established that most consumers aren't moral crusaders. And I wanted to bring you in here Alan. Is there a moral dimension? Is there still a role for philanthropy in manufacturing?
Lewis: All of [our] factories were built based on philanthropy. I honestly believe that a lot of creators of wealth have an interest in philanthropy because to create money is purely a bi-product of creative thought. To amass wealth for the sake of amassing wealth is silly; what you've got to do is amass wealth for the power of good. That's what I think philanthropy's got to do with it. It will pay them, not only morally, but it will also pay them because they are investing in the future, the skills will come. A classic example is Crombie's new facility in Slaithwaite. We had 700 people working there, producing the best yarn in the world, but it closed. We've just opened it again, by putting an innovation centre there to concentrate on skills.
Monocle: Are there any financial arguments for bringing things back to the UK or for producing in your hometown in Vienna or Hertfordshire?
Reiter: Yes of course, if there weren't such arguments we wouldn't do it because we couldn't survive in the long term. We are a small family business and cannot afford to run a factory by philanthropy. One of the arguments that I already mentioned is that the sophisticated consumer is willing to pay a higher price. The other argument is logistics. If you are producing made-to-order things it has great benefits to be close to manufacturing. In matters of time, if we want to perform quickly, to respond to new trends, it's a great help. We can act much quicker and respond, even to the weather, and we couldn't do that with the factory somewhere abroad.
Lewis: I think Till is absolutely right. [But also] China and places of low-cost production are finding major difficulties now. Their skills are short because the workers don't want to work in factories. Logistically, there's starting to be a benefit in making in the UK, cost-wise.
Monocle: Gary, how would you respond to that from your Globe-Trotters' perspective?
Bott: I would agree with my colleagues here that geography is key. To give you one example, Japan is a very important market for us; in fact it is our primary market. However, if we were to move our production to Japan it would no longer be our primary market because, again, the reason we are successful in Japan and in international markets is because we are made in England.
Monocle: China has been demonised in some manufacturing circles. Is there a geopolitical element here?
Bott: The Chinese are great makers – I don't think anybody's not saying that – and I think they are great thinkers.
Reiter: I think that in particular craftsmanship and manufacturing is very vivid in Chinese culture. But if you want to think about something like a China phobia, I think it's a matter of politics.
Monocle: A final point is authenticity. Till, do you need to innovate in a way that is unique to your identity? Is this more than just nostalgia?
Reiter: Yes absolutely, because we are not living in a museum. The utility of tradition is that you can use it in the present or the future.
Our debate took place at Durrants Hotel, George Street, London W1h 5BJ