Office design / Köln
Office party
The largest of its kind, Orgatec is a biannual trade fair that draws office furniture manufacturers from around the globe to the outskirts of Köln. It's a chance for the industry's largest names to showcase the office of the future.
A walk through the aisles of Orgatec, the world's largest office furniture trade show, hints at a shift for the traditional work environment. The more forward-thinking of the 601 exhibitors have replaced veneered fibreboard with solid woods, squeaking filing cabinets with subtle personal storage units and – where appropriate – neutral washes with striking colour. In countries such as Germany and Sweden, the gap between design for home and office is narrowing.
The event was also challenging the open-plan office. Stopping short of reintroducing the cubicle, new product lines by brands including Vitra and Bene create space that encourages "ownership".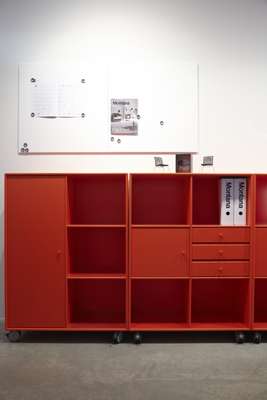 Exhibitors are trying to keep offices relevant. Scandinavian brands including Montana champion height-changing desks that switch from a workstation to a coffee table at the press of a lever.
There are still halls full of pieces from China that get the job done at a fraction of the price. But the bustle – and business – seems focused around those with the most vision.
---
Ronan Bouroullec
Designer
Ronan and Erwan Bouroullec
One half of the Bouroullec brothers design team, who designed Vitra's cork workplaces.
What makes a good office?
It's like cooking, you can have the best vegetables and meat but if you put too much salt in it's ruined. It's the same with design, you can have a great idea and good materials but if it lacks sensuality it's just annoying.
Is office design a challenge?
You are surrounded by idiotic rules which affect the way you think. If you touch a table and it moves one millimetre and an elephant can't jump on it, suddenly its a problem.
---
Joakim Lassen
Director, design and communication
Montana
Former environmental consultant and a fifth generation furniture designer.
Is colour important in the workplace?
When done right they can give a sense of navigation and humanity.
What will be the office of the future?
Less paper, more colour and height-changeable desks that workers can treat like their home.