Boatbuilder / Global
Caillou Boats
Tucked away near the village of Tiverton in the backwaters of Rhode Island, John Meikle and his team handcraft small wood and fibreglass daysailers that conjure up visions of more idyllic times. We join them in their halcyon daze.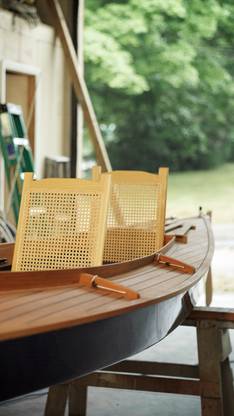 We have been after a Caillou (pronounced "ky-oo") for a while. Ever since we first clapped eyes on the kayak-cum-catboat at Portland's Maine Boatbuilders Show we've dreamt of strapping one to the roof of our Land Rover and heading to the Seekonk river just north of Pawtucket with a hamper stuffed full of crab claws and journeycakes and a few bottles of Narragansett beer in the cooler.
Although this sleek 17.5-footer looks like it must have been navigating Rhode Island bywaters for decades, it's actually a relatively new creation. Designed and first built by Justin Vagliano and Andrew McCarthy, two young sailing enthusiasts, the plans were bought by an even more enthusiastic mariner after they shelved it.
Caillous are the ultimate leisure craft – you can choose to sail the boat when the winds are up, or you can paddle it like a kayak when the doldrums set in. The new owner shies away from the limelight but was more than happy to take us to visit his trusted boatbuilder, who runs a fibreglass and hull-finishing firm from his yard in Tiverton.
Rhode Island has a long and illustrious boatbuilding history, with hundreds of component workshops operated by dedicated artisans. John Meikle is one such constructor. "I just love the water – boats are more than my job, they are my life," he says.
Meikle is from Preston, Britain, where he cut his teeth at British Aerospace as an engineer; he worked there for 14 years. He moved to the US in 1989 after visiting his father, an American citizen, and was so struck by the States that he decided to stay. He worked for Freedom Yachts before landing a prestigious post at Merrifield & Roberts where he built his first boat – a 90ft (28m) ketch.
Merrifield & Roberts is a respected custom fabricator working on projects as diverse as Americas Cup yachts and art installations. During his tenure at M&R Meikle worked on large-scale sculptures by Roy Lichtenstein and Claes Oldenburg. He has since worked on Jeff Koons's infamous polished egg, "I drove the egg to Manhattan with my wife. We were so conscious of the fragility of the piece but when we arrived some hired hands just bunged it on a crane and hoisted it in through a Manhattan loft window. My heart was in my mouth."
Boats are where Meikle's heart lies. Caillous are a bit of a vanity project for him: "I just love working on the Caillou. The owner's enthusiasm for the project is infectious." In constructing the Caillou, Meikle first builds a mould. To that he applies wax and gel coats to ensure a consistent finish, then adds 1.5 ounce (40g) fibreglass matt and a layer of roving. Once the hull is removed from the mould the interior is painted with more gel coat. Meikle then glues the liner and deck to the hull, before polishing the fibreglass exterior or adding wood, depending on specification. Caillous come in a variety of finishes – teak, mahogany or fibreglass.
Meikle's son Stephen takes care of the carpentry and Caillou's owner finishes the rigging himself. The carbon-fibre mast and sail are made elsewhere and the brass fixtures come from Bristol Bronze, also located in Tiverton. Each boat is kitted out with two wicker-backed chairs and paddles, and the owner has built a tandem bicycle complete with rig to transport it. At 40 man-hours for each boat, you'll be buying into a product born from a devotion to craft.
caillou-boats.com; meiklemarine.com