Pitti Uomo / Florence
Future classics
Menswear sales are still recovering from a dip in 2005, but this season's Pitti Uomo was attended by 21,000 buyers with significant growth in eastern European and Indian markets. And its fashions were similarly forward looking.
At the 72nd Pitti Immagine Uomo show in Florence, Raffaello Napoleone was in a buoyant mood. With sales of men's fashion recovering from their 2005 slump, the CEO of the world's number one menswear show had a good deal to be pleased about. "Right now, we are very happy," he says. "The market is performing much better. Already the figures from early 2007 have been very positive."
Over 21,000 buyers attended the three-day event. With significant increases in attendance from the emerging markets of eastern Europe and India, Pitti's organisers estimated that several billion euros of business deals were agreed.
"Once again it's an exciting time for the menswear business," says sales director Emilio Paschetto at the Slowear stand. "A new energy seems to be emerging."
Indeed many of the 710 exhibitors at the show were in a celebratory mood: Allegri marked its recent collaboration with Viktor & Rolf by building a supersized balloon installation, while Diesel launched its new collection with a party at the Dogana (Customs House), complete with a state-of-the-art holographic fashion show.
Meanwhile, the 50-odd giant windmills outside the main pavilion pointed to the next big trend in menswear: a social conscience. With Napoleone predicting that ecological and ethical clothing would make up a significant part of the market within the next five years, one of the show's key exhibitors was ready to take up the challenge.
With its panelled collar that could recharge a mobile phone, iPod or Blackberry, Ermenegildo Zegna's Solar JKT was the talk of the fair. Indeed while most of the exhibited collections won't be available until spring 2008 at the earliest, the Italian label was racing through production of its new eco-offering for this November.
Closed coloured denim
"Right now we're particularly inspired by classic Olympic sportswear and technical fabrics such as sportwear jerseys," explained Steve Toal, press officer for Hamburg-based label Closed. Its washed denims in a range of vibrant primary hues proved a hit with the buyers.
Piombo
Surely the most colourful brand showing at Pitti this season, the Italian label channelled La Dolce Vita-style elegance into its range of Irish linen smoking jackets.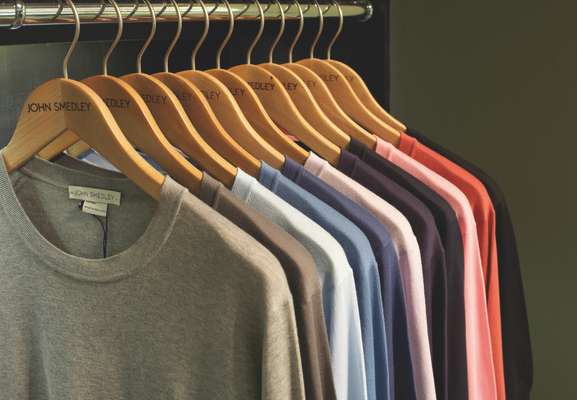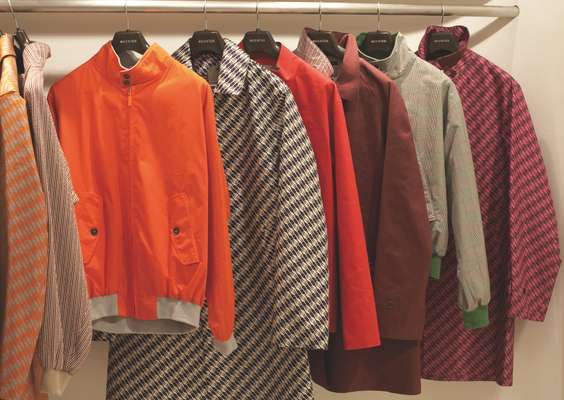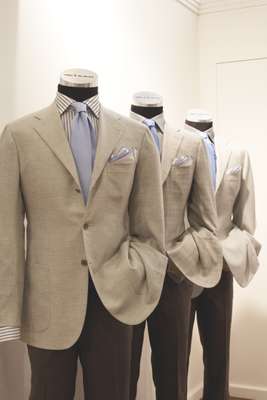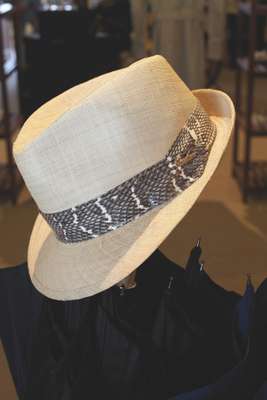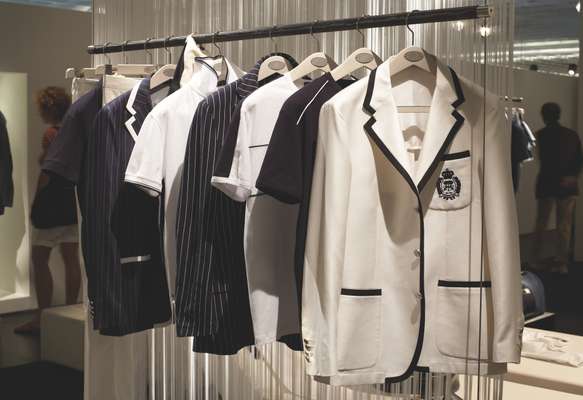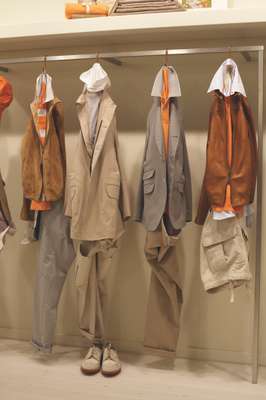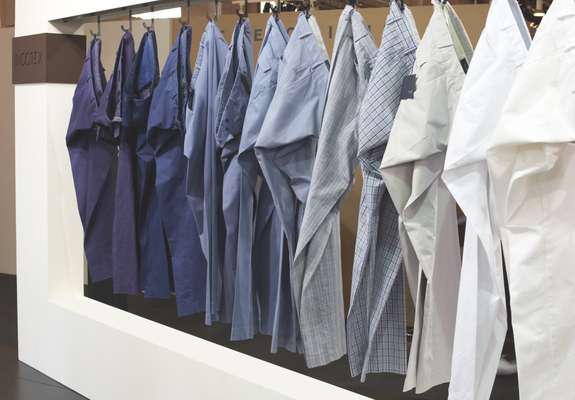 Ballantyne knits
Cricket and rugby were the order of the day at the British-Italian luxury brand. Based on the fabled Intarsia patterns from its Scottish archives, it proposed 30-gauge cashmere knits, destructured jackets and cotton polo shirts. "It's a look dedicated to an easy, informal lifestyle," says press officer Valentina Garofello.
John Smedley
Fresh from a successful collaboration with lingerie label Agent Provocateur, the traditional British company is currently broadening its output. This time it was the turn of menswear accessories, with a range of optical print scarves in typical Smedley colours.
Mackintosh
The long-established British brand chose to capitalise on its cult status in Japan with a range of exclusive Japanese fabrics. "Future elegance" was the phrase du jour from brand manager Gary Bott, with utilitarian jackets showing the label's recently revived Dandy print.
Sealup
Biking was big news at the Milanese rainwear label. Alongside its revival of three classic 1960s styles, it presented short trenchcoats and technical blazers with rubberised stitching – ideal for the open road.
Notify
"The Notify lines allow individuality for the city gent," explained designer Maurice Ohayon. With a focus on traditional tailoring, this season's denims have a subtle, iridescent surface. "But it's not all about being decorative," said Ohayon. "These are clothes for everyday life."
Avoncelli
Cary Grant was a big fan of Avoncelli's cashmere, so it was only right that for spring 2008 the label paid homage to the Hollywood legend. A collection of 1950s-inspired super-light cardigans were complemented by classic tees and knitted polo shirts.
Incotex
One quarter of Italian luxury group, Slowear, Incotex's intensive product research has made it the expert in precision-cut Italian trousers.
Brunello Cucinelli
Like many of its Pitti contemporaries, Brunello Cucinelli rediscovered a love of colour for 2008. Alongside a summer version of its bestselling travel jacket (the must-have garment for the modern traveller), it presented 1930s-inspired jackets and knitwear in muted reds, purples and oranges.
Felisi bags
A firm Monocle favourite, Felisi continues to create handsomely crafted bags and leather accessories. The Pitti show saw two areas of focus – a collection inspired by 1950s Portofino and a city line using luxe materials such as mouflon skin and de-coloured python.
Barbisio Wool X
Anyone familiar with the classic hat label Barbisio will appreciate its new range of super-soft jackets. The highlight? Its madras-print linen and cashmere tuxedo.
Canali
Canali has recently made serious inroads into Hollywood, dressing the likes of George Clooney, Joaquin Phoenix and Antonio Banderas. At Pitti, the company capitalised on its lucrative Californian exposure with a "summer nights" collection of super-light linen suits.
Kamoshita United Arrows
Buyers looking for something different were drawn to this discreet Japanese label showing understated workwear in tartan and checks. Keeping its sales pitch to a minimum, its stall felt more like a guerrilla store than a business showcase.
Engineered Garments
So called because of its intricate detailing, Engineered Garments continues to present its own low-key take on American workwear. New for 2008 are casually crumpled peacoats and riding jackets.
Car Shoe
Part of the Prada group since 2001, Car Shoe continues to produce carefully considered footwear – for driving or otherwise. The Summer 2008 collection blurred the lines between casual and even more casual, mixing sporty mesh fabrics with soft suede detailing. "We've created a moccasin dressed up as a sneaker," explains press officer Valentina Danieli.
Falke socks
Football, Frisbee, BMXing: the German basics brand looked to recreational sports for inspiration with its new "Energy" line, released in March 2008.
Sutor shoes
Recently acquired by Holding del Lusso Italiano, the Italian company launched a collection of "blue-blooded shoes", aimed at repositioning the brand within the German and UK markets. Hand-greased moccasins with Norwegian stitching were the new addition of the season, but the highlight for CEO Carmelo Pistone was a crocodile sandal with a handmade platinum buckle. "It's basically a work of art," he insisted.
Sunspel underwear
Make no mistake, Sunspel is so much more than pants. Marrying classic English design with up-to-the-minute innovation, spring 2008 will see the plundering of its archive of Sea Island cotton tees.
Here's what we would be sticking to for Spring/Summer 2008:
Bamford & Sons knitwear
Super-slim Tretorn trainers
Notify jeans
Custom denim by Dova
Montedoro blazers
Pierre Hardy desert boots
Orlebar Brown swimming trunks
Schiesser briefs
Brooklyn tote bags
Low-waist Incotex chinos
Aspesi everything