Fuji rock / Naeba
Mountain high
Music festivals have become big business in Japan, whether you want kodo drummers at The Earth Celebration or J-pop at A-Nation. But the one that started the boom is still the biggest and the best: Fuji Rock. We headed to the Japanese countryside to meet the world's best-behaved music freaks.
If you think the weather looked bad at the UK's Glastonbury festival this year, spare a thought for the organisers of the first Fuji Rock Festival in July 1997. No sooner were the Red Hot Chili Peppers tearing into their headline set at the end of the first day, than a typhoon struck and the event had to be abandoned. Johnnie Fingers, former Boomtown Rat, and now one of the festival's organisers, was there.
"We were hit by a nasty tail-end of a typhoon," he recalls. "After it hit, the main stage began to sink. Visually, it looked wild and extreme, but the audience was unprepared – most were in summer shorts and flip-flops – and the site was a mess. The stages needed to be fortified and there was horizontal-driving rain and the storm was still blowing away. We thought someone might be killed."
The rest of the festival was promptly cancelled. Predictably, dawn broke the following day on a perfect morning. That day, says Fingers, the newspapers were "totally off the mark".
"One reported a death and that hundreds had been hospitalised, which was total fiction," he says. "Luckily, the audience gave us full support. They really understood and wanted Fuji Rock number two. Three years down the road, festivals were commonplace." Undeterred by the dramas of the first year, the likes of Red Hot Chili Peppers – who headlined again last year – Björk, Oasis, Coldplay, and The Strokes have since played at Fuji.
The first ill-fated venue, which didn't go down well with locals, was a ski resort on Mount Fuji; the following year "Fuji" Rock moved to Tokyo and crowds reached 70,000; then, in 1999, the event moved to its current home in the off-season ski resort of Naeba in the Niigata prefecture. By last year the crowd had grown to 131,000 with 17,500 people camping in 7,500 tents, 150,000 cans of beer drunk over three days, five tonnes of rubbish and 400 Portaloos. These days, the shorts and flip-flops have been replaced by festival chic and top-of-the-range Gore-Tex tents.
Fuji Rock is the brainchild of Masahiro Hidaka, founder and president of music promoter Smash Corporation. He visited Glastonbury in the mid-1980s where he got the idea of a rock festival for Japan. Hidaka and the Smash team, including Fingers, still run the event from start to finish, including choosing the bands.
"Basically it's the music we like, and we talk and argue about it a lot," says Fingers. "We need to set the headliners for each stage and this can start a year in advance but, generally, the first ideas for the line-up start eight to nine months before. Fuji Rock is now a festival many artists wish to play so we are lucky. Sometimes they are expensive and no band sells itself cheap. The yen is not what it used to be and every year the offers go up. It is now very competitive."
Hidaka has a penchant for British bands – hence the appearance, over the years, of a stellar list of British music from Echo and the Bunnymen to Elvis Costello – and has earned himself an MBE for services to Britpop.
Work starts five months before the event to get the site in shape; over three days the festival requires 2,000 staff. The only hotel is the distinctly un-rock'n'roll Naeba Prince, a utilitarian ski hotel with diminutive rooms and a functional restaurant serving Japanese ski fare such as curry rice and pork cutlets. Extravagant tour riders don't cut much ice here, although that did not stop one headliner demanding a grand piano in his bedroom – and he was a guitarist.
According to Fingers, Smash was still paying back the cancellation debts from 1997 until last year and the event has only just gone into the black. "We use very few sponsors. Basically we don't like the idea and try our best to make the festival sponsor-free. Any sponsors we have are very low profile." Beams Records and Tower Records support Fuji Rock's New Power Gear campaign to recycle festival rubbish and keep the festival carbon neutral, as it has been for four years.
These days the summer calendar in Japan is jammed with music festivals – with 50 from July to September. This year's includes the Rising Sun Rock Festival in Hokkaido, Isla de Salsa in Fukuoka, Rock in Japan in Ibaraki, and the Yokohama Reggae Bash. The Earth Celebration on Sado Island, which has been going since 1988, is a world music gathering built around the legendary Kodo drummers. For fans of Japanese-pop there's A-Nation, a sell-out group tour of artists signed to Japan's number one J-pop label, Avex. Names such as Kumi Koda, Ayumi Hamasaki and Exile might not register outside Asia but they are the shining lights of a billion dollar industry. Avex retains all the revenues made from tour merchandise. A-Nation is pure pop, the antithesis of the sweaty rock festival.
Fuji Rock's urban counterpart is Summer Sonic, a two-day event that is held over an August weekend in Tokyo and Osaka and attracts crowds of more than 160,000. Yuya Shibata has been working for Summer Sonic since its launch in 2000. "A line-up that might work abroad won't necessarily work in Japan," he says. "We look to see what's popular here." Summer Sonic goes for big-hitting rock headliners but also throws in pop, indie and punk acts. Linkin Park, Radiohead, Gwen Stefani and Arctic Monkeys have all played. Like Fuji, the organisers take care of the artists from the minute they hit the tarmac. "Bands love coming here," says Shibata. "They all say Japan has the best-organised festivals."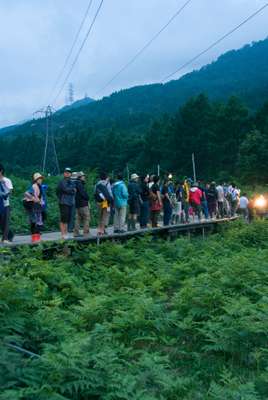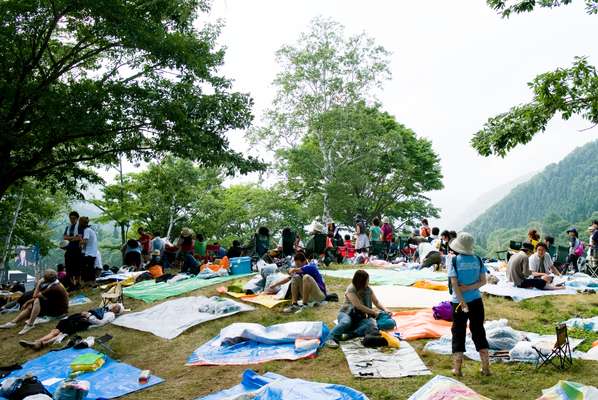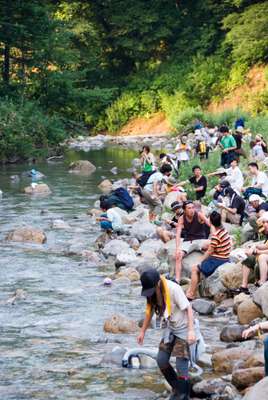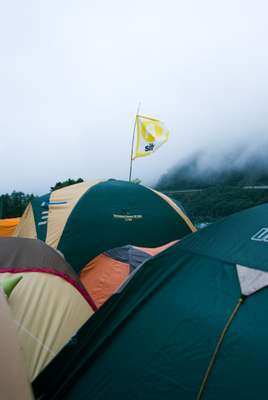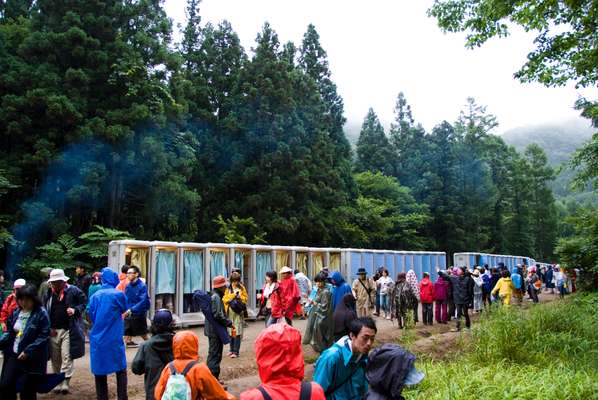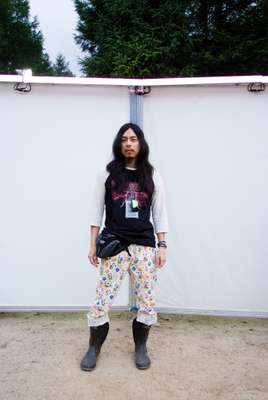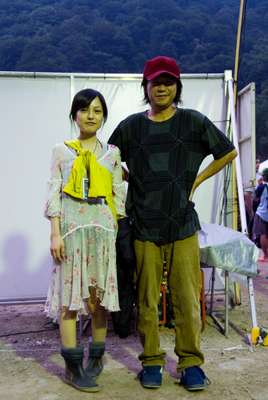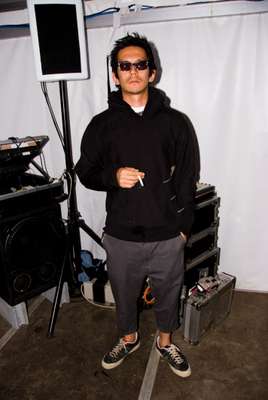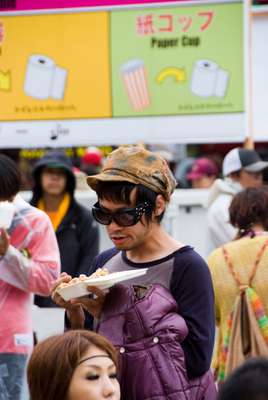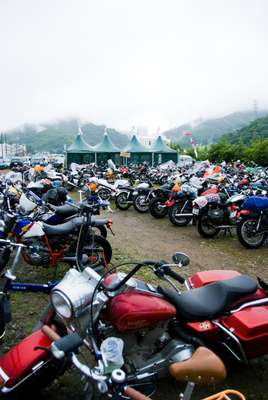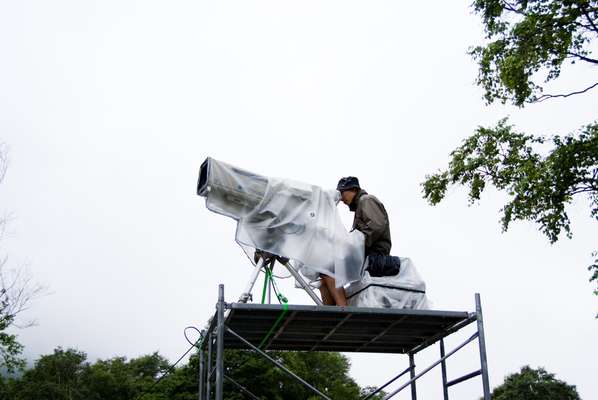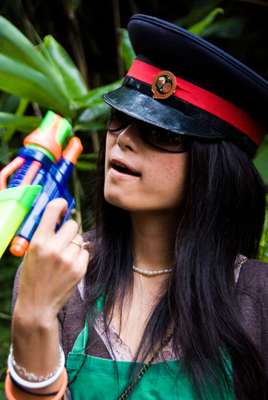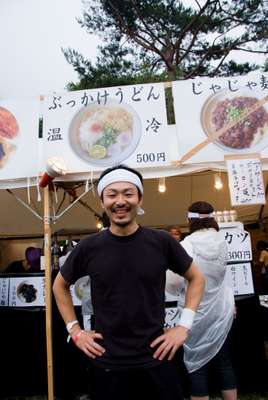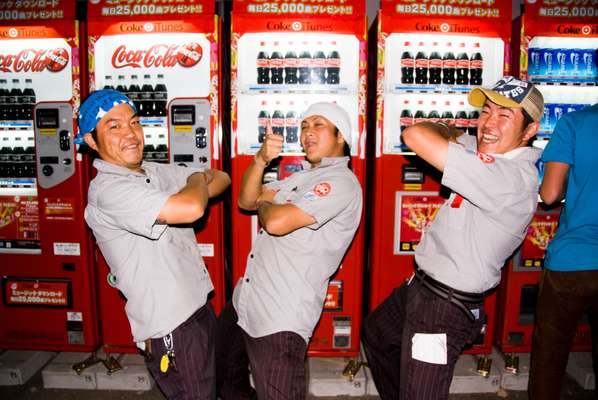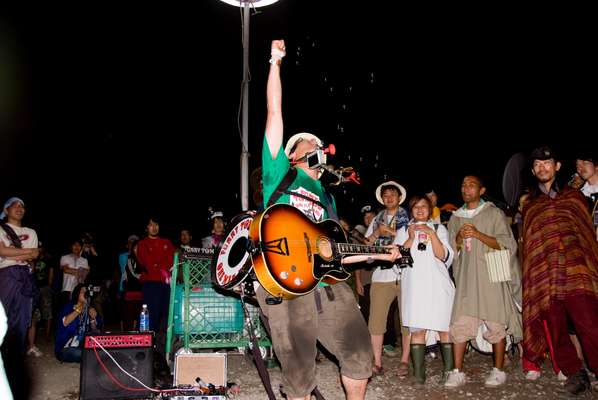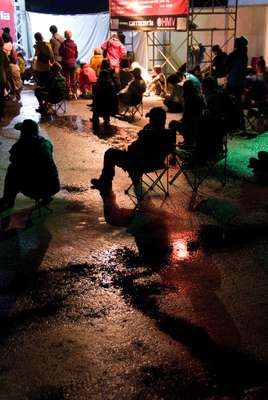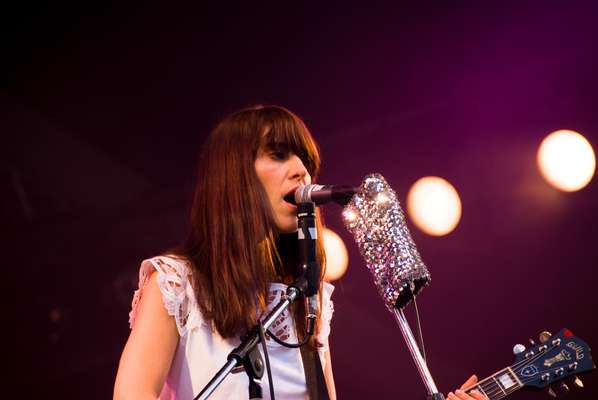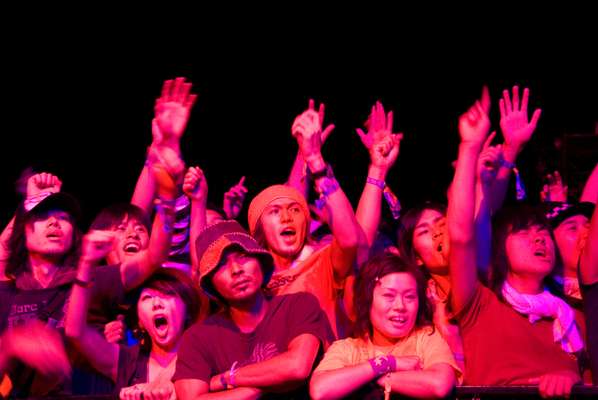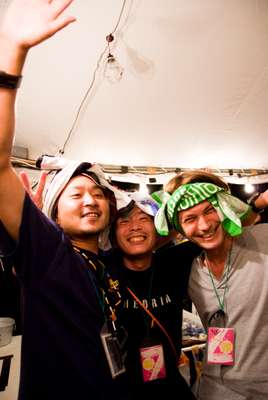 Fingers agrees that Japanese music festivals are different. Fuji Rock, he says, is "safe, clean with little or no theft and no fights". There are hitches – the weather being the main one, and the bands aren't always as well-behaved as the crowds. "Every year a band or two cancel at the last minute, people get sick, miss planes, have fights – it goes with the territory," he says. But whatever happens, the organisers still have to spend 10 days clearing up. "We have to leave the site as we found it, basically an alpine valley with trees and meadows."
"When I asked you to clap I didn't think you'd last the whole song – I love you Japan!" Ricky Wilson's wide-eyed admiration for such a generous crowd goes a long way to explaining why he, his Kaiser Chiefs and 200 other bands formed an orderly queue to perform at Fuji Rock this year: either the fans rock or they'll do anything they're told.
In fact, the Fuji crowds are a discerning bunch who know their art rock from their alt folk, go bananas for their heroes and even nod along respectfully while the PA system pipes a little light soul between bands. "I actually like Al Green more than Happy Mondays!" says Shunji Masuda, a student from Nagano, as Shaun Ryder and co shamble off stage after a muddy Sunday tea-time session.
The weather is a help: despite Sunday's cloudburst no one in 10 years of the festival can remember enjoying consecutive sunny days, as Friday and Saturday see. Before the storm brings out the Berghauses, there are rare sightings: fans with tan lines and sunburn.
This year, however, there are two fashion fixtures that stay come rain or shine. In Friday's 28c heat, it seems half the girls are wearing wellies – the coolest are shod by Hunter or Aigle – in more than a nod to Kate Moss doing rural chic in the mega-mud of Glastonbury 2005 (perhaps even British fashion gets jetlag in Japan).
The men sport an equally humble piece of equipment as fashion accessory: towels worn as a hybrid of scarf, headband and bandana. The towel trend owes its genesis to construction workers, baseball stars and rock drummers, three of the sweatiest professions in the world. "Mountain weather's always crazy," concludes Shunji from beneath the hood of his poncho, below which he's still wearing his shorts and flip-flops.
Ten stages and their attendant catering tents, artist pavilions and stalls spread across acres of terrain encompassing dense woodland, green fields and river rapids, while the first few holes of Naeba golf course surrender their fairways to the campsite. Each stage has its own village vibe: the Field of Heaven and Gypsy Avalon is a tie-dyed fusion of Glastonbury and Woodstock, the Palace of Wonder appears to incorporate the more outlandish backstreets of Harajuku. There is even a tiny stage teetering on the edge of the forest path, a wooden boardwalk lit by coloured lanterns strung through the high branches.
All are lorded over by the huge Green Stage that commands, with a popular enough performer, an audience of 40,000 and is set in a valley between steep, pine-peppered slopes. The Chemical Brothers, long-time Fuji favourites and Sunday's headline act, not only blow everyone away with an incendiary set, they stage a light show that affords an incredible sense of scale, illuminating bobbing heads and glowsticks above the tree line half a kilometre away.
There are some astonishingly hard acts to follow on this main stage, too. The Tokyo Ska Paradise Orchestra leaves not a foot untapped nor a boogie unwoogied by their mix of rock, ska and jazz. The Beastie Boys are loud, slick and beat-perfect; Muse are bombastic and surprisingly spellbinding; the Kings of Leon play their dirty Deep South blues as if their Scotch and cigarettes depended on it; even Kula Shaker, a band all but forgotten by their native British charts, seem to be recreating a pseudo Summer of Love for thousands of flare-wearing Japanese fans. Friday is in love with the Cure, playing their first Japanese gig in 23 years. Robert Smith takes the stage like a messy, mascara'd Godzilla, "this is the end!" he yells before an encore. But it's only Friday.
The test to determine which crowds rock and which crowds are too reserved to rock, could be patented by Iggy Pop, a man for whom the phrase "visceral performance" was practically invented, a showman who could make brushing his teeth seem like an occult initiation ceremony. While his Stooges lay down the thundering backbone of "No Fun", Iggy commands the stage like an angry panther guarding his territory, spitting lyrics, prowling the perimeter, baiting the security guards, rattling the steel fences that separate performer from pit. "Let them up!" he shouts, "C'mon! Take over!"
The security guards are ready for this one and step aside on cue as a stream of flailing limbs windmill through the gates, bodies clambering wildly on stage using whatever purchase they can find on equipment, lights and each other.
The demented idolatry of the rock fan presented with a world stage and the hem of their hero's denims either turns out Mark Chapmans or the wild and wonderfully benign Fuji crowd who made it near-impossible for Iggy to sing another note, such is their enthusiasm.
"That's a whole load of love you're giving me, man!" he laughs as fans prostrate themselves to touch rock's most famous torso amid shrieks, colossal guitar feedback and sheer bedlam.
After five minutes the last bodies have been dispatched to the pit by burly roadies and Iggy owns the stage once more, "Thank you, Tokyo punks!" he roars. The Fuji crowd had passed Iggy's test: they rocked.
Iggy passed theirs, too, "He's very sexy, very good body," says 23-year-old Mayuko Takai before hearing Mr Pop turned 60 this year. "Well, we're quite far back from the stage up here," she qualifies. As Iggy's encore fades, fans wander, arm in arm, toward the food village and high-five each other in the queue for the loo. As the field clears, tipsy revellers pick up the few paper beer cups left behind; in a field where thousands had jumped up and down to the music of an anti-establishment icon, the leftover cigarette butts wouldn't fill a pack of 20. But they still rocked, those Fuji fans.
The Green Stage matches more than the surroundings, too. Fuji Rock has held a longstanding commitment to environmental awareness, especially the recycling of pretty much every element of the festival experience. The site is dotted with 20 painted wooden dumpsters staffed by cheerful volunteers. Plastic is carefully graded into its own separate sections – water bottles in one, their screw-tops in the next, cellophane in another.
It seems that even the staff at the recycling bins, one of the less glamorous jobs at a music event, are ingrained in Japan's quite phenomenal service culture. "Irrashaimase!" is a formal greeting not only reserved for diners at Tokyo's priciest restaurants, but for anyone buying a paper cup of Kirin beer for €3.
Beer is classic festival fuel, but at other sites it seems supply can never match demand: half-hour queues for a disappointing pint are commonplace in many quarters. Yet Fuji's Heineken bars seem to be tents of instant refreshment, a queue-free zone staffed by barmaids who know how to give just the right amount of head. The shochu seems to be flowing successfully, too. Ayao Takahashi owns a shochu and nihonshu distillery and happily reports that one lady drank 22 shots of his smooth but pretty potent hooch in one short session at his stand.
The queues are where the food is. The restaurant village serves ramen and udon noodles, yakitori, pork and beef with rice, Thai curries, prawn skewers, vegetable tempura – the Japanese gourmet gamut. Preparing food also has its perks, "I get paid for chopping cucumbers and then I can run off to party!" says Aya Shimizu, a lifeguard from Gunma Prefecture moonlighting as a sous chef.
In the food village the air is full of flavour, wafting music from the Red Marquee and the shouts of chefs advertising their wares from stoveside. The loudest belongs to Higashiyama Tokyo's bamboo-sided, modernist, open-plan eaterie. The original is an upmarket Tokyo restaurant in Naka Meguro but the Fuji outpost is where their cooks perfect fast food: black curry with a topping of tonkatsu proves the perfect combination of size and spice to keep the home fires burning. "We have been so busy this year," says Keisuke Watanabe, the assistant head chef, "we came here with two lorry loads of food and had to go out shopping yesterday to get more."
With an ear away from the music, the Fuji festival's attention to detail is staggering. The bus drivers working shifts from early morning until 02.00 are never without their caps, ironed epaulettes, white gloves and tie. At 01.00, teams of five are cheerfully emptying the cash from the ubiquitous Coca-Cola and Pocari Sweat vending machines that line the walkway to the main entrance.
Fuji Rock's on-site onsen is a revelation even for this service-oriented festival. The Prince Hotel, on whose grounds the festival sets up shop, annually opens its hot spring for weary party animals and worn-out rockers.
The incongruity of a peaceful oasis in the middle of 100,000 fans giving it up for the Chemical Brothers is sublime. The Japanese affinity for the demure is everywhere, from the pleated curtains on the Portaloos, to the meticulously pitched patchwork of tents that line the front nine of the golf course.
No festival is perfect, of course. Some English-speaking acts might have liked a little more noise from the crowd. But those same bands also marvel at the pitch-perfect sound systems on every stage. Some say it's too clean – but they'll be the guests with the suite at the hotel rather than the salt of the earth in their sleeping bags. The truth is, that this festival lives up to its name. Fuji rocks.