Briefing / Africa/Middle East
Africa/Middle East
Briefing
The lavish motorcade of Kenya's president, the new jet-set of Nigeria, and an old banknote for West Africa returns.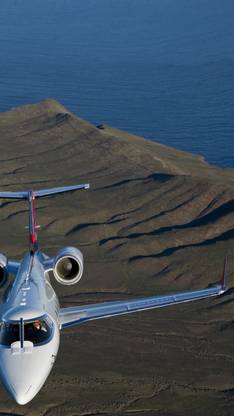 Me and my motorcade No.35
Luxury lines
Kenya
[Mwai Kibaki]
Before the limousine with its fluttering flags, before the Land Rovers and the dozens of Mercedes with their tinted windows and secret service passengers, before the motorcycle outriders with their flashing lights, before even the sirens, the traffic itself is the first sign that Kenya's president is on his way.
Police officers fan out across Nairobi to establish a comprehensive gridlock through which Mwai Kibaki and his entourage glides on car-less highways. This happens on an almost daily basis as the president shuttles the few miles between State House and his downtown office.
A set of five well-spaced Mercedes and motorbikes precedes the main peloton, a densely packed nub of shiny Mercs closely followed by Land Rovers and Toyota Land Cruisers. The traffic jam can take hours to clear.
The exact size of the presidential motorcade varies depending on the number of hangers-on. The last time the number of government vehicles was included in the national budget, in 2007, State House was allocated 149. A report the previous year, titled Living Large, revealed that Kibaki's new government, elected on a platform of fighting corruption and poverty, had spent $10m (€8m) on new luxury cars in its first 20 months, with roughly half the money going on 57 Mercedes.
Vehicles
Kibaki has a fleet of armoured cars including a Mercedes-Benz S600L, a BMW 7 Series, a Range Rover Vogue and a Toyota Land Cruiser VX. There are also enough E-Class Mercedes and Toyota SUVs to fill a few showrooms. His security escorts drive E-Class Mercedes and long wheelbase Land Rover Defenders.
Aircraft
In the air Kibaki can call on a converted Fokker 70ER for short and mid-range flights but frequently travels long haul with the national carrier Kenya Airways. The presidential jet, inherited from his predecessor, has had more than half of its 70 seats removed to make space for three private suites, a kitchen and bathroom.
---
High flyers
Nigeria
[AVIATION]
The latest must-have for the Nigerian elite is a mid-sized jet in the €30m to €50m price range. In the past five years the number of registered private jets has soared from 20 to 150, with Bombardier (jet pictured), Embraer, Dassault and Gulfstream becoming popular runarounds.
The owners are politicians, oil magnates and entrepreneurs, including so-called ''pastorpreneurs''. President Goodluck Jonathan prefers Dassault Falcons. Evangelical preachers opt for Gulfstreams. David Oyedepo – whose Winners Chapel network includes the biggest place of worship in the world – has four of them.
---
Old money
West Africa
[CURRENCY]
A decade after it was replaced by a coin, the 500 CFA franc banknote is back in the pockets of West African consumers. The note's face value may be low (€0.76) but its popularity is high in the eight countries using the currency, which is guaranteed by the French Treasury.
The note was taken out of circulation in 2003 but has been reintroduced after people complained. It is particularly useful at weddings, where guests are expected to make a small donation to the happy couple. A thousand CFA francs can be too much but handing over a coin just makes you look tight-fisted.
---
Q&A
Carlos Gomes Júnior
Former prime minister
Guinea-Bissau
A military coup in April ended the election hopes of former prime minister of Guinea-Bissau Carlos Gomes Júnior. He has been watching from afar as his country suffers a humanitarian crisis, a freefalling economy and rampant drug smuggling.
The West African regional bloc ECOWAS has brokered a deal allowing a handover of power to a civilian interim government but it lacks the full support of the UN, EU and Community of Portuguese Language Speaking Countries (CPLP). Gomes Júnior is in exile in Lisbon.
What can the international community do, realistically, to help restore stability in Guinea-Bissau?
It is urgent that the UN assumes its coordinating role in this process, as recommended by the Security Council. With this in mind, we reiterate our call to the UN secretary-general to convene a high-level meeting to review the situation in order to develop a comprehensive and integrated strategy and to adopt a guide of concrete measures that can restore constitutional order.
How can the country's major drug trafficking problem be resolved?
The drug trafficking problem can't be exclusively solved by Guinea-Bissau. The pooling of international efforts is essential – it requires substantial financial and material resources that Guinea-Bissau does not have. In fact, I've been appealing to the international community to tackle the fight against drug trafficking.
What are the next steps for you?
I am getting ready to return to my country to participate in the party congress and in the next elections. I am sure that, provided that the safety of myself and other political leaders of my party is ensured, we will win the parliamentary and presidential elections.
---
President Joyce Banda has made some brave decisions as new leader of Malawi. The latest is to stop police from arresting people for "engaging in homosexual activity".