Briefing / Europe
Europe
Briefing
We get to grips with the Belgian PM's colourful sense of style. Plus a Q&A with European Commissioner Karel de Gucht and news from Lisbon and Liechtenstein.
Style leader No.41
Take a bow
Elio Di Rupo
[BELGIUM]
When Elio Di Rupo became prime minister of Belgium on 6 December 2011, he was instantly a riveting curiosity. Not just because he is the child of impoverished Italian immigrants, or because he is gay, or because he is an atheist, or because he is Belgium's first socialist prime minister in decades, or because he barely speaks the language of most of his compatriots – but because he was actually prime minister. Before King Albert II swore Di Rupo in, a rancorous deadlock had left Belgium without a functional elected government for 541 days.
Di Rupo would have been a pioneering figure even if he'd arrived in less tumultuous circumstances, if only for his dress sense: he has joined the exclusive club of bow-tie-wearing heads of government.
"He has always been a butterfly," says Karel Lannoo, ceo of Brussels' Centre for European Policy Studies, "and he is admired for coming from a poor migrant family and working hard. He is certainly the most stylish of recent Belgian prime ministers."
None of which necessarily helps him resolve the divisions in Belgium, which could still split into two smaller states. Di Rupo can console himself that his neckwear has distinguished form in adorning leaders confronting struggle: Churchill wore a bow tie and so did Lincoln.
Di Rupo's sartorial flair
For a man of 61 in a reasonably stressful job, Di Rupo flaunts a luxurious, longish thatch of unusual colour and body – and a remarkable absence of facial wrinkles. He's clearly clever enough to realise that if a politician is going to be vain, he should be unashamed of it and get it done right: not for Di Rupo the spray-on tan and hair of a Berlusconi.
Di Rupo favours rimless spectacles in the style of a man who wishes to appear not so professorial as to sport thick rims yet not so vain as to favour contact lenses.
Since becoming prime minister, Di Rupo has reined in his defining sartorial quirk slightly – the preferred blazing socialist-red bow tie is often replaced by more sombre greys, violets and mauves. The cares of office have not entirely suppressed Di Rupo, however: polka dots are not unheard of.
The suit is invariably dark, with a light shirt. On at least one occasion Di Rupo has flaunted a Belgian-flag lapel pin – a subtle statement emphasising his commitment to keeping his small but fractious country together.
---
Q&A
Yevgenia Kuida
Developer, Bribr
Russia
Yevgenia Kuida leads the team that created Bribr – an app designed to collect anonymous reports of illicit payments and visualise them online – to quantify Russia's corruption problem.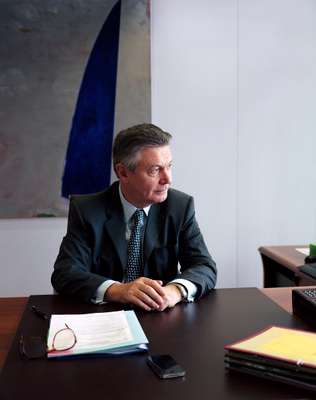 What inspired the project?
I went to the SXSW conference and saw Al Gore talk about social projects such as "I Paid a Bribe" in India. I took the idea home, posted a mock-up on Facebook and called for contributors.
What have been its main findings so far?
We've had at least 100,000 downloads, with over 10 million roubles (€248,000) in reported bribes. Most go to universities and kindergartens. We expected more for traffic police, but our data could be skewed because mostly young people use the app.
How will you move forward?
We want to share the code and design with Transparency International, so it can use it anywhere in the world. We plan to start a blog with anonymous stories about bribes. People mostly do things about large-scale political bribery, not everyday corruption.
Does Bribr represent a Russian trend in social media activism?
The protests are over and we're back to square one, but people are active now. I'm not sure if our project can change the system but it can change people.
---
Writing wrong
Lisbon
[ENVIRONMENT]
Lisbon City Hall has launched a year-long operation to keep main districts and historic neighbourhoods free of graffiti tags. The key to success is systematic action; teams are ready to clean the same walls as many times as needed, while, says councilman José Sá Fernandes, urban galleries are planned for artistic graffiti. The cost will depend on taggers' persistence, but shouldn't exceed €1m. Lisboetas have seen several improvements to their city recently, from the rehabilitation of Terreiro do Paço square to a 6.5km "green corridor" with parks and a bike lane. City Hall has already announced another war, this time on anarchic restaurant and café terraces.
---
Election watch
Liechtenstein
Type: Parliamentary
Date: 1 and 3 February
Candidates: The last election to the 25-member Landtag returned a slim majority for the Patriotic Union over the Progressive Citizens' Party. There is no reason to imagine that the dominance of these two parties won't continue.
Issues: Maintaining a profile commensurate with its size. The country doesn't enjoy scrutiny of its banking sector, which provides a third of its GDP. It did manage to remove itself from a blacklist of obdurate tax havens in 2009.
Monocle comment: It's vaguely disappointing that this tiny, secretive principality has something so prosaic as a parliament: it should really be ruled by a wizard or something.Equality controlBritainNine years after establishing civil partnerships for same-sex couples, the UK government has introduced an upgrade to gay marriage – but right-wing Conservatives are unhappy, as is the Church of England.
---
Q&A
Karel De Gucht
Trade commissioner, European Commission
Brussels
WRITER
Sophie Arie
PHOTOGRAPHER
François Cavelier
Karel De Gucht, the European Union trade commissioner, is a lover of modern art. He has surrounded himself with some of his favourite paintings to cheer up the hospital-like feel of the Commission headquarters in Brussels. But much of his time is spent on the road dealing with everyone from China to America, Japan to Guatemala. Europe may be in a bit of trouble these days but it is still the world's largest trading bloc and there is plenty of potential for new commerce in 2013. monocle sits down with the former Belgian deputy prime minister over a roast-vegetable sandwich and a pile of documents to sign.
Monocle: How is the euro crisis going to affect EU trade in 2013?
De Gucht: Our trade partners are all very worried. And rightly so. Be it China or the US or Japan, whatever country cannot flourish when Europe is in a shambles. We are such a big market. Europe is needed in the world economy. One of the reasons for the turmoil in 2012, apart from the fact that national budgets are overloaded with debt, is that there is still a question mark in some minds whether or not the euro is going to stay. It's by making the right decisions (such as establishing the European supervision of banks) and delivering on what we have decided that we give the signal that we are here to stay. If deeds follow our words I am sure the crisis will calm down.
M: What's it like trying to do your job in the middle of this crisis?
DG: Typically a minister who meets me will say, "Of course we should talk about trade but first could you explain about the crisis and how you are going to get out of it?" They really want to understand what is happening. The role of a commissioner has become much more political. They see us as representatives of Europe and want to speak to us about everything, not just trade. It shows the European Union is relevant. It's sometimes more relevant to other countries than it is to us.
M: What will be the big deals you're working on next year?
DG: Once the economy takes off again, trade picks up dramatically. If we can restore trust, trade could pick up considerably next year. We try to support that tendency by making bilateral agreements. In 2012, the discussions have been with Singapore and with Canada. And soon there will be trade negotiations with the US and Japan. Those should be the big ones.
M: How will relations with China change next year?
DG: I believe China is nearing a turning point. They are saying they need to focus more on internal consumption and less on export. I don't believe China can continue its growth model based on exports.
M: What do you expect to happen about the Airbus/Boeing stand-off on state subsidies?
DG: I hope we finally realise we should negotiate. Boeing can never beat Airbus and Airbus can never beat Boeing. The real challenge is how we are going to master the entry into the market of the Chinese. There we have a common interest.
M: Have Europeans lost confidence?
DG: That's our biggest enemy. Europeans are proud of what they have already done. And you get the feeling that we're always looking at what the others are doing and seeing it as competition. We should be looking at our own strengths. We have forgotten to do so.