The Hand & Flowers / Marlow
Local hero
Tom Kerridge's seasonal, locally sourced cooking has won him two Michelin stars. Not bad for a country pub, now a mecca for foodies.
What tapas bars are to Spain and bistros to France, so are pubs to the UK. An essential element of the culture for centuries, public houses have poured countless pints of beer to thirsty locals and served innumerable pies to hungry travellers. This institution is in danger, with dozens closing every week due to rising beer taxes and changing tastes. But it's not a concern for Tom Kerridge, owner and chef at The Hand & Flowers: the first (and only) pub in the world to hold two Michelin stars.
Set in the well-bred town of Marlow, a 45-minute drive from London, The Hand is a welcoming restaurant selling honest pub food. "I spent most of my career at Michelin-starred restaurants and they're amazing places to work," says Kerridge (pictured, right), "but not the sort of place where I would want to eat. The environment is just awkward."
A man more fond of lagers and ales than Shiraz and Malbec, it was only natural Kerridge should open a pub that could offer first-class cooking at affordable prices. "You don't have to sell the most expensive products to have a good restaurant," he says, pointing out his favourites from the wine list, such as the Balfour sparkling rosé from Kent, and emphasising the fact that his pub is a place for locals seeking a quick pint after a day's work as well as the international foodie looking for an indulgent dinner.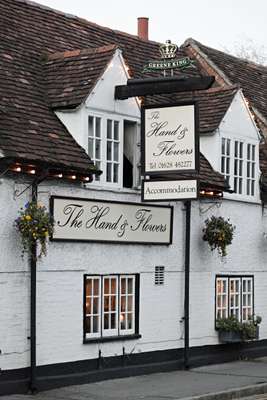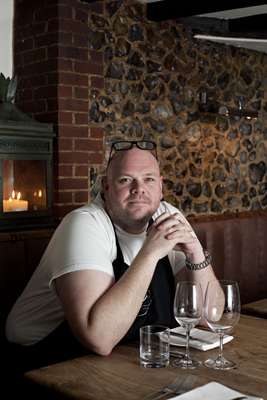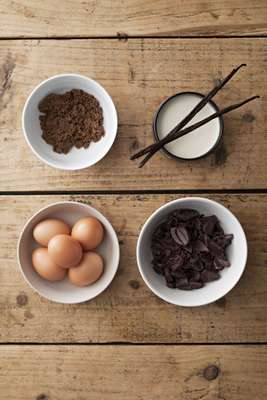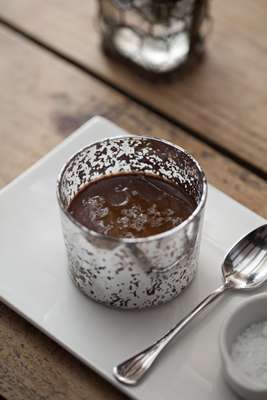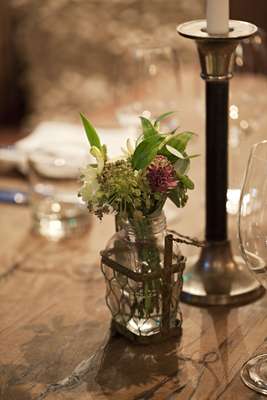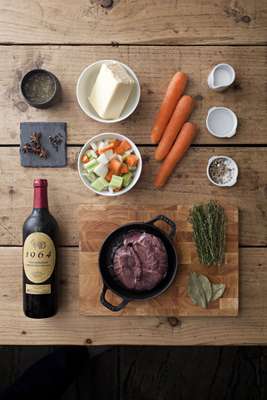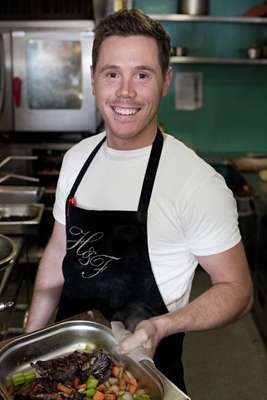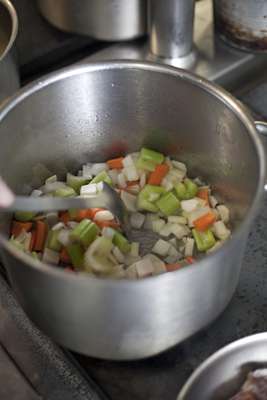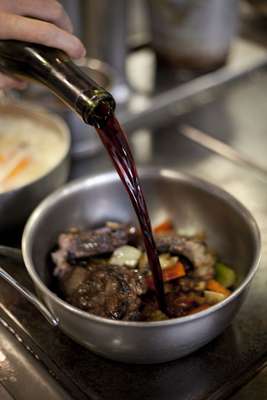 Inside The Hand & Flowers kitchen, chefs swing pots and pans, dodging boiling stocks and sizzling meat and cheering at the near misses, all under the eye of Aaron Mulliss. The 30-year-old head chef has been part of the restaurant since it opened in 2005, a year before the pub was awarded its first Michelin star. His slick looks and cocky attitude are more the style of a football captain than a kitchen leader. When Kerridge says, "Here we all work as a team, right lads?" The cooks stop for a second. "Yes, chef!" they respond in unison. "That's why I became a chef in the first place. I love the camaraderie in the kitchen," he says as he sears a cut of meat, marinated in red wine.
Kerridge is cooking shin of beef with carrot, a quintessential British recipe. It's a celebration of local produce and traditional cooking. "Food moves like fashion," he says, flipping the beef to make sure both sides are cooked before moving it to the oven for two and a half hours. "In the past it was the Spanish restaurants that were popular and today it's the Scandinavians. For a while in the UK we lost focus on our own food because we were trying to copy these trends. Fortunately we're slowly falling back in love with our own produce."
Kerridge's affair with that British produce means he prefers turnips, parsnips and carrots to Mediterranean tomatoes and aubergines. "They just don't suit our climate and cuisine style," he says. They're not completely banned, but local and seasonal food is championed on the menu. "Why serve a carpaccio when you can deliver a hearty soup?" he asks, helping prepare the chocolate pot that chef Mulliss has whipped up in seconds.
The simplicity of these dishes – with ingredients found in any market, prepared without scientific or molecular methods – makes it initially hard to see how Kerridge has earned his awards and rave reviews. But just a bite of the beef shin dispels any doubt. "When we opened we wanted to offer our patrons tasty, uncomplicated food – not earn Michelin stars," he says as he sprinkles sea salt on the warm chocolate pots. "Winning them proves we've been doing things the right way. I'm not aiming for a third star – but I definitely wouldn't want to lose my second one."
As the salt melts over the thick chocolate dessert, I take a mouthful and reassure Kerridge that he won't have to worry about that either.
---
Chocolate pots
Serves 8
80g muscovado sugar
200g dark chocolate (chopped)
500ml double cream
2 vanilla pods
5 egg yolks
The method
1. Combine muscovado and egg yolks. 2. Bring cream and vanilla to the boil and pour over the egg and sugar mix. 3. Return to a medium heat and cook until mix begins to thicken, stirring constantly. 4. Strain the mix onto the chocolate and fully combine. 5. Distribute mix into individual moulds and set in fridge. 6. Serve at room temperature and sprinkle with sea salt.
---
Shin of beef with carrot
Serves 6

6 pieces of beef shin (225g each)
6 medium carrots
1 bottle of red wine
1.5 ltr veal stock
500g rough-cut mirepoix (a mix of celery, onions, carrot)
5 bay leaves
1 clove
1 tbsp white peppercorns
1 bunch of thyme
1 pkt butter
400ml water
150g sugar
3 tsp salt
4 star anise
Maldon sea salt
Sauce
1ltr shin stock
500g butter
The method
Marinade shins of beef in red wine for 24 to 48 hours; drain and pat dry.
Bring leftover red wine to boil, set aside.
In a large casserole, brown the mirepoix in butter and, in a separate frying pan, sear the shins.
Place the shin on top of the mirepoix, cover with the skimmed red wine and veal stock. Add the bay leaves, clove, white peppercorns, thyme and 3 tsp salt.
Bring to simmer and cover with lid; place in oven at 160C and braise for 2½ hours.
In a pan, bring to boil 400ml water, 250g butter, 150ml sugar, 3 tsp salt and 4 star anise, add the 6 carrots and cook until soft and liquid is reduced by about half.
After 2½ hours remove the beef shin and leave to cool in the stock.
Remove beef shin from the stock and pass the stock through a sieve.
To make the sauce, reduce 500ml of the stock together with 250g butter.
Serve the beef shin and carrot in a bowl with a covering of the sauce.
thehandandflowers.co.uk