German publishing / Berlin
Printed perfection
Whether it be picture-laden coffee table tomes or volumes on aesthetic theory, Germany produces some of the finest art books in the world – and that's not limited to Taschen. Monocle went to Berlin to pore over a buoyant publishing industry.
Like the art world, publishing art books is a global endeavour. There's Phaidon and Thames & Hudson in the UK and Switzerland's Jrp|Ringier, but Germany dominates the art-book market, thanks to its sheer number of houses and breadth of content. While Köln-based Taschen is a household name, a good dozen other major German publishers also create exhibition catalogues and monographs, alongside smaller houses making small-run editions. All enjoy a following.
"Germans buy a lot of art books. It's simply part of German Bildungsbürger [educated bourgeois] life to have good books," says Martina Kupiak, a project manager at Kerber Verlag, which produces 120 to 150 art books a year. Along with Hatje Cantz, Walther König and Verlag der Moderne Künst, Kerber is best known for producing high-quality exhibition catalogues for museums and other institutions. Steidl and Holzwarth are also major players, with the latter producing mostly monographs of artists such as Rebecca Horn.
Schirmer/Mosel was founded in Munich in the mid-1970s and was one of the first publishers to produce photography volumes, while Distanz has produced a sizeable backlist since launching in 2010. Berlin-based Gestalten has focused on design and visual culture since the mid-1990s. Then come the publishers making the artist and theory books underpinning the art world's academic activity: Sternberg Press, argobooks and Archive Books in Berlin, as well as Spector Books and Lubok in Leipzig, are just a few.
Why Germany? Sitting in a light-filled top-floor office in Berlin-Kreuzberg, Robert Klanten, the ceo of Gestalten, says one major reason is the strong institutional presence throughout the country. "Every German city has a Kunsthalle, an art collection or museums, and when these institutions have an exhibition they have a budget for a publication."
Vanessa Adler of argobooks in Berlin has another theory: "Well, it is the land of Gutenberg," she quips; Johannes Gutenberg invented movable type in central Germany in 1439. Adler produced more than 100 books through jobs at various contemporary art institutions before founding argobooks – a one-woman publisher of artist editions and catalogues based in a spacious room in a shared office in Prenzlauer Berg – five years ago. "It's amazing how many American artists and curators would touch our books and be amazed at the quality. They'd say, 'Wow, your paper! Your printing!'" she says.
Not only are the raw materials better in Germany but they're cheaper, too. According to Kerber founder Christof Kerber, printing costs in Germany have halved in the past 10 years, making this a good time for the art of print.
It's a very individual business: each publishing house has its own production and business plan that can even vary from book to book. "Most of our books come from museums as commissions," says Kupiak. Other books are proposed by artists, who come up with the funds to produce them through grants, galleries or even collectors; some are conceptualised and funded by the publishing house itself. In recent years, most of the publishing houses have established imprints, subdivisions and series to differentiate themselves and beef up their backlists for different markets (Kerber says that Chinese book buyers particularly like painting books). Kupiak says, "Print runs of a large-format art book are usually from a couple of hundred to a couple of thousand. That's the biggest difference to literature, where the numbers might begin at 10,000."
"The audience for our books is very niche and very specialised," says Uta Grosenick, who co-founded Distanz with advertising mogul and art collector Christian Boros. But for every museum monograph there's a Freunde von Freunden Berlin, a bestseller featuring interviews with and photographs of Berlin creatives in their apartments. Publishers carefully curate essayists and take great pains to assemble a book-design dream team or, alternatively, let a visual artist achieve his or her vision.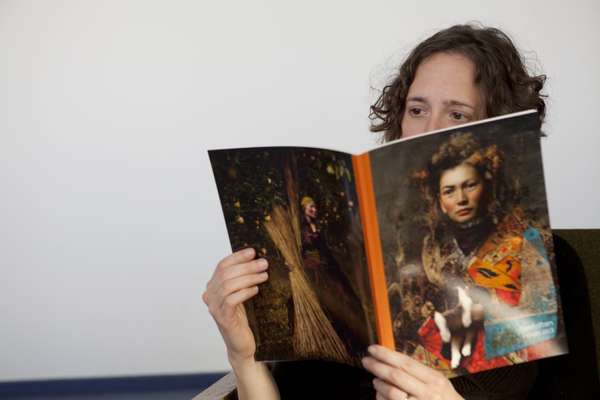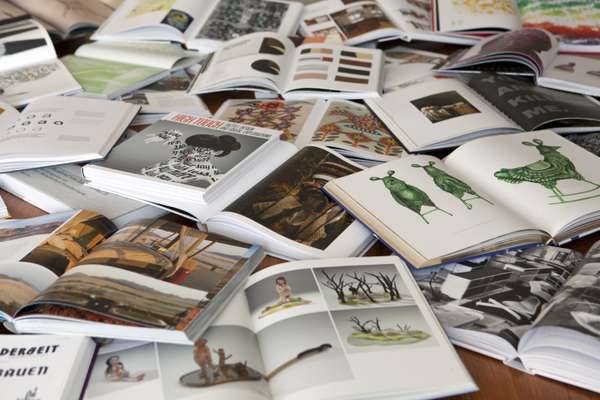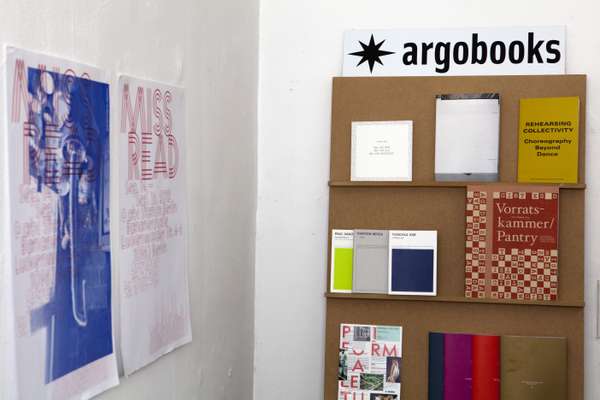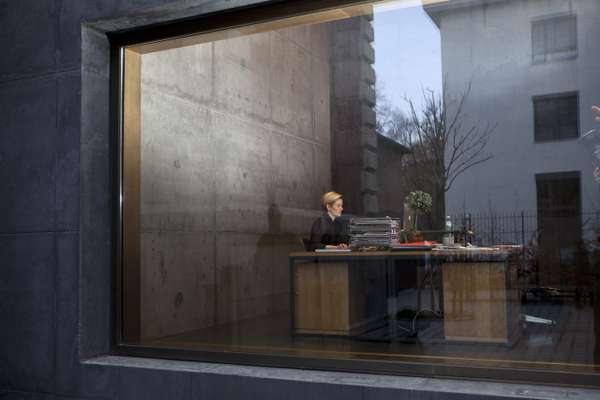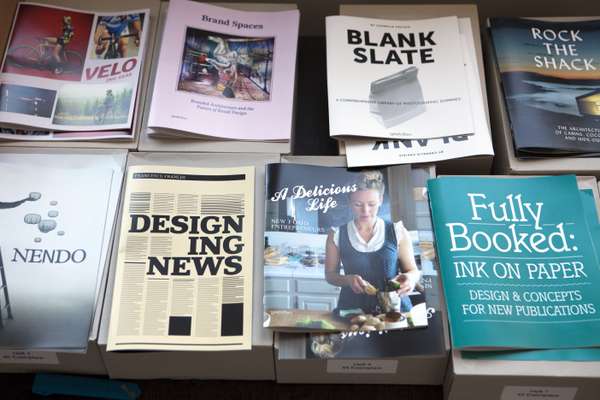 "We were the first publisher that painter Sergei Jensen really did a book with; in the past he often cancelled them in mid-production," says Grosenick. Her small team works in Distanz's imposing office. Once a sewage pumping station, it is now a vast, almost sculptural area shared with several huge historical statues from the space's stint as a lapidarium.
Most books are in English or are bilingual, which means non-Germans will see books by Hatje Cantz or Kerber in museum bookshops and university bookstores around the world. They are also for sale at art fairs such as Art Basel and in speciality art bookstores in Europe and beyond. That includes Motto, which began as an art-book distributor in Switzerland but opened its first bricks-and-mortar store in Berlin-Kreuzberg in 2008 and is expanding globally.
Some publishers work both ends of the equation by operating their own bookstores. Walther König opened his first in Köln in 1969, later branching out to Berlin, Vienna and London; Taschen has 11 standalone stores around the world. In 2010 in Berlin-Mitte, Gestalten opened Gestalten Space, a vast brick-lined design emporium filled with books, objects, and an exhibition space. "The trend is that publishers are becoming retailers and retailers are becoming publishers," explains Klanten. "Gestalten Space is a place to have exhibitions and lectures and a means to get in touch with the people buying the books. We didn't always know who was buying our books. Now it's a conversation."
Gestalten always keeps an eye on what will sell and has established a brilliant distribution network; Distanz, for example, distributes through Gestalten. Many theory-driven publishers, on the other hand, operate largely out of contextual interest or a deep love for the craft. Adler sees argobooks almost like "a nonprofit institution". Once she green-lights a book she often applies for grants – through the Berlin Senate or German federal cultural funding – to help support book productions that "can cost anywhere from €5,000 to €90,000".
Sternberg Press also began with intellectual passion and only recently began to turn a profit. Since founding the company in 1999, owner Caroline Schneider has established a reputation for publishing slightly risky, always meaty art-theory books that have a huge following among artists and aesthetically minded academics. "Right away I got solicited by authors who were exhausted by the slow processes of university publishers," says Schneider in her office/showroom in East Berlin, in what used to be the famous Karl Marx Buchhandlung. A small full-time staff works in hushed tones in what was the bookstore's reading room, a listed high-ceiling space lined with wooden bookshelves (passers-by can come in and purchase books if they like). "It grew very quickly. We started with five books a year and now it's about 40," says Schneider.
Sternberg collaborates with big art-world writers such as Jörg Heiser and Boris Groys, artists such as Liam Gillick and Omer Fast, and e-flux, the international art network. An in-house team edits all the books, whose designs are as high quality as their production value (Schneider prints some of the books in a Benedictine monastery). "There's a niche for us and there's a demand," she says. She's right – and who says that no one reads theory? Her first book, by seminal contemporary philosopher Nicolas Bourriaud, has sold 15,000 copies since 1999.
It's a far cry from Taschen's ubiquity but it shows that even the most arcane art books are resonating more than ever and publishers increasingly know how to fund, produce and sell them to appeal to their core audiences. In 2009, Adler – along with Kunst-Werke and artist/writer Michalis Pichler – launched a book festival called Miss Read for independent art-book publishers. This year's attendees included Sternberg, Gestalten, Distanz, Merve Verlag and many other international players, including Book Works from London and Turin's Mousse Publishing. The publishers presented their work in a hall adjacent to the abc Art Berlin Contemporary art fair; it looked like your coolest friend's private library.
"We do this because we believe in it," says Adler. "I think that as long as people are into art, people will be into art books."
---
Publishers: the page-turners
Sternberg Press, Berlin
In 1999, Luxembourg native Caroline Schneider started Sternberg (then as Lukas & Sternberg) with old friend (and now international curator) Nicolaus Schafhausen out of her apartment in New York. Now in Berlin, Sternberg has established itself as an alternative to university publishing with books that are serious but don't lack a sense of humour. A case in point is the brilliant Solution Series, containing various resolutions to the world's ills that are divided up by country and written by an all-star cast.
sternberg-press.com
Schirmer/Mosel, Munich
Lothar Schirmer and Erik Mosel founded Schirmer/Mosel in 1974 to "stay close to the art world after graduation". Schirmer also developed a strategy that allowed the firm to sandwich photography between fine arts and film. "There was no money at the beginning and almost no market," he says. However, the house's second book, Heinrich Zille: Photographien Berlin, sold 50,000 copies, securing success and establishing photography books as a genre.
schirmer-mosel.com
Angelika Books, Berlin
In 2011, Angelika Taschen (the ex-wife of Taschen's Benedikt Taschen) launched her own boutique publishing house. It produces a handful of illustrated books distributed in just a few carefully selected venues around the world. The debut publication was a book of candid fashion portraits by New York-based German photographer Anna Bauer; then came a supersize book called On Perfume Making by perfumer Frédéric Malle.
angelikabooks.com
Distanz, Berlin
In 2010, art collector and ad man Christian Boros plus longtime art-book editor Uta Grosenick (formerly of Taschen and Dumont) founded Distanz Verlag in Berlin. They have since produced more than 100 books including monographs on artists such as Alicja Kwade and Ai Weiwei. An upcoming book produced in-house will celebrate what would have been Martin Kippenberger's 60th birthday. Distanz revels in self-sufficiency: Boros himself sometimes designs the volumes.
distanz.de
Hatje Cantz, Ostfildern
Hatje Cantz was founded by typesetter Gerd Hatje in 1945 as a way to create a "private university" in the wake of the National Socialist party's squelched aesthetics and intellectualism. Hatje Cantz is arguably the premier name globally for museum-exhibition catalogues and monographs. In 2006 the publisher, based near Stuttgart in Ostfildern, opened an additional Berlin office.
hatjecantz.de
Walther König, Köln
Walther König opened his first bookstore in Köln in 1969, the year before his brother, museum curator Kasper König, founded Gebrüder König. In 1983, Walther took on sole ownership of the publishing arm; in 2008, the publisher and bookstores turned over €19m. Its August Verlag imprint publishes aesthetic-theory books.
buchhandlung-walther-koenig.de
Spector Books, Leipzig
Here, a small team takes on the legacy of the city it's located in: Leipzig has been a centre for "book art" for centuries. Spector specialises in small-run artist books and puts out a magazine called Spector Mag. One of its bestselling books is Liner Notes, a volume exploring the art of bookmaking.
spectorbooks.com
---
Under the Radar
Kerber Verlag
A photography book of nearly 30 years of artist portraits by Berlin photographer Andrea Stappert.
Artures
Yüksel Arslan, Hatje Cantz
A monograph on a Paris-based Turkish outsider artist whose work is currently experiencing a renaissance in Europe.
Freunde von Freunden Berlin
Distanz
Interiors and interviews featuring the cream of Berlin's creative crop.
The Book of Scotlands
Momus, Sternberg Press
Part of Sternberg's Solution Series, this is written by Scottish singer/artist Momus and presents 156 alternative-world Scotlands.
Portraits
Christoph Rückhäberle, Lubok
VerlagLeipzig-based Lubok works with antique linotype techniques to produce inky, colour-saturated picture books that smell and feel as good as they look. This is an eye-popping escapade with stand-out graphics and abstract portraits.