Small-business neighbourhood / Italy
When in Rome
Once a gritty, working-class neighbourhood, Ostiense still has its warehouses and factories but they're now being converted into museums and spaces for small, creative businesses.
Hugging the eastern bank of the Tiber just south of Rome's Aurelian walls, Ostiense doesn't fit the stereotype of a neighbourhood belonging to the Eternal City. In place of venerable churches and palazzos there are striking street murals. The district started out as a working-class energy and industrial hub, with an ageing gasometer a local landmark.
With the decline of industry, opportunities arose to take over abandoned warehouses and factories. The Centrale Montemartini museum, once a power plant, now hosts a collection of ancient Roman and Greek sculpture.
The area has become a gathering point for creative small businesses including boutique architectural practices and advertising agencies all attracted by the post-industrial feel and lower rents. Restaurateurs are now starting to flock to the area.
A recent boost to the neighbourhood's prospects arrived last summer with the opening of Slow Food supermarket Eataly, which took over a deserted air terminal built for the 1990 World Cup. The three-storey food hall features a microbrewery, coffee roaster and food stations that open late so creative types and local shopkeepers can get their grocery shopping done or grab a quick bite before returning to their desks.
---
Transport
The area is well served by public transport in a city where the car is king. From Ostiense's train station there is a direct link to Fiumicino airport and private rail operator NTV's high-speed Italio train has service to Milan with schedules that let staff conduct business and return the same day. Alternatively Rome's main station, Termini, is a few metro stops away.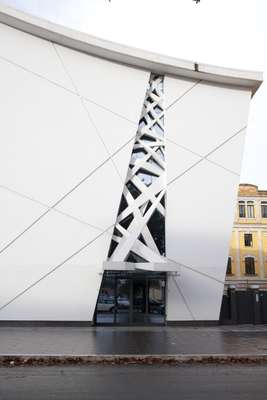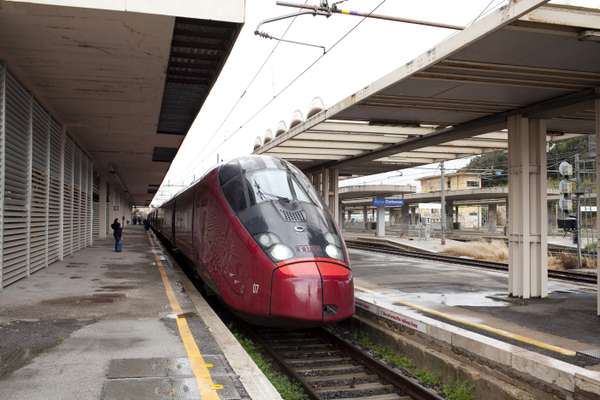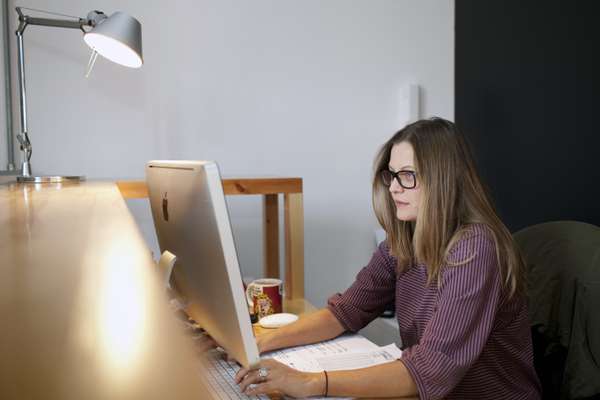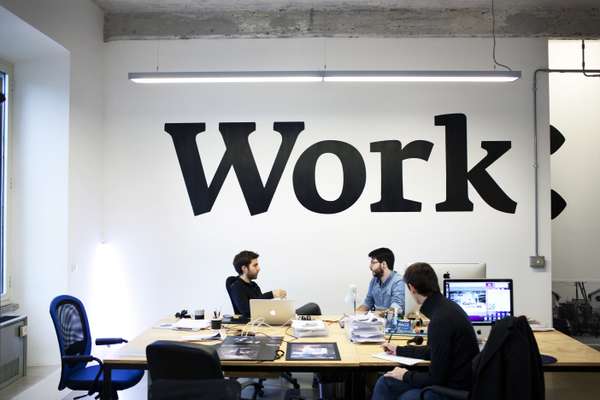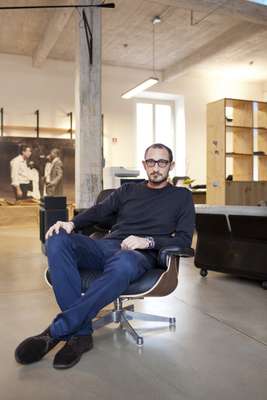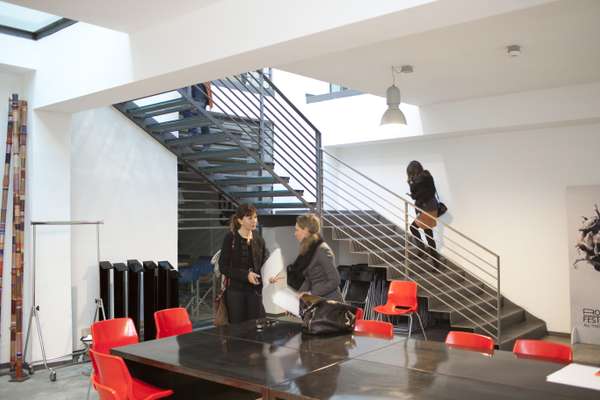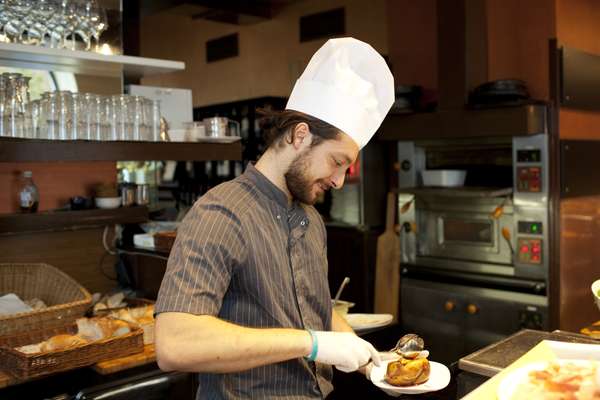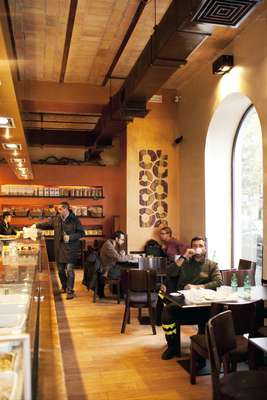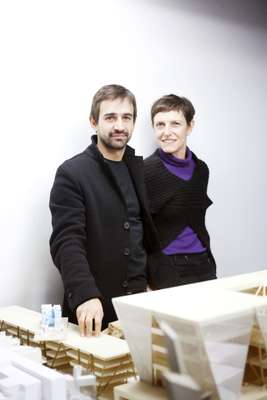 Urban regeneration
The sprawling but disused Mercati Generali, the city's former wholesale market for fresh produce, meats and fish, is set to be transformed by Dutch architect Rem Koolhaas – the first portion will be ready later this year. The €320m project gives a facelift to the art nouveau buildings and has 250,000 sq m of space for new retail and restaurant ventures.
---
1.
Superegg
Advertising agency
Last year, advertising and branding agency Superegg – which runs a team of 20 and whose clients include Warner Bros. and Peugeot – moved into a former creamery where pecorino romano was once made. "We didn't want to be in a classic business district. We love the area's industrial feel," explains Paolo Platania (right), Superegg's managing director.
superegg.it
---
2.
Camera Oscura
Photography studio
Camera Oscura runs workshops for aspiring shutterbugs and prints digital and analogue pictures for artists preparing exhibits. The group also works with local photo agency 7min (7min.it) to teach novice photographers how to break into the market. Photographer Matteo Alessandri (right) and his team moved to the district in 2011.
cameraoscura.org
---
3.
Fondazione Romaeuropa
Cultural centre
In Ostiense since 2008, the foundation puts on films and contemporary dance performances. The centre hosts the annual Romaeuropa Festival of modern art, theatre and music, drawing artists from all over Europe.
romaeuropa.net
---
4.
Doppio Zero
Bakery/restaurant
Locals love Doppio Zero for its near round-the-clock hospitality – in Rome, it's rare to find establishments offering food and drink from 07.00 to 02.00 every day of the week. Opened in 2003, it mixes together under one roof a bakery, wine bar and restaurant – it even sells foodstuffs, including Monocle favourite Pasta Mancini. Popular for after-work cocktails, it is also a big attraction on weekends, when it serves brunch.
doppiozeroo.com
---
Maria Claudia Clemente and Francesco Isidori opened their practice in 2002. They oversee a dozen staff working on a portfolio that ranges from an urban masterplan in China to interiors for Obikà, a popular chain of mozzarella bars in Italy and abroad.
labics.it
---
6.
Porto Fluviale
Restaurant
Opened in December, Porto Fluviale is in a former railroad warehouse. The 900-square-metre eatery has wood-fired ovens that make thin-crust Roman and Neapolitan pizza, a bar with artisanal Italian ales on tap and a separate kitchen to host events. There's also a takeaway counter selling street food, including arancini. "This area is still underrated when it comes to dining," says co-owner Gino Cuminale.
portofluviale.com
---
Estate agent
Those seeking a lease can turn to family-run Sair. Set up in 1947, the firm currently has offices to let in an early 20th century building in via dei Magazzini Generali, within walking distance of transport links.
sairspa.it
Where to get your morning coffee
Despite the modernist makeover of the café's interiors, family-owned Pasticceria Andreotti has been serving locals strong shots of coffee since 1931. Workers pop in for their morning cappuccino or after lunch for a pick-me-up espresso, while some make a beeline to the bar for an early evening prosecco. Its pastry kitchen makes piping hot croissants for breakfast and mini-pizzas that are perfect for an afternoon snack.
andreottiroma.it
Where to go for a client lunch
The chic Ristorante Italia occupies the top floor of Eataly and offers an innovative menu, views of the city and artwork by Modigliani. For informal meetings over spaghetti, Al Biondo Tevere, frequented by director Pier Paolo Pasolini and filmed by Luchino Visconti, overlooks the Tiber.
ristoranteitalia.eataly.it, albiondotevere.it