German stationery / Germany
Looks good on paper
Who puts the lead in your pencil? Probably a German firm with a history of making fine writing instruments. And it's a past these players want to highlight as they do battle with those pesky digital gadgets. Meet the stars of the stationery cupboard.
What is it about Germans and their stationery? Whether you are highlighting a receipt or signing a state decree, it's likely the writing implement clasped between your thumb and finger has "Made in Germany" embossed on its side.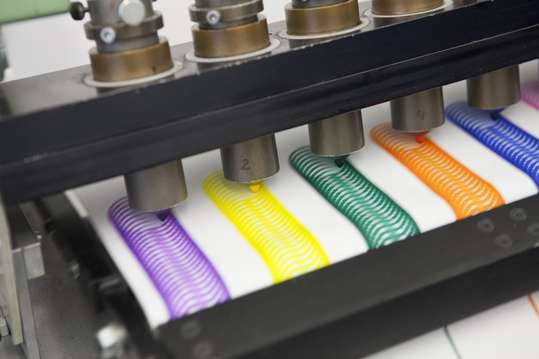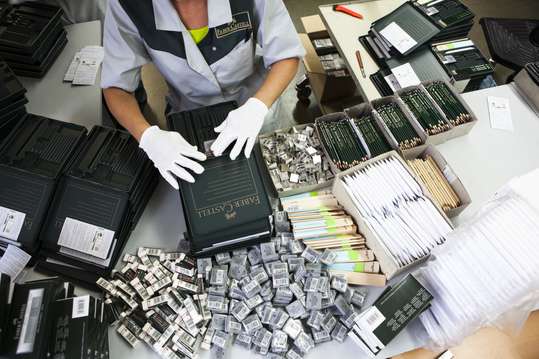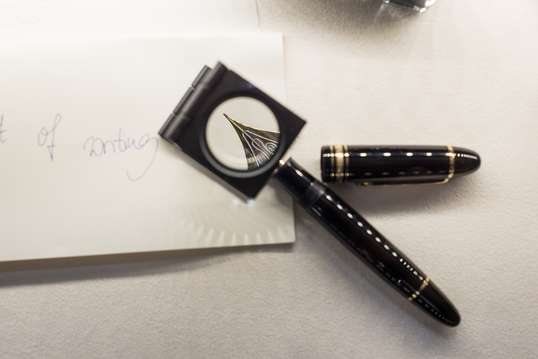 German brands such as Montblanc, Faber-Castell, Schneider, Staedtler and Schwan-Stabilo make pens and pencils that are at home everywhere from a ceo's breast pocket to a student's pencil case. Combined, these masters of lead and ink exported €602m of writing instruments in 2011; that was up 2.1 per cent from the previous year according to the European Writing Instruments Manufacturer's Association.
That may sound at odds with a world where we are apparently wedded to email and text, but the market is more complex and interesting than that. Firstly, people may not be penning missives to aged aunts or love letters to their other halves but they still like a pen, and a good one at that (enter the likes of Pelikan and Lamy). And then there are the developing economies: as more children study longer they need pens and pencils to write out their futures. That's why the businesses featured here are still investing in perfecting the art of pen, pencil and ink.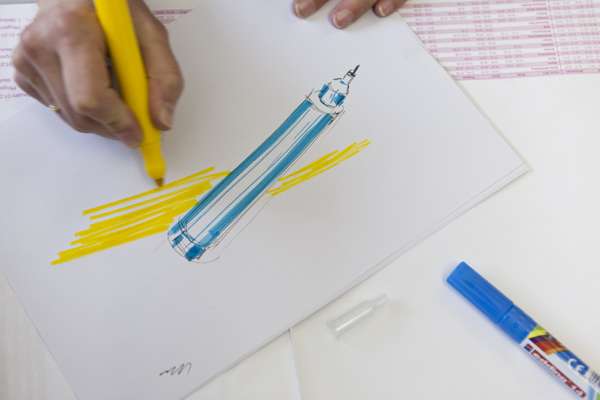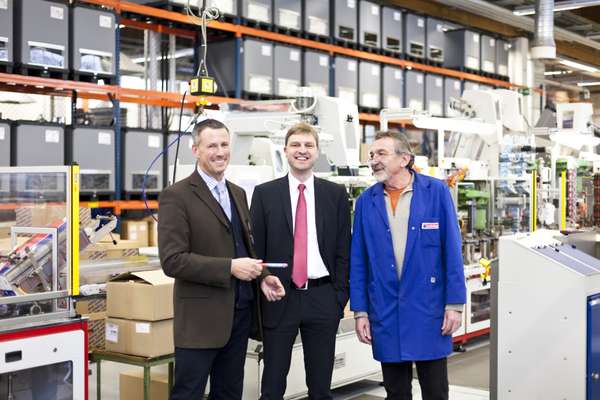 In 1960, school friends Carl-Wilhelm Edding and Volker Detlef Ledermann started their business with 500 Deutsche Mark and a typewriter in a garage in Hamburg. The Edding No.1 was born: a pen with permanent ink imported from Japan. "It was a real innovation at the time," says Jörg Thomas Schimkus, managing director of Edding production. "Pens with permanent ink didn't exist in the German market before." By 2011, Edding had cornered approximately 80 per cent of the German marker market.
The company has devised a range of markers, from an X-ray and skin marker for the medical field to a carpentry marker for professionals and hobby craftsmen. "We are in steady exchange with other industries and our customers – if they signal a need we design a corresponding product for the market," says Olaf Seidel, research director of Edding production.
Since 1992, Edding's manufacturing talents have been pooled together in Bautzen, a small town 52km east of Dresden. Here, 59 machines are used for every stage of production, right through to the boxed product ready for dispatch. "We produce up to 150 pens a minute," Schimkus explains on a walk through the factory. He also lets us in on a secret: specialist staff hired to run the equipment. A team of in-house experts are responsible for the construction of the unique machinery and tools that give the lids and handles their distinctive shape. "This allows us to develop innovative technologies that set us apart."
Edding's future won't be restricted to markers. The company ventured into new territories last year with the launch of printer cartridges, as well as a series of spray cans that will appear in German shops this spring.
edding.com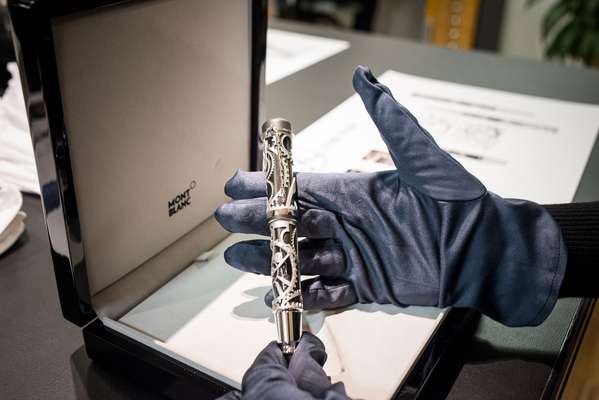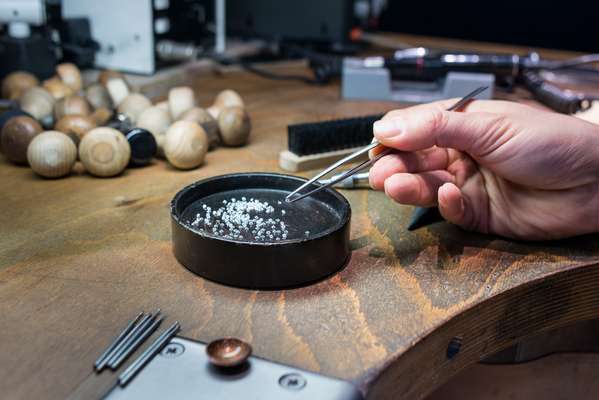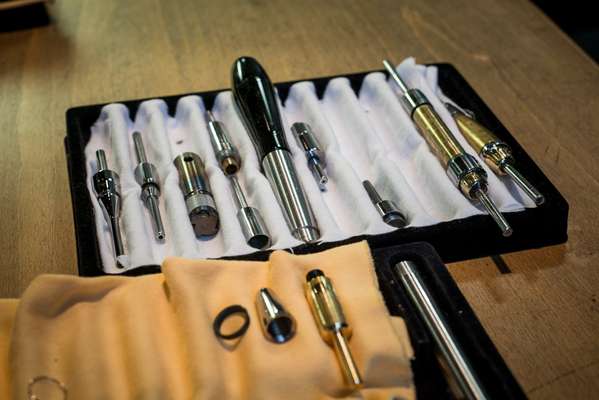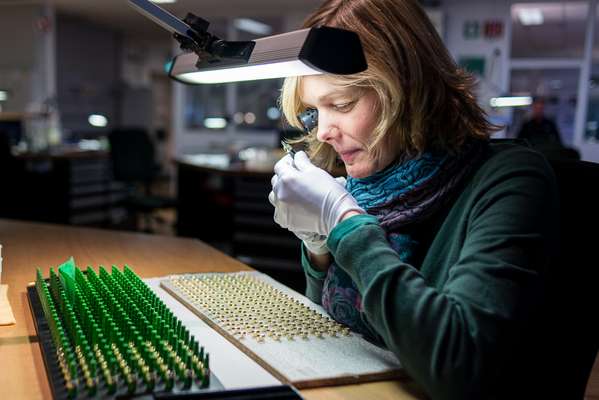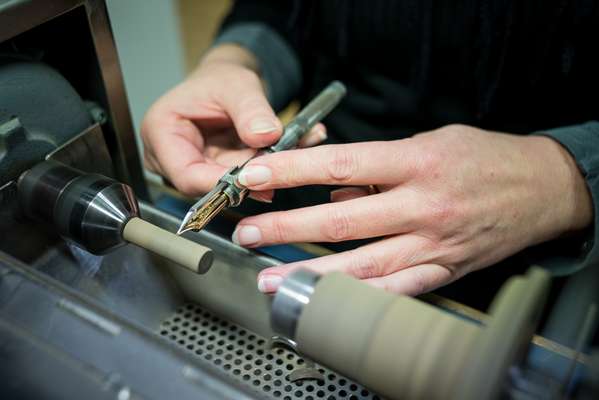 In a small glass room at Montblanc's Hamburg headquarters, three women hunch over sheets of blank white paper, rows of fountain pens lining the table in front of them. They work quickly, picking up a pen and tracing invisible loops on the paper, moving at different angles and speeds. In this way, each Montblanc Meisterstück pen is tested with invisible ink to make sure that it glides smoothly and silently across the page.
Not much has changed here since a Hamburg banker and a Berlin engineer founded the company, then called Simplo Filler Pen Co, in the northern German port city in 1906 (the two had discovered the fountain pen on a trip to the US), although the company switched from using steel to only 18-carat gold in its nibs a couple of decades ago. The 200 individual steps that go into making the classic Meisterstück (which translates as "masterpiece") were put in place in 1924. Much of this process is done by hand, including putting a point on the nib and cutting out the slit through which the ink flows. "The innovation today comes from improving the nuances," says Frank Derlien, manager of nib manufacture.
In 2011, Montblanc introduced a bespoke nib service, whereby customers send in a sample of their handwriting for computer analysis. For €1,200, artisans craft a nib to fit the customer's unique scrawl. The company also spends years coming up with designs for limited-edition pens, which are often based on luminaries such as Charlie Chaplin and Frida Kahlo. The artisan atelier's latest creation is a single piece inspired by Albert Einstein. The pen glitters with jewels, its skeleton-net design intended to represent the space-time curve. Like the sound of it? You'll need €125,000 to make it yours.
montblanc.com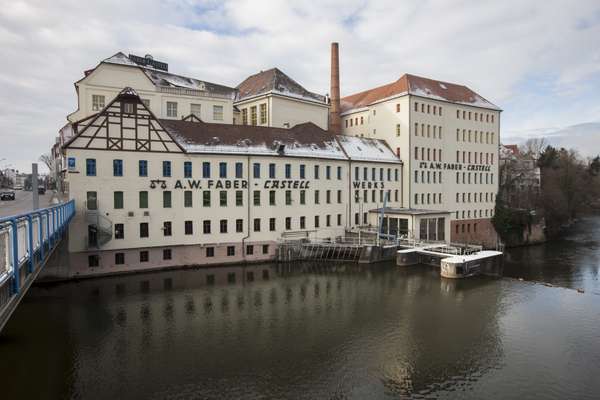 3.
Faber-Castell
Stein, Bavaria
An art nouveau castle in the southern town of Stein with marble-clad hallways and lacquered floors is the centre of one of Germany's oldest stationery empires. "History has always been a strong part of the company," says Count Anton Wolfgang von Faber-Castell from the satinwood-panelled room where his grandmother, Baroness Ottilie, once conducted her correspondence.
The count is the eighth generation of his family to run Faber-Castell. In the 1980s he spent a week in the company's archive, which inspired him to resurrect ideas from his ancestors. "Things that were done by the fourth generation were absolutely state of the art," he says.
He's even dredged up old family rivalries: in the 1990s, Faber-Castell sued Staedler for claiming to be the world's oldest pencil maker. Though Friedrich Staedler started making pencils in Nuremberg in 1662, guild rules prevented the family from setting up a company until 1835. Meanwhile, Kaspar Faber skirted the rules to set up shop just outside of Nuremberg in Stein in 1761. Faber-Castell won the injunction.
Faber-Castell relaunched its brand in the 1990s, resurrecting the jousting knights image as its logo and adding the company's founding date. The firm also introduced its Graf von Faber-Castell luxury line, starting with the €195 "perfect pencil". Though management initially balked at the idea of the pricey implement, the count got his way. It has fans in high places: in 2009, José Manuel Barroso, president of the European Commission, sent one to Barack Obama. Industrial designer Heinrich Stukenkemper says that the aim is to create a product line that evokes a different era. "It's about taking history and putting it into today," he says.
The count is also looking to the future, diversifying away from regular pencils by breaking into the cosmetic pencil business and focusing efforts in areas such as art and crafts. Now pencils form 30 per cent of the company's sales.
He's also succeeded in innovating the humble pencil to combat the mass-produced glut coming out of China. Faber-Castell designers and engineers spent three years trying to put his idea for a grip pencil into practice. In 2001 the company introduced the grip 2001, a silver triangular-shaped pencil with 156 non-slip black grip dots. Made in a factory just down the road from the castle, it takes 10 days to produce. "There is always something to be optimised if you focus on these details," says the count. "Many small steps create a big step."
fabercastell.com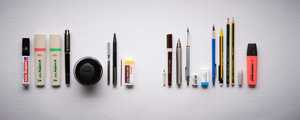 A gallery of instruments for making your point clear
1. Permanent marker, Edding
2. EcoLine highlighter, Edding
3. Ductus fountain pen, Pelikan
4. Ink pot, Lamy
5. M16 ballpoint refill, Lamy
6. Logo ballpoint pen, Lamy
7. D1 ballpoint refill, Rotring
8. Rapid eraser TB20, Rotring
9. Replacement 0.8mm nib, Rapidograph
10. Drawing pen, Rapidograph
11. Clutch pencil, e+m Holzprodukte
12. Rapid PRO 0.5mm mechanical pencil, Rotring
13. Pencil sharpener, KUM
14. Rasoplast combi eraser, Staedtler
15. Mars Technico clutch pencil, Staedtler
16. Noris 763 0.5mm mechanical pencil, Staedtler
17. 9000 8B pencil, Faber-Castell
18. Noris HB2 pencil, Staedtler
19. GRIP 2001 eraser, Faber-Castell
20. Original highlighter, Stabilo Boss