Travel edits / Germany
Monocle travel guide
From a three-Michelin star restaurant to a new mobile kitchen in Berlin, we take a quick tour of what's new and noteworthy for a trip to Germany. Then on the following pages we go global for this issue's travel picks.
A construction site in central Berlin has become the hotspot for local foodies wanting a taste of the capital's best-rated burgers. Under the helm of chef Jürgen Klümpen, the group behind Germany's 25hours hotels has hopped on the street-food bandwagon – or mobile kitchen, rather – and created the roving Burger de Ville. This bespoke Airstream trailer serves burgers made with organic Black Angus beef from Bio Ranch Zempow, especially blended to Jürgen's recipe in a brioche-like bun made by a local baker. Chips come with parsley and garlic, sea salt, rosemary or sprinkled with freshly grated Parmesan cheese.
25hours-hotels.com
---
Cerês am Meer
Rügen Island
White chalk cliffs, sandy beaches and turquoise waters are the sort of landscape you would expect to find in Southeast Asia or maybe the Caribbean but certainly not Germany. But these are the surroundings you will wake up to if you stay at the Ceres hotel in the resort town of Binz, on Rügen Island. Rooms were designed by Moritz Lau-Engehausen using smoked oakwood and raw stone for a simple effect. The hotel offers an array of treatments at the Senso Spa but with the Baltic Sea just a few meters away, who needs a spa?
ceres-hotel.de
---
Inside a red-brick 19th-century building on the corner of Koenig Karl and Daimler Streets is restaurant 87, in a converted basement that husband and wife duo Alexius and Simone Bletsas spent four months refurbishing before opening late last year. Focusing on German produce, 87's menu changes every two months (book a table or you'll miss the chance to taste such offerings as salmon steak with chard and quinoa) and specialises in gluten and lactose-free dishes. It's where Stuttgarters flock for the Sunday Frühstück and to order dishes such as the omelette with chicken, spinach and cheese.
87-stuttgart.de
---
Once Prince Jan Wellem's private retreat, the 300-year-old Grandhotel Schloss Bensberg is now home to Köln's best-kept secret. Three-Michelin star restaurant Vendôme is located on the hills of Bergisches Land with a spectacular view of the city and its cathedral, the hotel and restaurant are a 15-minute taxi ride away from Köln's airport. Its French name aside, Vendôme has been listed among the World's 50 Best Restaurants (organised by Restaurant magazine) for the past five years as a leading name in Neue Deutsche Küche (new German cuisine). Chef Joachim Wissler (pictured) has now been at the restaurant for 13 years and his menu is modern and creative. It includes a classic German venison dish with pine needles and celery cream; a perfect illustration of his penchant for updating traditional German staples.
schlossbensberg.com
---
Berlin's newest hotel Das Stue is set in the former Royal Danish Embassy, a classic building in the diplomatic district of Tiergarten in Mitte that was built in the 1930s by Stuttgart-born architect Johann Emil Schaudt. Meaning "living room" in Danish, Das Stue was converted into an 80-room property by Axthelm Architects and decorated by Spanish designer Patricia Urquiola. The neighbouring Berlin Zoo is a great view to wake up to and the house restaurant, run by Catalan chef Paco Pérez, serves Mediterranean cuisine.
das-stue.com
---
Industrial designers Steve Cichon and Robert Betz partnered up with marketing guru Wolfram Timmermanns in 2011 to turn an old blacksmith's shop in Hamburg's Schanzen district into a concept store called Luv. Marked with a yellow neon banner on Ludwigstrasse, the store is strongly influenced by Scandinavian design, selling functional decorative objects by the likes of Muuto and Tveit & Tornøe. The Luv team also advises businesses and private clients on the planning and decoration of their properties.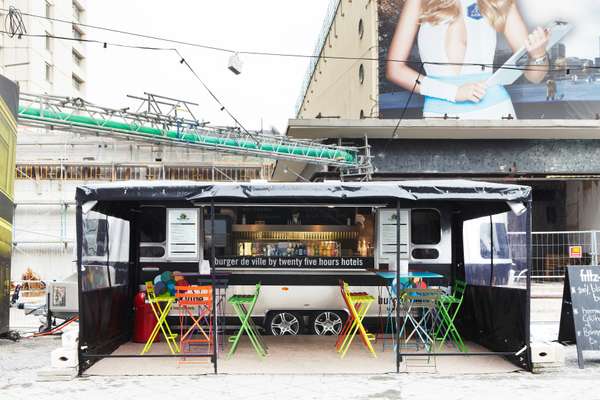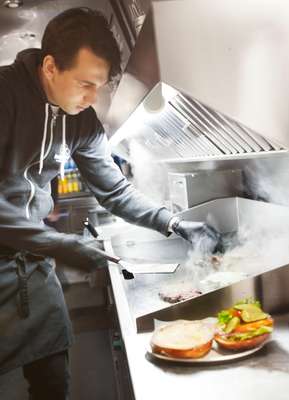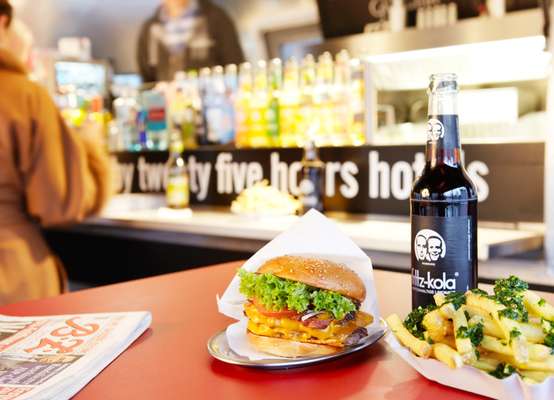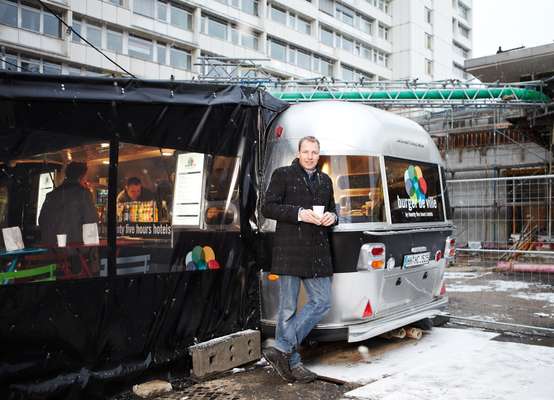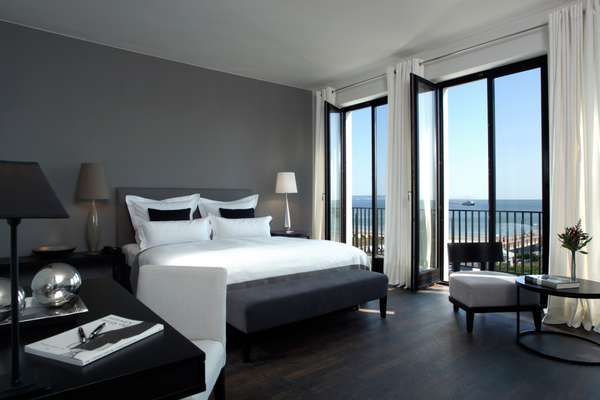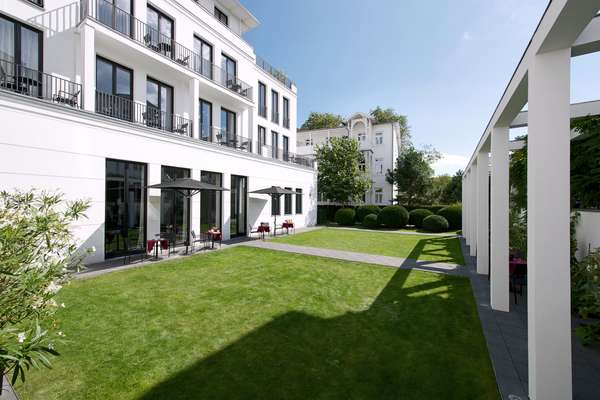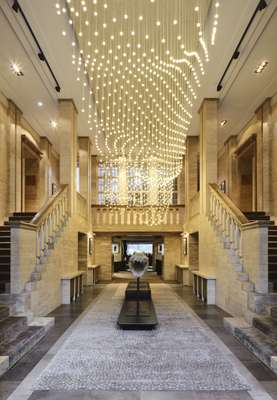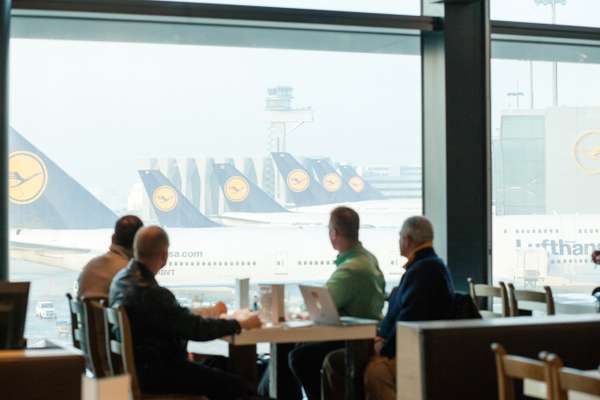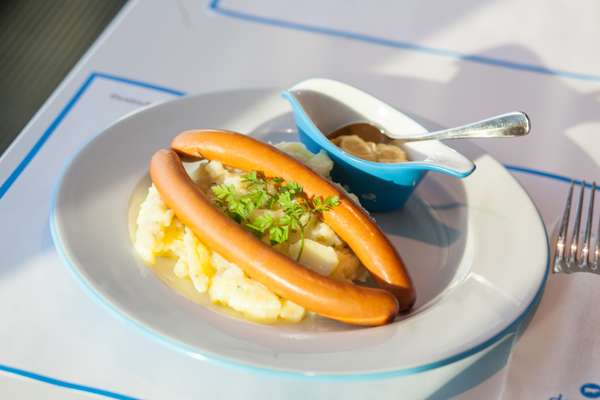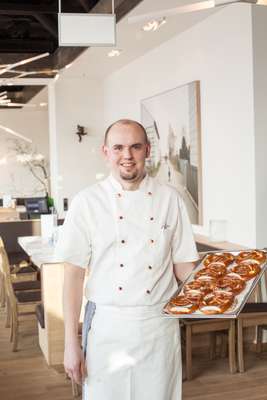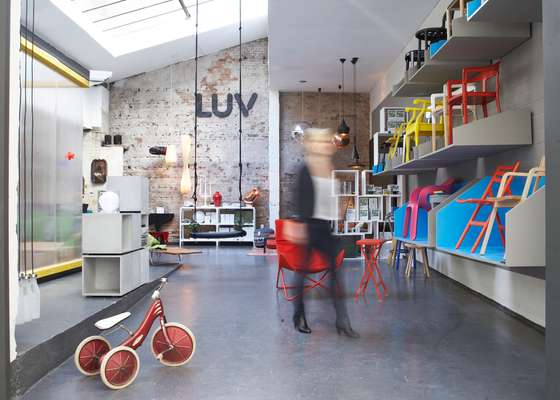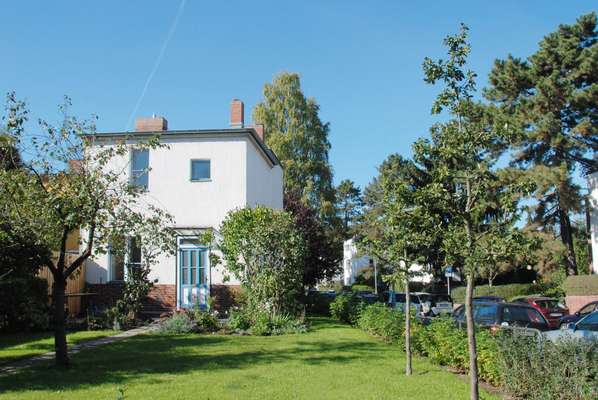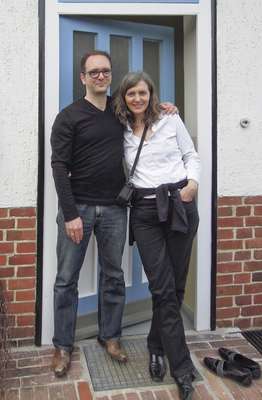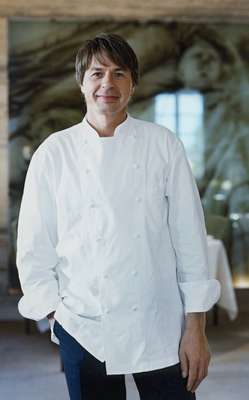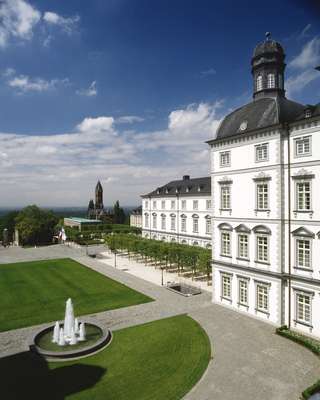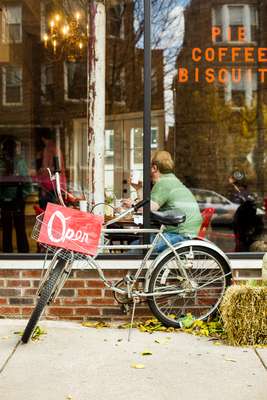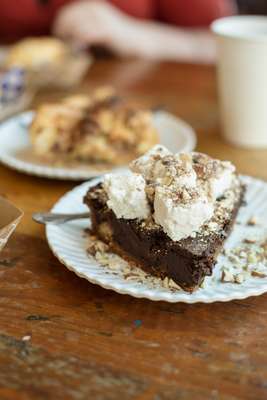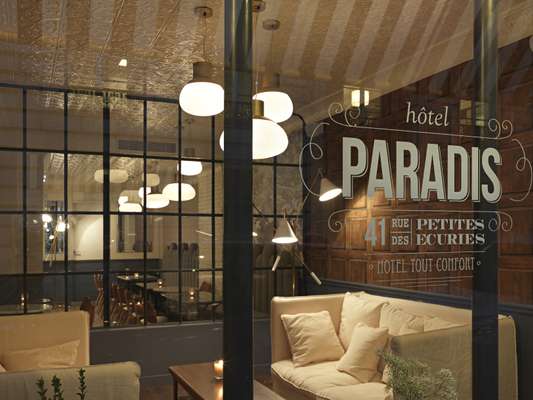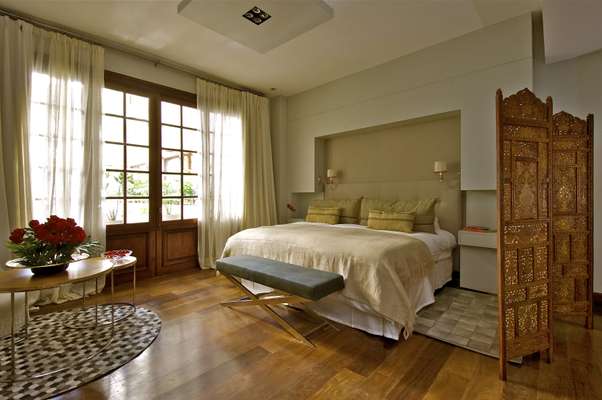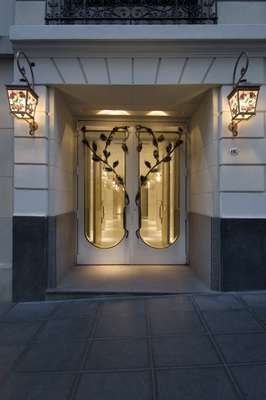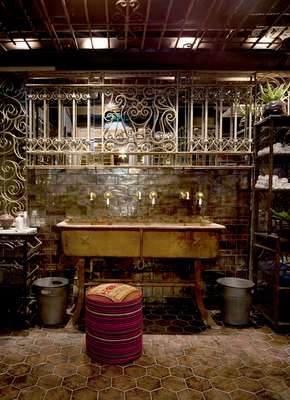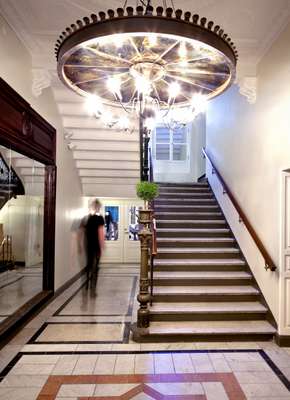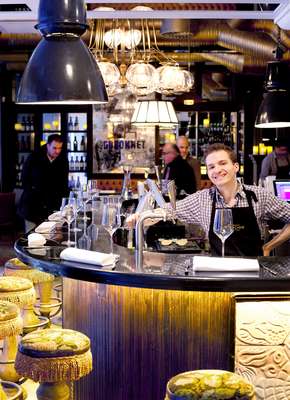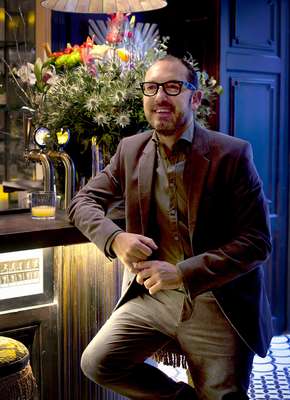 To familiarise the public with the shop, the first Thursday of each month Luv organises an open-house aperitivo event where guests and design enthusiasts can enjoy a glass while checking out the new products in store.
luv-hamburg.com
---
Graphic designer Ben Buschfeld and his wife had long admired the urbanist Bruno Taut's Horseshoe Estate when they found a house in the compound that was for sale. "It was in a poor state and urgent need for restoration, but it was a real treasure", says Ben. Following strict conservation practices, it was opened to the public as a guesthouse for up to four people, decorated with furniture from the 1930s. "It's a stimulating place that offers an alternative to impersonal hotels," says Ben, who recommends walking to the Britz Manor House and eating at one of the nearby restaurants.
tautes-heim.de
---
Terminal 1 at Frankfurt's Flughafen is home to Deutsch, the second airport restaurant by Roland Kuffler, who's created a menu that invites you to taste "True German Food". The restaurant's playful branding is the result of a collaboration between Berlin-based designer Kathrin Bade and Sven Hoffmann, a studio in Hamburg. Seating up to 140 guests, each of the dishes in the menu is written phonetically for the benefit of international travellers and non-German speakers. Order the traditional Kräuterrahmsüppchen or the Pfälzer Zwiebelrostbraten steak until you can pronounce it like a local.
kuffler.de
---
Imagine having a Swedish uncle who loves to travel around the world, has a great eye for charming souvenirs and has kindly given you the keys to his Stockholm townhouse while away on one of his journeys. That's how Catalan architect Lázaro Rosa-Violán (right) envisioned the cosmopolitan Nosh and Chow, the sister restaurant to the Berns hotel in Berzelii Park.
Designed by his team at studio Contemporain in Spain, this new diner occupies two floors of the building and is filled with unique objects from all over the world, sourced from construction sites, flea markets, vintage shops and with some that have been made especially for Lázaro. "The tiles in the main bar are originally from Passeig de Gràcia in Barcelona, designed by Gaudi, and the wooden slats at the Concierge Bar are from an old pharmacy in Toulouse," he says. "We like to create a bit of history and work like urban archaeologists, picking up objects we find around the globe. People can sense the history in the different decoration elements."
And the food is just as international. The kitchen is headed by chefs Johan Lindqvist and Anders Atte, who created an intercontinental menu focusing on North American, African, Southeast Asian and Karelian cuisine, with dishes such as smoked reindeer on Russian buckwheat pancakes and crispy wheat tacos with spiced braised beef and chorizo. There are also four different bars on site, including the buzzing Concierge bar and the intimate and exclusive Bernie's bar, set to become Stockholm's premier cocktail destination.
berns.se
Starter: Finnish rye and sourdough bread with whipped chanterelle and chive butter
Main: Charcoal baked beets with hazelnuts, mushrooms and cabbage
House cocktail: "East side" represents the four regions: lychee (Asia), lime (South America), mint (Africa), apple and vodka (Karelia)
---
Close to Montmartre, the new Hotel Paradis is ideally located for Gare du Nord and the Grands Boulevards. It's the work of designer Dorothée Meilichzon, who also decorated the Merce and the Muse coffee shop (see issue 36) and The Beef Club restaurant in Paris. The 1950s furniture and striped awning provide a Scandinavian vibe.
hotelparadis.com
An evening in the neighbourhood:
Have a bite at Vivant.
vivantparis.com
Go for a late-night drink at Le Pompon.
+33 (0)1 5334 6085
Hit the dance floor at Rex Club.
rexclub.com
---
Bang Bang Pie Shop
Chicago
Chicago's Logan Square neighbourhood is home to an abundance of cookie-cutter cafés selling an indistinguishable range of coffee and sandwiches. Not so Bang Bang Pie Shop, a culinary throwback in a tiny triangular space on California Avenue that has earned a slew of awards since it opened, attracting locals in droves. "Our goal is to be timeless, not trendy," says co-owner Dave Miller. "We really wanted to focus on what we do best." That means serving coffee from Mexico or El Salvador, hand-roasted weekly, biscuits topped with house-made butter and jam and pies made from century-old recipes, such as the Shaker lemon and butterscotch meringue. Most ingredients are sourced from local farmers and butchers, including the famed Indianapolis-based Smoking Goose Meatery.
bangbangpie.com
---
Hub Porteño is set in a mansion made of Paris stone, which owner Gonzalo Robredo converted into 11 suites and decorated with hand-crafted pieces, from leather walls to 100-year-old Lapracho wooden doors. At the restaurant, Tarquino, chef Dante Liporace cooks under the shade of a 70-year-old fig tree that sprawls through the glass roof and serves modern Argentinean specialities. Ask Gonzalo about the Hub's cultural activities, which include meetings with local professors, art experts and cultural personalities who share their knowledge of the city.
hubporteno.com
---
The ceiling of Café Lempicka is adorned by the exuberant feminine forms of Tamara de Lempicka's painting "The Pink Tunic", deconstructed and turned into a mosaic. "Clients come for a drink and exchange looks in a voyeuristic game," says architect Raúl Sánchez, who has made of the venue's high ceilings a bold statement in the mainly traditional town of Valladolid. The menu, designed by topographer turned café owner Tomás González, includes nachos with morcilla and anchovies from Santoña, and 30 kinds of gin and 12 tonics to pick from. The coffee speciality is the very Spanish carajillo, a brew with a healthy dash of aguardiente, brandy or rum.
cafelempicka.com