Italian tailoring / Global
A cut above
The successful passing down of knowledge from master to apprentice can take years of hard work and practice before its benefits start to be seen. It's this level of craft and attention to detail that helps create some of Monocle's favourite products, so in a new feature – Master and Apprentice – we will be bringing some of these stories to life, beginning with Florence's Liverano & Liverano tailors.
"Young people today often brag that they've graduated from Istituto Marangoni [the prestigious Milan fashion school]. As for me, I've received my fashion education on the streets of Firenze," laughs Antonio Liverano when we meet him at his Florence studio. The tailor moved to the city over 60 years ago at the age of 11 from his native Palagiano, a town in southeast Italy, to join his brother Luigi (11 years his senior) in pursuit of a tailoring career. In 1948, after months of training at small ateliers, the siblings founded Liverano & Liverano. Starting out in a workshop in Florence's Piazza Santa Maria Novella, today Liverano & Liverano occupies the large, light-filled space of a former hat makers on Via dei Fossi – a charming cobbled street that has been a gathering point for tailors since Leonardo da Vinci's era. In the airy cutting studio overlooking a green courtyard five junior tailors work in unison under the sturdy guidance of Signore Liverano. One of them is senior apprentice Hojun Choi.
In 2008, the 27-year-old moved from Seoul to Milan to study pattern design at L'Istituto Secoli after graduating in computer science from Saugmyung University. "Software and IT was my parents' choice," Choi says, explaining his unlikely career shift. "I always wanted to be involved in fashion." In 2009, his passion took him to Florence with the hope of landing a position at Liverano & Liverano. Getting onboard wasn't an easy task. Choi was turned down three times by the outfit's discerning Japanese-born store manager, Takahiro Osaki (Signore Liverano's right-hand man), before he finally got to meet the master himself.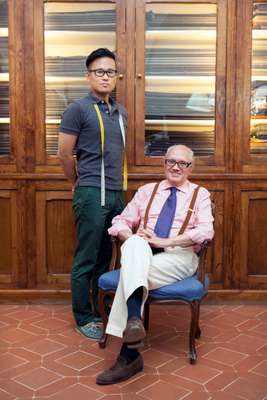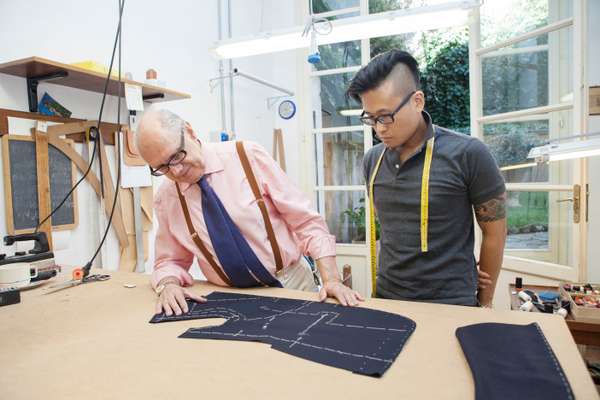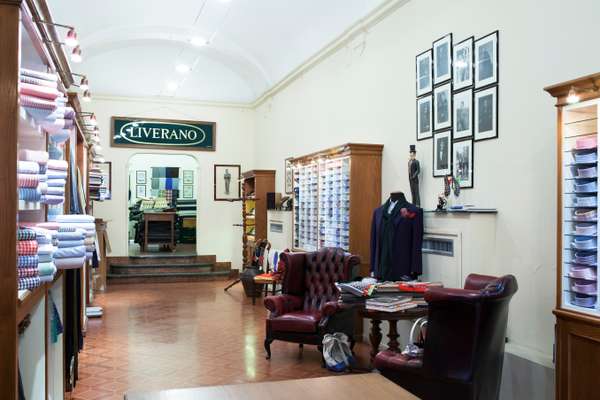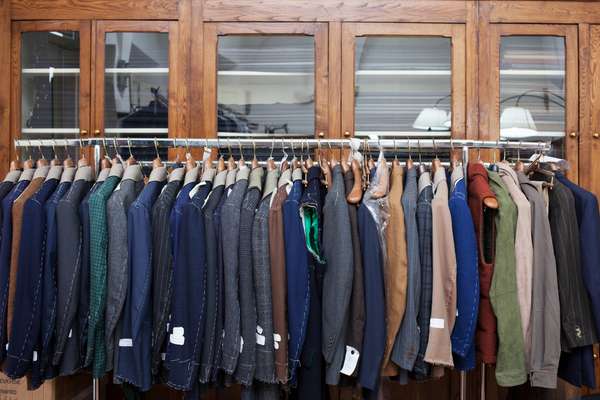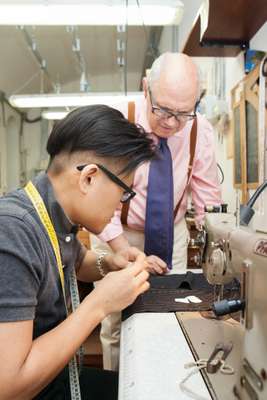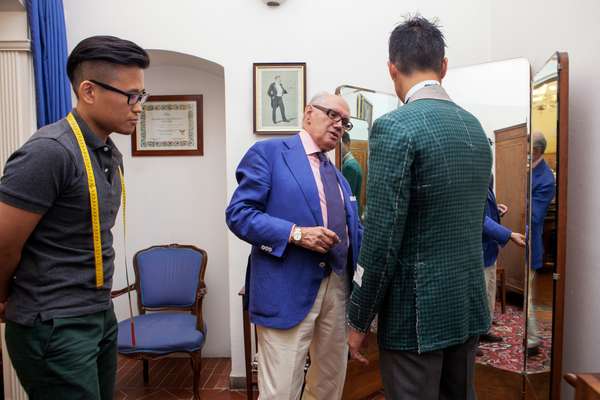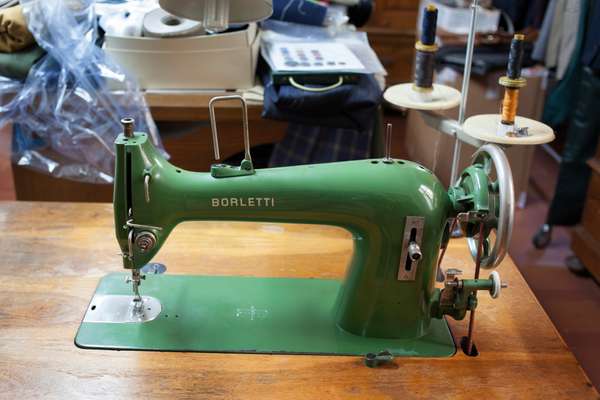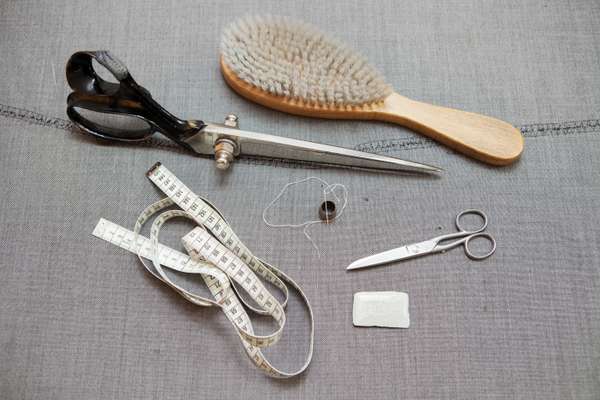 "We were testing his dedication," Liverano remembers, amused. Back then, Choi had one clear objective: "I just wanted to learn how to make beautiful suits," he says, reflecting the sincerity he has maintained in over three years of learning. It's a slow, meticulous process at Liverano & Liverano. It takes up to two months and at least two fittings for new customers to have a bespoke suit measured and finished. Returning clients can be ready after only one fitting as the studio keeps all paper patterns on file. The atelier's reputation for subtle, immaculate constructions is reflected in the price tag: bespoke suits here start at €4,500 while their ready-to-wear counterparts begin at €2,200. Choi's apprenticeship has been similarly painstaking. He started with the basics.
"First you need to learn how to hold a needle. Making a suit starts with sewing and it's a lot of hard work," says Liverano. "You need six years of dedication, sweat and tears spent in my laboratory to learn the craft." An ever-present mentor, Liverano's approach seems to be paying off. On the table, among the clutter of paper patterns and pieces of fabric there is a plethora of sewing tools that a couple of years back, Choi would not have known how to use. With a quiet accuracy and a steady hand the apprentice goes through suit fitting with a new client and then cautiously makes the needed amendments.
After a few moments of contemplation, the master nods with approval. Choi's face lights up in response – one more test has been passed. "I want to stay in Italy and to continue working at the atelier," says the apprentice of his future plans. "This is not work – it is culture. It requires a lot of love and respect." The hardest thing to learn to date? "Everything," he says bluntly. "It's a job that goes between art and technique – it's a cross over. It's a fascinating and beautiful mix that engages you and every single aspect of your life."
While Choi has a humble love for his trade and teacher, his boss has a bold confidence that comes from over six decades of expertise. The 75-year-old is the only master cutter here but he's determined to pass his insight on and foster new talent. "It was mostly older people that used to do this kind of work," he says. "Now we need to invest in the youth and help them grow. Only this way can we continue the tradition." To prove his point, he is planning to set up a sartoria school – a three-year course under Liverano & Liverano that will be inspired by the same methods the master has used to train apprentices such as Choi. "It won't follow any of the popular academic programmes," Liverano says. "It will be a hands-on apprenticeship. We'll have only around 30 students who are eager to learn – this is what makes a great tailor. It's not about having the best techniques per se, but being committed to the craft and open to learn. It's about nourishing your passion."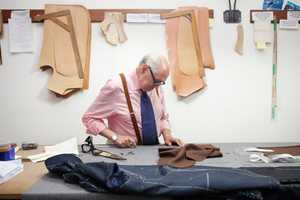 Master
Antonio Liverano CV
1937 Born in Palagiano, in the province of Taranto.
1948 Starts Liverano & Liverano in Florence with older brother Luigi.
1982 The shop and atelier moves to the current location on Via dei Fossi
2013 Liverano & Liverano are currently in talks with potential investors about starting a three-year tailoring course.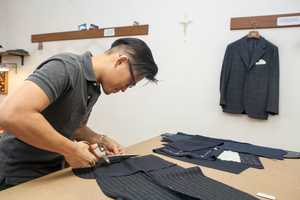 1985 Born in Seoul
2003 Enrols at Sangmyung University, majoring in IT and computer science
2008 Moves to Milan to study pattern design at L'Istituto Secoli
2009 Begins his apprenticeship at Liverano & Liverano
2012 Becomes senior apprentice