Spring selection / Global
Inventory no. 62
Time to shine your shoes, pamper your pooch and brighten up your home with this month's assortment of objects.
1.
Pelikamo
Shoe shining box
Handcrafted in Switzerland, this beechwood box is based on a design from the 1920s that doubles as a footrest. It contains German goat-hair brushes, Swiss hand-mixed pomades and Burgol polishes with palm wax.
pelikamo.com
---
2.
Splinter Designs
Wooden birds
Splinter Designs specialises in furniture for the home and office built by craftsmen in York, England. For a desktop companion, owner Jacob Pugh came up with a colourful collection of birds in American black walnut or English sycamore.
splinterdesigns.co.uk
---
Lebanese designer Nayef Francis has borrowed from the Levantine repertoire to create this latern-style lamp. Bamboo strips are woven into a structure of 72 hand-glued beech pieces.
nayeffrancis.com
---
From its two stores (one in Santa Cruz and one in La Paz) Kirah sells homeware made by Bolivian artisans from sustainably sourced rosewood, pewter, fabric and glass. It has trained more than 700 craftsmen, mostly from indigenous and rural communities.
kirahdesign.com
---
This portable games kit in an ox leather case is part of the Italian fashion company's new homeware and accessories collection. The slick board comes with two decks of playing cards, five dice, two sets of checkers and a board made of wool fabric – a tribute to the brand's family history as traders of fine wool and cashmere.
loropiana.com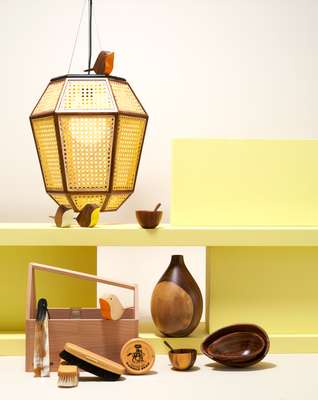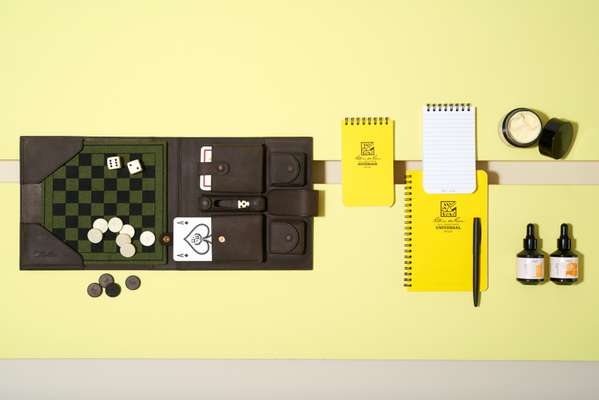 ---
6.
Rite in the Rain
Notebooks
In 1920, frustrated by soggy notebooks while working in the wet forest, Jerry Darling invented a paper that didn't disintegrate in the rain. Fast forward to 2013 and the firm Rite in the Rain has a line of products for all kinds of weather. The notepads and pens are for anyone who works outdoors – or is prone to coffee spills.
riteintherain.com
---
Rationale is a skincare brand created by chemist Richard Parker that has quickly become popular in Australia and is revered by dermatologists and plastic surgeons. Featured are his first three products (to be used in the morning). Three evening products for skin reparation complete the set.
rationale.com
---
The eclectic Bellezini family gathers its ingredients from various producers around Italy. The range comes from five different regions and includes pesto sauce with rocket from the coastal region of Liguria, savoury pastries such as focaccine with infused with rosemary, pepperoni or garlic from Basilicata and pastas made in Piedmont.
onlyforthefuture.com
---
Created by Peter Smith in Georgian Bay on Lake Huron, Canada, Daneson toothpicks are flavoured; soaked and rolled in sea salt, cinnamon, mint and even Scotch whiskey from Islay. Daneson not only uses the finest wood from North American suppliers but also aims to give back to nature what it takes from it, planting one tree for every one it uses.
daneson.com
---
These bold-coloured woven belts are by Northampton leather goods brand Mr. NN, founded last November by two men who recognised the rich handcraftsmanship of their neck of the woods. The hand-plaited belts are finished with a maroon trim – a style marking traditionally associated with the town.
mrnn.co.uk
---
11.
Colourful Dove
Crockery
Bring a menagerie of furry friends to the table with this new range of bone china children's crockery. The firm was launched by British husband and wife team Helen Molyneux and her husband Mark Baldwin when they had trouble finding good-looking tableware for their own children. "All we could find was stuff with pirates and fairies on them," says Molyneux.
colourfuldove.com
---
The Maresi glass bottle with the alpine blond-braided girl on the label is a favourite in every Viennese coffeehouse. The success story of this condensed milk started in 1955 in the Styrian Enns valley when Maresi was born, rapidly becoming the most popular brand for coffee milk in Austria. The traditional 500g bottles, Das Original, are made with fresh full-fat milk from cows in the Austrian mountains. Those conscious of their figure can try the lighter, skimmed version, Die Leichte.
meinemaresi.at
---
Prepared by hand in a small factory in Bremen, German gourmet firm Lapp & Fao's new line of chocolate bars are inspired by travels, and come in 23 varieties. Go tropical with the Bonfire Bay (pineapple bits mixed with 56 per cent bitter chocolate), pick the Hilly Vespa Ride (with candied olives) or stick to simpler variations such as the Autumn Lust (with roasted and caramelised hazelnuts).
lappandfao.com
---
Pooch owners with a penchant for smart doggie accessories should turn to Berlin-based Cloud7. Launched last year by designer Petra Jungebluth, who cut her teeth at Tommy Hilfiger and Liz Claiborne, the firm hand-makes dog beds, ceramic bowls, leather leashes, a travel blanket that turns into a snappy tote, and this squeaky toy dog bone. Go online to peruse its look book, packed with great photos of handsome owners and dapper dogs.
cloud7.de
---
Founded by Brazilian entrepreneur Marcos Leta, the bright-coloured do bem packaging is an ode to Rio de Janeiro, which is the birthplace of this drinks brand. Freshly made from tropical fruits that are grown in 12 farms in São Paulo and Rio Grande do Sul, the range includes drinks made from coconut water, tangerine and our favourite – a mix of açai berry, apple, strawberry and guaraná. do bem is also known for its "frutomóvel", a branded Mini Cooper that plies the streets of Copacabana, and for promoting Havaianas day. Every Friday employees are free to wear the iconic flip-flops to work.
dobem.com
---
Toronto-based designer Kelly Ho Chia Lee has been making laptop and iPhone cases under the label Moda:ko since 2012. All pieces are cut by hand and sewn by professional tailors in the city. Primary fabrics and patterns used for the line include American houndstooths, Scottish tartans and Japanese seersuckers. "We travel extensively, mostly between New York, Glasgow, Rome and Tokyo, to source our fabrics," Lee says. A capsule collection of leather cases is set to be released later this year.
wearemodako.com
---
17.
We Made This
Macaron mix
For sweet-toothed chefs, We Made This creates pre-packaged mixes for easy at-home French macaron-making (see footnote). Aranzazu Gayosso, the brains behind the brand whose love of sweets stems from her Mexican origins, also drew from her London art school pedigree to design the minimalist packaging. Organic and gluten-free, the dry goods are measured out for a perfect batch, with detailed instructions on preparation. Flavours range from Vanilla Bean to Earl Grey and Lavender to Chai.
wemadethisstore.com