Niels Diffrient / Connecticut
Keeping it simple
Industrial designer Niels Diffrient says he has built his near 60-year career on a belief in staying under the radar and being 'technically and stylistically capable'. He does himself a disservice: his work, particularly in ergonomics, is internationally revered.
To say that Niels Diffrient has had a charmed career is an understatement. Now in his eighties, his focus on function as much as form has earned him the accolade of the godfather of ergonomic design. In addition, he has worked with some of the most inspiring characters of 20th-century design and architecture. The roll call runs like a who's who of European and US greats: Eero Saarinen, Ettore Sottsass, Marco Zanuso, Henry Dreyfuss.
The upshot is a covetable portfolio of industrial design work for clients including Knoll, US phone company AT&T, John Deere tractors, American Airlines and, in more recent years, the US office-furniture business Humanscale. Diffrient, who is all easy-going affability in his soft denim shirt and brown-framed glasses, works out of a studio next door to his home on a quiet stretch of road in upmarket small-town Connecticut. He shares both properties – which he designed in the 1980s – with his wife, Swedish tapestry designer Helena Hernmarck, and now works solely for Humanscale. While Hernmarck has a double-height studio space complete with a vast multi-hued "wool wall", Diffrient sits on the first floor at an architect's drawing board in a smaller room where 64 of his framed patents are on the wall.
Meanwhile, his assistant, designer Jim Sorter, is on the third floor with the computer or downstairs prototyping products in Diffrient's workshop. Despite being such a tour de force among his peers, Diffrient's media profile is lower than personalities such as the late Raymond Loewy. This is probably because Diffrient prides himself on being "both technically and stylistically capable", rather than focusing on styling like Loewy and, in more recent years, Philippe Starck.
He can name only a handful of designers who he believes can do both: ideo co-founders David Kelley and Bill Moggridge, Kenneth Grange of Pentagram and James Dyson. "I never think about how anything will look before I begin," says Diffrient. "I might start with an armrest, as I did with Humanscale's 'Freedom Chair'. I design individual features quite discrete from each other and put them together. The worst thing, in my mind, would be to predict what anything will look like."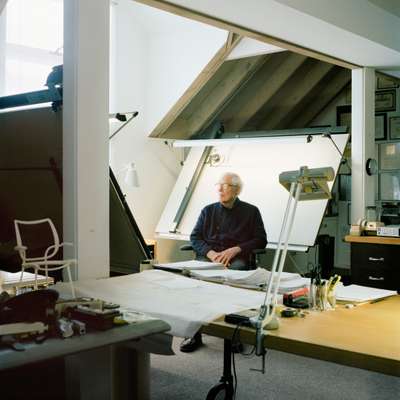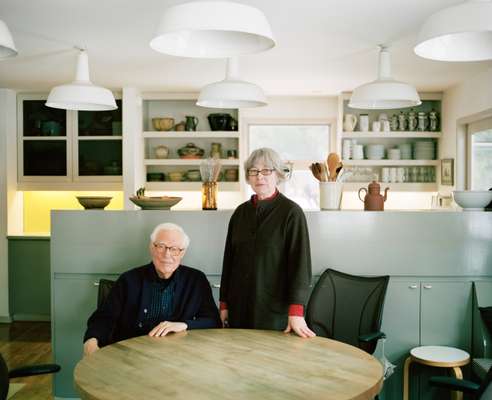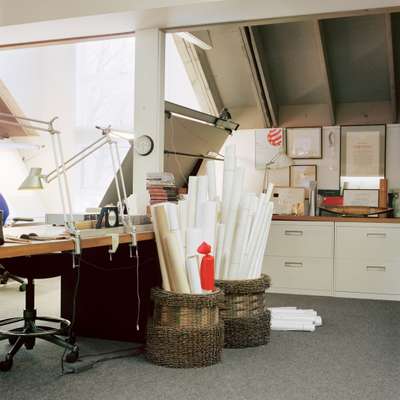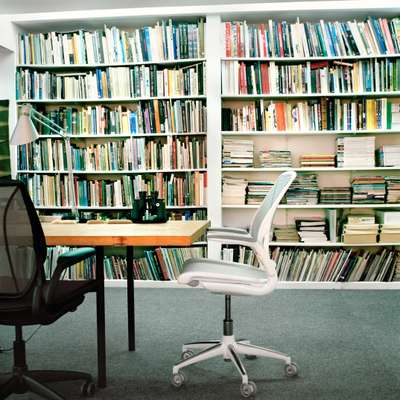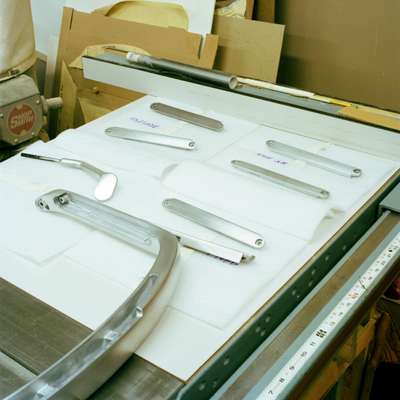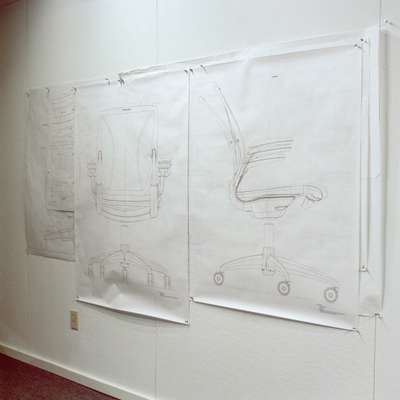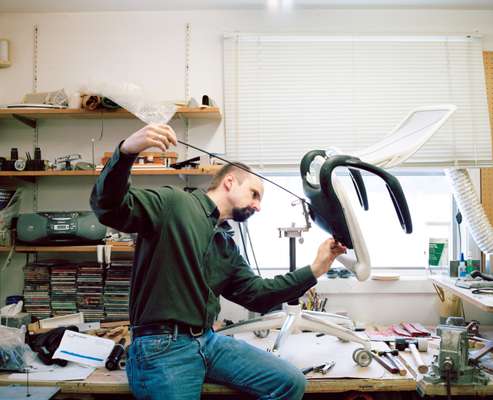 Diffrient has focused his ergonomic efforts on seating for the majority of his career, making him a man with a mission as well as a vision. Yet he had remarkably humble beginnings, spending his childhood during the late 1920s and 1930s on a farm in rural Mississippi. It was an early fascination with drawing that led to him landing a place studying architecture and design at Cranbrook Academy of Art in 1948. Money was tight so Diffrient also took a part-time job at the nearby studio of then-fledgling Finnish-American architect Eero Saarinen. This encounter meant designer doors started opening for Diffrient, such as collaborating on the Knoll Model 71 chair with Saarinen for the influential furniture duo Hans and Florence Knoll.
It was a Fulbright scholarship placement in Milan in the mid-1950s that was to be Diffrient's professional springboard. He arrived with a letter of introduction for the editor of Domus magazine, Gio Ponti, and from there found himself rubbing shoulders with a generation of Italian architects just getting into product design, including Marco Zanuso and Ettore Sottsass; Milan was discovering itself. Having racked up this wealth of European experience it is hardly surprising that on his return to the US, Diffrient got a letter from Dreyfuss inviting him for a job interview.
Dreyfuss was a pioneering figure of US industrial design – along with Loewy, Norman Bel Geddes and Walter Dorwin Teague – and Diffrient was to spend 14 years with the firm in South Pasadena, bringing functional design to phones, airline seats, tractor cabs and electricity pylons. At Henry Dreyfuss in the 1960s, Diffrient worked on one of his most prestigious accounts: American Airlines.
He was responsible for redesigning the graphics on the fuselage and on board, such as the food-service items. On the exteriors, Diffrient and his team replaced the existing red-and-blue lightning bolt graphic with three stripes of red, white and blue. Meanwhile, the word Airways was dropped from the marking. "We figured the word Airways was not needed since it was on an airplane and this would be obvious and redundant to anyone," Diffrient says in his book, Confessions of a Generalist.
Over the decades, Diffrient has developed a poor opinion of some clients' appreciation of design. He particularly has it in for certain airlines, accusing them of putting gimmicks before genuine passenger benefits. "They are a lot more interested in seducing the passenger with lie-flat seats and a place for their cocktail – they give them a chair in which you cannot find a single comfortable posture. I wouldn't hire them to design a footbath. It's all for looks. They're taking advantage of the ignorance of their customers, which is unethical." That's not to say that aesthetics have no place in Diffrient's world.
"Style is important because people buy with their eyes," he says. In his New England-style home next door to the studio, he admits to a love-hate relationship with the handful of iconic "designer" chairs inside. As he explains in Confessions of a Generalist, he has devised an ingenious way of enjoying them: "I sit in a comfortable, non-iconic chair and view the other chairs as sculptures, mostly Bauhaus in origin." Diffrient is not without a sense of humour. Ever since that Knoll chair, via those tractor cabs and airline seats, good seating has dominated Diffrient's waking hours.
At Dreyfuss he was one of the first to examine X-rays of people in sitting positions to see what happens to bone structure and musculature. This led him to the conviction that workplace chairs must have a reclining feature to be wholly functional and the policy "that machines would be adapted to humans, not that humans would have to adapt to machines," as he says in his book. Diffrient configured the data for this doctrine into Humanscale, a three-volume reference work produced by mit Press in 1974.
Diffrient's ambition to improve the office chair came to fruition in 1998 when Bob King approached him to create a chair for his office-products business. The collaboration has shaken up the office-chair sector with the launch of Freedom, Liberty and World chairs for King's renamed business, Humanscale. Diffrient has, says King, taught everyone at Humanscale "a huge amount [about] how important restraint is. An attractive form has to flow out of functionality or it is not honest." Three more chairs are in the pipeline with Humanscale but Diffrient still allows his mind to wander.
"Clothing screams out for good design," he says. "It should be designed to be attractive, stylish and 'serviceable'. From a man's standpoint, pockets cry out for real study. I have some pocket studies going on: the best shapes and sizes, what people put in them." He hasn't approached the clothing industry with these studies "as I'm not in that field. It's very hard to go in cold". Still, if there are any fashion businesses seeking a functional wake-up call, Diffrient is your man.
---
Product of Mississippi
Niels Diffrient CV
1928 Born in Star, Mississippi
1953 Graduated from Cranbook College of Art and Design in architecture and design
1954 Fulbright fellowship to Milan, where he worked with industrial designer Marco Zanuso
1955 Joined Henry Dreyfuss Associates, ultimately becoming senior partner and owner
1960-69 Taught design at UCLA
1976 Married Swedish tapestry designer Helena Hernmarck
1981 Left the Dreyfuss office to pursue his own design practice
1980/1990s Designed for Knoll, SunarHauserman, Howe and KI
1998 Became associated with office-products company Humanscale, where he has been ever since
Knoll Saarinen 71 chair
Diffrient worked with Eero Saarinen on the design and development of this office chair, which has been in production since 1950.
Borletti sewing machine
Designed with Marco Zanuso in Milan while Diffrient was on a Fulbright fellowship, the machine (above) won the Compasso D'Oro award at the 1957 Triennale.
AT&T Trimline phone
Designed in the 1960s, this is arguably the original model for many phones that have followed: the dial was in the handset rather than the base and it had buttons instead of a rotary dialling system.
American Airlines aircraft livery
Incorporating the AA graphic device designed by Massimo Vignelli at Unimark, this was the longest-used unchanged livery of any airline.
Humanscale Freedom chair
Diffrient's first product for Humanscale. The style mirrors the chair's performance: simplicity of use combined with functional design.