The Hat Factory / Stockholm
Lay your hat
Tasked with transforming an old building on Kungsholmen island into apartments, architect Andreas Martin-Löf went back to its roots as a hat factory. And he was so pleased with the results, he moved in.
Restoration is a particularly grown-up field of architecture. Restoring something that exists already requires a degree of humility – a quality that ambitious young architects don't often possess. When Swedish property developer Oscar Engelbert of Oscar Properties bought three 19th-century buildings on Stockholm's Kungsholmen island in 2009 he challenged architects to sketch how they might be transformed into apartments. It was approached as a conversion, not a restoration project. By chance local architect Andreas Martin-Löf discovered archive pictures of the buildings in their original state as a hat factory and promptly fell in love.
"I wanted to tell the story of the buildings," Martin-Löf explains. "It became my mission to heal them from the wounds of 75 years as offices." And – in just 900 days – the Stråhattfabriken (Straw Hat Factory) was reincarnated as 39 beautiful apartments. The three buildings were built between 1886 and 1898 by three different architects: the first factory by Wilhelm Dahlgren, the second factory by Gustaf Wickman and the factory owner's dwelling by Alfred Hellerstrom. It was boom time for straw hats until 1925 but fashion was as fickle then as now and, after a decade of felt hat production, the factories became the offices of slt Publishers. Over the next 75 years the buildings changed hands (latterly occupied by an estate agent and Warner Music) with each occupier further obscuring the charm of the original. The "Stråhattfabrik" writing on Hellerstrom's building vanished and with it, any widespread local knowledge that it had once been a hat factory. Martin-Löf describes discovering the archive pictures of the hat factory with a childlike excitement. "It sounds odd to say I obsessed over a door," he says. "But for me the details of the renovation – doors, hinges, handles, skirting boards, window latches – come together to make the whole." Unlike some of the other sketches that came back from Oscar Properties' call-out, which featured wild remodellings of the three buildings, Martin-Löf approached the project with meticulous sensitivity to the original. "We preserved the original floorplan of the apartment house (now called Block C) and ripped out the guts of the two former factories to expose the inner bones (now Blocks A and B)."
Floorplans for the latter two buildings were drawn up based on common sense derived from the existing stairwells. Perhaps the most dramatic change was moving the entrance to the interior of the U-shaped cluster of buildings, making the focal point the interior courtyard, which cleverly ties the three buildings together. Rather than pretend they were intended as one structure though, he subtly carved out the individual qualities of each, largely through a colour palette where Block A is predominantly white, Block B is beige Block C is more concrete and brick. Detail was everything. Window latches were removed and cleaned.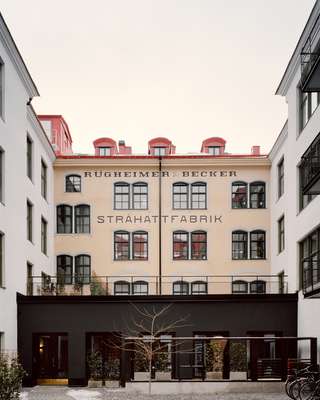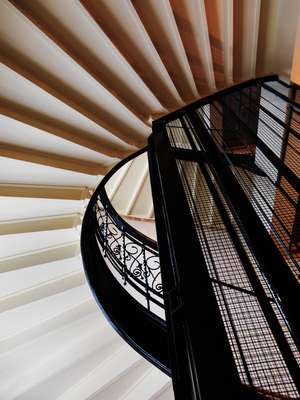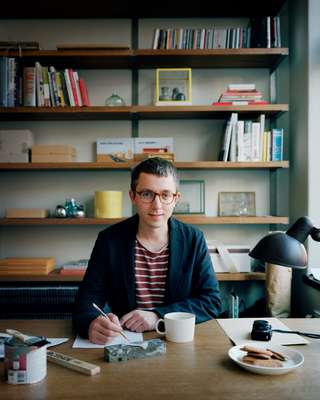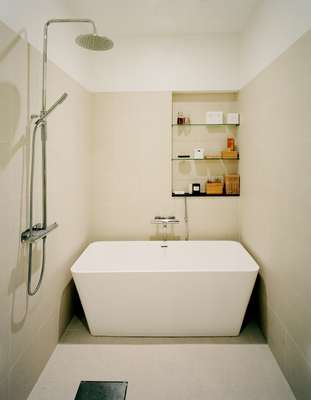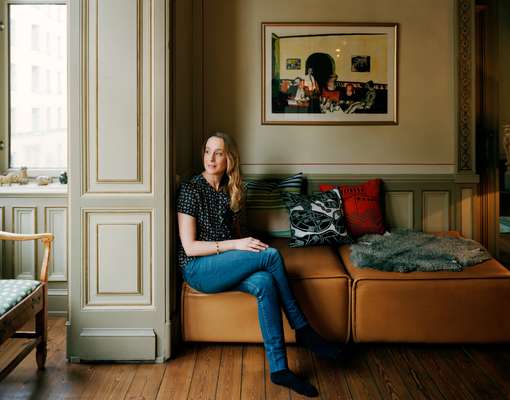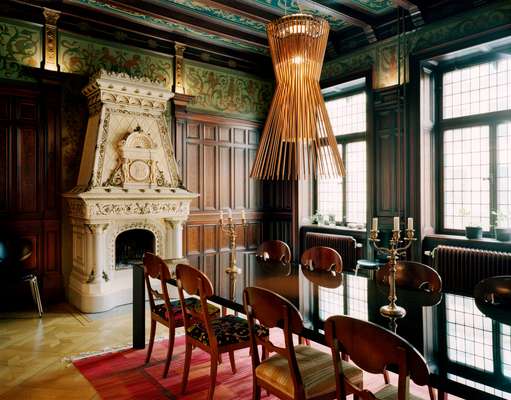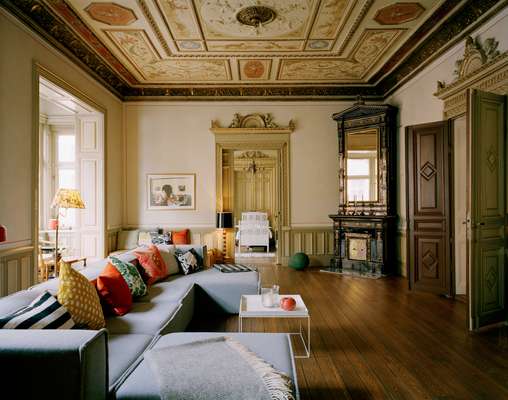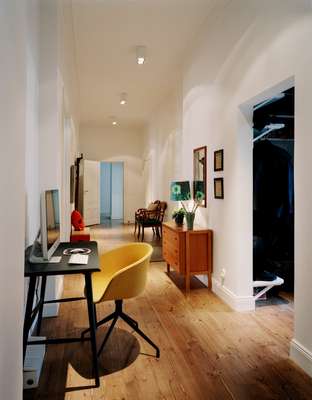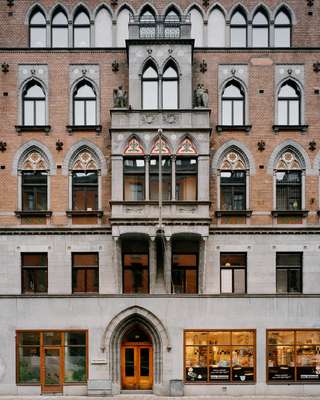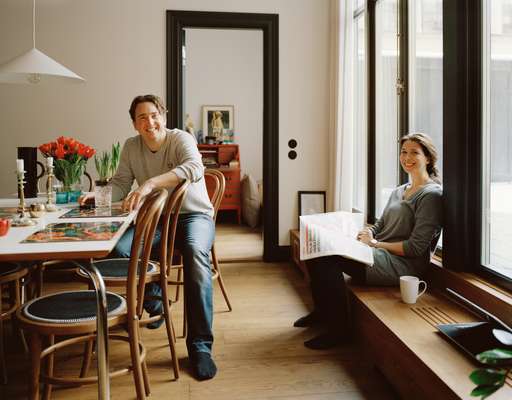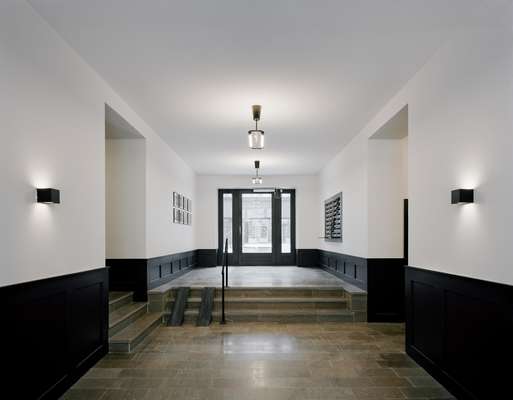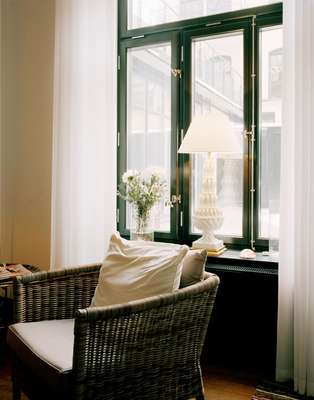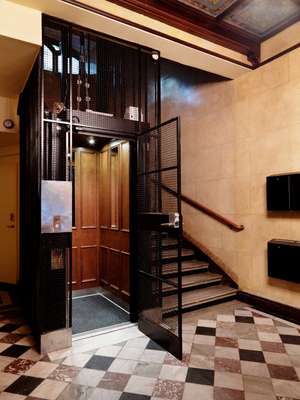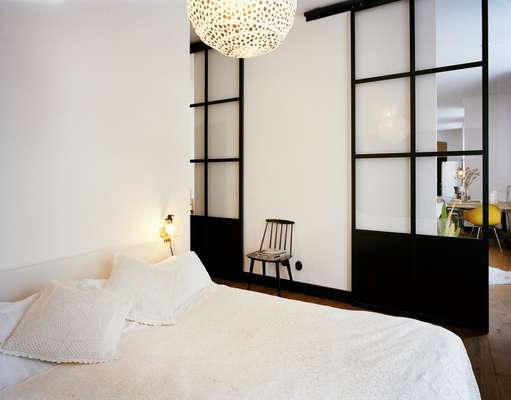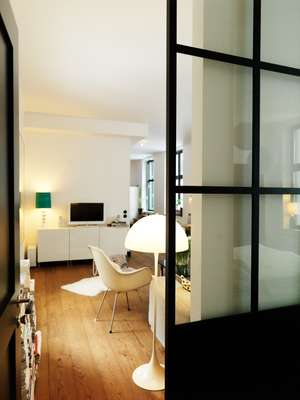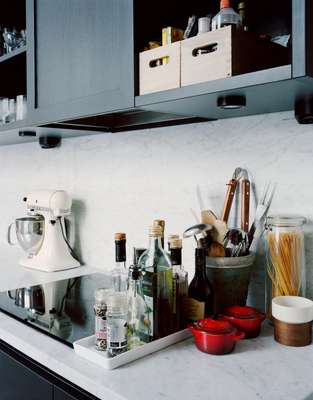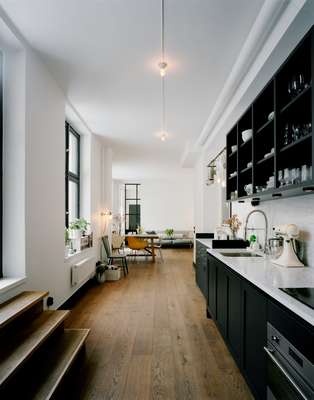 The stone eagle and owl guarding the street-facing façade of Block C were taken down from their perches, groomed and restored. The "Stråhattfabrik" lettering on the inner-facing façade of Block C was repainted for the first time in 100 years, together with "Rügheimer and Becker" the name of the original straw-hat manufacturer. Martin-Löf and his tiny cohort of just three architects worked with around 50 people, including expert craftsmen and specialist carpenters, and their work was justly rewarded with the 2012 Stockholm Local Heritage Federation renovation/restoration award. But what is arguably more impressive than the speed and sensitivity of the restoration is the fact that Martin-Löf combined this with offering something very different for Stockholm homeowners. Of the 39 apartments, 17 have terraces and 14 have balconies – outdoor space is scarce in Stockholm, understandably, due to the brutal winters, but no less prized.
It's not just barbecue balconies that are new though – the entire aesthetic of The Hat Factory is in stark contrast to the interiors you see on the cover of any Swedish interior design magazine. What the rest of the world loosely thinks of as Scandinavian – natural materials, low lighting, rounded edges and neutral colour palettes – is a vernacular most Swedes deem old-fashioned and outdated. Architects and stylists here have cleaned things up. Sharp lines, glass, plastics and an abundance of whitewashing are deemed tasteful and contemporary. More's the pity. "Architects get hooked on wanting to be contemporary," says Martin-Löf, "but I have a problem with the word – I'm not sure what it means or why it's important." The Hat Factory is, by comparison, with its oak floors and dark palette windows, moody, brooding and elegant.
"This was a clear intention to do something different and it was a risk," admits Martin-Löf. His instinct was right; at a preview weekend half the apartments were sold and every one had gone before the building was finished. "The first big building of my career," Martin-Löf says at the end of the day. "It means so much – I want to be able to say 'I did this and I'm proud of it.'" Hats off to him.
---
Resident 1
Andreas Martin-Löf
The architect
Apartment A1303
After a year of working on The Hat Factory Martin-Löf realised he had fallen in love with the third (top floor) apartment in Block A. "It was very rare to have 3.5-metre high ceilings and these giant windows," he says. At first I thought to move my office in here but soon admitted to myself I actually wanted it for my home." Though it must have been reassuring for other prospective residents to know the architect had chosen to live in his own building, he insists his vested interest as a future occupant didn't make him do anything different. Alongside a custom-made Kasthall rug and B&B Italia sofa, he has added his own touches in homage to the factory: on his living room wall is a large print of the original façade and he designed his dining table in oak as a replica of the old worktables he spotted in another archive photograph.
---
Resident 2
Karin Collste
The psychiatrist
Apartment C1301
"I'm not used to this, I'm a doctor," says Karin Collste, who lives in the owner's original apartment, which later became an estate agent's office. "We fell in love with it instantly and knew we had to have it." Collste lives with her husband (an orthopaedic surgeon) and four children aged between 10 and 16. Much of the apartment is original, from the beautiful oak floorboards to the intricately painted wooden ceiling and ceramic oven, replete with Carl Becker, the factory owner's initials. But it feels like a home rather than a museum, thanks to the softening details, such as a scattering of Svenskt Tenn cushions and the Secto light over the dining table – a nod to the straw hats of the original factory. "It's unusual here," says Collste, "We moved back into the heart of the city, which is great for us and the children. It feels like we all have a new city life."
---
Resident 3
Rickard Billing
The tennis coach
Apartment C1103
"We were looking for something special," says Billing, one of Sweden's top tennis coaches and director at the Royal Tennis Club. "It feels like living in the best hotel – and I mean that in a good way." Sarah Feinberg, his girlfriend who lives here with him, had a baby son the same month as moving in. Their initial concerns that the other residents would be much older were soon allayed. "Sitting on the terrace you hear your neighbours and it's great that there are a lot of young people here. When all the windows are open it feels like living in your own orangery, but there's a very good level of privacy too." In the six months since they moved, they haven't done too much to the apartment – understandably they've had other priorities. What they are sure about is that they are here to stay. "We are the people proving that you don't have to move to the suburbs when you have a child," Billing says.
---
Resident 4
Carin Wester
The fashion designer
Apartment B1101
Wester lives here with her French boyfriend Thomas Pouverel, who is the general manager of her eponymous fashion label. "There were only three apartments left when we came to look round," says Wester. They snapped up their home, largely for the outdoor terrace, which "almost feels like being outside in the south of France." Pouverel is a keen cook and the pair bought a beautiful marble slab from Riche restaurant in Östermalm to use as a kitchen surface. There are rustic French bits throughout (meat hooks for storage in the kitchen, Le Creuset earthenware, lace in the bedroom and bathroom) together with industrial lights from Hay and a wonderful old Carl Malmsten chair that belonged to Wester's grandmother. "It's like living in a cottage in the heart of the city," Wester says of their new home.