Report / Grasse
Making scents
A centre of perfume making for centuries, the town of Grasse in the South of France is holding on to its reputation as fragrance capital of the world by developing new technology alongside time-honoured traditions.
It is early spring and the yellow mimosa in the fields surrounding Grasse is ready for harvest, the bushes of bright pom-pom flowers bowing in the southern French sun. Thanks to the microclimate along this stretch of the French Riviera – optimum humidity, abundant rain and no shortage of sun – roses, mimosas and violets all thrive. The small hilltop town with a population of 53,000 has been turning these blooms into scent for hundreds of years and today is one of the world's main assembly points for the raw materials and compounds used in perfume, generating an annual revenue of €600m. "This is a place where you transmit savoir faire," says Emilie Bouge, a fourth-generation perfumer at raw-materials specialist Charabot. "This is what Grasse is built upon." But there is competition. Today, more than a thousand perfumes are launched each year in a crowded global market.
A kilo of roses from Grasse can cost 10 times as much as its Bulgarian-grown equivalent. Markets such as India, South Africa and Turkey, where flowers can be cultivated at a fraction of the price, pose a threat to the French monopoly. The Grassois, however, are ready for this. The region's producers have set about organising its artisans, "noses" and flower farmers to make sure the historic area can hold its own in the face of foreign imports. It's in the process of consolidating its knowledge base in the way the wine industry in Bordeaux has done. "Grasse is very much on the right tracks. We are lucky to have this rich heritage but we can't afford to be complacent," says Philippe Massé, president of Prodarom, the Grasse-based perfumers' trade union. Grasse is leaning on its reputation to attract new innovators in fragrance and flavour. "Knowledge of perfumery is in the genes of the Grassois," says Boet Brinkgreve, group vice president of the ingredients division at the Swiss perfume and flavouring firm Firmenich, which recently opened an r&d facility in one of the business parks at the foot of the hill leading up to the old town.
"Combined with our sophisticated technology [this] enables us to deliver the very best to our customers." When monocle visits we are guided around a set of facilities that could almost pass for a medical clinic. Since the early 1990s the company has been working to perfect a CO2 extraction method that does not heat the raw materials and therefore does not alter their quality. Despite the fact that Grasse's reputation is founded on its natural abundance of blooms, the area is becoming a pioneer of artificially produced materials. Making modern perfume without them is virtually impossible, not least because many traditional ingredients such as musk (a glandular secretion from deer) or ambergris (formed in the intestines of sperm whales) are now banned. "The word 'synthetics' is not a dirty word in our industry.
It is thanks to synthetics that we can bring many naturals into the modern world," explains Julie Massé, a "nose" at the 140-year-old French perfumery Mane and daughter of the president of the local perfumers' union.
Another multinational company, International Flavors & Fragrances (iff), has also moved in after acquiring Grasse-based Laboratoire Monique Rémy in 2000. Chemists and noses at the American giant have been working on one of the most important technological developments in the industry: a process called fractionating. This allows the scent from one ingredient to be divided into as many as 400 sub-categories – for example, it can pinpoint the spicy character of the prized centifolia rose – enabling perfumers to give their fragrances a unique signature.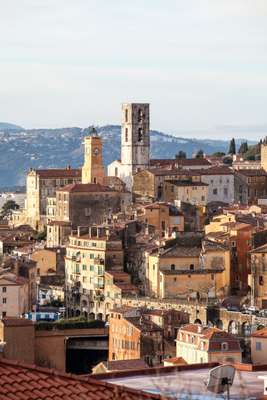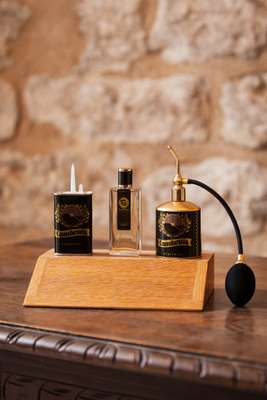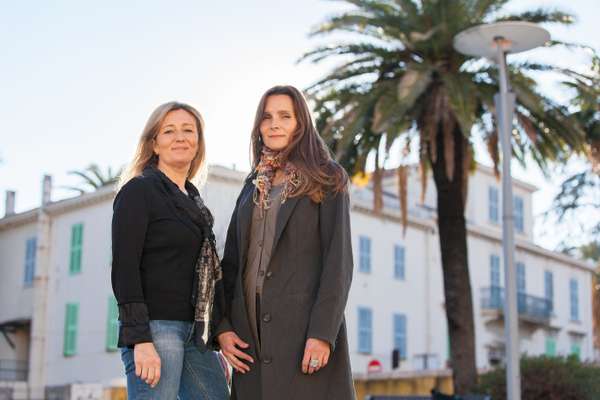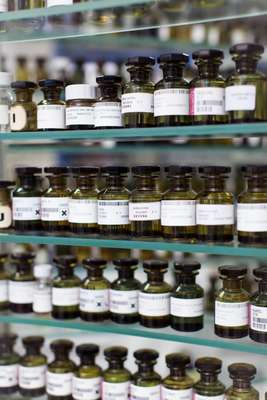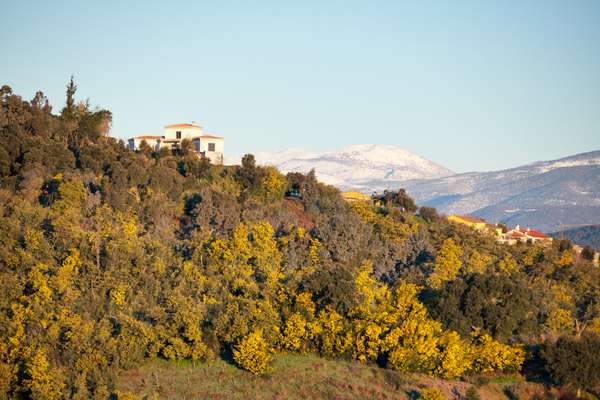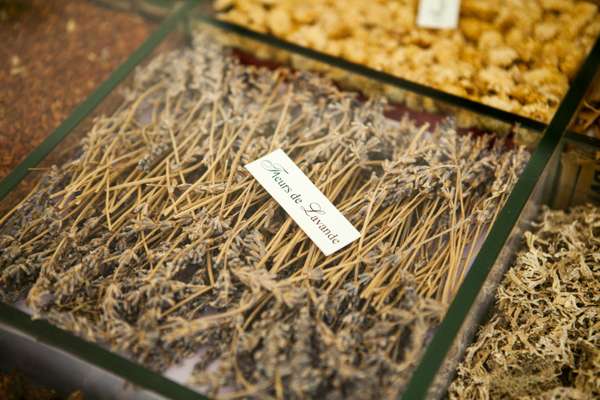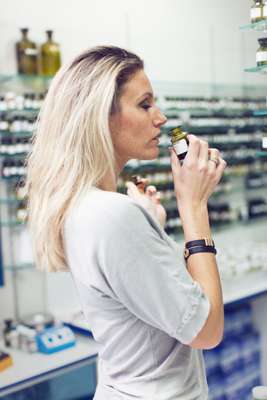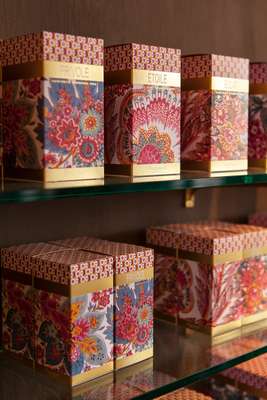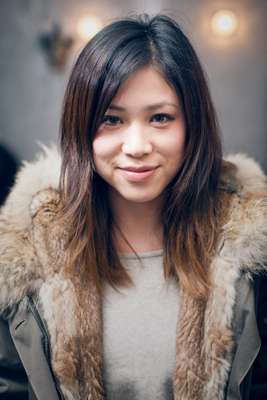 "It's a bit like providing an artist with a palette of colours and then giving them numerous different shades of each of those colours," says Fabien Durand, technical perfumer at iff Naturals, from behind the dozens of glass bottles and "smelling strips" that clutter his desk. Durand is particularly proud of one product: the "Rose Water Essential". One kilo of this liquid is equivalent to three tonnes of rose water, saving the perfumer considerable space and transportation costs.
As this technology continues to grow in Grasse, there is another movement in the area: many perfumers are reacting to the overuse of artificial substances and going back to the flower itself. In 2008 Carole Biancalana, whose family has grown flowers for perfume for four generations, helped set up Fleurs d'Exceptions du Pays de Grasse, a consortium of local flower producers. Flowers are grown organically in open fields, using no pesticides, which she says gives them an exceptional quality. "In the same way consumers want to know where their food comes from, they want their perfumes to be traceable," says Biancalana.
It's an approach that is paying off: Christian Dior has guaranteed to buy all of her rose and jasmine crop. This quality is key to Grasse's ongoing success but so are its plans for tight-knit industrial clusters that will help the town stand united in the face of cheaper overseas competition. Han-Paul Bodifée is president of the local Pôle de Compétitivité cluster of perfumers, known by its acronym, pass. Since 2005, this body has been helping smaller regions co-ordinate and secure funding for research.
"We are also here to help our members to navigate complicated rules and regulations and to defend the perfume industry," says Bodifée, a Dutch-born chemical engineer. Bodifée is also president of asfo-Grasse, a body that offers advice and training to the region's perfume industry employees. With this kind of infrastructure, top-quality raw materials and cutting-edge research, Grasse looks set to maintain its leading role in the perfume market. But its trump card will be its savoir faire. It continues to seduce talent. "I travelled here from the suburbs of Osaka in order to learn," says Satoe Tanaka, a Japanese trainee nose at asfo, in her now-fluent French. "Perfume is my passion, so it is important for my career that I spend some time here in Grasse."
---
Fragonard
Established in 1926 and now run by the founder's great granddaughters. Its factory and boutique tower over Grasse.
Galimard
Traces its roots back to 1747. Originally a tannery that diversified, like many others, into scented oils for leather goods and then perfumery.
Molinard
Founded in 1849. Counted Queen Victoria as an early client. Creator of "Habanita", a women's scent launched in 1921 that remains iconic to this day.
---
The art of nose
Emilie Bouge
Grasse-born Emilie Bouge, perfumer with Charabot, tells us about being a "nose".
Monocle: What does a "nose" actually do?
Emilie Bouge: I prefer the word "perfumer" to "nose". Our job is not just to smell things. We use materials to create an emotional response from the end user.
M: What attracted you?
EB: I am the fourth generation in my family to work in perfumery. I had a strong interest from an early age.
M: Do you do anything special to take care of your nose?
EB: When we sniff dozens of different products the nose can get confused, so to "reset" it some people sniff coffee beans but I tend to smell a part of my skin that has had no perfume applied to it. The inside of my elbow works well.
M: Do you enjoy being a part of the Grasse perfumers' community?
EB: Yes. There's a great atmosphere here and a very local feel. What I like most is that there's very little sense of rivalry among us. I'm happy here, and I'm optimistic about our future.
---
Petal power: a year of Grasse blooms
February: mimosa
Character: powdery, floral
Found in: "Champs-Elysées" by Guerlain.
March: violet leaves
Character: warm, green
Found in: "Bleu" by Chanel
April: orange blossom
Character: bitter, citrus
Found in: "Hypnotic Poison – Eau Secrète" by Christian Dior
May: rose
Character: sweet, spicy
Found in: "Parisienne" by Yves Saint Laurent
June: white narcissus
Character: mellow, sweet
Found in: "Beautiful" by Estée Lauder
July: lavender
Character: fresh, herbaceous
Found in: "Eau d'Hermès" by Hermès
August, September and October: jasmine
Character: creamy, warm
Found in: "Coco Mademoiselle" by Chanel
---
All the right notes: five perfumes made in Grasse