Monocle Café / London
Monocle with coffee and cake
We've been fine-tuning the espresso machines, testing the pastries and polishing the counters. We're now ready to open the doors to our first London café.
Following the success of our first café in Hankyu Men's Tokyo, which opened in late 2011, we've been on the hunt for a suitable spot near our London HQ to open a sibling. We didn't have to look far. As luck would have it a vacancy appeared at 18 Chiltern Street, a few doors down from Trunk, a 90-second dash from Midori House and four minutes from our shop on George Street.
Just months later, aprons tied, we're ready to start serving. That it's happened so quickly is thanks to our indomitable in-house design team, overseen by Yoshitsugu Takagi, who worked with Edo Design and Construction to turn the two-floor empty shell into our dream café. It's a place for a morning coffee meeting, a lengthy weekend lunch with the papers and a glass of prosecco after work. There's more too. We'll be broadcasting live on Monocle 24 from the café. Downstairs is available for subscribers to hire for client gatherings and team pow-wows.
We've installed a short throw projector from Epson and screen for presentations (and perhaps a spot of after-hours karaoke). There's wi-fi for subscribers, a Monocle 24 soundtrack and back issues of the magazine and our preferred titles. Food is fresh and hearty, our Lanka cakes are dangerously light and the coffee is of the best quality thanks to Allpress, our New Zealand suppliers. Our service is smart, with a smile and perhaps the odd wink too. Pop down and pull up a pew.
The Monocle Café opens Monday 1 April at 18 Chiltern Street, W1U 7QA.
Open Mon-Fri: 07.00 – 19.00; Sat: 09.00 – 18.00; Sun: 10.00 – 18.00
---
We were blessed to discover Edo Design and Construction – a trusty band of 12 Japanese architects and joiners, based in London. They arrived in their van and worked tirelessly with Monocle's design team to create and install our red-oak screens and counter.
edoconstruction.com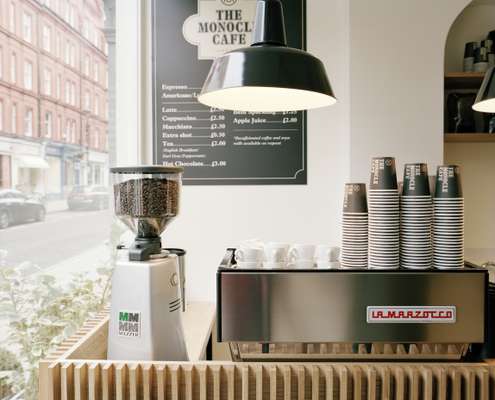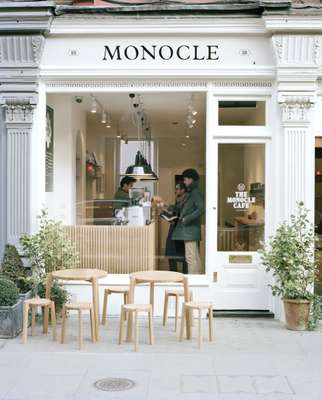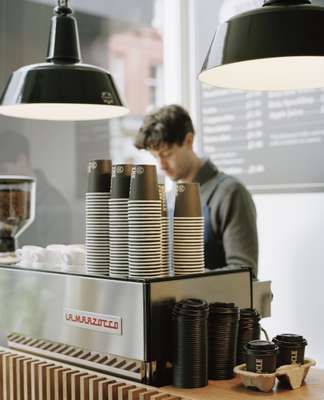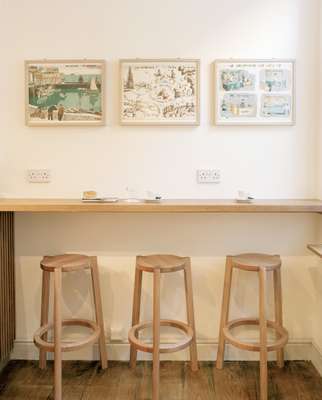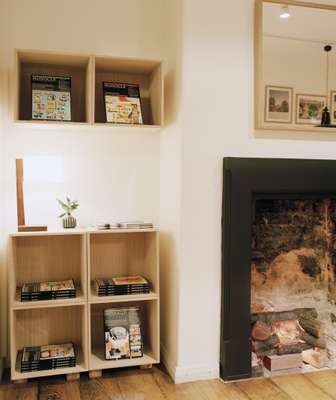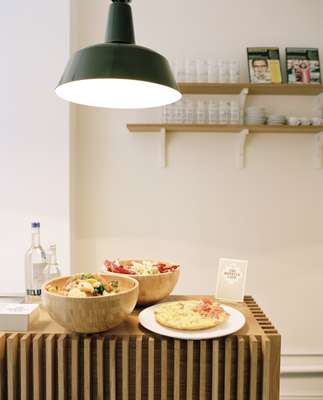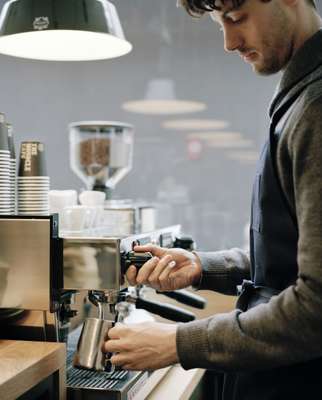 ---
Our Tasmanian oak low tables, stools and barstools are from One/Third, a young Australian design firm of Tasmanian craftsmen. Designed by One/Third's artistic director, Alexander Lotersztain, we asked kindly if he could alter the dimensions to suit our needs.
onethird.com.au
---
We'll be broadcasting live on Monocle 24 from a handsome, low, feather-upholstered Japanese oak sofa, together with ottomans from Truck in Osaka, where everything is handmade in the workshop beneath the store.
truck-furniture.co.jp
---
Our ceramics come from Japanese brand Hasami, produced in the town of the same name in Nagasaki prefecture on Kyushu. Though the town has a 400-year-old history of porcelain production, Hasami the brand was founded by Kyohei Baba in 2010. We're proud to be the first café outside Japan to use Hasami porcelain.
hasamiyaki.jp
---
For flatware we headed to Denmark for Kay Bojesen's stainless steel Grand Prix range, recently relaunched by Bojesen's granddaughter Susanne. If it works for Queen Margrethe, it's fine for us too.
kaybojesen.dk
---
The elegant yet sturdy stacking glasses we've brought to the Monocle Café are a staple in restaurants throughout Japan. Made by Toyo-Sasaki Glass, they are called "Hard Strong" or "HS" glasses, after the patented strengthening technology that was developed by the manufacturer in 1967.
sasaki.co.jp
---
Our jackets are made by Tokyo-based Hakuï, a company launched in 1992 specialising in minimalistic uniforms (designed by Akira Onozuka) for the retail and service industries.
hakui-shop.com
---
We headed to Kyoto to find our aprons from Ichizawa Shinzaburo Hanpu. Each one is handmade and sewn by master craftsmen with yarn canvas, the same material that has been used by the company for over 100 years.
ichizawa.co.jp
---
Roasted daily in London to guarantee the freshest beans possible, our coffee comes straight from East London's Redchurch Street to Chiltern Street – courtesy of the New Zealand-Australian team at Allpress Espresso.
nz.allpressespresso.com
---
We've appointed Japanese chef Masayuki Hara (formerly of Le Gavroche) to make our pastries. Every day we'll receive a fresh batch of macarons, green tea roll cake and strawberry gateau from Hara's shop Lanka.
lanka-uk.com
---
We'll also be serving a range of hearty fare including our Swiss-inspired Bircher muesli, a rich and cheesy Monocle toasty and our own Midori salad, made with seasonal ingredients.
---
Hygiene is everything and we've installed a Toto washlet and hand basin in our cosy oak-panelled bathroom.
toto.com