Creative sustenance / London
Rachel Whiteread
Sculptor Rachel Whiteread is a regular at London restaurant St John, an establishment that has been a favourite with artists for nearly 20 years.
"It wasn't tough choosing the venue. St John has been a part of my life ever since I became an artist. Owners Fergus and Margot [Henderson] are completely part of the art world and I've spent many, many happy hours here. Fergus is so convivial and everything about the food is generous. He trained as an architect so that sort of thing filters down to the way the food is put together, perhaps. It's incredibly respectful that Fergus and Margot have never had a single artwork up in any of their restaurants. The look is very stripped down and lit like a studio. It's an amazing place.
The menu is always wonderful and so sparse. Sometimes I have no idea what some of these things are, to be honest. I don't eat meat so in a way it's strange that this is my favourite restaurant but everything is cooked so beautifully. Being in the East End means I can get here on the bus – or my bike, like today. I can't really remember how the place became a real centre for us. I brought Damien [Hirst] here, saying, 'This is the new restaurant.' It was before Damien opened a restaurant himself.
This restaurant has probably accidentally changed people's palates by becoming part of my life and the lives of my contemporaries. Of course, there were some of those famous long nights of drinking in here – the bad old days. It was such a lot of fun! You'd come in for dinner and end up on someone else's table and people would end up at the Groucho or the Colony Room. This was always base camp, though, the old HQ. Of course, there was the whole scene at The Ivy, too.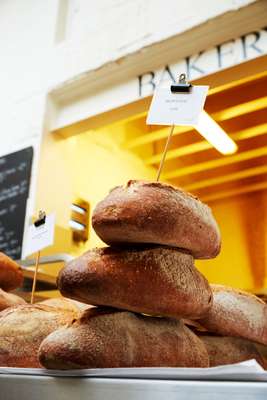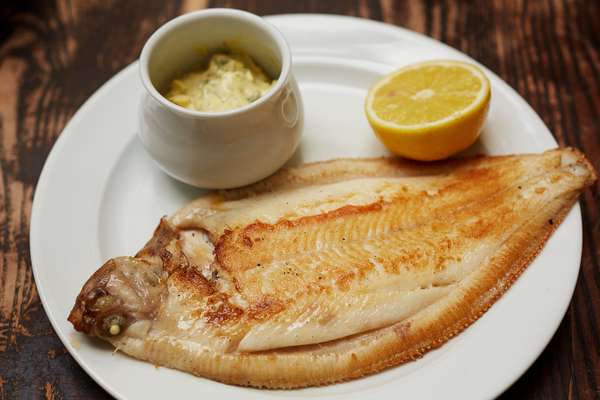 That was all very star-spotty. You were meant to be cool but you'd find yourself going, 'Ooh, there's so-and-so!' Today we're having beetroot and red cabbage with crème fraiche, then lemon sole and tartare sauce with sprout tops and some new potatoes if you're hungry. I wouldn't normally eat so much for lunch, you know. But look, I've ordered slightly aesthetically, too; this food's going to look great in the pictures. I've got two kids so I get up and make them breakfast and get them off to school. Lunchtime I'll go out somewhere near my studio and grab a soup. Often I'll just have something in the studio or the day passes by too quickly.
I normally eat out much more in the evening. I always dip my toe into the waters when I travel, too. I'm not much of a fan of staying in hotels and ordering room service but sometimes if the local cuisine's a bit hardcore I'll clear out the minibar and buy some stuff for when I come back because when I'm working I'm very focused. In England, one of my real favourite things is to go to the east coast, catch sea bass and pick wild samphire. That's just delicious. And I love stopping at the side of the road to buy people's produce. There's a whole different idea of food now where people want to get things locally.
In Bethnal Green there's a great Turkish place that does a simple lentil soup with turnips and olives on the side. The local Vietnamese does a hot and sour soup. I used to live on Kingsland Road [in Hackney], a real sweet spot for Vietnamese food. Growing up, family meals were a time for discussion but there was arguing, too. Both my parents were very political and voted Labour all their lives. I used to go canvassing with my dad when I was a kid in Muswell Hill [in north London]. We had a lot of waifs and strays around our family table, too.
There would always be more than the five of us at mealtimes. I'd never thought about the link between art and food and making things with your hands until Fergus, really. It's a whole historical thing, artists and food. [Artists] Sarah Lucas and [the late] Angus Fairhurst had a studio up the road and I remember Angus would always be in here. I used to think that was great, just using it as your kitchen. It's lovely to know there are places you can go where you'll always know someone. Oh, and the best dessert is madeleines to go."
---
Ingredients
1 lemon sole
50g butter
Splash of vermouth
Aromatic herbs (optional)
The method
Make sure the fish has no bones in it and pat it dry.
Heat the butter in a shallow pan over a medium heat. When it has completely melted, add the lemon sole skin-side down.
Cook until golden brown and flip onto the other side.
Add a splash of vermouth and cook for a minute or two.
Sprinkle with herbs and serve warm
Rachel Whiteread is a British sculptor who has produced two decades of memorable work including the Holocaust memorial in Vienna and "Water Tower" on the roof of MoMA in New York. Her best-known pieces are large-scale casts, notably "House", the interior of an entire Victorian terraced house in London that won her the Turner Prize in 1993.
St John proved to be at the vanguard of what became a British food revolution when it opened in London's Smithfield in 1994. Chef-proprietor Fergus Henderson's "nose-to-tail" eating and simplicity of presentation (and dining rooms) have often been copied but, frankly, never bettered.
Beetroot and red cabbage with crème fraîche to start; main course of lemon sole and tartare sauce with sprout tops and new potatoes (if you're hungry enough); madeleines for dessert.
Fentimans ginger beer.