Family Thai / Bangkok
Chef Kittichai
The son of a greengrocer who sold food on the streets as a child is now one of the world's top Thai chefs. Ian Kittichai shares his 'last meal'.
"It's really difficult to put together a last meal. Mine would be a collection of my life's experiences: something related to my mother and something related to memories of when I opened my restaurants in New York, Bangkok and Mumbai.
I would definitely have kanom krok thom ka gai [coconut crème brûlée filled with chicken and kaffir lime leaf], my version of a dish I cooked with my mother when we sold food on the street. I would go to school, come back at 15.00 or 16.00 and my mum would have cooked traditional curries that we would put on a cart and go around the neighbourhood selling. If we were lucky, by 19.00 we would have sold everything.
I studied in London and opened my first restaurant in New York so I would have a dish from the New York menu, the gradook moo ob sauce [pork baby back ribs with chili glaze]. I'm really proud of it and I think it's a magnificent dish.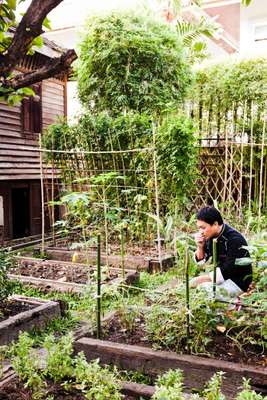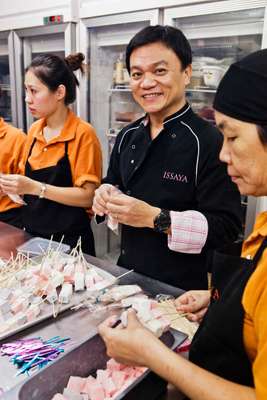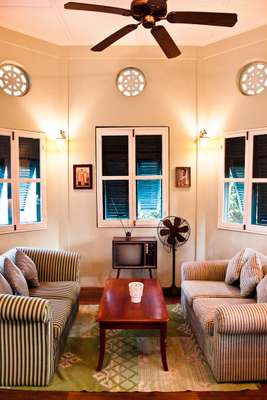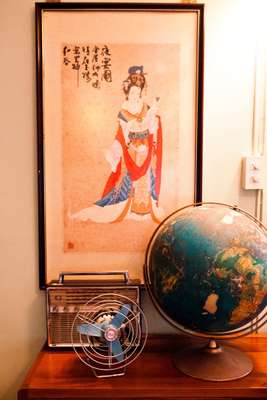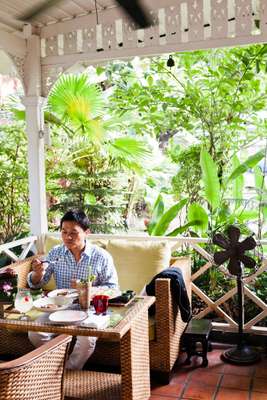 Then I would continue with the Mumbai menu. I was shocked when I arrived because more than half of the people are vegetarians. There is a vegetarian dish called khao yum pak tai I like, but I would pick a khao yum Bangkok [southern Thai-style chopped salad] instead. I'd also have an old rustic curry called Penang beef and two desserts, one of which I have at all my restaurants; the kanom dok mali [jasmine-flower flan]. You take one bite and you think you are in Thailand. Then I'd have a couple more petits-fours made from Thai ingredients.
The reason I've chosen Issaya as the venue for my last meal is that it's close to where I grew up. We sold vegetables, meat, fish – you name it. I had to get up at 2:30 in the morning and slept in the car because I had to go to school after helping my mum. On the weekends when I didn't go to school I would go with my mum to the market and walk around. I knew all the vendors; I knew where to get things. This market is very near. Eating here takes me back to my roots.
I didn't think I would ever be a chef because all Thai-Chinese people want their children to work in a bank. When I came back to Thailand my uncle asked me, 'What did you study?' He is Chinese, from the mainland. I said, 'cooking.' He was shocked. He said, "You are supposed to be studying to import and export." Every year on All Saint's Day, which is on the first Sunday of November, we met to go to the cemetery in our village in Nakhon Pathom. Soon after my return he asked me, "How much money do you make?" I said, "8,000 baht". He was embarrassed [that it was so little] and every year he would ask the same question. On the fifth year, when I had taken over as executive chef at the Four Seasons Hotel – the first Thai executive chef – and I told him how much I was making he couldn't believe it. He's stopped asking now.
When I was young I wanted to be really good at cooking, but I didn't know how. So I used to go to the bookstore and read the cookbooks but not the recipes because I didn't understand them. I read the biographies of the chefs and how they became successful. I wanted to know how they opened their own restaurants and who came to eat at them. I learned so much about ingredients, cooking techniques and the people behind the kitchen. I understood how chefs lived, how they work, and about having your heart and soul in the restaurant.
I think I know my market, especially in Thailand. I know what's good and what's not. We don't follow trends - otherwise, I would have opened a Japanese restaurant a long time ago. I want to create my own structure, my own scene, something that Bangkok doesn't have.
There are many Thai restaurants in Bangkok and each of them is good at something. With Issaya I'm not competing against them. This is me. Issaya represents everything I've been doing all my life. I think of this as my house. I am inviting guests to come to my house, not a restaurant. And I want to entertain them with what I have in my kitchen."
www.issaya.com
---
The son of a Bangkok greengrocer, chef Pongtawat "Ian Kittichai" Chalermkittichai has parlayed his childhood experiences helping his mother sell streetside curries into a career as one of the most prominent Thai food chefs in the world. Picked as a schoolboy for a culinary school education in London, Kittichai went on to become executive chef at the Four Seasons in Bangkok, the first Thai national to helm the kitchen of a five-star hotel property. In 2004, he opened Kittichai in New York City. Today, he runs "Cuisine Concept Co.," a food and beverage management and consulting firm, and serves as permanent "Iron Chef" on the popular TV programme "Iron Chef Thailand".
Opened at the end of 2011, Issaya Siamese Club is set in a Thai-French colonial-style house. Its menu focuses on traditional recipes cooked with international techniques. There's a Thai herb garden in the back yard. Chef Kittichai boasts good relationships with local organic farmers and is hoping to promote more farm-to-table dining in his home country.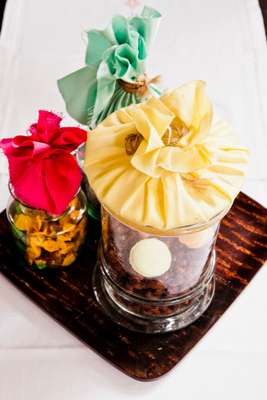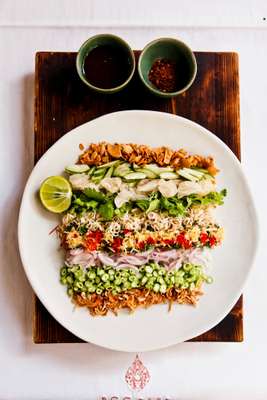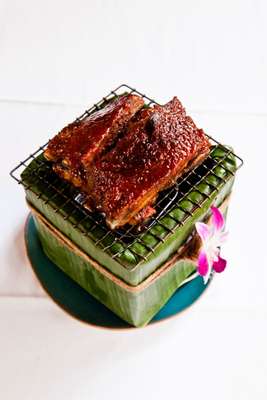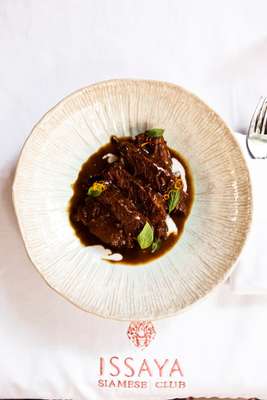 Kanom krok
Coconut crème brûlée filled with wok-sauteed chopped chicken, galangal, kaffir lime leaves and chili jam
Kradook moo aob sauce
Spice-rubbed pork baby back ribs glazed with blended chili paste
Kao yum Bangkok
Bangkok "Cobb Salad". Chopped market vegetables, pomelo, jasmine rice and tamarind
Paneang nua
Grain-fed veal cheeks simmered in house-blended spices, hand-pressed coconut milk and kaffir lime leaves
Kanom dok mali
Jasmine flower panna cotta served with jasmine rice ice cream and jasmine rice tuile
Kanom Thai
Issaya sweet nothings – house-made petits fours
Issaya mojito
A twist on a mojito with kaffir lime leaves and lemongrass
Bangkok lemonade
Made with vodka, ginger syrup, lemon juice and lime juice