Be'er-Sheva / Israel
Desert Operation
It's twice as big in area as Tel Aviv but it has only 200,000 residents – and a reputation for being dusty and dreary. Be'er-Sheva's mayor, however, plans to change that. But the makeover leaves little space for the local bedouins.
"Look me in the eyes," says Ruvik Danilovich, mayor of Be'er-Sheva. He wants to illustrate how straightforward the people of his city are but it's also a demonstration of this dynamic 42-year-old's personal style, somewhere between political showman and evangelical preacher.
This passion focuses on one thing: turning a long-neglected desert outpost, seen as little more than a comfort stop en route to Eilat, into an oasis of commerce, culture and tourism. If he is successful, Danilovich will not only be fulfilling the dream of Israel's founding fathers to expand the country's crowded urban centre into the arid south, but he will also be providing an alternative to Israeli expansion into the West Bank.
Danilovich, spry in his Diesel jeans and Lacoste jumper, is fond of a bit of American management-speak. "There are no problems! Only challenges!" he declares. But his energy is convincing. Since he took over four years ago, he's raised NIS3bn (€640m) of public/private investment for a 10-year strategic plan that includes riverside developments, hi-tech parks and the regeneration of a unique Ottoman Old Town.
Be'er-Sheva's new brand is the "City of Opportunities", he says. "It's very difficult to destroy a stereotype of so many years but we're on the right path." He has his work cut out. The Negev occupies over half of Israel's land mass, though it is home to just 8 per cent of its population, and as its unofficial capital, Be'er-Sheva has long been neglected. For decades the government used its concrete tenement blocks as a dumping ground for impoverished immigrants, focusing more on Arab-Jewish demographics – around a third of the Negev's 630,000 inhabitants are Bedouin – than long-term development. Social deprivation is rife and jobs scarce; only 5 per cent of graduates from the city's Ben-Gurion University can be convinced to stay in the region.
But Be'er-Sheva, currently home to just 200,000 residents, could benefit from a move away from the country's overcrowded and expensive centre. The Israeli Defence Force plans to move 10,000 soldiers into a new €500m training base 30km south of Be'er-Sheva next year. A new railway cuts travel to Tel Aviv down to 45 minutes and there's even talk of an international airport at the Nevatim air-force base nearby. What remains, though, is a massive image problem.
"From outside, people say this is a desert city, dry, boring, full of sand and dust," says the mayor. "I decided to think outside the box. Water is the source of life, so Be'er-Sheva will be the city of water!" Thus illuminated fountains have sprung up and there's a 7,000 sq m "city beach" under construction (albeit on the fume-filled main thoroughfare, opposite City Hall). Then there's the 1,300-acre Be'er-Sheva River Park, funded by NIS150m (€32m) of government investment along with tens of millions in private funds – modelled on San Antonio, Texas, where a revamped riverfront also transformed a desert city's fortunes.
"This will be a huge tourist attraction," says project manager Itai Freeman, his car bumping over rutted ground where a 20-acre recycled-water lake and a 12,000-seat amphitheatre will replace former landfill sites. A landmark bridge, masking the city's rather ugly water pipes, is already lit up in rainbow colours.
Nearby is a magnificent visitor centre celebrating Abraham, who, according to the Bible, settled here and dug a well.
(Archaeologists couldn't agree where this site was; Danilovich decided for them, commissioning a NIS18m complex around an unprepossessing hole in the ground). It's part of Be'er-Sheva's bid to lure some of Israel's 3.5 million foreign tourists.
"The park itself is a catalyst," Freeman says, gesturing at a clutch of apartments being built next to the Old Town. "All these high-rises are being marketed on their river-park view." There's only one thing missing: the river. A reflooded bank-to-bank expanse is promised but it's still just a murky trickle: raw sewage straight from Palestinian-controlled Hebron, according to leading environmentalist Alon Tal. He spent three years researching its water quality and caught dysentery in the process.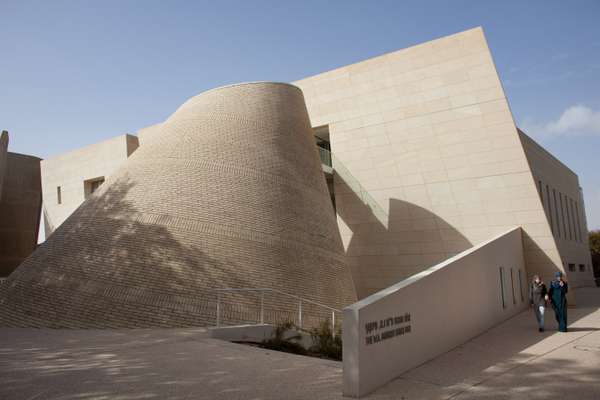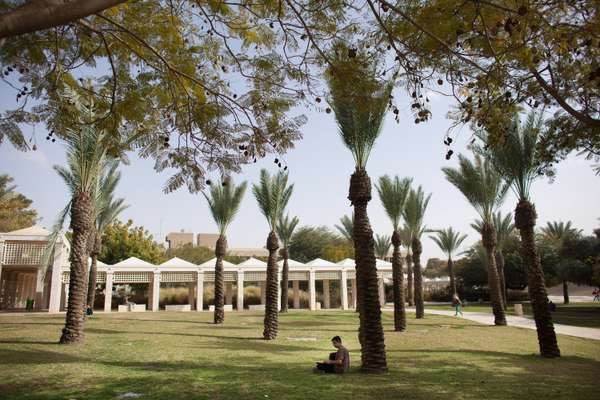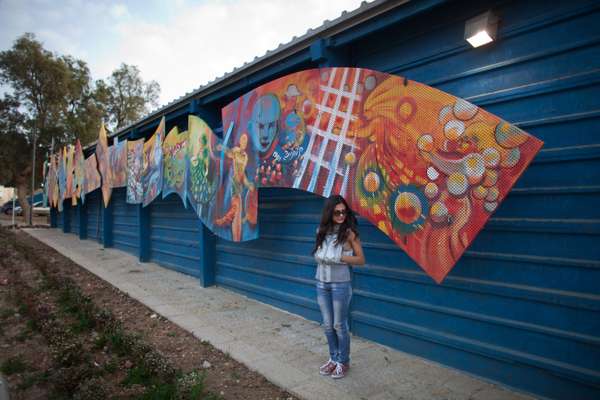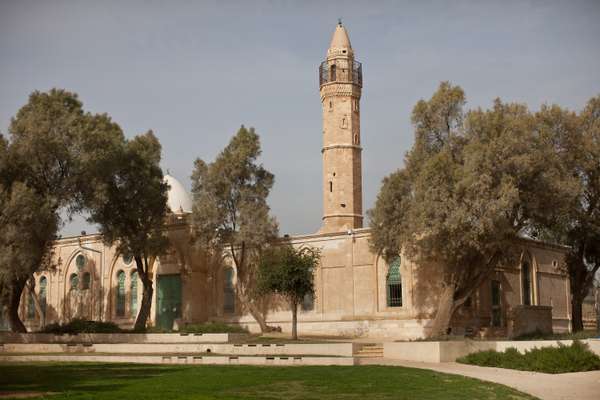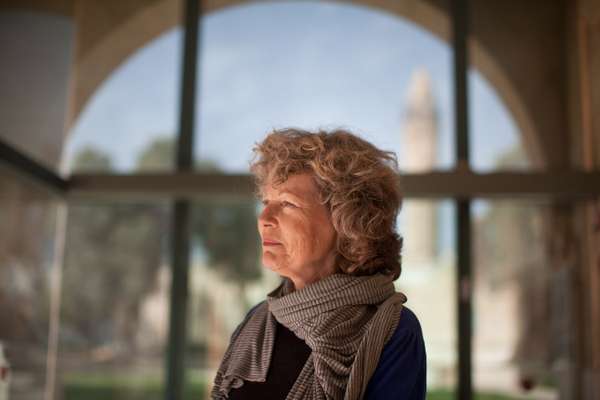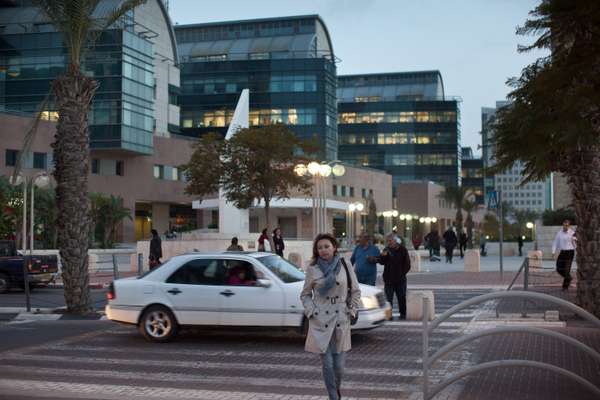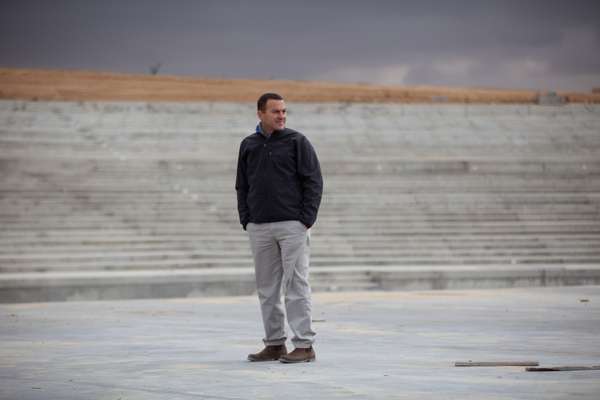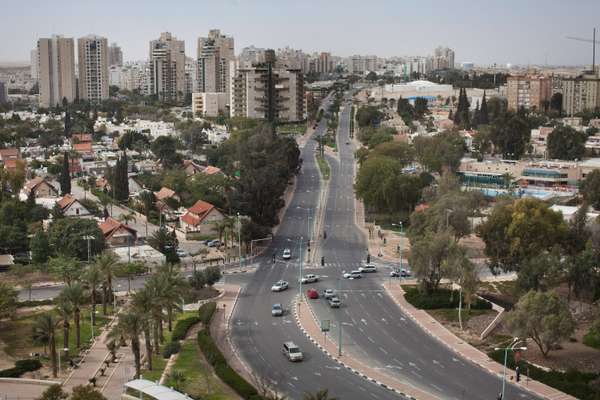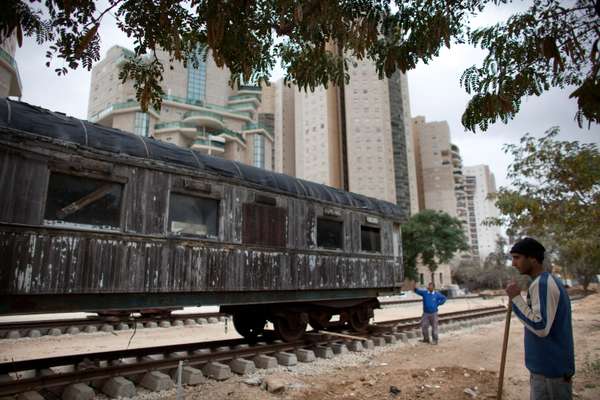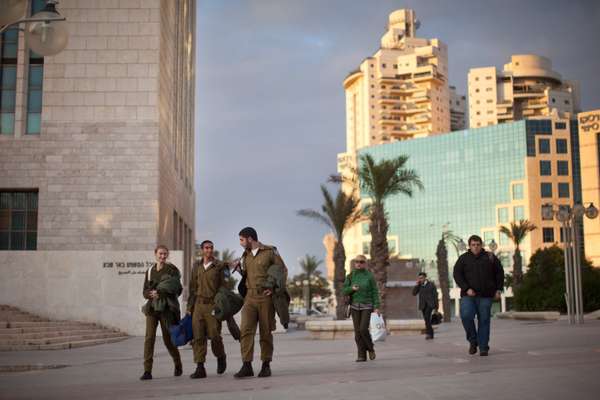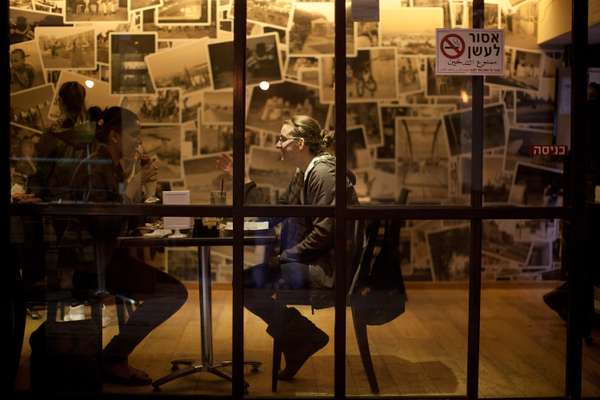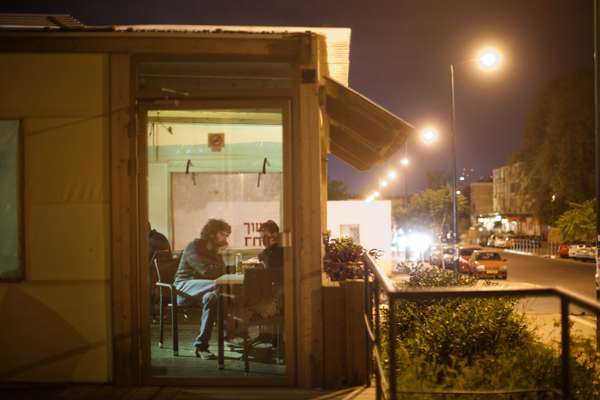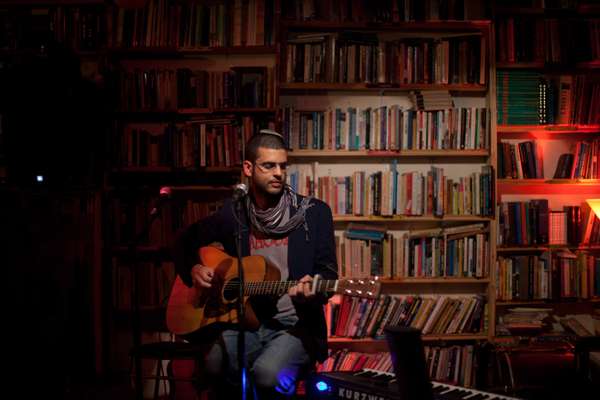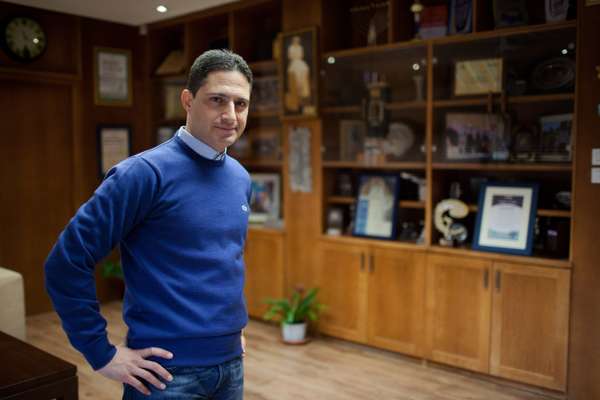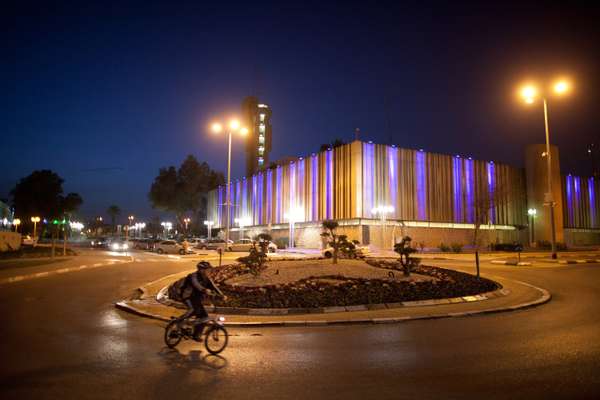 "The whole restoration gambles on the Hebron sewage treatment system," he says. "If you don't upgrade it at source then you'll have a very pretty park with a very putrid water feature at its centre." But never mind tiresome realities; the river park concept ties perfectly into the old Zionist trope of "making the desert bloom", garnering huge financial support from American Jews. And in many ways Be'er-Sheva represents the new frontier of modern-day Zionism: less politically charged than developing the West Bank and less gruelling than living in more remote parts of the periphery.
"We feel a little bit like bourgeois pioneers," says Ben-Gurion University spokesman Ehud Zion-Waldoks, a 34-year-old US immigrant who swapped a cramped Jerusalem flat for a spacious Be'er-Sheva villa. "I wasn't going to move to the settlements because I don't believe in that and I didn't want to live in a caravan in a small community being built somewhere in the Negev."
Newcomers also have to be prepared to deal with sporadic rocket fire from Gaza, 40km away. Around town there are adverts for bomb shelters with the tagline "Get it now before the next round". Residents talk of having to dive for cover every 15 minutes during hostilities.
UK-born sculptor Hannah Rendell, who has lived in Be'er-Sheva for six years, says the missiles don't faze her. "As soon as it's over, your brain shuts it out," she says. "Otherwise, it's perfectly safe – I would be happy to take my children out on the streets at midnight. In London, that would really scare me."
The benefits outweigh the risks, she argues. "The speed at which you can see things grow and develop here is amazing. Tel Aviv is already a painted canvas: in Be'er-Sheva there is still so much to do."
This ideological bent is just what the city wants to develop; the university supports more than 50 social activism organisations and even the burgeoning young creative scene, centred on Ringelblum Street near the university, maintains its principles. Its eponymous café not only serves a killer roquefort and scorched aubergine linguini but also provides training to youth at risk. Other businesses along the street – where you can buy vintage clothes, take in a blues jam or see a film at the pop-up cinema – subscribe to a social-justice contract.
The municipality wants to encourage similar development in the Old Town, the only city the Ottomans ever built, ramshackle one-storey stone houses laid out on a grid designed by 19th-century Swiss and German architects. This will be the city's cultural centre, "like in Prague, with coffee shops, gourmet restaurants, museums and art", according to the municipality's head of brand and marketing, Amos Shavit. A NIS3m (€600,000) property is pegged for a boutique hotel (there are few places to stay in town beyond one anodyne chain and a frankly punishing hostel) and the cafés spill out into summer street festivals; the potential is enormous, even though ownership disputes mean that many charming cottages lie derelict, turquoise shutters peeling.
The Turkish governor's former mansion is now the Negev Museum of Art. The current exhibition features iconic Israeli photographer Micha Bar-Am and the previous show was by the internationally acclaimed Sigalit Landau. "These are canonical artists, the best Israel has to offer," says museum director Dalia Manor, who has had her budget tripled under Danilovich's watch. "High culture and arts are very important for the future of this city, for whoever is thinking of moving here."
Critics, however, say that the city needs much more than gentrification and high-end jobs. Activists insist it is impossible to separate the regeneration of Be'er-Sheva from the fortunes of the Negev's 200,000 Bedouin. There is, of course, no military occupation here; the Bedouin have full citizenship rights and a fair number serve in the Israeli army. But as many as half live in unrecognised villages lacking basic services and facing the threat of demolition, with most of the rest settled in urban townships blighted by severe deprivation.
Rawia Aburabia, a human-rights lawyer and Be'er-sheva native, notes that the development aims to attract middle-class Jewish families from the country's centre, not to focus on the population already here. "Bedouins are, to a certain extent, invisible citizens in the eyes of the Israeli authorities," says Aburabia.
A telling example is the case of the Old Town's long-defunct Ottoman mosque. Pegged to become an archaeological museum, a legal battle with Arab groups who wanted it used for prayers again (and objected to the city's wine festival being held there) means it has re-opened as the Museum of Islamic Art and Oriental Peoples. Not a single Israeli Arab artist is willing to exhibit or curate here.
And the city's head of brand Shavit looks perplexed when asked how Be'er-Sheva's redevelopment plan will benefit the local Bedouin. "They can take their children to the parks and street festivals too," is what he comes up with.
"Be'er-Sheva is developing fast," says Raed Al-Mickawi, the soft-spoken head of Bustan, an environmental ngo focusing on the Bedouin. "But the original inhabitants need to be included in the bigger plan. The opportunities should consider people already here."
Perhaps it's telling that many of those involved in the regeneration still live in the country's centre, preferring to commute than to throw their lot in with the city just yet. Negev Museum director Manor travels down from Tel Aviv three times a week; brand manager Shavit commutes from the central city of Modi'in.
At the heart of the regeneration lies the mayor's boundless enthusiasm and winning personality. He is already being courted by political parties and he's even being tipped as a future prime minister. Danilovich and his multicoloured fountains may have brought Be'er-Sheva into the spotlight; it's hard to imagine it remaining there without him.
---
For Israeli Jews looking for low-cost housing and spacious living and who aren't too worried about complicity in a military occupation, the West Bank still offers some attractive terms. Although the settlement movement itself is driven by an ideological imperative to claim all of the Biblical land of Israel, roughly two-thirds of those now living in the West Bank are motivated by quality-of-life issues rather than a messianic vision.
Government incentives and investment mean that residents pay lower rates and rent is 35 per cent cheaper than in Israel. Of the 304,000 Jews who live in the West Bank (excluding East Jerusalem) more than 80 per cent own their own homes, about 12 per cent more than the national average. According to NGO Peace Now, houses of comparable size are 40 per cent cheaper. There are also discounts available for land for building and infrastructure.
Most settlers live close to the Green Line, or in metropolitan centres such as Ariel with easy access to Israel, with some settlements near Jerusalem regarded mere suburbs of the capital by much of the Israeli public. The rest of the world, however, considers them illegal under international law.
---
7: the number of sheep Abraham gave to the local king to resolve a dispute over ownership of his well. Be'er-Sheva means "well of the seven" in Hebrew
NIS30 (€6.50): cost of a one-way train ticket to Tel Aviv
46C: highest heat recorded in the city
30,000: number of acres under Be'er-Sheva's jurisdiction, making it twice the size of Tel Aviv
40: number of babies born a day in Soroka hospital, the highest number in Israel
70: number of diasporas the city's Jews come from
NIS400 (€87): cost of a night's stay at the Beit Yatziv hostel
NIS2,750 (€600): month's rent for a one-bedroom flat in the city centre