Europe / Global
Europe
Briefing
What Belarus's autocrat president Aleksandr Lukashenko has in his wardrobe, why a new theme park in Greece is ruffling feathers, and Bulgaria's upcoming elections.
STYLE LEADER No. 44
Despot for a makeover
Aleksandr Lukashenko
[BELARUS]
In the western media, at least, Belarusian president Aleksandr Lukashenko's name rarely appears far from the phrase "Europe's last dictator". For the nearly two decades he has spent in office, the 58-year-old former state farm director has generally behaved as if the fall of the Berlin Wall, the collapse of Soviet totalitarianism and the end of the Cold War were all things that happened to other people.
Lukashenko favours dour, boxy suits, evoking the stolid, drab non-style of other bumpkin dictators of a mercifully bygone era: Ceausescu, Honecker, Milosevic, Zhivkov. Then, of course, there's the very obviously dyed Josef Stalin moustache, and the ­astonishing comb-over. "It's Bobby Charlton gone to the dark side," says journalist John Sweeney, author of the biography Big Daddy. "It's a horrible look but it's him all over. He's a peasant and a thug. His idea of a fun night out is turnips and vodka."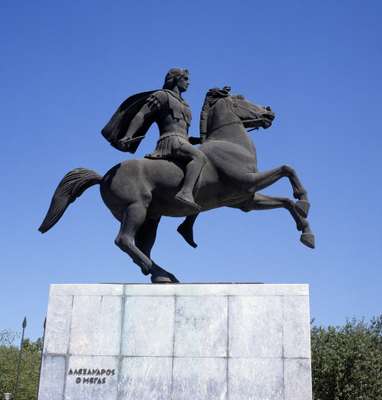 Lukashenko may insist on dressing like a sales rep for a moderately prosperous bathroom fixtures wholesaler, but he is clearly sensitive on the subject. In 2002, journalist Veronika Cherkasova wrote a magazine article analysing his dress sense, which compared him to a clown. In October 2004, she was found stabbed to death in her apartment in Minsk. Nobody has ever been prosecuted.
Leader of the tache pack:
The comb-over is a fascinating psychological conundrum on any man; in the case of a despot such as Lukashenko it seems more than the usual exercise in tragic self-delusion. Is he daring his people to laugh?

You can see what Lukashenko is trying to do here to ­ summon up the luxuriantbroom of Stalin or, to use a more recent point of comparison, Saddam Hussein. He's never quite got it right, however, and more often resembles a somewhat disreputable deputy headmaster.

Occasionally he flaunts a politically evocative red tie. Mostly, though, he gives the impression of having bought a random handful of ties in duty free shortly before boarding.

Lukashenko is a big man and he chooses suits that, while ungainly, emphasise his stature: bulky in the shoulders, baggy in the legs. He deserves some credit for disdaining the double-breasted disasters that might be expected of a man with that moustache.
---
Type: Parliamentary
Date: 12 May
Candidates: Sergei Stanishev's opposition Socialist Party has taken a poll lead over Prime Minister Boiko Borisov's GERB.
Issues: An early election was called after anti-austerity protests turned violent and the government resigned. The people of Bulgaria, the EU's poorest country, are being pushed to their limit by tax hikes and wage freezes.
Monocle comment: Bulgaria has avoided, so far at least, following Hungary and Romania in seeking an international bailout. It is nevertheless another mark against the curiously fashionable idea that you can fix an economy by making poor people poorer.
---
Cultural coup
Thessaloniki
[LEISURE]
In the latest broadside in Greece and FYR Macedonia's battle over Alexander the Great as national hero, Thessaloniki is planning a 30-hectare theme park dedicated to the legendary king.
Alexanderland will be a tourism draw for Greece's second city and a rebuff to Skopje, which Athens has long accused of trying to appropriate Greek history. "It could be useful or it could be awful, depending on how we do it," says Thessaloniki mayor Yiannis Boutaris.