Enrique Peña Nieto / Mexico
Man on a Mission
Mexico's new president has drafted a bold to-do list for his country: end poverty, fight crime and radically change worldwide opinion. Monocle caught up with Enrique Peña Nieto in Italy's capital to find out how he intends to tick them off.
When Enrique Peña Nieto was running for president last year he did not mince his words about the state of his country. Mexico, he wrote, "is adrift, immersed in violence and economic decline… We've lost our vision and lost our way".
Mexico is often described in more glowing terms. Rare is the foreign-affairs magazine or journal that has not written a piece in recent months on the theme of Mexico rising. The economy is growing, business is booming and a new generation of young Mexicans is thriving in the creative and technology industries.
But Peña Nieto, who took office in December after a narrow election victory that left him without a majority in congress, still prefers to promote a more downbeat view of Latin America's second-largest country – and with good reason. Violent crime is out of control, the state of education is shocking and poverty levels are stubbornly high. Vested interests – from the richest man in the world, telecoms billionaire Carlos Slim, to teachers' unions that have blocked much-needed reform – stand in the way of progress.
Peña Nieto's honesty serves a political purpose, too. During the election it helped him to paint the previous 10 years as a "lost decade"; now that he's firmly ensconced in office it enables him to build broader support for his reforms.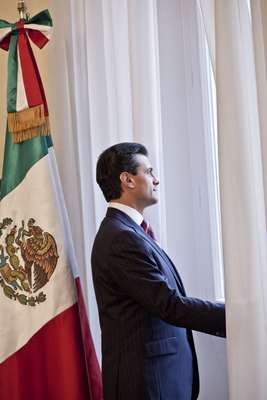 The telegenic president may be a new, fresh face but the body he represents is old. His Institutional Revolutionary Party (PRI) ran Mexico for 71 years until finally, tired and broken, it was thrown out of power in 2000. As much as he may emphasise the previous decade's woes, Mexico's problems are long in the making and his party deserves a decent slice of the blame.
His presidency is still young – 105 days, points out his foreign minister, as we watch him pose for monocle's photographer in Rome's Mexican embassy. The glad-handing, the posing for smartphone photos, the smiling and nodding: it's all new enough for Peña Nieto to carry it out with pleasure (or at the very least he is able to give the impression that he enjoys it).
It also means that Mexico's young president remains optimistic that he can achieve what he promised, confident that the laws he has begun to pass will start to solve some of Mexico's biggest problems. There are clear targets, he says, clear goals that all Mexicans will be able to judge him by. As he departs, Peña Nieto makes one more promise: monocle is invited to Los Pinos, the presidential palace in Mexico City, in a year's time to see how he's doing.
Monocle: You've talked about the need for the world to take Mexico seriously but why do you think the world needs Mexico to be a global power?
Enrique Peña Nieto: The first thing is that, of course, Mexico needs the world. It wants to involve itself in a relevant way in major global issues. But for this to take place I have made it very clear that Mexico needs to look at itself first and reach a better performance.
M: You've also talked about poverty. What steps are you taking to deal with it?
EPN: The first thing we did was to initiate a national crusade against hunger – and this required admitting that in Mexico there is hunger [and] extreme poverty. Today we are in a situation where 11 per cent of the population is living in hunger – we are talking about almost eight million Mexicans, in both rural and urban zones. We want to extend health, education, communication infrastructure, labour opportunities and programmes of social aid to each of these zones so that we can change the environment in which these Mexicans live.
M: That's redistribution of wealth, isn't it?
EPN: You are correct. One of the challenges we face is to create a universal social-security system, thus becoming a political instrument in which the people will have the benefits of health, temporary security during times of unemployment and a pension with which one can retire with dignity. These are the mechanisms that will lead to a basic standard of life for all Mexicans and will also decrease the enormous economic disparities – and therefore enormous social contrasts and inequalities – within Mexico.
M: How would you describe yourself politically? Because when it comes to your statements it would seem that you're a man of the left, yet you seem a little shy of that label.
EPN: I don't place much importance on classifications or definitions that have been made from left, centre or right political fields. It seems to me that today, these definitions have become outdated. I would rather define myself as a pragmatic actor who is in search of results and formulas for the development of his country, without being a hostage to any ideological ties.
M: Let's talk about crime. In terms of the scale of the problem, is this one of the greatest crises you face?
EPN: Yes. In terms of the five major aims of my government, one is to reduce significantly the levels of violence. In order to achieve better results, we firstly need to achieve a strengthening of, and better co-ordination between, our federal institutions and public entities. We are also placing a special emphasis on people's predilection for crime: not only focusing on the effects of the issues but also on the root cause of criminality. What are the root causes? Inequality, poverty and the absence of opportunities for the population. For these, we are placing a special emphasis on prevention.
M: Previous governments have tried to tackle these problems and failed. Are there any other countries that have had similar issues that you believe have dealt with them well and could be emulated?
EPN: Yes, I think there have been successful experiences in Colombia and Chile. In Chile it is the police force that has done particularly well; it is one of the countries we are using as a reference for our police force in Mexico. Colombia has had a few experiences with the participation of its own citizens in the fight against organised crime, which is also an example for our own actions in reducing violence. In our relations with the US, the power and focused effort of co-operation has helped us reduce violence and to develop a secure, modern border that not only has the capacity for better border control but that will also allow us to put into a place a system that assures an easier and more agile border crossing between the two countries.
M: Finally, let's discuss Mexico's image abroad. There are a lot of good things about Mexico but you don't tend to be very good at telling your story to a wider world. Today we have mainly been talking about the problems the country has – how can Mexico portray itself in a more positive light?
EPN: I think that it is another challenge to tackle. The world should know Mexico in another way: for its strengths, beauty and riches and not for what it has become famous for of late, which unfortunately includes the cases of violence we have been discussing. People will start talking about it in a better way, as a growing country, a country of opportunity. There are already large amounts of capital and investments that are moving to Mexico and this is generating greater confidence. You have to bear in mind that Mexico is a country that is in the process of consolidating its democratic condition, and that today one of its big challenges is ensuring that democracy can achieve results. We have to believe that with democracy we can achieve important changes and create better opportunities for Mexico. This is exactly what we are working on – and what we will be concentrating on in these next few years.