Inventory / Global
Our home
'Playing house' is one of the more fun adult games. But furnishing a home from scratch is a gradual process and after you've bought a property your budget might not stretch to your dream collection. But it is important to dream. Here's our inventory of things we'd pick to transform a house into a proper home.
When it comes to entertaining we prefer cosy kitchen suppers over stuffy, stiff white tablecloth dining. That said, our kitchen is a bit of a performance space and it's access all areas. Everything is on show – handy when it comes to reaching for a utensil or when guests help with undoing the dishwasher. In summer, patio doors open to the terrace, doubling the size of the room. It's not a precious space; it's somewhere that instantly conveys the love of good food, hospitality and taste to anyone who drops by.
---
Our living room is long and open but divided into zones with different functions. An oak floor, preferably by Danish firm Dinesen, is easy to keep clean and gets better with age. A mixture of natural materials – leather, cane, wool, wood, brass and the odd bit of greenery – makes it feel human. A mixture of heights prevents it feeling sterile. A wood-burning stove is at the heart of it, providing warmth and smell to fill the rest of the house. There's ample space to entertain 30 for festive drinks, but you never feel lonely if it's just you and the cat.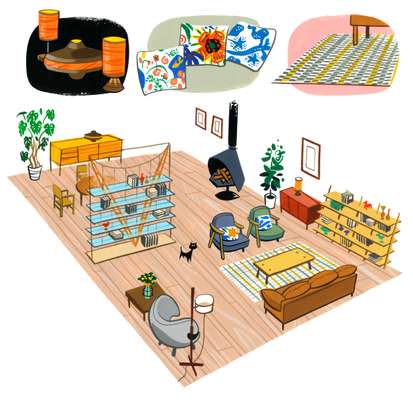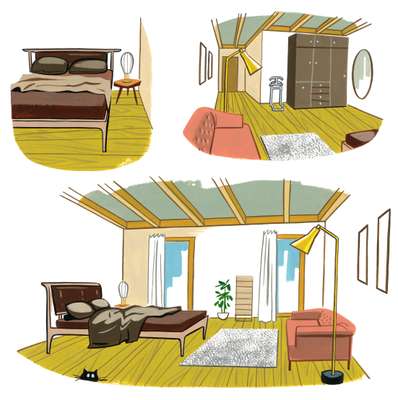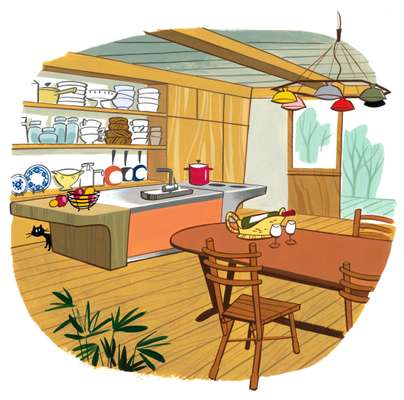 ---
The bedroom is a place for sleeping, dressing and the occasional lie down of a rainy afternoon under a blanket with the radio. Space is key here, as is storage. The opposite of the kitchen, where we like things to be on show, in our bedroom we want clothes, shoes and files of old important bits to be neatly tucked away. Unlike the majority of developers who believe a bedroom is not a bedroom without an ensuite bathroom attached, we've opted for more space in our actual bedroom and the far-from-inconvenient pad down the hall to take a 02.00 pee.
---
Our bathroom takes its cue from the Japanese, who are still streets ahead of the rest of the world (bar, perhaps, the Finns) when it comes to indulging in wellness and water. Space, wood, plants and natural light create an atmosphere conducive for splashing and soaking. No day can start properly without a powerful shower. Too often we've banged our elbows on small cubicle doors, hence choosing here to go for the "wet room" effect – perfect concept, horrid name. Meanwhile, downstairs we've turned our wide hallway into a makeshift home office.
---
Outside comes into its own in summer, but that's not to say it doesn't get its fair share of attention in colder months too, notably the sauna and the wood-fired outdoor tub. Some of the greater feasts have taken place under the chilly winter sun too. And, so long as it's not raining, there can be no greater pleasure than lying down under an alpaca blanket, feeling the cold air on your face.