Azucena / Milan
Part of the furniture
Architect and designer Luigi Caccia Dominioni will turn 100 at the end of this year, having plied his trade in Milan since the 1940s. He works from outside to in, as famous for his exteriors as he is for his interior furnishings company, Azucena.
Despite its status as a design capital and fashion mecca, a stroll through Milan's streets is a study in shades of grey. Once visitors get past its striking Duomo and Gio Ponti's slender Pirelli skyscraper, the rest of the Lombard capital can be a hard sell. The local mindset is one of elegant understatement (think scores of businessmen in navy-blue suits) and the same goes for the city's modern architecture.
After suffering aerial bombardment during the war the metropolis underwent a makeover, with mixed results. Yet amidst broad swathes of drab urban scenery a distinct vernacular emerged in the work of architect and designer Luigi Caccia Dominioni. Now nearing his 100th birthday – which coincidentally falls on the feast day of the city's patron saint – the Milan native is no archistar: he has long avoided the spotlight and rarely grants interviews.
Caccia Dominioni's contribution to the cityscape has been a series of projects best known for their subtlety. Many commissions were homes for local industrialists who were part of Italy's postwar economic boom, including the Pirelli family; people who preferred discretion and dwellings that didn't attract too much attention.
"I'm an architect but everywhere I see urban planning," explains Caccia Dominioni. "My job is to provoke emotions, be it through my entranceways, my stairs, even the furniture – they are all solutions."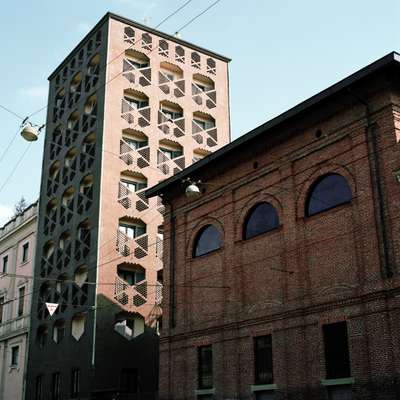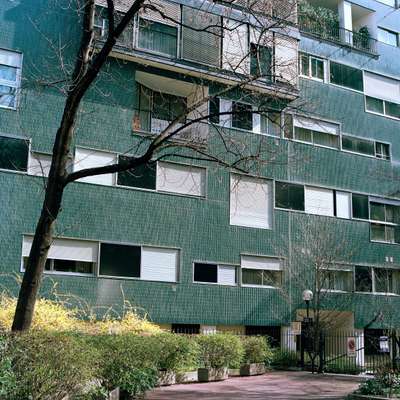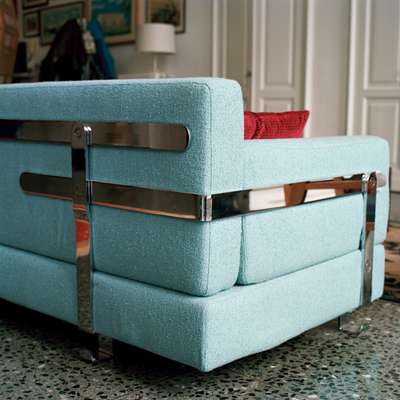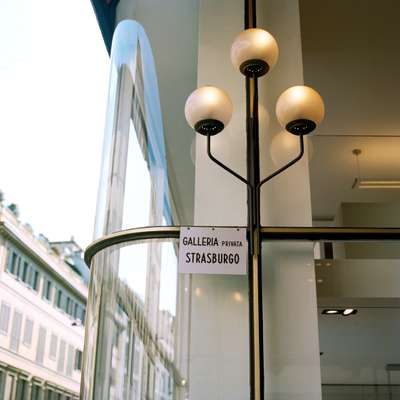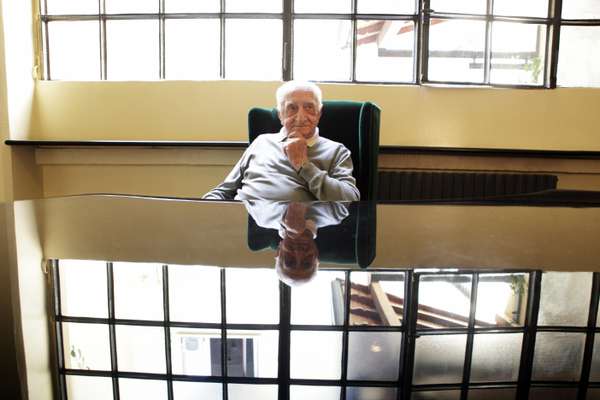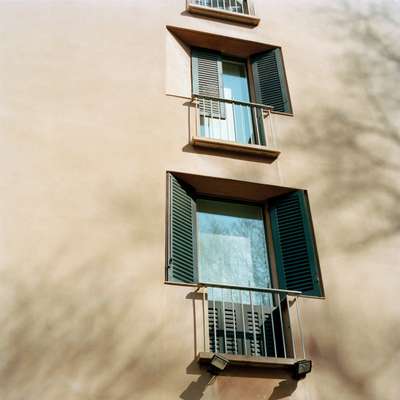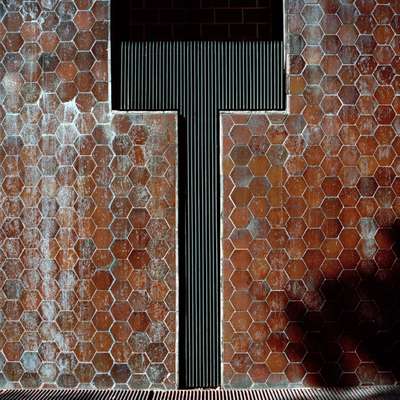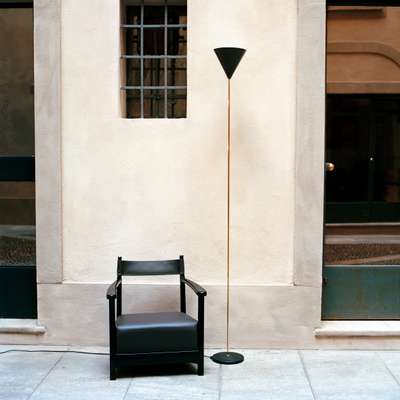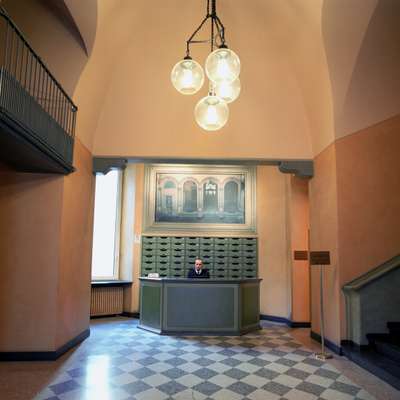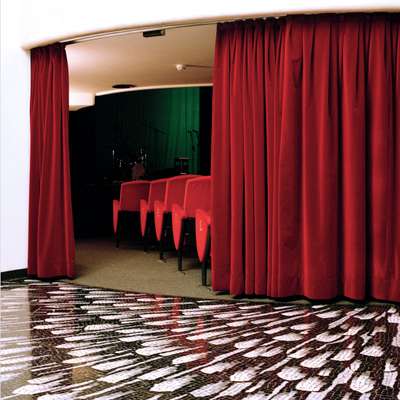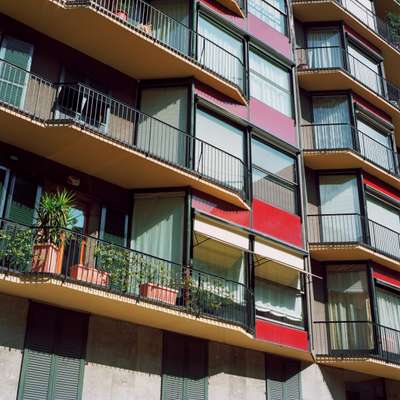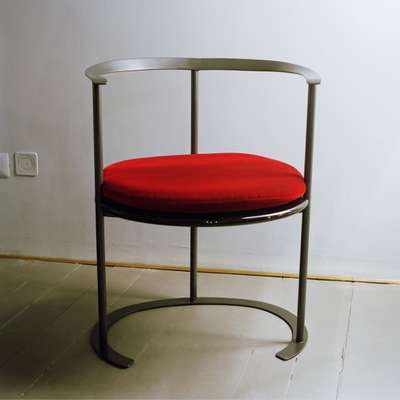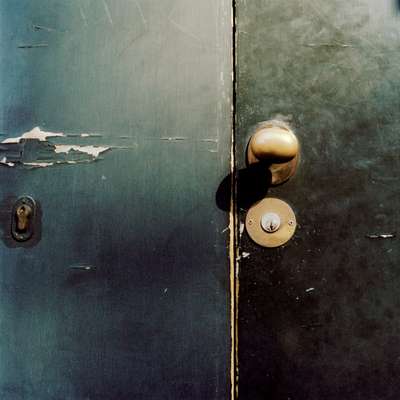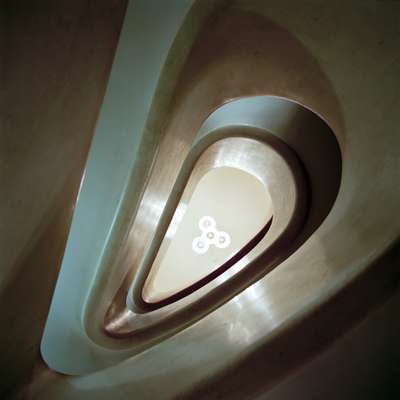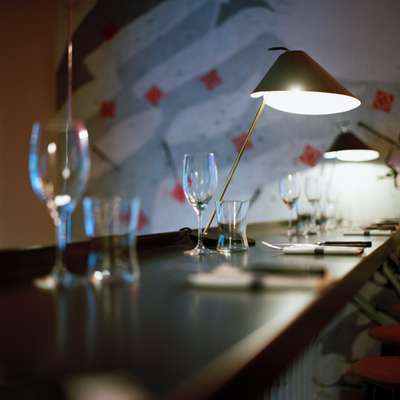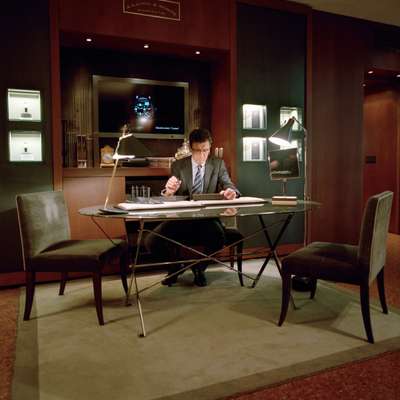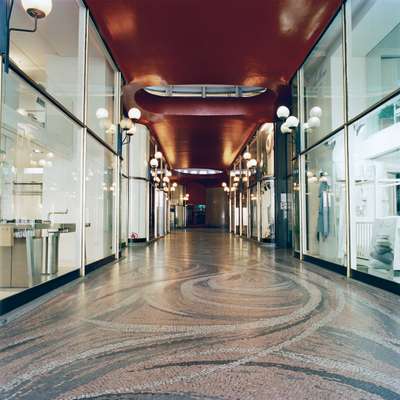 Instead of buildings with protruding profiles, he plays with the façade. His signature look clads the exterior in smooth ceramic tiles, often arranged in a decorative hexagonal pattern. "It's a simple architecture," he says, referring to the honeycomb shape he borrowed from beehives. "I needed a coating that could work equally for both the transparent and solid parts."
At times he breaks up a monotonous apartment tower by inserting variously sized windows to disrupt the solid block of glass on each floor or uses overlapping sliding doors on balconies. For villas he favours recessed windows similar to ones found in mountain chalets in the Engadine, where he often built residences for affluent Milanese.
If his well-to-do clients needed furnishings, the architect already had the answer. In 1947 he started Azucena together with fellow architect Ignazio Gardella and friend Corrado Corradi dell'Acqua. The company, now run by his niece Marta Sala and her sister, makes over 150 objects from sofas to doorknobs, with more than 100 pieces created by Caccia Dominioni over the years and nearly all still in production.
Founded years before the bigger, more famous Italian design brands got their start, the business was a natural offshoot of his architectural practice. Caccia Dominioni adds: "It was not about launching a brand. At times we had problems not having the right interior furnishings so I'd have to invent something new."
Unlike the competition, Azucena doesn't have its own factory, relying instead on a network of artisans extending from the nearby furniture-manufacturing district of Brianza all the way to Veneto. Its funnel-shaped Imbuto lamp, for example, requires half a dozen artisans to make its stem, base and lampshade, then handpaint and varnish it before an electrician puts it together.
"It's time consuming but the quality is there," says Azucena owner Marta Sala. "We've tried laser cutting to make certain parts but we've found the product loses its identity. It's an artisanal process."
Save for a recent project with German designer Konstantin Grcic, the collection centres on seating and lighting that Sala's uncle dreamed up more than half a century ago. The past decade has seen him active too, even unveiling a sleek new wingchair that bears his name. While past orders have arrived mostly from Italy, Azucena's recent converts include well-travelled Lebanese and architect David Chipperfield, who sourced hundreds of pieces for his recent Café Royal renovation in London. "It's more an art gallery than a furniture brand," says Milan architect Tiziano Vudafieri, who has furnished fashion boutiques and a local restaurant with the firm's luxe velvet sofas and shiny brass lamps.
Among Vudafieri's favourites is Boccia, a Murano glass lamp fixed to an iron chain. "It mixes the industrial with traditional Venetian glassblowing. It's quintessential Caccia Dominioni." The light fixture is often found hanging in threes and fours in the foyers of stately palazzos.
One of Caccia Dominioni's most well-known works is actually a public space. The Galleria Strasburgo is a meandering arcade of shops in Milan's centre that was completed in the 1950s, featuring globe lights and a swirling mosaic pavement. His peer Ernesto Nathan Rogers, who built the nearby Torre Velasca skyscraper, accurately summed up the elegant project in a 1959 issue of Casabella magazine by commenting that the urban passageway "stands out as an oasis where the nomad can finally quench his thirst".
Century boy
Luigi Caccia Dominioni CV
1913 Born 7 December in Milan  
1936 Graduates in architecture from Milan's Polytechnic University. Opens studio with Castiglioni brothers  
1947 Starts Azucena with Ignazio Gardella and Corrado Corradi dell'Acqua  
1953 Unveils brass lamp models Base Ghisa, Imbuto and Monachella  
1957 Designs residence in Via Ippolito Nievo  
1963 Finishes apartment tower in Via Massena and monastery complex in Via Farini; unveils Fasce Cromate sofa
1973 Debut of Chinotto low chair  
1981 Exhibits Sant'Ambrogio sofa  
2008 Wins Compasso d'Oro design prize for lifetime achievement  
2013 Azucena opens new Milan showroom  
Imbuto
This 1953 light fixture with a cast-iron base, brass stem and aluminium lampshade has the shape of a stretched champagne coupe. In the same year Caccia Dominioni unveiled a similar model for Azucena but altered the shade to resemble the hood of a monk's habit. The floor and table lamps (Monachella and Base Ghisa) have also become bestsellers.

Catilina
The original version of this slender 1958 oval chair features a lacquered wood seat and body in iron; a steel version is also available. The thin metal bars are welded by hand to form the back and armrests.

Fasce Cromate
Designed in 1963, this modernist sofa has an outer chrome-plated metal frame extending down the sides and back to form upturned feet. Despite its age it looks up to date in contemporary living rooms.

Galleria Strasburgo
In the 1950s, Caccia Dominioni began to work with sculptor Francesco Somaini to decorate his foyers and public spaces with mosaic flooring. In Galleria Strasburgo, strips of marble tile in black, brown, sepia and white form an elaborate swirling pattern.

18 Via Massena
Completed in 1963, this stately residential tower has tapered corners, overlapping balcony-door blinds and an exposed elevator shaft flush with the façade, which is clad in clinker ceramic tiles arranged in a hexagonal pattern.