Kokako / Global
Post Taste
Located in a former post office, Kokako was set up by the owner of a coffee company, who believes in being close to his customers.
You'll find Kokako in a 1940s post office in Auckland's Grey Lynn, a rapidly gentrifying inner-city liberal stronghold. The café opened a year ago – a welcome addition to a once forlorn retail strip at the corner of two major arterial roads. Since opening, Kokako has won a loyal following for its fresh, simple breakfasts and lunches. It's so good, not many realise it's actually vegetarian.
In a city where brunch is a social event, lacking bacon on your menu could be a recipe for disaster. Not here. The café and coffee roaster – the company runs a wholesale operation out of a space adjacent to the café and has its offices upstairs – opened a year ago, after the site had sat empty for close to a year. "I kept driving past and wondering why no one was leasing it," says Kokako's managing director Mike Murphy.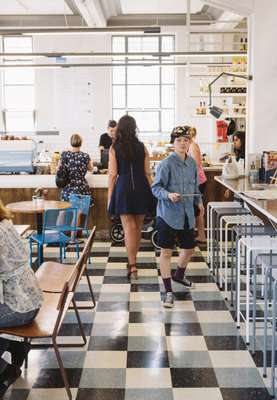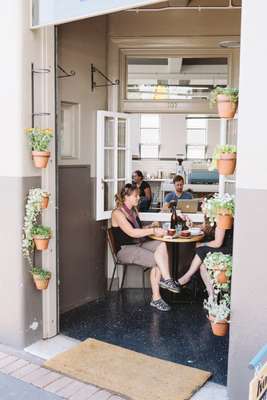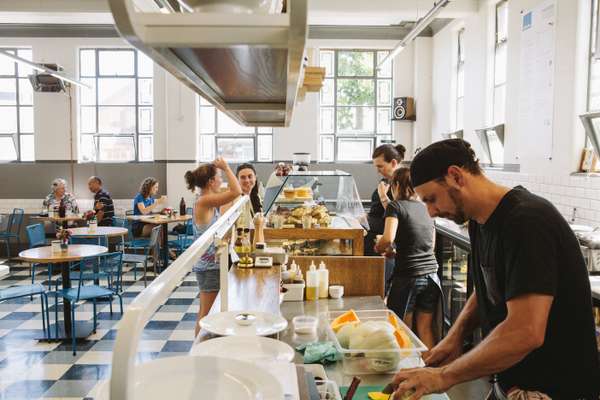 The post office's closure caused an uproar among the community but it's probably fair to say most are pleased with what has replaced it: on any given day there might be a couple of loiterers in one corner nursing hangovers, a business meeting, freelancers tapping away on their laptops and an old lady with a cup of tea. They're all welcome here.
Kokako was Auckland's first organic coffee brand when it started in 2001. Murphy bought the business in 2007 after returning from years in Melbourne. He updated the branding and opened a café in wealthy Parnell – a very different place to Grey Lynn. "At the time fair trade and organics were still very niche. And no one was doing vegetarian food that was contemporary," he says. It was successful but he decided to sell it and a year and a half later he reopened in Grey Lynn, consolidating the various parts of the business on one site after realising how important it was to have a space with which to interact with customers.
Kokako leased the space from New Zealand Post at the end of 2011. Designer Chris Stevens – now a shareholder in the company – stripped it back to its bones, removing decades of ad-hoc additions that had turned the interior into a warren of small, dark spaces, instead exposing beautiful concrete beams, classic metal-framed windows and filtered light. The fit-out was simple: up-cycled timber, demolition windows, custom-made metal chairs based on a 1970s pair Murphy inherited from his father's pharmacy.
It's an open, functional space – the coffee roaster sits front and centre, separated from the café only by a glass-paned garage door if it's needed, so customers can sit and chat as the staff roast the coffee. The kitchen, too, is open. "We wanted this to be an open and transparent environment," says Murphy.
Head chef Rohan Horner changes the menu at Kokako four times a year, in line with the seasons. "We try and keep it simple because there's only one chef in the kitchen," he says. "Simple, easy, accessible." Almost all the produce is organic, and most of it can be traced back to the farm it was grown on – tomatoes come from Curious Croppers, just south of the city, beetroot from Canterbury in the South Island, curd from Waikato cheesemaker Over The Moon – though Murphy recognises their customers are just as often only here for a plate of eggs. "The fair trade and organic thing was very much part of my DNA," he says of the ethical approach. "But I don't think you need to preach to people."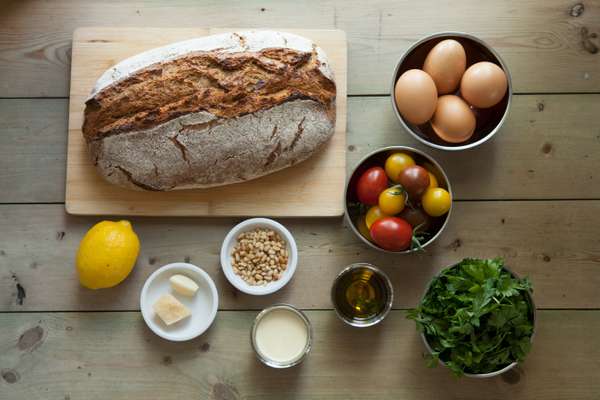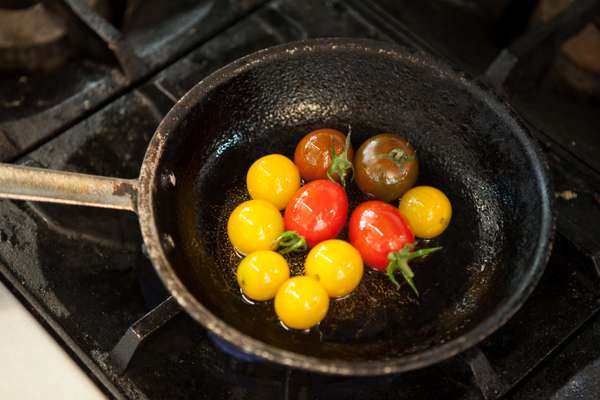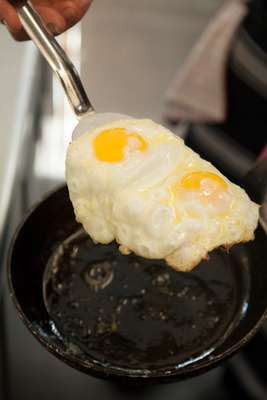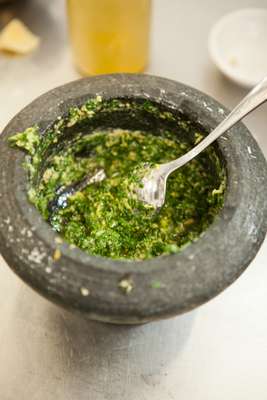 Free range organic eggs with parsley pesto and heirloom tomatoes
Serves 1
20ml olive oil
2 free range organic eggs
20g butter
Sea salt & pepper
6 heirloom vine tomatoes, roasted in a hot oven until the skins are just split
4 slices of sourdough, toasted
The method
Heat a frying pan and add the olive oil. Drop in the knob of butter and melt.
Fry the egg briefly until set, then place in the oven for one minute to finish it.
Parsley pesto
1 clove of garlic
10g pinenuts
15g Parmesan, grated
25g Italian parsley, roughly chopped
1 lemon zest and juice
Salt and pepper
The method
In a mortar, add the ingredients in the order listed and bash with a pestle to make the pesto.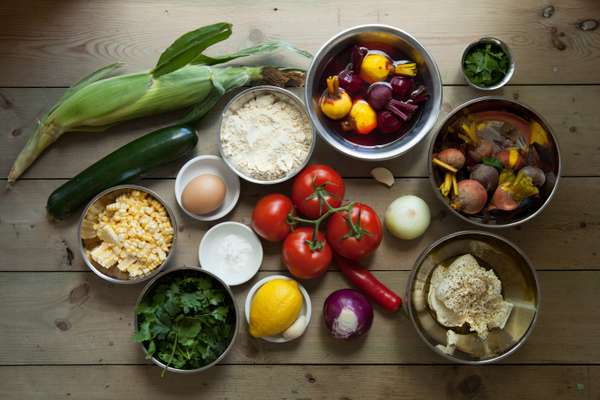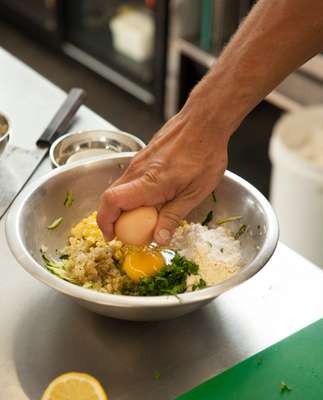 Sweetcorn and courgette fritters with beet salad, fresh curd and summer salsa
Serves 2
1 medium courgette
10ml olive oil
1 clove garlic, crushed
1 medium onion, diced
1 sweetcorn, decobbed
1 egg, lightly whisked
10g parsley, chopped
50g chickpea flour
1 tsp baking powder
Salt and pepper
The method
Grate the courgette into a bowl, lightly salt and set aside.
Heat a pan and add the olive oil. Sauté the onion and garlic and set aside in a large bowl to cool.
Squeeze the excess water from the courgette and add to the onion and garlic.
Add the sweetcorn, egg, parsley, chickpea flour, baking powder and salt and pepper. Mix gently to combine.
Heat a pan, add a splash of oil and add a large spoonful of the fritter mix to the pan to cook. Flip over once lightly golden – about five to eight minutes. Keep warm in the oven while you make the remaining fritters.
Beetroot salad
1 golden beetroot
1 candied or red beetroot
Juice of one lemon
Salt and pepper
Parsley leaves
Olive oil
The method
Grate the beets into a bowl, squeeze over the juice and season with the salt and pepper.
Toss through a few parsley leaves and dress with a splash of olive oil.
Fresh curd
60g fresh goats' or cow curd
10ml olive oil
Salt and pepper
The method
Mix through the olive oil and season to taste.
Summer salsa
2 large vine tomatoes, deseeded and diced
50g red onion, diced
1 red chilli, finely diced
1 clove garlic, minced
10g fresh parsley, chopped
10g fresh coriander, chopped
20ml olive oil
Salt and pepper
The method
Place all of the ingredients together in a large bowl.
Combine gently and season to taste with salt and pepper.