Interiors / Global
Settee slicker
B&B Italia is renowned for its curvaceous and audacious design. We dropped in to its hi-spec hideout near Milan to cast an eye over the craftsmanship that defines its globally expanding business.
"Made in Italy" is a label often associated with fashion, conjuring up images of old-world tailors cutting fabrics by hand. Often overlooked is the country's modern manufacturing base – the second largest in Europe behind Germany – where plenty of businesses push the engineering envelope.
Born in 1966, family run B&B Italia has made its reputation mixing creativity and chemistry to develop a range of attractive and long-lasting furniture. The company has, over the years, perfected an injection-moulding technology using cold polyurethane foam to make sofas, chairs and beds that are firm yet comfortable. It has also collaborated with prominent names in the design world, such as Antonio Citterio and Patricia Urquiola. Staff revisit the shapes on the drawing board to tweak prototypes and 3 per cent of sales are reinvested in R&D each year. "The company is highly innovation oriented," says B&B Italia president Giorgio Busnelli.
Based north of Milan in the Brianza region – home to a cluster of furniture-making firms that have a collective know-how akin to the tech giants of Silicon Valley – the design brand has won four Compasso d'Oro awards, the Nobel of industrial design.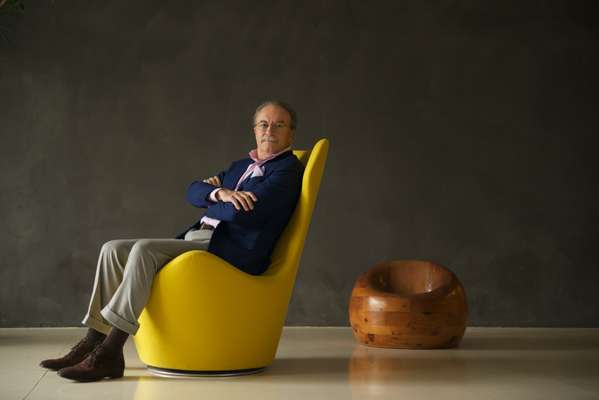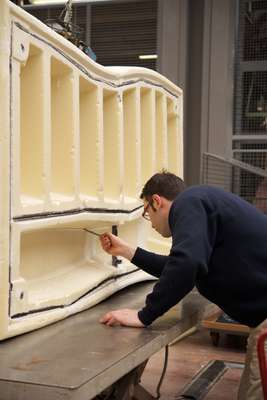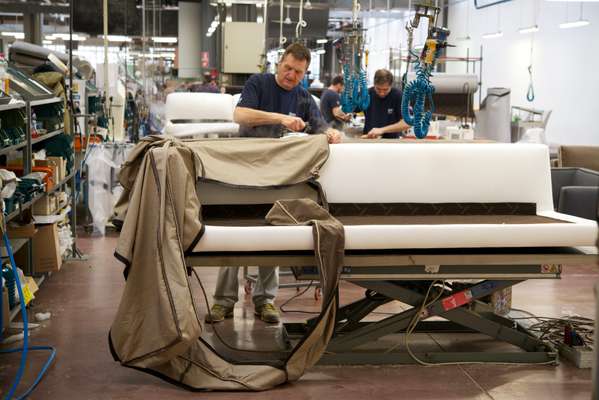 Inside its Novedrate factory – facilities nearby build wood furniture and storage units – the outline of each design is translated into a metal frame that is placed in special steel moulds. A single sofa mould can cost upwards of €60,000. Set onto a slow-moving assembly line, robotic arms pour milky white polyurethane liquid into moulds; once released from its storage tank the chemical solution jumps from 25C to nearly 100C in temperature. While the material expands like rising dough for several minutes, employees seal the container and leave it to settle for up to 30 minutes so it becomes stiff.
Once removed from the mould, the excess foam must be trimmed manually with a grinder before a piece can be moved to the upholstery department. To protect the foam and add softness, furniture is wrapped in a layer of Dacron padding before being covered in leather or fabric, with material secured in place using Velcro to make it easy to remove for cleaning. There's an old-school finishing touch as workers pass warm irons over fabric to eliminate creases.
www.bebitalia.it
---
Giorgio Busnelli
President
B&B Italia
What is the advantage of being a family run business?
I see it as a big plus, especially in a difficult climate like today's. On the one hand, there's a long-term vision; on the other, there's a flexibility and speed in decision making to respond to ever-changing conditions in different markets.
How important is it to be Made in Italy?
It's essential to protect manufacturing in Italy. Our know-how (for example, cold polyurethane foam-moulding technology) distinguishes us in the global marketplace. We use complex technologies that are hard to replicate elsewhere. 'Made in Italy' is a mark of excellence – we should even say 'Made in Brianza' to take into account the network of highly qualified suppliers located around us in the Brianza region.
Given the present crisis in Europe, where do you see growth?
Exports make up a significant share (83 per cent). Given the growth rates, the goal for 2013 is to expand in emerging markets to lay the foundation for the long run. Recent store openings include Bangkok, Taipei and Beijing, and flagships will open in Mexico City and Belo Horizonte, Brazil.
Why B&B Italia figures on the global premium furniture market
€150m revenue in 2012
79 countries where products are sold
1,500 pieces of polyurethane foam furniture produced weekly
500 employees
32 B&B Italia showrooms worldwide
---
Ray sofa, Antonio Citterio's modular sofa system, designed in 2010
Bend sofa, Patricia Urquiola's curvy sofa, set from 2010
Charles bed, based on the Citterio sofa with signature L-shaped feet, launched in 1997