ISH fair / Frankfurt
Taps and tales
From toilets and baths to energy-efficient heating systems, the world's biggest sanitation trade fair is where you'll first see the technology that eventually makes it into our bathrooms. Monocle pays a visit.
Every two years in mid-March, a cluster of well-heeled industry insiders, from bathroom designers and technology geeks to international sales experts and property management moguls, head to Frankfurt for International Sanitation and Heating (ISH), the industry's largest trade fair. It's where producers and buyers from all over the world come to observe the latest in the water and energy industry, from sustainable sanitation solutions and bathroom design to heating and renewable energies.
Over five days Frankfurt becomes the converging point of about 2,400 exhibitors and 250,000 visitors. For more than half a century ish has been spreading itself across Frankfurt Messe's 10 exhibition halls. Taking up over 355,678 sq m and with an adjoining Congress Center, it is one of the largest exhibition venues in the world.
Despite the jumble of international participants, ISH remains a very German affair with half of the exhibitors coming from the country (and a big showing from across the border in Switzerland). "Germany has always been a technology leader," says Iris Jeglitza-Moshage, vice president at Messe, "bathroom design and innovation is no exception." She is certain that the fair is a true reflection of the current state of the global economy: "We've always had a strong presence from Europe and the US but visitor-wise, this year there is a rise in interest from the Middle East and Southeast Asia," she says.
Testament to this is Duravit. Well-established in Europe and North America, the German giant is now expanding in the Middle East and Latin America, namely Brazil and Argentina. "We've been developing our distribution network in these markets for the past couple of years; these are the places where property and construction is on the rise. Therefore, it is rational for us to enhance our presence there," says Albrecht Graf von der Groeber, chief of international sales at Duravit. True to its Leben im Bad ("living bathrooms") motto, the company was awarded best bathroom series for its Happy D.2 collection, an update of the original 1998 line.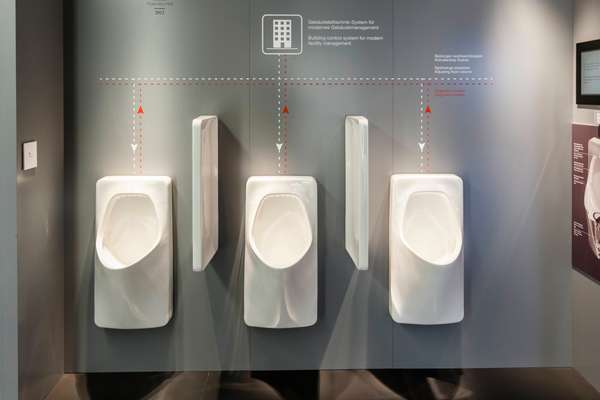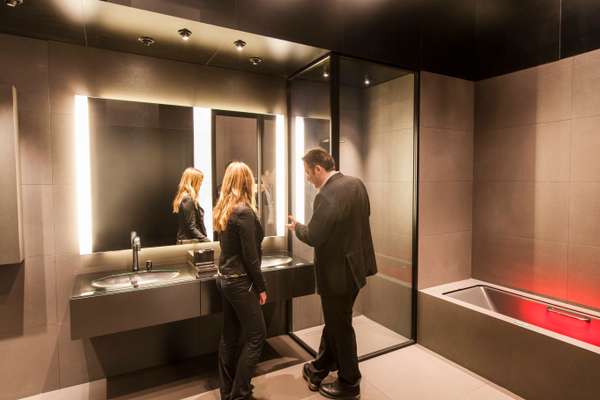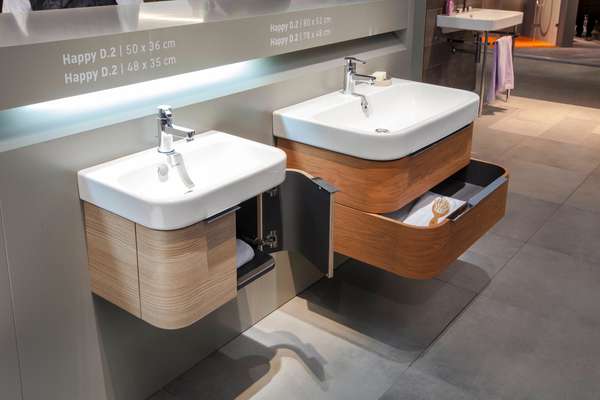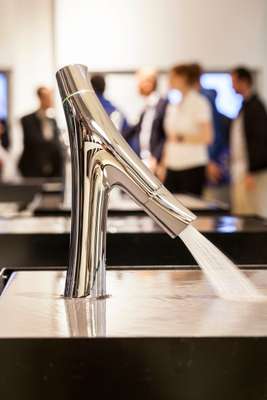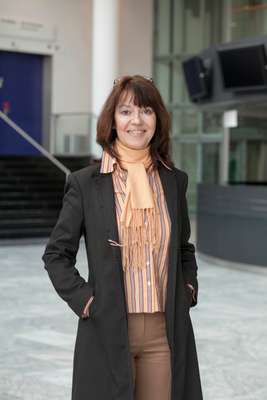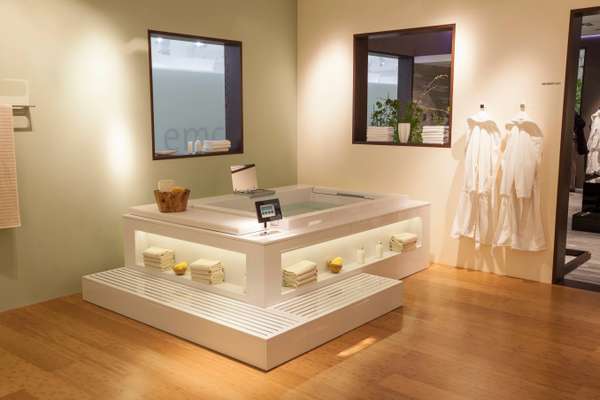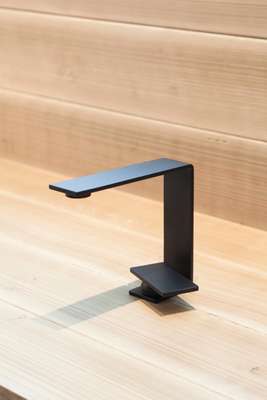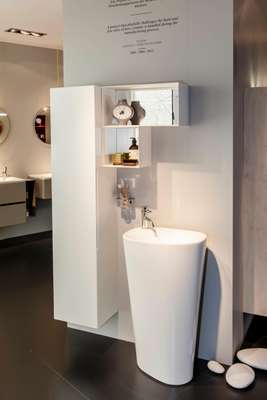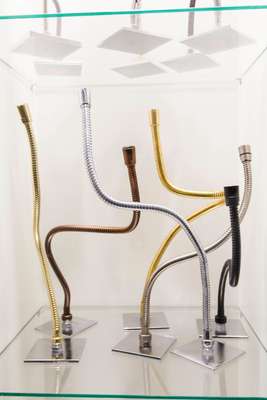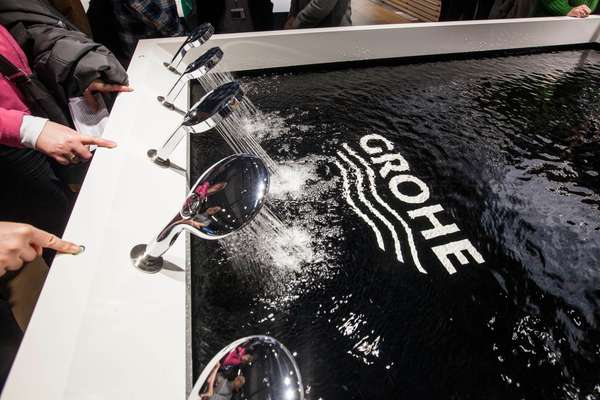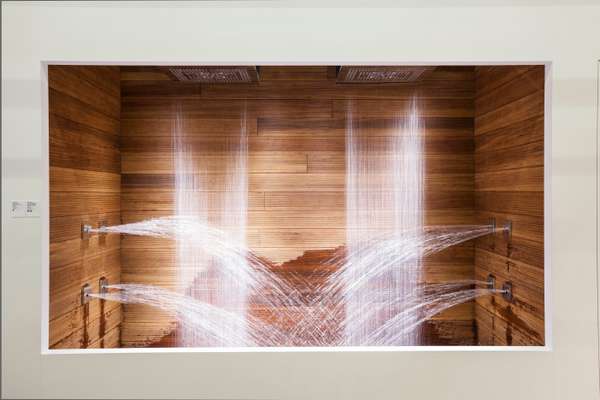 However, ISH is not all toilets and bathtubs. This year all eyes were on renewable energy and water efficiency, with Hansgrohe's iBox Ecostat thermostat, Rubinetterie 3M water mixers and GROHE's filtration systems all distinguished for their efforts. While most cities might need 20 years to catch up with the latest sanitation technology, ISH will continue setting new efficiency standards and the well-mannered staff will keep serving chilled pints of Apfelwein.
---
1960: ISH premiered 53 years ago, happening every two years. There have been 27 editions so far.
10: the number of Messe's exhibition halls.
2,434 exhibitors from 56 countries came to ISH 2013.
250,000: average number of visitors to each edition. The first four days of ISH are open to industry insiders only, while the fifth and last day welcomes the general public as well.
2 international editions of ISH are held in both Shanghai and Beijing once a year.
---
Founded in 1958, the Iserlohn-based firm specialises in hoses, hose-connectors and sanitary appliances.
www.kottmann.eu
Laufen's new revolutionary SaphirKeramik material allows its washbasins to be modelled with delicate walls just 1mm to 2mm thick.
www.laufen.ch
03
Rubinetterie Treemme
Italy
Siena-based Rubinetterie Treemme has been making taps (from casting, plating and painting to assembly) since 1968. We like the new slim 5mm line.
www.rubinetterie3m.it
With over 30 million pieces sold all over the world, the Japanese firm remains a leader in the washlet sector.
www.toto.co.jp
Focusing on bathroom digitisation, Dornbracht's new Sensory Sky system adds lights and fragrances to the showering experience.
www.dornbracht.com
With resource conservation being a key topic at ISH, Roca is blazing a trail with its dual operating plates.The electronic flush works automatically or manually, to help save water.
www.roca.com
The bathroom ceramics giant's new ViClean Ultimate bidet toilet uses the TOTO Washlet technology offering adjustable washing functions.
www.villeroy-boch.com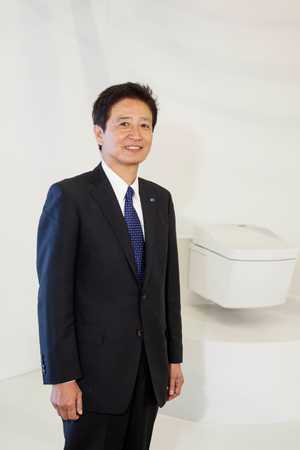 Q&A
Hiromichi Tabata
Director, senior managing executive officer, TOTO
Japan
Tell us more about TOTO's latest washout.
It's the next generation of our famous washlet. I call it "the king of toilets" as it is very hi-tech and energy efficient. It also cleans itself using a special highly hygienic mist. It has TOTO's signature simple design and comes with a self-warming and sensor-activated toilet seat lid.
TOTO has been around for almost a century, launching its first washlet in 1980 in Japan. What's your take on Europe's bathroom market?
We introduced TOTO to Europe about four years ago, after selling over 30 million of our signature washlets. Back then, we were among few in Europe to offer this type of product. Now we notice that there are more companies investing in similar toilets. This is good for us. Good to see we inspired others, but it also keeps us active and at the top of our game.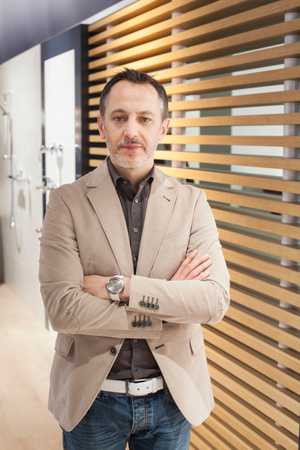 Q&A
Paul Flowers
Senior vice president of design, GROHE
Germany
GROHE is renowned for its shower heads. What are the latest designs in this field?
We've always been driven by the belief that good design has to also assure high performance. The latest shower heads from the Power & Soul series offer a choice of 11 spray patterns. As we want to be as water efficient as possible we also work towards creating designs that would cover larger showering areas.
Speaking of water saving, what else is GROHE doing in this direction?
We've just introduced the new Blue Mono water filter system – filtering, chilling and providing sparkling and still water. We want to give consumers a viable alternative to drinking bottled water all the time, which is horrendous for the environment. Just one plastic bottle takes up to seven litres of water to make.