Colourful character / Buenos Aires
Dieter Meier
As well as being the front man of Swiss electronica band Yello, Dieter Meier grows hazelnuts and owns three restaurants – one of which is Ocho Once.
"My father came from a very difficult background. He was the ultimate self-made man who became a banker and got involved in all sorts of entrepreneurial ventures. He was so focused on his job that food for him was really just about energy and never a great issue. My parents weren't pushy though, and they gave my brother and me a lot of freedom.
As a young boy growing up in Switzerland, Wiener Schnitzel was the ultimate restaurant dish. Another favourite was sausages, which we do pretty well. One of our specialities is a sausage salad made with cervelat and sliced onions, dressed with oil and vinegar. There's a tradition in my country of going for a hike on Sunday afternoons with the whole family. At around 16.00, after several hours of boring walking, the real goal is getting to the restaurant and feasting on this sausage salad. I remember washing it down with Vivi Kola, Switzerland's Coca-Cola equivalent, in the 1950s.
I like simple food: a piece of bread with sardines, for example. When I cook, I try to let the food speak for itself. So when preparing sea bass, you just have to help it along. If cooked the wrong way, the delicate flavours can be destroyed.
My speciality is looking in someone else's fridge and improvising. I love working with what's around me. When I'm on the farms that I have here in Argentina I never use a cookbook and always improvise. This is what my life is all about: trying new things. Like being in Patagonia, in the middle of nowhere, and planting hazelnuts.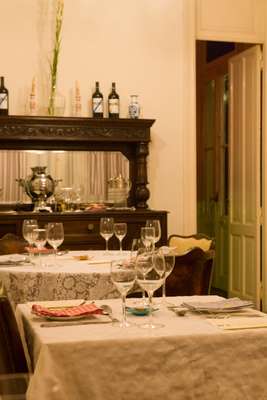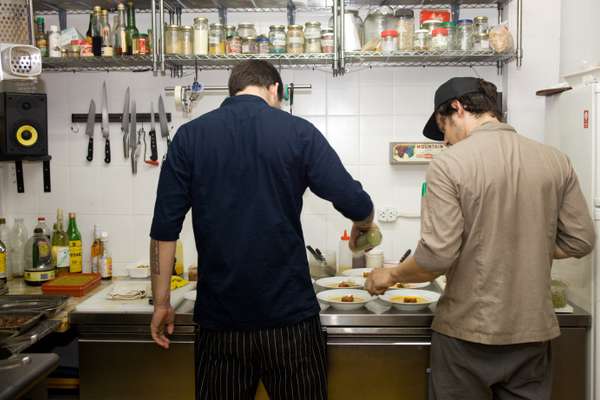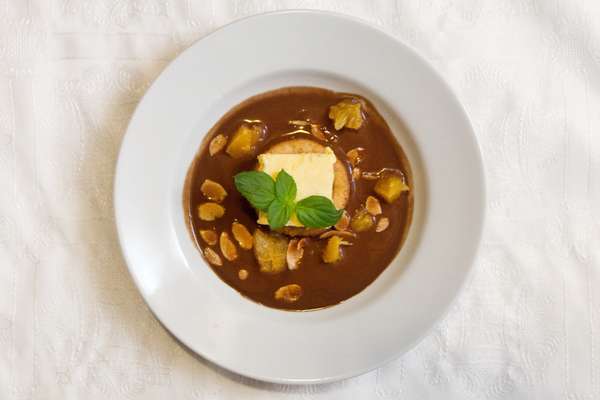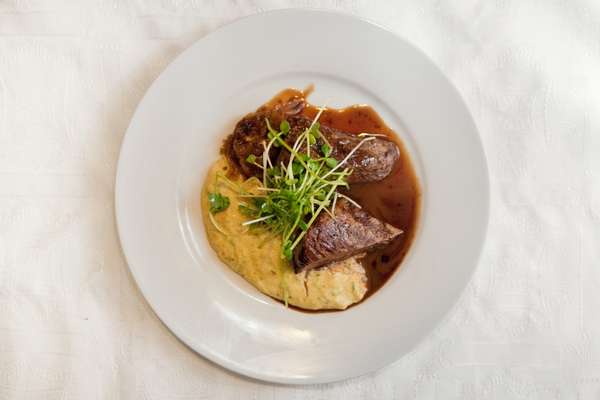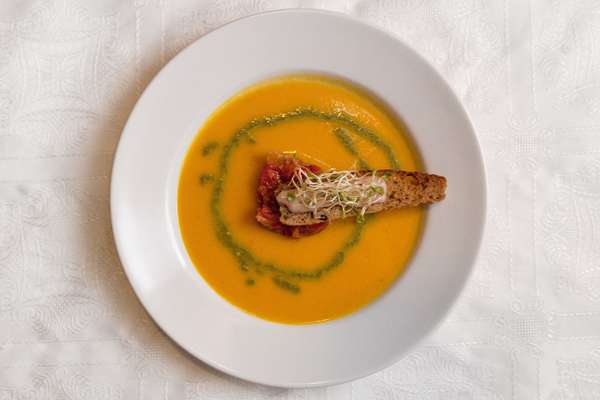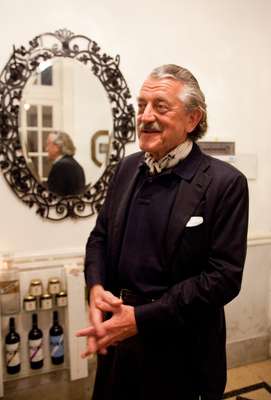 Lots of musicians know what they are doing and what they want to be in the business. Boris Blank – my partner in Yello – and I were the total opposite. We did it to learn about ourselves. We never intended to have a music career. Our first real hit was "Bostich" and overnight we had suddenly cracked the US.
The thing that Boris enjoys most in the world is being in the studio at 09.00, going for lunch at 11.53, returning to the studio at 13.00 and then leaving at 17.00. When he showed me this backing for "Bostich" I came up with this idea of singing it all with one note. He didn't like it at all. But I only had one track left – nowadays you have almost endless tracks to record – so this was it, or else we had to erase it. Boris wanted to wipe it immediately; I was happy with it. We were discussing it and then, thank God, he went for lunch at 11.53 on the dot and the track stayed.
I love interesting combinations of flavours like here at Ocho Once, which has a five-course set dinner menu. Chef Gonzalo has worked with the top chefs in New York and Paris, and combines contemporary French cuisine with indigenous Argentinean influences, with lots of local herbs and spices.
For my last meal here, I'd have to invite Peter Sloterdijk, a German philosopher whose thinking I share, Harald Falckenberg, the collector and curator at one of my art exhibitions in Hamburg, Prince Hubertus von Hohenlohe, who knows how to poke fun at himself, and Marcelo Pelleriti, my head winemaker. Plus my most wonderful wife Monique and all my children. And, last but not least, my partner in Yello for the last 35 years, the incredible Boris Blank. He'd definitely show up on time!"
Dieter Meier was born in Zürich in 1945. He built a reputation in the late 1960s as a conceptual artist and videographer before forming electronica band Yello with Boris Blank in 1979, best remembered for hits "The Race" and "Oh Yeah". In addition, Meier has published several books, owns two restaurants in Zürich and one in Buenos Aires (see below) and is co-proprietor of a watch company. The owner of four farms in Argentina, he also produces organic wine and premium beef, as well as growing hazelnuts.
Owned by Meier, Ocho Once – a French-style townhouse with a leafy patio – is a closed-door restaurant in the Palermo Hollywood neighbourhood of Buenos Aires that has been open a year. The closed-door concept has taken off in the city in the last few years: eateries are unmarked, tables are by reservation only (publicity is usually word-of-mouth) and the menu is fixed.
To eat:
Chilled carrot-and-orange soup with tomato tartar;Prawn dumplings with scallop salsa;Turkish lentil terrine with tomato granita; Bife de cuadril (Argentinean steak) with creamed polenta and cognac sauce; Orange parfait with hot chocolate soup
To drink:
Puro Corte d'Oro 2010
Carrot-and-orange soup
(Serves 6)
1kg carrots, peeled and diced
1 white onion, thinly diced
2 leeks
2 spring onions
1 stick celery, diced
4 oranges
1 lemon, juiced
1 small cup anisette
1 litre vegetable stock
25g ginger
Salt, pepper and sugar to taste
The method
In a casserole dish, fry onion, leeks, spring onions and ginger with olive oil on a low heat until they start to change colour, then add celery and carrots.

Add salt, pepper and pinch of sugar; allow to caramelise for a few minutes.

Add anisette and cook until it evaporates; add stock and cook for 20-25 minutes.

Add and mix in juice from four oranges and zest from two.

Pour everything into a food blender and whisk, adding a few drops of lemon. Season to taste; serve hot or cold.