Food / Global
Food
Briefing
A teashop in Tokyo, our favourite coffee makers, a New York wine merchant and a star dish from London.
Palazzo Peckham at the Venice Biennale
The chef at London's Brunswick House Café, Jackson Boxer, is creating Palazzo Peckham, a pop up restaurant in a disused boat yard that will be part of the Venice Art Biennale. Art lovers can pop in for a menu of jerk pork belly, rosemary fries and habanero braised short ribs.
palazzopeckham.com
It isn't easy to find Hitoshi Akahori's tea shop, opened in 2010 in an old wooden house on a backstreet in Tokyo's Yanaka district but it's well worth the trek. Akahori, 45, specialises in teas made from leaves grown in Kakegawa in Japan's central tea-producing region of Shizuoka and packaged with his own beautiful labels. He sells seven types of tea, from Tezumi, a prized green tea made with hand-picked new buds, to everyday sencha teabags. All of Maruni's green teas use ichiban-cha, the first of the year's four harvests, considered the best. "The idea," says Akahori, "was to draw out what's most attractive about Japanese tea and find a way to target younger generations."
maruni-tea.com
Jess's Ladies Organic Farm Milk
Gloucestershire, UK
Unlike industrial dairies, Jess Vaughan (pictured) and her father Mike know each of their 80 cows by name and the milk from their organic dairy is on the shelf within 12 hours of milking.
Jess is the third generation of her family to produce milk from this land, which was first farmed by her grandfather with just three cows. The senior of today's herd is 14-year-old Milka, who Jess describes as a bolshie and reserved old-lady cow, is something of an enigma in an industry where most milking cows only live until an average age of five. "Our cows live a stress-free life with access to pasture and we usually use homeopathic and organic remedies when they are sick rather than instantly using antibiotics," says Jess. Whereas most supermarket milk is homogenised to give it a longer shelf life – milk from Jess's Ladies is untreated as nature intended and is wonderfully creamy and full-flavoured.
theladiesorganicmilk.co.uk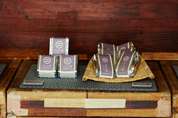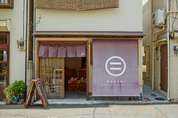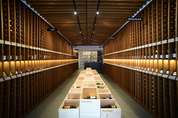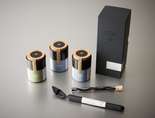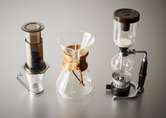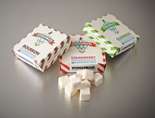 Sit back and savour Monocle's top three tips for getting the most out of your daily grind.
Aeropress
A French press without the mess, this coffee maker brews a mean cup of Joe and is as easy to clean as it is to use.
aeropresscoffee.co.uk

Chemex
Unchanged for 70 years, this vessel – a design classic on permanent display at MoMA NY, no less – is simple and elegant. Details include a polished wood collar with a natty leather tie.
chemexcoffeemaker.com; thehomeonline.co.uk

Hario
In the drinks market since 1950, Japanese specialists Hario has been perfecting its heatproof glass since the early 20th century. With a little heat, this coffee siphon creates a vacuum that brews an unadulterated, pristine cup without boiling the water.
hario.jp; ozonecoffee.co.uk
To celebrate its 150th anniversary, luxury French porcelain manufacturer Bernardaud has collaborated with 12 artists, including Jeff Koons, David Lynch and Sophie Calle, to come up with dinnerware designs.
bernardaud.fr
Star dish
The Bull and Last
London
Ollie Pudney's pea-fritter salad is a British take on a summer staple. The head chef and co-owner at Highgate's The Bull & Last pub makes a chunky English pea purée, which he fries in a light tempura batter and serves piping hot on a bed of fresh goats curd with watercress, pea shoots and shallots.
A scattering of nutty Jersey Royal potatoes and a Cabernet Sauvignon vinegar and olive oil vinaigrette completes the deceptively simple but hearty creation, perfect before or after a walk across the picturesque Hampstead Heath opposite.
thebullandlast.co.uk
Profile
02 Olive Oil
Naupaktia, Greece
"Ours is the purest form of olive oil you can get," says O2 founder Kostas Theodoropoulos (pictured) of his Extra Virgin Olive Oil from Naupaktia in central Greece. Each label shows when which field the olives were harvested and even the time of bottling. "Olives picked at 08.30 are in our mill within two hours," says Theodoropoulos.
o2oliveoil.com
Started in 2011 by Nathan and Jenn Clark, boutique confectioner Wondermade has ditched bland campfire marshmallows to develop adult flavours including Bourbon and Carrot Cake. Artificial ingredients are shunned in favour of kosher gelatin and pure cane sugar. "We want to turn it from something everyone likes to something they love," says Nathan. The treat ships in beautifully embossed 16-cube boxes.
wondermade.com
Pfeffersack und Soehne
Koblenz, Germany
This Koblenz-based firm specialises in rare, organic herbs and spices, from exotic Madagascar jungle pepper to fragrant lavender flowers, sourced from both home and abroad.
The brand's opaque ceramic canisters keep sunlight out and flavours fresh; for storage, Bavarian woodworkers Klotzaufklotz have produced a spice rack made specifically to their dimensions.
pfeffersackundsoehne.de
NoLita Wine Merchants
New York
It was only a matter of time before a seriously stylish Manhattan wine shop arrived. Set on historic Mulberry Street, the snug, spare NoLita Wine Merchants was designed by Harry Kendall of NYC-based BKSK architects. The space presents wines cradled in individual wooden slats for easy selection. Wines are a selection of classic Spanish, Italian and French estates augmented by New World newcomers.
nolitawinemerchants.com
Top sellers:
01. Carlos Basso Dos Fincas Malbec 2012, Argentina
02. Broadside Cabernet Sauvignon Margarita Vineyard 2010, California
03. Domain Dupeuple Beaujolais 2010, France