Thai music scene / Bangkok
Fresh beat
J-pop and K-pop, step aside: Thailand's indie scene is taking to the stage with a new wave of young bands doing their own thing – and doing it well. Monocle signed up for front-row tickets.
They are the darlings of Thailand's burgeoning indie scene, a trio of beautiful 20-something self-taught musicians who harmonise over grungy chords, have a solid Japanese fanbase and count Whitest Boy Alive frontman Erlend Øye among their producers. In a nation long known for producing copycat J- and K-pop, Yellow Fang are the band giving Thailand what it's always wanted but never been able to produce: the clout to break its own musical ground.
Yellow Fang have no manager nor label. Regulars on Thai TV and radio, the girls know a social-media presence is the biggest ask of them, especially in an industry hugely dependent on digital sales. That means a band page, clickable songs and downloadable tracks. "Right now, we're really OK without a label," says lead singer Pang Metchanun.
"We finished recording our last album without one, we have our own recording studio and we book all our shows through Facebook. I guess the only thing we could use is a manager – you know, to help with touring." While the indie-pop scene is still small enough that everyone knows each other, bands such as Yellow Fang have helped it grow substantially in the past few years. Thai music lovers regularly turn out en masse for pop sensations such as Lady Gaga and K-OTIC – a K-pop styled Thai boy band with Korean-style good looks – yet slowly but surely they are trickling out to the smaller indie gigs, too.
Lyrics are hugely important in Thailand, where the vast majority of people like to sing along to the saccharine love ballads that almost every pop band seems to produce. "The main targets are high-school kids, who love this stuff," says Tat Bunnag, a pop columnist who doubles as the bespectacled lead guitarist of 1960s-inspired garage rockers Basement Tape. "But the music always follows a formula. Thai people love drama and teens these days are dominated by K-pop, Korean culture and TV. They don't care about the music. They want the songs to have a subject, object and conclusion about love: we fell in love, you broke my heart but I will always love you." He grimaces into his gin and tonic.
As foreigners begin to tap into Bangkok's burgeoning indie scene the music also opens up, often with Thai-farang (foreign) bands that sing in English and Thai. Electropunk band Futon was perhaps the greatest example of this back in the 2000s, with Thai frontman Gene Kasidit singing in Thai and Suede's English drummer Simon Gilbert keeping up the beat.
A decade on, there are regular indie-pop nights out such as Popscene, while the city's younger bands enjoy flirting with Thai melodies and English lyrics. "If we could sing in Thai that would make a huge difference to our fans," says pop quintet Colonial's pretty frontwoman Thip Penpayap, 24, from the leafy downtown home she shares with her family. "People would remember the songs and sing along – but I can't sing in Thai! I sound terrible, like I'm singing karaoke." She laughs as her band members, all of whom met while studying architecture, nod in agreement.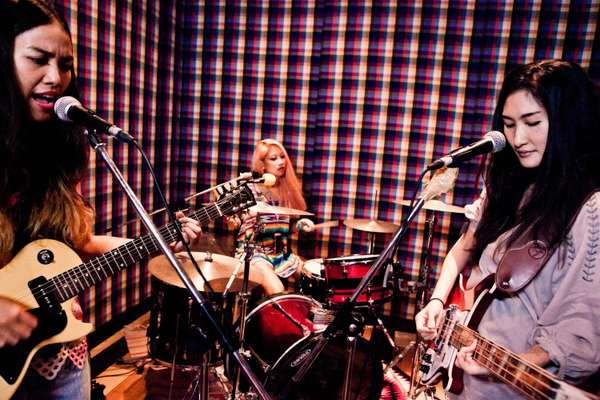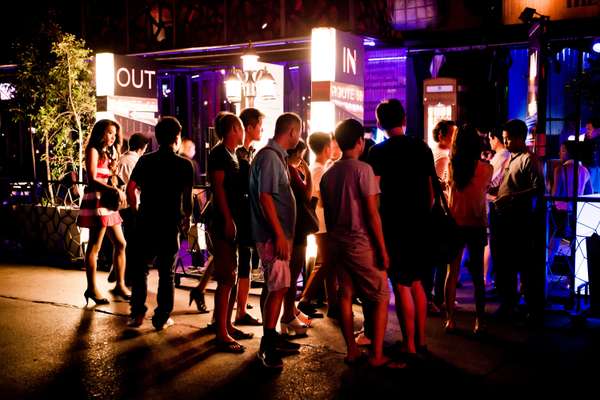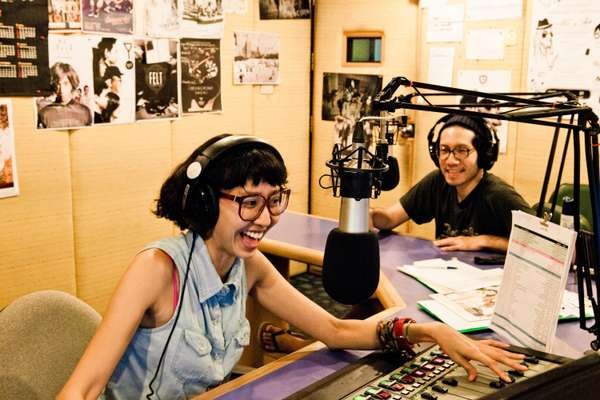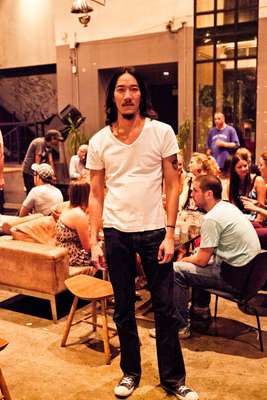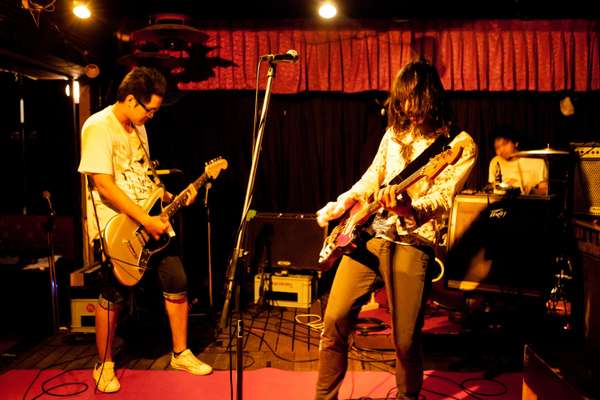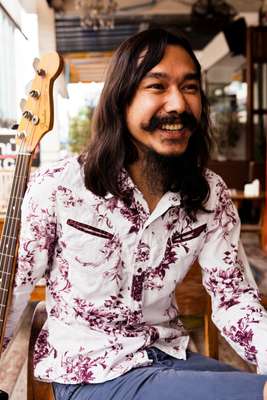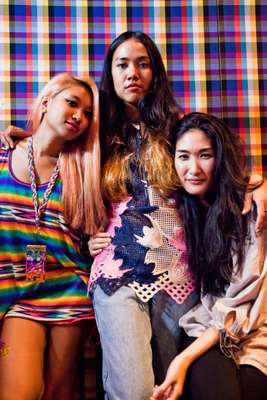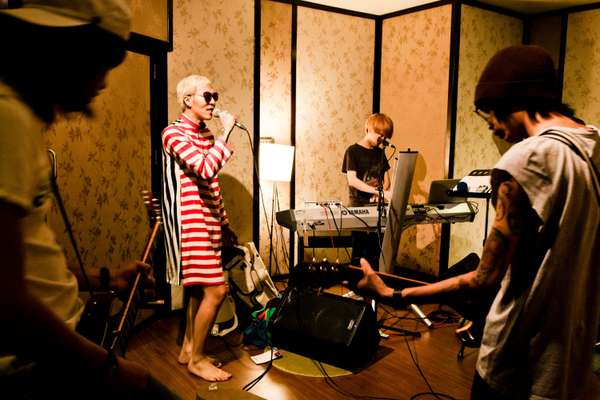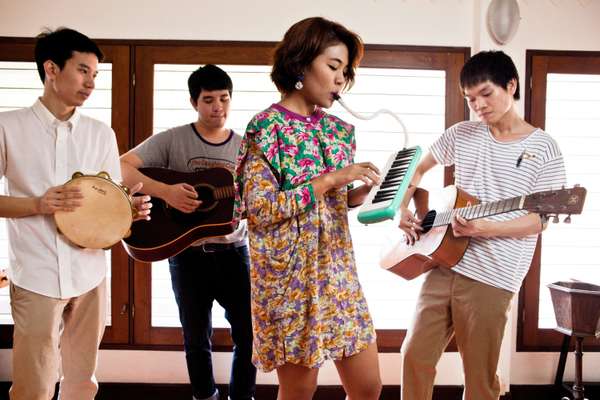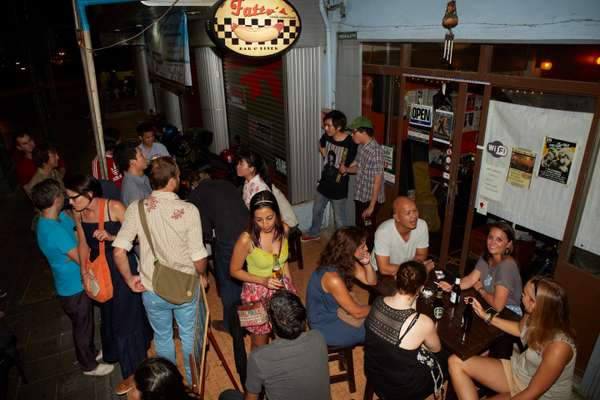 There are many more bands these days content to make music for themselves rather than fitting a formula. One such group is the Apple Girls Band, who played together in their university jazz band. Now their shtick is only playing music on iPhones and iPads. To say they are popular is an understatement: each of their seven singles has circulated within the top 15 on Fat Radio, Bangkok's station dedicated to both signed and unsigned pop and indie-pop acts. The quintet is a regular at festivals and uses singer Walnut's expertise as a voiceover artist and copywriter to their benefit, writing catchy tunes while starring in commercials for things such as soymilk.
Today the girls are dolled up in fake eyelashes and aquamarine blouses and skirts for a viral bottled-water advert. The set is a huge glass-and-concrete mansion in north Bangkok that would not be out of place on Malibu Beach. "We are all so real – we can be ourselves in this band," says lead singer Walnut when asked why her group is so popular. "People like us because we make them happy. I write positive songs. I want to encourage people."
Producers can still have a difficult time finding new acts, says Wannarit "Pok" Pongprayoon, a lanky 36-year-old with a handlebar moustache. Much of the music coming out of Thailand these days still "isn't music – it's a product for sale", he says. As the founder of Panda Records, Pongprayoon has helped numerous young indie bands cut their teeth (and has sometimes lost them to bigger labels). He also plays in three of his own bands (among them the popular Stylish Nonsense, who toured Europe in May), and teaches music production at a local Bangkok university, where he scouts for upcoming talent. "I'm looking for bands who are playing to be creative and aren't just interested in making money," he says.
If nothing else, Thailand's mushrooming indie scene is an outlet for creative band names. Bedroom Studio, Fat Radio's weekly show dedicated to playing music from unsigned bands, regularly gives airtime to groups such as Gods Fried Bananas, No Pop Music in Pop Band, The Bear Knuckle Uppercut, Make Me Fat and Brown Frying. DJ Rit sifts through this mp3 "indie playground" to find "the sound" that will make the final cut. "We get material sent in from pretty much everyone: high-school students, college grads, house bands, teachers, ad-agency executives, you name it," he says.
Rit's colleagues Plenoi and Palm, who comprise the nightly indie-pop show p-2, are in charge of playing the slightly more popular bands who have circulated already on Fat Radio, among them Colonial and Yellow Fang. Their music director creates the daily track listing for their shows but they can cut and paste acts into any of the appointed time slots; Plenoi drags Yellow Fang's Valentino into the fourth slot to prove the point. "We have a lot of talented musicians here in Thailand who never have a chance to present themselves," she says during a break. "If there were no Fat Radio then no one would know most of these bands."
Palm swivels around in his chair to express his disbelief. "Nobody listens to Fat Radio anymore, because everyone listens to social media instead!" he bellows. "I've been doing this for 14 years already. I'm in the wrong business – radio's dying out!"
But just down the stairs and across the plaza is Bangkok's busy rca: Royal City Avenue. It's a street devoted almost entirely to music production, with clubs and outdoor cafés showcasing underground acts – and many bands who became big on Fat Radio are belting out tunes on the over-amped mics.
"Fat Radio really supports us," yells Kong Suvarnapradip, the tall ponytailed owner of Cosmic Café, the city's most famous spot for punk, indie and underground live acts. Delphic, fresh from a show just a few doors down, wander into the bar and order beers. "I love this kind of scene. Fat Radio is there [he motions behind him with his hands] and we're just here."
Twenty minutes later, DJ Plenoi comes in having finished her show and orders a Singha. It's Monday night and Cosmic is packed with singing and dancing revellers. "I'm out right now," she yells at her ringing mobile phone. "I'm having fun!"
---
GMM Grammy is the mother of all Thai entertainment conglomerates. It presides over 18 record labels and claims a 70 per cent share of the entertainment market, from TV and radio to concert production, publishing and A&R. Acts include pop, Thai country and top 40 stars, among them Bird Thongchai on White Music (who regularly wins "most-beloved artist" awards) and Potato on WerkGang (who won 2011's best rock artist/song award). Music revenue for 2011 was THB2.85bn (€73.6m).
RS Music is another massive Thai entertainment brand, which also oversees radio, TV and film production, as well as seven music labels. Acts include K-pop inspired K-OTIC and J-pop wannabes Black Vanilla. The brand recently pushed for a new digital marketing strategy to help beat CD piracy, and expected to reach THB500m (€12.9m) in digital music revenue for 2012.
---
Channel 3's The Voice pits four coaches against each other in the search for Thailand's hottest new superstar. The coaches sit with their back to the stage (yes, it's that global TV format bought in) and only turn around when they've decided to mentor the performer. They then join up with their chosen singer: heartthrob pop-star Kong Sangkapricha becomes Team Kong, for example.
The Star, produced by GMM Grammy, is another reality TV show that divides Thailand into regions and pits singers against each other. Winners can go on to grace Thailand's pop charts; last year's winner Dome, 21, has since signed a contract with GMM Grammy.