Design deconstructed / Dieren
Giant leap
Dutch company Gazelle has been making beautiful bicycles since 1892. As the firm pedals into the 21st century with technical upgrades and a move into e-bikes, Monocle was talked through the tried and tested methods of a cycling trendsetter.
Strolling around Dieren in the pretty eastern Netherlands, eagle-eyed cycling aficionados might spot a 2014 model Gazelle bicycle being pedalled around. The town-bike company, owned by transport firm Pon, gives its prototypes to expert testers: the men and women who work in its factory. The firm has been in its beautiful art nouveau premises since 1892 and has long been integral to town life, building houses for its workers, organising races and running professional courses so that Gazelles are well maintained wherever they go.
The frames have been made in Taiwan since 2005 while other parts come from the Netherlands and elsewhere in Europe. Back in Dieren, everything is quality controlled and receives at least four coats of paint at the start of a long assembly line before reaching the decal department and, lastly, road testing.
The Toer Populair started the trend for the relaxed upright riding position typical of Dutch bikes and has remained largely unchanged since 1910. However, Gazelle also has sophisticated r&d facilities and is moving into e-bikes; other innovations include a "Switch" stem that easily adjusts the handlebars to a sporty position and a light integrated into the front mudguard.
"Many people here have worked for us for 40 years – they have a huge Gazelle heart and we like the links to our heritage," says Karel van Wesemael (pictured, on left, with Ferdi Ertekin), in charge of product management. "Styling has always been one of our successes. It's essential to make parts into a beautiful whole."
Employees: 550
Gazelles produced annually: 300,000
Production line: the 14 millionth Gazelle rolled off in January 2013
Netherlands dealers: 1,400
Sales of e-bikes: almost 16 per cent of new bikes sold in the Netherlands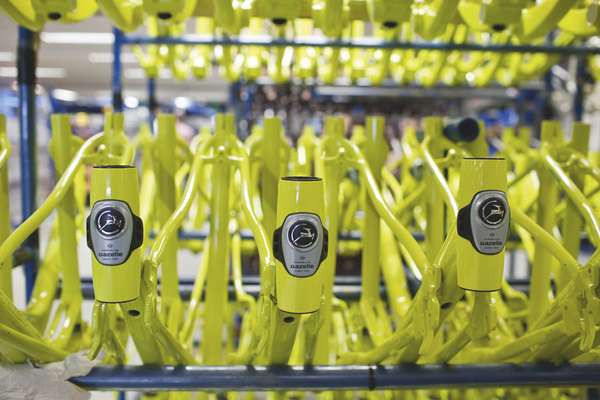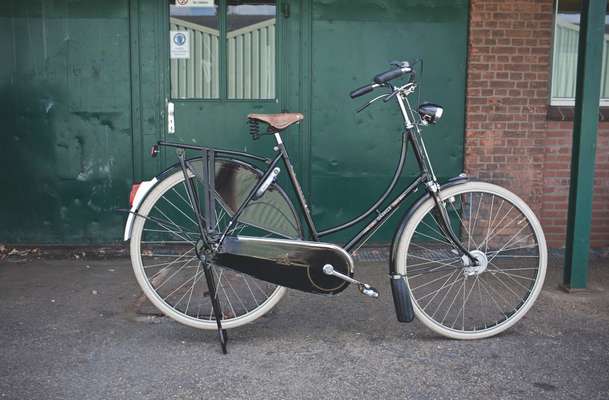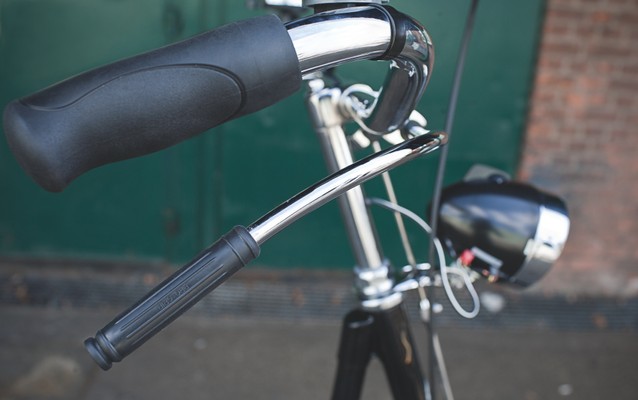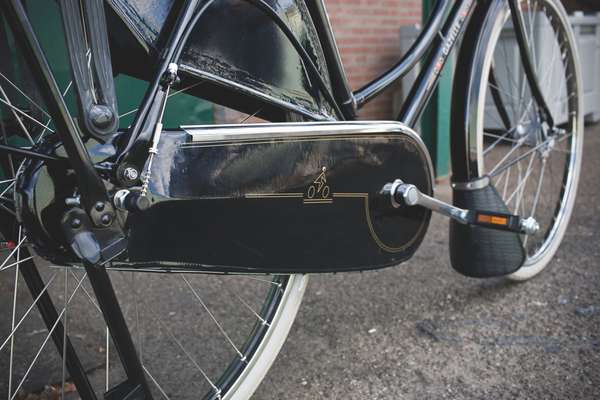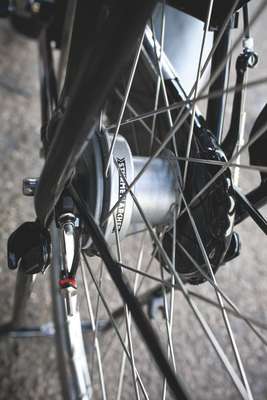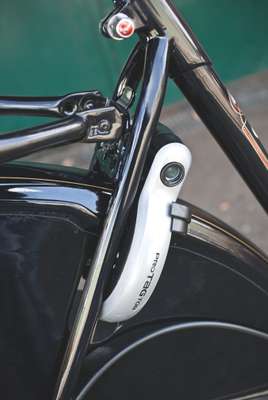 Retail
Beyond the Netherlands, Gazelle's most important markets are Germany, Denmark and Dutch-speaking Belgium. It sells solely through independent bike dealers rather than large chains as it believes that bike set-up, personal service and the relationship between shopkeepers and their customers are all of paramount importance.
Bike culture
Cycling is a major part of daily life in the Netherlands. Drivers are unfailingly courteous to cyclists when they meet – which is not very often, given the large number of separated bike lanes. In Amsterdam, 35 per cent of inner-city journeys are by bike.
Marketing
In the 1930s Gazelle worked with graphic artist André Vlaanderen to produce distinctive advertising and Piet Pelle op zijn Gazelle (on his Gazelle) is a famous cartoon advert for children's bikes that still brings a smile to Dutch faces.
---
Why it works
No sweat
A distinguished brand
It's a virtual rite of passage to ride a Gazelle "granny bike" if you're a Dutch teenager. The Netherlands' seemingly endless bike lanes are full of children – and adults – cycling side by side and chatting as they get from A to B in a safe, sustainable and healthy way.
The Toer Populair is a flagship model that appeals to older riders who buy into the heritage and the retro looks. However, that doesn't mean that it's not fit for purpose: it's extremely comfortable and a lot of fun to ride. And really, when you ride a regal Toer Populair, you're announcing an alternative riding philosophy: no sweating in Lycra for me, thank you very much – I'm going to pedal gently to my destination in style.
---
The robust steel frame's relaxed angles make the bike very stable and easy to steer under load. It means that riders can carry the weekly shopping – or a young child – and not fear tipping over.
02
Rod brakes
Speed control
Gazelles have the traditional Dutch coaster brake but the Toer Populair has rod brakes: with a squeeze of either lever, both front and back brakes work simultaneously.
03
Chain guard
Protects and serves
Gazelle invented the closed chain case. It stops water and mud getting to the chain, reducing maintenance and corrosion. It's also handy for avoiding oily stains on dresses or trouser legs.
All wheels are built in Dieren with the aim of making them robust enough for frequent use on Dutch roads and cycle paths. They are then finished off with large, comfortable yet durable tyres.
05
Gears
Get the cogs whirring
While most traditional Dutch bikes have no gears – fine for the country's flatlands – modern Toer Populairs have three speeds. The export model that the US receives has an eight-speed Shimano system.
06
Integrated lock and stand
Safe and secure
Most Dutch-style bikes have an integrated lock – the Toer Populair's secures the back wheel. Lock it up and pop the bike onto its built-in stand while you stop for an espresso at a pavement café.