FachWerk / Hamburg
Living the wood life
The work of the Zimmerer, or carpenter, in Germany is steeped in tradition and their skill in restoring old timber houses is much in demand. We meet the master and his apprentice who is training for a way of life, not just a job.
"The simplest things are the most difficult," says Martin Kottmeier, a master carpenter, as his apprentice, Jonas Klann, watches him use a Stossaxt, or "push axe", to create a thick wooden peg. Chipping the end of a lathe into a point is more than just whittling a stick, and doing it well takes years of experience. "You have to have a certain pressure in your hand. You need to judge the wood's softness or hardness, you need a special feel for the tool. All of this happens in a tiny moment in which you aim and cut." The axe comes down hard, cleanly cutting a flat, sharp edge into the wood.
Since 1999 Kottmeier, 52, has run a Zimmerei (carpentry firm) called FachWerk, specialising in restoring listed timbered houses. Pegs and lathes are created in the company's workshop, located next to an old rail track in Hamburg's Lokstedt district. Surrounding the workshop are stacks of cut wood and logs, curing outdoors.
Most of FachWerk's work, however, takes place on site – restoring and repairing the foundations and timbers on, for example, a 17th-century house in a verdant region south of Hamburg, a restoration in the city district of Eppendorf, or a simpler roofing job in the stylish Karolinenviertel. On the job, the men often wear traditional gear: a Staude, or pleated, collarless white shirt, corduroy trousers with special zippers and loops for tools and a corduroy waistcoat with eight mother-of-pearl buttons. "They represent the eight hours of work you do every day," says Klann. The outer jacket's six buttons are for a six-day work week.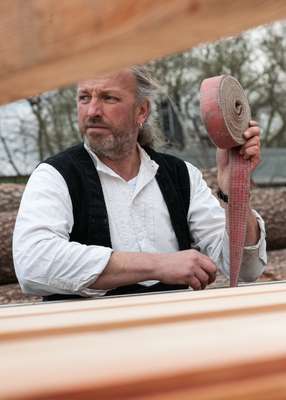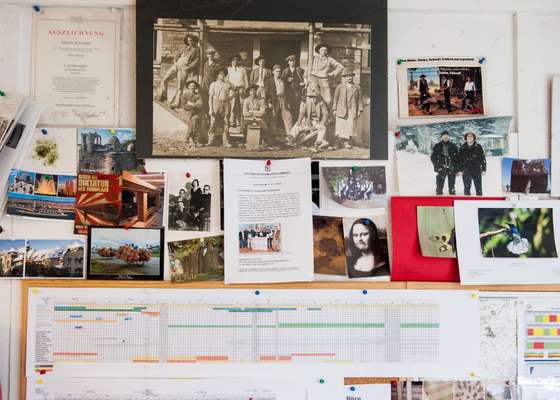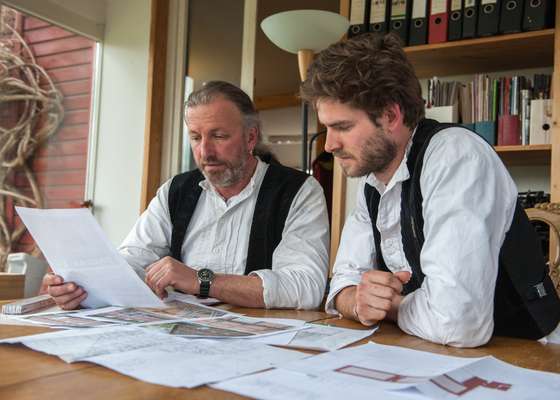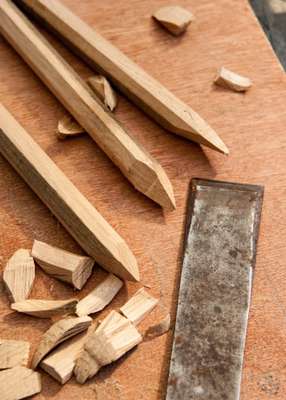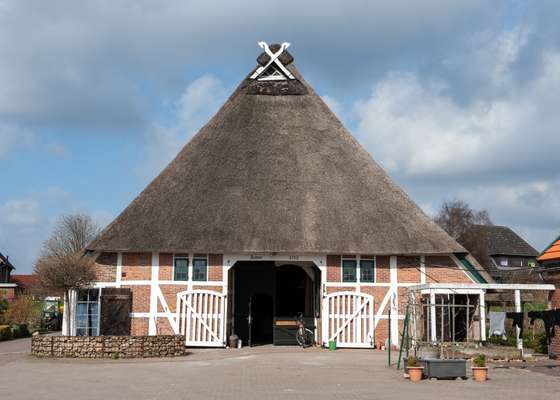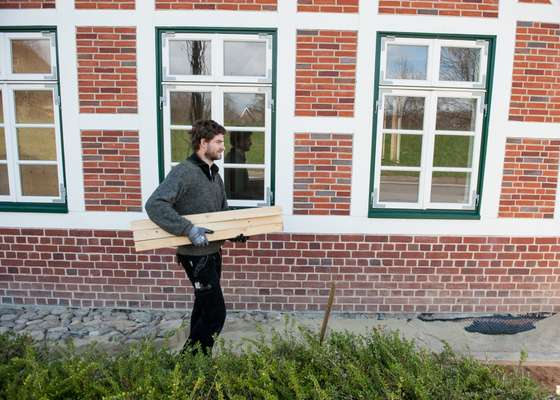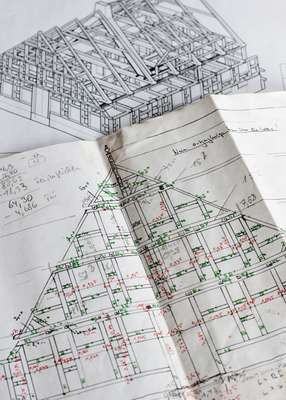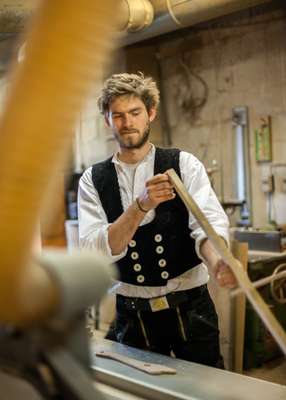 The 23-year-old is in the third and final year of his apprenticeship with Kottmeier, which, like most German apprenticeships in the business or craft sectors, is paired with theoretical instruction at a vocational school. Klann was long interested in working with his hands and with wood. "A family friend who often took care of me as a boy was a carpenter," says Klann. "And my uncle is a forest ranger and I'd go with him into the woods. I always knew I wanted to have something to do with wood."
To find out whether he wanted to be a Zimmerer (a carpenter who works on larger builds) or a Tischler (a carpenter who works mostly indoors, or on furnishings), Klann first worked as an intern with Kottmeier, quickly deciding to continue with an apprenticeship. "It's a great atmosphere here, great work. It's a lot of fun," he says. Klann carefully observes Kottmeier with respect, running lathes through a machine, preparing them for his boss's accurate axe cuts. At the same time, the two have a familiar, almost jovial ease with each other, something that comes from working in efficient teams on a building site. "You're a really attentive guy," says Kottmeier to his charge. "But sometimes you think too much and don't trust your hands as much as you should. Just give your hands a little space!"
Kottmeier has been training apprentices for 10 years. He learned his craft with his older brother after stints travelling, studying farming and working on construction sites. He fell into his speciality – restoring timbered houses – a bit by accident, and found his skills in great demand. "After the war, all the good carpenters in Germany were gone. Then came a building boom, with new building materials, faster methods and less craft," says Kottmeier. "Only in my generation did people want to have old houses renovated again." For nearly 10 years he and the other FachWerk founders (there were initially four) taught themselves old techniques such as joining wood.
Now Kottmeier is known for his passion for craft and that passion transfers to his material as well. He consults the phases of the moon to determine when trees should be felled (always at the waning moon between St Thomas's day, on 21 December and 15 January, and most of the firm's wood comes from the Lübeck Stadtwald); some wood needs to be dried for up to seven years. Klann will soon take a theory test; then his final practical test this August, for which he'll build an object, perhaps part of a roof, in a predetermined time. If all goes well he'll become a Geselle, or journeyman. Then he will be entitled to wear the journeyman's felt hat, an accessory that has represented freedom, not indentured servitude, since the Middle Ages. The hat is respected not only among craftspeople but also potential clients, who can be assured of rigorous training standards.
While some new journeymen embark on a long walk called a "Walz" (see box) Klann plans to continue in Hamburg with Kottmeier for a couple of years, "to gain experience" and perhaps work on his master's new project, a handicraft association he's co-founded with a group of craftspeople and architects. After that? Maybe mastery of his own.
1960 Born in Hamburg
1983 Becomes journeyman in carpentry
1999 Co-founds FachWerk, specialising in restoring old timber structures
2003 Begins training apprentices
2013 Establishes a handicraft association in Hamburg with others
1989 Born in Hamburg
2009 Completes his Abitur (final exams)
2010 Begins internship with Kottmeier
2010 Months later becomes official apprentice, works on first restoration projects
2013 Final exams to become journeyman
From the late Middle Ages until the Industrial Age, young Central European craftspeople who'd finished their apprenticeship were obliged to go out into the world to gain experience. These Wandergesellen, or "walking journeymen", walked from place to place, offering their skills and learning new techniques.
The practice nearly died out in the early 20th century but has experienced a revival. These days in Germany, 450 to 500 young people embark on the "Walz" (walking journey) each year. There's a strict set of rules: it lasts three years and one day. Journeymen (and women) can't stay in one place longer than three months. They must be under 30, single, childless and debt-free. They must wear their traditional costume and are forbidden to come within 50km of their hometowns.