Zamperla / Vicenza
Thanks for the rides
Work is fun, literally, for Italian firm Zamperla, which has been making fairground rides big and small since the 1960s for places ranging from Coney Island to Pyongyang. Monocle fastens its seatbelt.
It's not often you hear a corporate executive slip in a phrase from Latin when talking about his company's formula for success but Alberto Zamperla is no ordinary CEO. "Panem et circenses," he says, quoting the maxim "Bread and circuses". "After you feed the people you have to provide them with entertainment."
A manufacturer of roller coasters and other thrill rides, Zamperla's business has a long track record of keeping the public entertained. It was set up in the 1960s by his father but the family's roots in the entertainment business go back five generations to the circus and carnival – it's said the street performer Zampanò, the main character in Fellini's La Strada, was named after the family troupe.
Each year at Zamperla's factory near Vicenza in northern Italy, workers build on average 150 attractions, from drop towers to classic teacup rides. They are then shipped to dozens of the world's most popular theme parks, including Disneyland and Copenhagen's Tivoli Gardens as well as some less likely destinations, including North Korea. "Our job is to ensure people have fun. It's a great business to be in," says Zamperla as he leads monocle on a tour of the site. The sprawling plant resembles not so much a modern assembly line as a handyman's workshop, with segments of rides in various phases of construction scattered about the building.
In one corner, a worker hammers on the frame of a swing carousel that will soon hold chairs suspended from chains. Elsewhere, a foreman inspects an assortment of fibreglass vehicles, including a group of motorcycles that future passengers will ride while speeding down the company's MotoCoaster track at 64km/h and making 60-degree banked turns.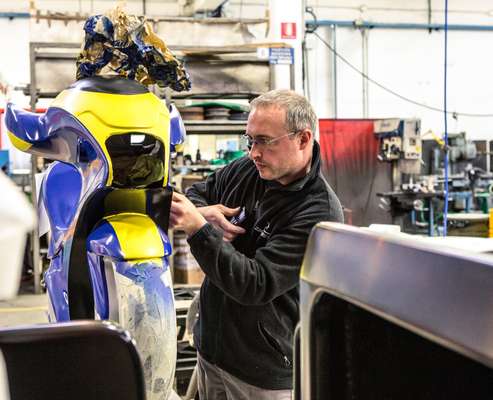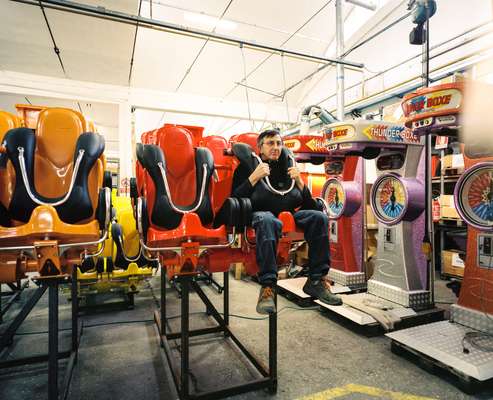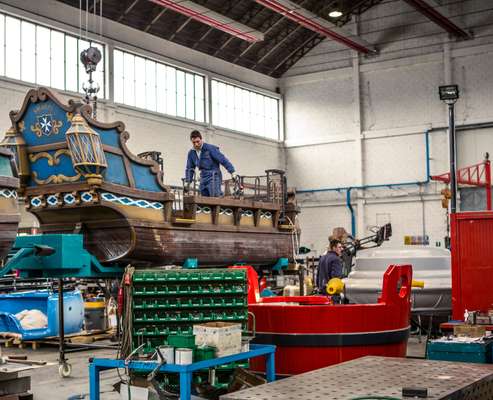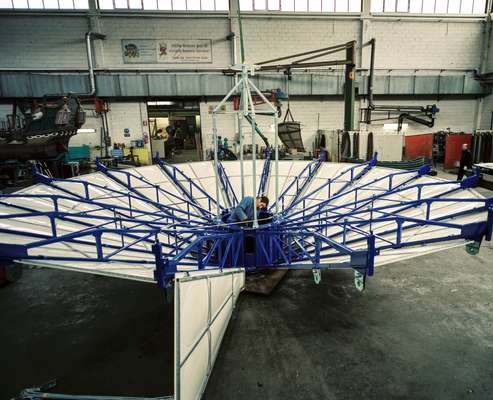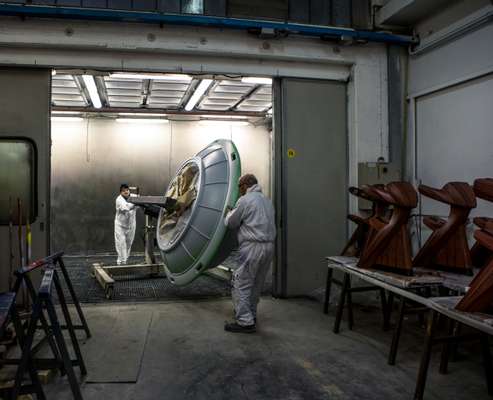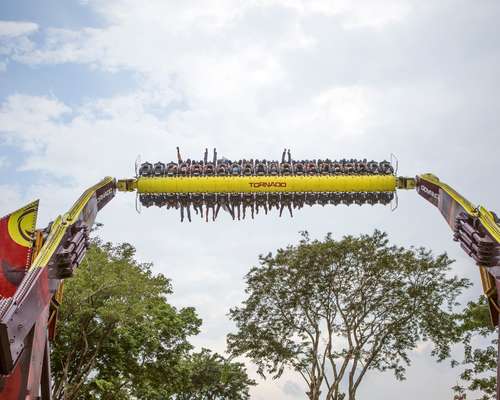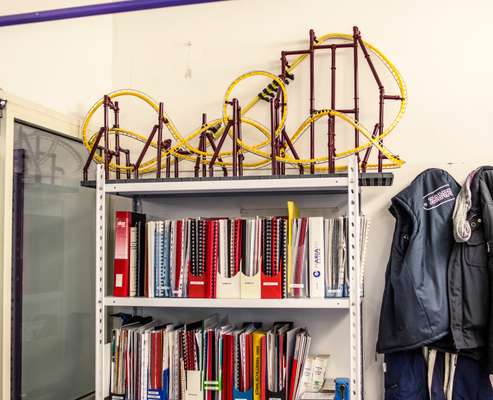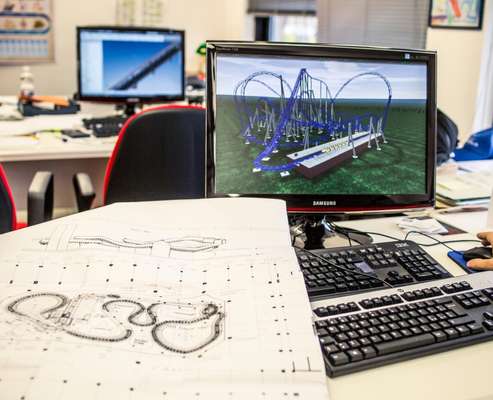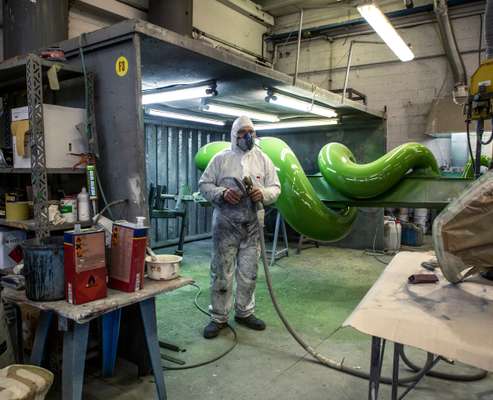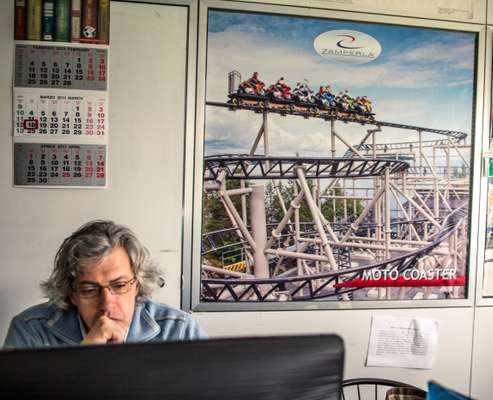 Zamperla stops to point out a collection of shiny two-seat modules in bright colours that are part of the company's latest offering, Air Race. Designed to simulate a flight on a stunt airplane, occupants are hoisted up in the sky by a motor-driven arm to do barrel rolls and dives and experience 3gs of acceleration. "The important thing in our industry is always to have new things to offer clients," says Zamperla.
With the world's theme parks expected to take in €24bn annually by 2017, the company sees plenty of business on the horizon as owners look to replace older rides. Last year, Zamperla recorded €54m in sales. While Europe and North America are home to 700 parks, the firm has witnessed a jump in orders from emerging markets in Asia and the Middle East where many new sites are being inaugurated. "At the moment our biggest customer is China," he says, while showing off a newly built Spanish galleon. "The Communist Party is looking to improve the quality of life of its people and one way is to open amusement parks."
Among the most anticipated projects is Disneyland Shanghai, slated to open in 2015. It's a significant moment for Zamperla: it got its big break back in 1988 when it won a contract to build seven rides for Euro Disney (now renamed Disneyland Paris). That opened the door to more customers and the firm hasn't looked back. "Our strength is that we are a one-stop shop. We make rides for the whole family, from roller coasters to kiddie cars."
The firm's portfolio ranges from aquatic rides with pirate ships equipped with water cannons to stomach-churning machines such as the Hawk, a giant looping arm where riders sit opposite each other and hang upside down. One is installed in Pyongyang where North Korean leader Kim Jong-un was seen going for a whirl. The firm has built two amusement parks in the secretive communist nation. "Their government browsed the internet for companies and liked our website. They then asked us to come up with designs," says Zamperla marketing manager Marco Mazzucchi, who says the regime used soldiers to erect the rides on site.
Moving past a prototype, Zamperla enters the paint shop where staff are putting the final touches to a locomotive bound for a Taiwanese client. Flying saucers are sprayed with a fire-retardant resin while an employee armed with an ultra-thin brush kneels to add the details by hand to the border of a race track.
Building rides, which can cost up to €6m, is labour intensive but Zamperla is adamant that outsourcing to cheaper-producing countries is not an option. "Our workers are multiskilled: today they can be a painter, tomorrow an electrician. If I built this in China, I'd need six men. Here I do it with one man."
Back at the office, Zamperla drops by to visit his team of designers who work on 3D models of new attractions. The company invests around €1m a year in r&d and has been awarded patents for innovative designs and its ergonomic roller-coaster seats.
Next door is the stress analysis department, where engineers run tests to check the forces passengers may be subjected to when spiralling down a track at 96km/h. Staff rely on data collected by Nasa for its astronaut programme as well as mathematical models used in the aerospace industry to verify a structure's durability. Turning serious for a moment, Zamperla explains, "Safety is number one. Without it we wouldn't be in business."
---
Business may be booming in Asia for Zamperla but one of the firm's biggest successes came in the US when New York mayor Michael Bloomberg had his heart set on a refurbishment of the city's historic Coney Island amusement park in Brooklyn. Known as Luna Park, after one of the original parks that had stood on the site, the $30m (€23m) project opened in 2010 and saw the company build 23 new attractions and receive the concession to operate the playground, which includes looking after wooden roller coaster the Cyclone, built in 1927.