Los Angeles revival / Los Angeles
To lathe 'n' dye in LA
In a city untroubled by a reputation for putting quality before surface sheen, a quiet revolution is taking place as manufacturing workshops flourish once more. Monocle visits the LA makers who are reviving the artisan spirit.
In downtown Los Angeles three seers of the garment industry stand on a whirring factory floor to debate the travails of the American textile sector. Next to banks of Chinese-made, Japanese-designed juki sewing machines the first-generation immigrants of Sicilian, El Salvadorian and Korean descent quote the words of a man they all agree was a great American. "The saying goes, 'It's not what your country can do for you, it's what you can do for your country'," says Mario D'Anna who owned a nearby factory employing 129 workers until 2010 when his main client, a US sportswear giant, sent its business to China. "Where has this sentiment gone?" he asks. " We need to reset the way we think in this country, the way our kids buy, what we wear."
The factory's owner, Robert Moon, consoles his friend and insists this is already happening. Today he and a visiting production manager, Raul Montero, are going through samples of American-milled red and white cotton jersey T-shirts for the brand M.Nii – a business that began as a small tailor's workshop making Makaha shorts for the waveriders of Waikiki and proudly prints "USA Made" on each of its labels. "There is new value in American-made," says Moon as he shows monocle the careful stitching destined for Beams in Tokyo and Barney's in New York. "China used to be a powerhouse but this is changing," he adds. "We can offer quality, lower minimums and also speed to market. What's more, brands can charge more – they have a premium product." Outside in the wide, sun-baked streets in and around the city's historic core Angelinos have begun a manufacturing renaissance.
The Tinseltown known for its film premieres and movie stars is home to a new cadre of young entrepreneurs set on revitalising everything from furniture-making to fashion. "People don't realise that LA has one of the largest concentrations of the apparel industry in the United States," says Leah Garvin, who shows monocle around a late 19th century industrial space that will soon become "Factory LA", an organisation designed to support new businesses looking to produce ethically in the city. "If you look across the street you'll see all these little workshops and mom-and-pop factories," she adds. "So many closed in the 1990s when big companies went offshore. But some stayed on. We want to help evolve the fashion industry, to act as a link between these two worlds for brands setting up in LA from scratch or bringing production back here from overseas."
In this, LA's suburban sprawl has some benefits. Unlike cities where industry has been pushed to soulless estates on the outskirts, central Los Angeles has low rents and a wealth of workshops and factory hangars. The city's Downtown is a mix of seedy dive bars, parking lots and a staggering concentration of homeless shelters – but also to galleries, chic eateries, artists' studios and a dense network of small garment, toy and furniture workshops. As gentrification has taken hold, it has become a hotbed of craft-driven innovation. "We're almost like a mini city inside a city," says Nathanael Balon in his tidy design and carpentry workshop, Woodsmithe, nestled next to the concrete banks of LA River. "For a long time it was a rough, rough neighbourhood here. The city has left space for industry and for ideas."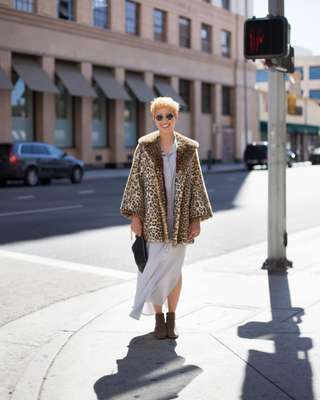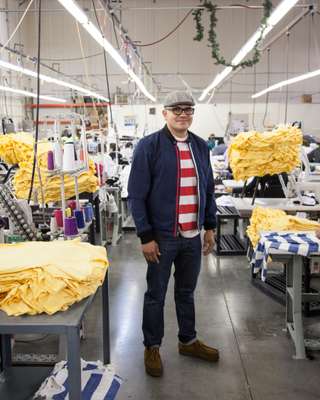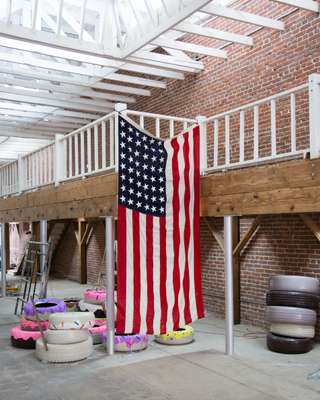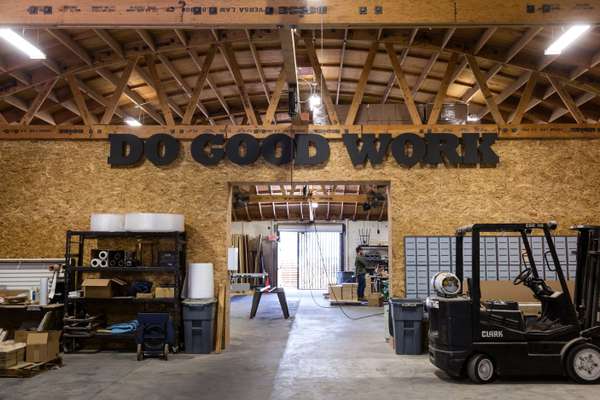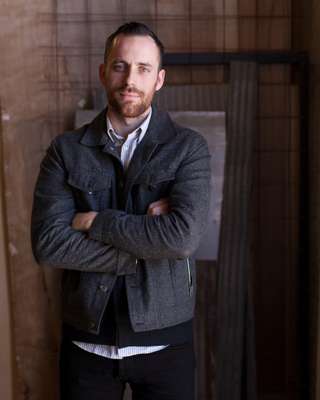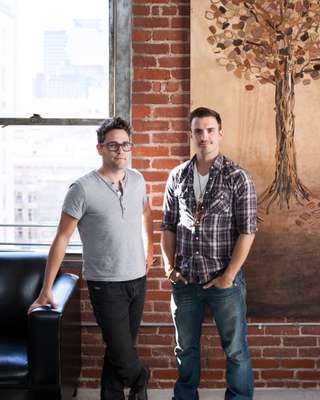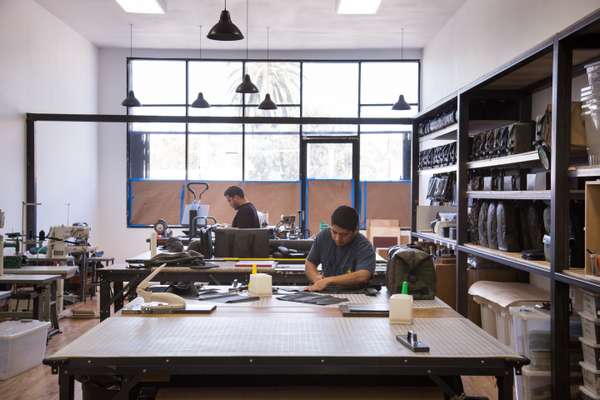 Though his business has won acclaim for designing and building concept shop interiors in the city, Balon attributes much of his success to the wealth of skills and talent that surrounds him. "If we're honest, we'd say what's happening in making in LA is a result of this great relationship [between] new, young, thoughtful designers and the existing infrastructure that's here," he says. "It's down to the quality of our vendors. We've been here for three years and only just scratched the surface. I have a friend who spends his Saturdays just driving around on his motorbike and going into workshops to discover niche skills."
Balon didn't come to Los Angeles to ply his trade as a designer-carpenter but as a musician. His story is not uncommon. LA's creative urge is playing a crucial part in the move to manufacture once more. Many of the figures driving the trend arrived in the city in search of the bright lights. "When I first moved here it was all about films," says CJ Thomason, co-owner of the eyewear brand Sire's Crown, as he sits in the converted loft of a former bank on Spring Street, the new home of his elegant three-storey workshop. It was during his downtime that CJ ran into optics specialist Chris Erven and became inspired to start experimenting making wooden spectacles. Sire's now employs resting actors too; during monocle's visit one craftsman downs his tools to rush to an audition.
The renewed focus on craft is part of a cultural shift in LA, the desire to make things part of a lifestyle defined by local, ecological, self-sufficient values: a rejection of the jet-set status quo of the Hollywood Hills. "I want everything in my backyard, to have complete control over each detail of every product," says Spencer Nikosey who founded leather brand KillSpencer, making backpacks and beautiful hold-alls in a Downtown workshop. The industrial design graduate recently moved his outfit to a space that combines production and a shopfront. For him this integrated open-kitchen concept is the only way to have total control over the creative process. "We're doing everything we can to make this process as transparent, efficient and clean as possible," he says. "A lot of the people I'm surrounded by want to make their own shoes, make their own jeans, build their own bicycle. Starting here with bags is step one. I want to build my own home and my own structures."
The city's entrepreneurs are driving a nuanced "USA Made" movement that is not defined by flag-waving zeal or even patriotism. Yet there is something distinctly American about what's happening. Sonja Rasula, a former journalist, set up USA Unique in 2008 to nurture American brands and give them a platform to sell their wares. She's been astounded by its success. Her recent two-day Unique market in LA attracted 20,000 visitors, each paying a $10 entry fee. "The Made in America movement is becoming known for quality, well-designed product," she says over cocktails on a shady terrace in Silverlake. "It's a return to making things by hand. Angelinos are collaborative, they're starting to connect. It's about creating conscious consumers looking for that 'Made in the USA' label. What we're seeing here are pioneers."
---
With wages in parts of China rising by 15 per cent a year and the renminbi appreciating against the dollar, some experts predict a boost to US domestic manufacturing as the benefits of offshoring diminish. GE, Google and Whirlpool have already invested in new US factories. Hal Sirkin of The Boston Consulting Group estimates that growth US manufacturing will result in 2 to 2.5 million new jobs by 2020. But economist Michael Dolega points out that the sector has shed six million jobs since 2000 and analysts strike a note of caution: automation means new US plants will need fewer workers.
---
Given its heritage, LA manufacturing is ripe for a renaissance. Before suburbanisation, the city's downtown was one of the most vibrant in the US. Its banking district, the "Wall Street of the West", was flanked by workshops and factories making furniture, toys, pottery and clothing..
---
Spirit of green enterprise
Greenbar Collective distillery bought a 19th-century paint-storage facility in downtown Los Angeles in 2011 and moved in last April. Since then it has been cooking up a range of artisanal spirits and bar bitters on the site using organic, locally sourced ingredients. "Our whole focus is flavour," says owner Melkon Khosrovian as he pours a strong, unusually clear glass of Slow Hand Whiskey. "We learned over the course of our company's history that organics have more flavour." The company also makes some of the largest quantities of infusions in the US. "We source all fresh ingredients from local farms," adds Khosrovian. "For our lemon vodka, we zest 2,000 lemons by hand for each batch."
The company is also part of a new industrial "Cleantech" corridor in the Arts District. "We are the first company to move here," he says. "The vision for the city, for the mayor's office, is to bring small manufacturing companies to Downtown that are artisan by nature and green by approach; to have another layer of economic activity and job creation."
Khosrovian also explains the benefit of the company planting a tree for every bottle sold: "It means two ounces of our liquor makes the drinker carbon neutral for the day."